Los Angeles Soccer:

Joe Cannon
July, 8, 2012
7/08/12
12:03
AM PT
By
Scott French
| ESPNLosAngeles.com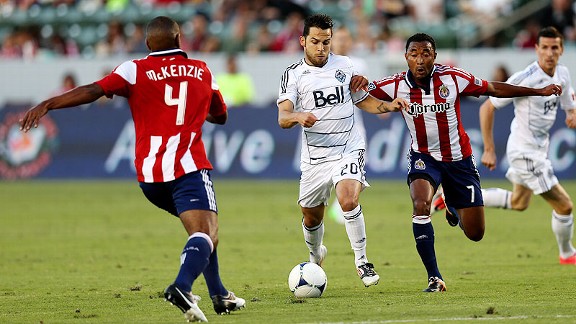 Stephen Dunn/Getty ImagesDavide Chiumiento of Vancouver tries to get the ball through James Riley, right, and Rauwshan McKenzie of Chivas USA.

CARSON -- Chivas USA on Saturday night offered more of the same thing it's been offering all season long: solid defense, not enough chances -- not nearly enough goals.

None, in fact. The scoreless draw with Vancouver, a most reasonable result, was the sixth time the Goats have been shut out in 10 Major League Soccer home games this season, and coach Robin Fraser's dissection of the match had a familiar ring to it.

Chivas (5-7-5, 20 points) came close to scoring four times in the final 20 minutes after creating virtually nothing for the first 70 in another frustrating evening in a season full of them.

"I thought we were probably too passive at the beginning of the game," Fraser said, echoing his comments from several games past. "We want to be able to push the tempo and push the pace, but in the first half things were too slow. ... The second half I felt the urgency was much better. Certainly the second half of the second half, I thought it was very good.

"We created a number of chances. Ultimately, we need to be able to finish one of those. ... More than anything, we came out of it as a group realizing the urgency we saw in the second half is something we need to see more of."

The Goats were fine defensively, preventing Vancouver (8-4-6, 30 points) from creating anything particularly dangerous. The Whitecaps used a numerical advantage in midfield, made more pronounced by defensive midfielder Oswaldo Minda's absence because of his second yellow card-accumulation suspension of the season, to find their way to Chivas' box four times in the first 15 minutes, but they, too, lacked urgency.

"We did have decent looks from the edge of the box and didn't shoot, so that was the biggest thing we talked about in the locker room," Vancouver coach Martin Rennie said. "If you have half a chance, you have to shoot. Even if it doesn't go in, it might deflect, it might come back off the goalkeeper. Who knows?"

Chivas matched up with Vancouver in the second half, switching from a 4-4-2 formation to a 4-2-3-1, and that was more of less it for the Whitecaps' offense. With rookie speedster Darren Mattocks sidelined with his own yellow-cards suspension, the 'Caps lacked the pace to stretch the Goats' superb backline.


May, 27, 2012
5/27/12
5:17
PM PT
By
Scott French
| ESPNLosAngeles.com
Landon Donovan's phenomenal performance in the U.S. national team's rout of Scotland on Saturday night rang loud and true, each of his three goals providing context to his remarks last week that intimated he no longer has the hunger, the commitment, to succeed at the highest levels of his sport.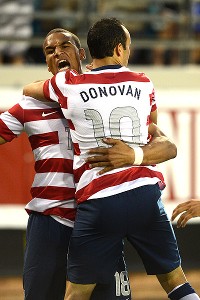 Gary Bogdon/Getty ImagesLandon Donovan gets a congratulatory hug from teammate Terrence Boyd after Donovan scored the first goal for Team USA against Team Scotland at EverBank Field in Jacksonville, FL.
It's been a challenging 12 months for Donovan, who battled injuries as he never has while leading the Galaxy to the greatest season in Major League Soccer annals, enjoyed another superb spell in England with Everton, celebrated his 30th birthday and struggled to find his best form as L.A. followed up last year's titles with a horrid start to the current season.

He'd been away from the national team since last September, declining call-ups because he was hurt or ill or exhausted, and, having crossed into his fourth decade, has been forced to consider how much time he has left on the field.

His showing Saturday night in Jacksonville, Fla., with a hat trick priming the Americans' 5-1 romp over the Scots, suggests he remains the most potent force for the national team, no matter Clint Dempsey's stature. As U.S. coach Jurgen Klinsmann noted afterward: "Now we have Landon back, and he gives us the goals. We can't complain tonight."

Donovan set another U.S. record with his 125th international start, and he extended his record goal total to 49 -- and his record assist total to 48 by setting up Jermaine Jones' goal -- while proclaiming he doesn't "want to be mistaken for not caring. I care, and I like being a part of this team. I'm a professional, and I know how to do my job. I've been doing this a long time."

Donovan is fiercely intelligent, sharply introspective and uncommonly honest, if not quite as open as he was before Grant Wahl's book on David Beckham appeared a few years ago. Detractors have long questioned his commitment, largely because he hasn't made playing in Europe a priority, even as he has set standards for Americans with the quality of his play, ability to see the game and drive for success, in MLS and with the U.S. team.

His commitment and hunger faced heavy scrutiny after he spoke candidly Wednesday in a roundtable interview with journalists in Florida about the challenges in maintaining the focus necessary to prosper at the top levels of the game.

"That's a part that's always a challenge for athletes: trying to keep the passion alive while knowing it's still your job," Donovan said. "There's no question that at some point, probably sooner rather than later, I'll be pretty burned out. And when that time comes, then I'll take a step back and take a look at it and see if I want to keep going."


March, 17, 2012
3/17/12
9:33
PM PT
By
Scott French
| ESPNLosAngeles.com
CARSON -- Chivas USA held most of the possession and played superb defense all over the field Saturday night, but -- as with its fine effort in last weekend's Major League Soccer opener -- it wasn't enough.


Vancouver scored from a 68th-minute corner kick and held on for a 1-0 triumph over the Goats, the second-year club's first MLS road victory, to join Real Salt Lake atop the Western Conference with six points from two games.
The match, played on a cold, rainy night, drew an announced 7,723 to Home Depot Center.
Chivas (0-2-0) was better than in last week's 1-0 loss to Houston: better organized, with more possession and a defensive effort that neutralized Whitecaps stars
Eric Hassli
and
Sebastien Le Toux
up front. But the Goats managed little offense, just like last week, and came close to scoring just once, when rookie
Casey Townsend
, starting when
Juan Pablo Angel
pulled out with a head injury, bent a ball from just beyond the box toward the upper-right corner in the 32nd minute. Whitecaps goalkeeper
Joe Cannon
stretched to tip the ball over the crossbar.
Chivas was denied a late penalty kick after
Alain Rochat
wrestled
Nick LaBrocca
to the turf as the midfielder tracked a ball over the top. An
Oswaldo Minda
header in traffic sailed wide in second-half stoppage.
December, 7, 2011
12/07/11
1:38
PM PT
By
Scott French
| ESPNLosAngeles.com
The Galaxy have a new midfielder, is he's to be believed.

Marcelo Sarvas, whom the Galaxy battled twice this year in CONCACAF Champions League play, has signed a two-year contract with two option years, his agent told Costa Rican sports website Al Pie del Deporte.

Sarvas, who plays for reigning Costa Rican champion Alajuelense, last week told Costa Rican daily La Nacion that he was weighing a two-year deal from the Galaxy against a three-year offer to stay at Alajuela and that he was "postponing [a decision] as long as possible because the truth is that I don't know what decision to make. The economics [of the Galaxy offer] is very good."

A Galaxy spokesman said the club, as is its policy in such matters, would have no comment.

Sarvas, 30, is from Sao Paulo, began his pro career with Corinthians and played for clubs in Sweden and Poland before signing with Alajuela last January. He is preparing for Liga's Invierno (fall) title series against Herediano, although he is suspended for Sunday's first leg.

The Galaxy, which this season won the MLS Cup/Supporters' Shield double in Major League Soccer and advanced to next year's Champions League knockout stage, arrived home Wednesday morning from a 12-day, three-game postseason tour to Indonesia, the Philippines and Australia.

The players will be off, national team considerations aside, until probably the third week of January, but head coach/general manager Bruce Arena and his staff has pressing work to do determining his roster for next season.

The pivotal decision is David Beckham's, and everything the Galaxy must accomplish this offseason will be determined by his choice. The English superstar, who five-year contract ends at the close of December, could re-sign with the Galaxy, accept Paris Saint-Germain's millions or, far less likely, return home to England.


September, 16, 2011
9/16/11
7:12
PM PT
By
Scott French
| ESPNLosAngeles.com
CARSON -- Next week's CONCACAF Champions League game in Costa Rica became critical with the loss in Mexico, and talks on a new contract with David Beckham have begun. Showdowns with Eastern Conference leader Columbus and at home with Real Salt Lake are on the horizon.

But the Galaxy says their attention is solely on Saturday night's match against Major League Soccer's worst team.

For a side so agile at multitasking, L.A. always has singular focus, and if winning at Home Depot Center over the Vancouver Whitecaps seems relatively simple -- the Galaxy hasn't lost a home game, and the 'Caps haven't won on the road -- they don't see it that way.

Alajuelense, the games that follow and Beckham's contract status can wait.

"In theory," Donovan said of the notion that Wednesday's meeting with Costa Rican champion Alajuela was more important than the MLS game. "The reality is if we can get a couple more wins, there's the potential to wrap up the Supporters' Shield with a few games to go. Then we can really rest and can make sure that we have our full energy for the [final two Champions League games, later this month at HDC against Morelia and in mid-October in Honduras against Motagua] -- both games will now be vital.

"Our goal is to, absolutely, like always, get three points at home, then we'll deal with the Alajuela game."

The Champions League clash grew in importance when Morelia rallied in the final 10 minutes -- with the help of an officiating call that cost Robbie Keane a perfectly good goal -- to beat the Galaxy, 2-1. Both clubs are 2-1-0, and so is Alajuelense after beating winless Motagua on Thursday, leaving three games to determine which two move on to next year's quarterfinals.

It could influence head coach Bruce Arena's lineup decisions, although he says it won't.

"We can't worry about Costa Rica right now," he said. "We're involved in a lot of competitions -- well, two competitions, obviously -- and we're just going to have to focus on one game at a time. We can't be that brilliant and try to look that much ahead and try to have everything right, because it never happens that way. We're going to have to try to win this game [Saturday] and then, after that, get ready for the game in Costa Rica."

A Beckham deal will have to wait until season's end. The English star confirmed Friday that there have been conversations about a new contract.


July, 30, 2011
7/30/11
11:11
PM PT
By
Scott French
| ESPNLosAngeles.com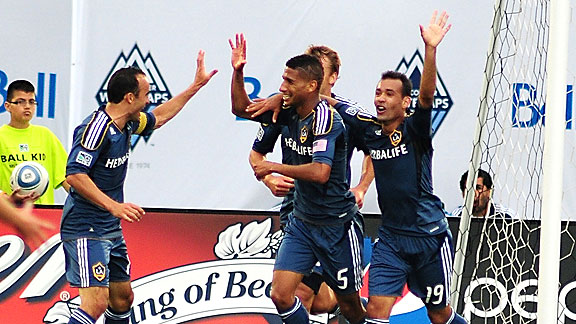 Anne-Marie Sorvin/US PresswireGalaxy players congratulate Sean Franklin (5) after scoring a goal during L.A.'s 4-0 win at Vancouver on Saturday.

VANCOUVER, British Columbia -- The Galaxy had all of the ball but none of the chances for the first 30 minutes Saturday, but as their most pivotal player's involvement in the proceedings increased, so did their dominance.

Landon Donovan scored two goals, set up another and provided the tactical shift that sent L.A. to a 4-0 rout of the Vancouver Whitecaps, a triumph fueled by a terrific final hour -- perhaps the Galaxy's best sustained soccer of the season.

It turned a vibrant match featuring end-to-end action, both ways for a time, into a most one-sided affair as L.A. (12-2-9) began a two-game Pacific Northwest trek by matching their best output of the season with their most emphatic triumph.

All four goals came in the second half, with Donovan -- returning to the field after missing last weekend's friendly against Manchester City and Wednesday's Major League Soccer All-Star Game because of a calf strain -- scoring superbly from Sean Franklin's long ball in the 61st minute and converting a penalty kick in the 75th, then setting up Franklin for No. 3 in the 80th. Adam Cristman's fortuitous header in the 90th completed the romp.

It was closer than the score suggests, and better aim might have given the Whitecaps (2-11-9) an upset, but the Galaxy took charge about a half-hour in, created myriad chances and was certain of victory once Donovan netted his first.

"First half, I thought Landon was quiet," Galaxy coach Bruce Arena said. "Second half, he was real loud."

The goals were his 10th and 11th of the season, pulling him even with New York's Thierry Henry for the top spot among Major League Soccer's scorers, but more important was the impact he had ripping apart a Whitecaps backline that had done well to limit the Galaxy's chances despite a serious advantage in possession.

L.A. had almost all of the ball through 30 minutes but never seriously tested goalkeeper Joe Cannon. Vancouver created eight solid opportunities in that span -- and several more to start the second half, the best Shea Salinas' deposit off the left post after a weaving run to the top of the Galaxy box after a giveaway.

Juninho twice forced diving saves from Cannon, who did well to keep out shots by Juan Pablo Angel and Mike Magee, too.

"I thought it looked like we were a little tired in the beginning," defender Gregg Berhalter said. "Then we settled in, got our second wind. When we control the game and we look for a quick switch of the attack, we're really dangerous."

Angel, who struggled to connect with teammates in the first half but was involved after halftime, until exiting in the 67th minute, said Empire Field's artificial turf slowed down L.A. at the start.

"I think it's normal." he said. "It takes a little bit of time to get used to the field, the surface, but then we managed to be accurate with the passing, and when we got the movement right, we were very dangerous. ... And when Landon scored the first goal, it was just game over."

Arena said the Galaxy's "ball movement was the key to the game. We passed better and we got out of pressure better. In the first 30 minutes, we were turned over in the middle third of the field, and they were dangerous on the counter. But as our passing got better, we got into a rhythm."

A quick look at the Galaxy's victory:

BEST PLAYER: Donovan was magnificent in the second half, especially after moving into the middle about 10 minutes or so into the second half because, Arena said, "I thought we needed a little bit more pace up top to get behind."

He scored one superb goal, converted a penalty kick and set up Franklin's second goal in as many games (and in a 3½-year MLS career) with a perfect ball across the goalmouth to the far post.


June, 17, 2011
6/17/11
3:03
PM PT
By
Scott French
| ESPNLosAngeles.com
Goalkeeper
Joe Cannon
, one of the most personable men ever to pull on a Galaxy uniform,
regaled Vancouver-based tabloid The Province
this week with tales of his brief time in L.A.
Cannon, now with the Vancouver Whitecaps, spent the 2007 season with the Galaxy, starting 29 of 30 MLS matches under
Frank Yallop
, who was dismissed as coach following a weird and disappointing 9-14-7 campaign.
Of course, it was 2007 that the "circus" came to L.A., with
David Beckham
arriving in July.
"We were so good, but there was just a lot of inner squabbling between guys that had been in L.A. and guys coming in," Cannon said. "It was a tough year. The pressure just mounted because the league backlogged our schedule so everyone could see Beckham at the end. There was just a huge pressure about that whole situation. It was a different MLS experience than you'll ever get."
Life on the road also was unlike anything else in MLS, with parties and paparazzi.
"It was crazy," Cannon said. "We were flying charter. We went first-class to Australia [after the season, with
Ruud Gullit
as coach]. I remember in Toronto, we were at the Supper Club, and -- I've never seen it before -- we had a VIP section roped off for us, and guys were just pointing at women: 'She can come up, she can come up.'
"I was flabbergasted. Growing up as a shy kid, I was in awe of the whole thing."
June, 2, 2011
6/02/11
12:05
AM PT
By
Scott French
| ESPNLosAngeles.com
CARSON -- The glow that surrounded Chivas USA a month ago -- after that win at San Jose, the romp over New England and the heroic effort in the loss at Real Salt Lake -- is gone now, and
Robin Fraser
admits he's seeing some of the same troubles that dogged the Goats in the first weeks of the season.
A passive performance in the attacking third, at least until Vancouver's monster forward,
Eric Hassli
, was red-carded with 25 minutes or so to go, cost Chivas another opportunity to pick up three points Wednesday night.

"How disappointing is it?" Fraser said after the 1-1 draw at Home Depot Center. "Very. We're all about improving, and the goal is to improve every week … and this is an opportunity to come out and continue what has been, for the most part, pretty good soccer over the last number of games. …
"We missed an opportunity tonight, for sure. I mean, being a man up for [25-plus] minutes at home is certainly a very, very favorable situation, and we are definitely disappointed that we didn't do as well as we would have liked to."
The Goats (3-4-5), with five starters suspended or away on international duty, surrendered another lead just four days after Columbus rallied three times for a 3-3 draw and struggled, despite a significant advantage in possession, to find paths through a tight and capable defense marshaled by U.S. national team veteran
Jay DeMerit
.
Nick LaBrocca
gave Chivas a lead just 21 seconds into the second half, drilling the ball inside the left post after a 30-yard run from midfield, but the advantage was gone within two minutes, when
Camilo
latched onto a rebound and sent it into the upper-90.
They were far too passive in the early going -- "We'd done a tremendous job of getting away from that in the last, I don't know, eight games maybe, so tonight really felt like one of the earlier games," Fraser said -- and not clinical enough at the end, and that's not going to be good enough if Chivas wants to contend for a playoff berth.
"I think we get a little complacent at times," said center back
Heath Pearce
, who wore the captain's armband with forward
Alejandro Moreno
away with Venezuela's national team. "We find ourselves swimming against the current for 90 minutes because we stop moving, we stop being creative, we stop being in the right position, we stop defensively organizing. … We just kind of get complacent, and that's something we have to get away from."
The game turned on Hassli's 66th-minute dismissal, the French striker's third red card this season, for a late tackle on
Ben Zemanski
. The Goats had crafted only two reasonable scoring opportunities to that point, to nine by the Whitecaps (1-5-7), but spent the final half-hour -- spurred by
Paulo Nagamura's
and
Michael Lahoud's
returns from injury -- on top of the Vancouver goal.
Nagamura and Lahoud, who came on in the 60th minute, were definite bright spots for Chivas.
January, 21, 2011
1/21/11
4:49
PM PT
By
Scott French
| ESPNLosAngeles.com
Jimmy Conrad's first day on the field with his new team reminded him of 2001. That's a good thing.
The Chivas USA center back, among nearly three dozen players put through the paces as new coach
Robin Fraser
and his staff opened preseason training Friday with drills designed to gauge fitness, is the most prominent veteran addition to a Goats side that is reinventing itself following a last-place finish last year in the Western Conference.
Fraser has been part of such a rebuild before, on
Jason Kreis
' staff as Real Salt Lake transformed from Major League Soccer from doormat to champion in three years, and so has Conrad.
The defender from Temple City (Temple City HS/UCLA) was a third-year defender in San Jose a decade ago as the Earthquakes began a new era following a worst-in-the-league finish in 2000.
The Quakes had a new coach -- former pro defender
Frank Yallop
, who had done fine work as an assistant coach at D.C. United -- and three new veteran presences, from U.S. national team defender
Jeff Agoos
, winger
Manny Lagos
and Danish midfielder
Ronnie Ekelund
.
"I liken [Chivas USA today] to 2001," said Conrad, who was acquired from Sporting Kansas City in last month's re-entry draft. "We had some older players mixed with some younger guys -- there were me,
Joe Cannon
,
Wade Barrett
,
Richard Mulrooney
, and we picked up
Landon
[
Donovan
] -- and then we had Agoos and [veteran defender]
Troy Dayak
and Ekelund and Manny Lagos.
"And we had Frank Yallop, who's very similar to Robin. For whatever reason, there just seems to be some of the same parallels."
Reason for hope? Well, the Earthquakes won the MLS Cup title in 2001, beating the Galaxy in the final -- the first of four league championships in seven years by the Quakes/Houston Dynamo.
November, 24, 2010
11/24/10
1:19
PM PT
By
Scott French
| ESPNLosAngeles.com
Chivas USA captain Jonathan Bornstein, who is headed in January to his mother's native Mexico to join UANL Tigres, can no longer call himself a Goat.

The U.S. national team defender was a surprise selection by the Portland Timbers in Wednesday's Major League Soccer expansion draft, although he has no plans to head north.

Bornstein (Los Alamitos/Los Alamitos HS and UCLA) was the 15th selection in the draft, through which the Timbers and Vancouver Whitecaps, making the leap from the second-tier USSF D2 Pro League to MLS, are building their rosters for next season. Each took 10 players from the existing 16 clubs' unprotected lists.

Chivas USA forward Alan Gordon, who played all or part of seven seasons for the Galaxy before an Aug. 5 trade, was taken by Vancouver with the 10th pick. Chivas USA, allowed to add a 12th player to its protected list following Gordon's selection, took defender Mariano Trujillo off the table.

No Galaxy player was taken in the draft.

Chicago Fire midfielder John Thorrington (Palos Verdes Estates/Chadwick School) was the final selection, taken by Vancouver.

Defender Patrick Ianni (UCLA) was added to Seattle's protected list when Vancouver made Sanna Nyassi its first pick. Goalkeeper Chris Seitz (San Luis Obispo/Thousand Oaks HS) was added to Philadelphia's protected list when Vancouver selected Shea Salinas with the eighth pick.

Bornstein, who played for the U.S. at the World Cup in South Africa, has a four-year contract with Tigres, but Portland would hold his MLS rights indefinitely. If the veteran left back/midfielder were to return to MLS, he would return as a Timber.

Bornstein was a Chivas regular from the moment he arrived in the 2006 draft. Then-Goats coach Bob Bradley converted him from a forward/midfielder to left back, and he rewarded the club with an MLS Rookie of the Year performance. He played a club-record 131 MLS games for Chivas, scoring nine goals with 10 assists.

Gordon, 29, scored once with three assists in nine appearances from the Goats after arriving from the Galaxy. He scored 16 goals with 12 assists in 106 MLS games for L.A.

Portland's selections:

1. Dax McCarty (FC Dallas), midfielder
2. Eric Brunner (Columbus), defender
3. Adam Moffat (Columbus), midfielder
4. Anthony Wallace (Colorado), defender
5. David Horst (Real Salt Lake), defender
6. Robbie Findley (Real Salt Lake), forward
7. Peter Lowry (Chicago), midfielder
8. Jonathan Bornstein (Chivas USA), defender/midfielder
9. Jordan Graye (D.C. United), defender
10. Arturo Alvarez (San Jose), forward

Findley, a former Galaxy forward who played for the U.S. in South Africa, has said his intention is to play in Europe. McCarty, taken with the No. 1 overall selection, was a key figure in FC Dallas' run to the MLS Cup final.

Vancouver's selections:

1. Sanna Nyassi (Seattle), midfielder
2. Atiba Harris (FC Dallas), midfielder/forward
3. Nathan Sturgis (Real Salt Lake), midfielder
4. Shea Salinas (Philadelphia), midfielder
5. Alan Gordon (Chivas USA), forward
6. O'Brian White (Toronto FC), forward
7. Alejandro Moreno (Philadelphia), forward
8. Joe Cannon (San Jose), goalkeeper
9. Jonathan Leathers (Kansas City), defender
10. John Thorrington (Chicago), midfielder

Harris is a former Chivas USA player. Sturgis, Moreno and Cannon previously played for the Galaxy.