Los Angeles Soccer:

Joe-Max Moore
February, 29, 2012
2/29/12
12:29
PM PT
By
Scott French
| ESPNLosAngeles.com
No surprises at all in Tuesday's National Soccer Hall of Fame announcement. Tony Meola and Claudio Reyna, two slam-dunk picks, were voted in, and nobody else got the votes.
Meola, a starter at the 1990 and 1994 World Cups, is one of the four great goalkeepers in modern U.S. Soccer history -- along with future inductees
Kasey Keller
,
Brad Friedel
and
Tim Howard
.
Reyna, a U.S. starter at the 1998, 2002 and 2006 World Cups (and an injured teen on the roster in 1994), is arguably the most important U.S. field player before
Landon Donovan
and
Clint Dempsey
.
Former U.S. defender
Desmond Armstrong
, who played at the 1990 World Cup and was the final player cut from the 1994 roster, was voted in by the Veterans Committee, and 1999 U.S. Women's World Cup coach
Tony DiCicco
, whose accomplishments are merely topped by that iconic triumph, made it in as a Builder. The induction ceremony is expected for mid- to late summer.
The Hall itself is alive merely in archives -- the building, in Oneonta, N.Y., closed two years ago -- and it would be nice to see it reestablished. My thoughts are that it belongs in Chicago (home of U.S. Soccer), Los Angeles (home to the national team for most of the past two decades and one of the hotbeds of the sport), St. Louis (the most historically important city in the sport's early development) or Portland (probably the most rabid soccer town in America. Sorry, Seattle).
It's worth noting that
Bob Bradley
(former U.S. coach, of course, based in Manhattan Beach when in America) finished fourth in the Builder vote and Torrance's
Sigi Schmid
(the Seattle Sounders' coach, formerly in charge at UCLA and with the Galaxy) was sixth.
It's a shame Meola and Reyna were the only selections from the Player Ballot. Only
Marco Etcheverry
and
Joe-Max Moore
also received more than half of the votes, and neither hit 60 percent. The threshold for induction is 66.7 percent.
Voters are allowed as many as 10 votes, and I used all 10 of mine. Here is who I voted for and why.
December, 9, 2011
12/09/11
10:26
AM PT
By
Scott French
| ESPNLosAngeles.com
UCLA has been to a dozen NCAA men's soccer final fours, played in eight finals and won four championships.

A look back at the titles:


UCLA 1, American 0 (8 OT)
UCLA had lost in three finals, all to St. Louis, back in the early 1970s -- the last two during coach Sigi Schmid's playing days. When the Bruins finally prevailed, they had to wait for it. Little-used defender Andy Burke was the hero, scoring in the 167th minute -- his first collegiate goal -- to overcome American at the Kingdome in Seattle. UCLA went 20-1-4, winning its final dozen games behind forward Dale Ervine (15 goals), defenders Paul Caligiuri and Paul Krumpe, and goalkeeper David Vanole.


UCLA 0, Rutgers 0 (4 OT)
(UCLA wins on penalties, 4-3)
What a team the Bruins put together in 1990: future World Cup picks Brad Friedel, Joe-Max Moore and Mike Lapper, plus 1990 World Cup reserve Chris Henderson. The hero, it turned out, was current Bruins coach Jorge Salcedo, a freshman who had missed three times in penalty-kick shootouts at Cerritos High School but came through when it mattered, converting the decisive shot to topple Alexi Lalas and Rutgers in Tampa, Fla. UCLA (17-1-6) also needed spot kicks to get past North Carolina State in the semifinals.


UCLA 2, Virginia 0
Matt Reis gave one of the most phenomenal performances in NCAA history, making 20 mostly spectacular saves to beat No. 1 Indiana in the semifinals and Virginia in the title game and lead the Bruins to their third title. UCLA (22-2-0) needed Reis' heroics after injuries took away team MVP Peter Vagenas, star midfielder Sasha Victorine and All-Mountain Pacific Sports Federation defender Kevin Coye during the postseason, but McKinley Tennyson Jr.'s rebound in the 132nd minute toppled the Hoosiers and Seth George scored twice in the final 10 minutes to beat Virginia in Richmond, Va.


UCLA 1, Stanford 0
The late Tom Fitzgerald was in charge of UCLA for only two seasons, and the first one was spectacular. He guided the Bruins to an 18-3-3 mark, with playoff victories over two of the teams that beat them during the regular season (Loyola Marymount and Cal), a tight triumph in the semifinals over No. 1 Maryland and the title-game victory over Pac-10 rival Stanford, their third 1-0 win over the Cardinal of the season. The championship, captured in Dallas, arrived in most dramatic fashion: Aaron Lopez first-timed Ryan Futagaki's free kick into the net with 62 seconds to go until overtime.


November, 15, 2011
11/15/11
1:42
PM PT
By
Scott French
| ESPNLosAngeles.com
The best thing about the U.S. national team's 3-2 victory Tuesday in Slovenia -- and there were a lot of good things -- might have been the opening whistle. It gave U.S. captain Carlos Bocanegra his 100th cap, a threshold only 11 American men had previously reached.

The central defender from Alta Loma (Alta Loma HS/UCLA) went the full 90 as the Yanks improved to 2-4-1 under Jurgen Klinsmann with their first victory in Europe in 3½ years.

Clint Dempsey forced a turnover that former Galaxy striker Edson Buddle finished from distance in the ninth minute, and Dempsey's header from Michael Bradley's corner kick restored the U.S. advantage in the 41st minute. Jozy Altidore converted a penalty kick two minutes later after Fabian Johnson was dragged down.

Tim Matavz's second goal of the night, in the 61st minute, pulled Slovenia closer.

Other L.A. area players seeing action were Bradley (Manhattan Beach), who started in midfield, and Maurice Edu (Fontana/Etiwanda HS) and Robbie Rogers (Palos Verdes and Huntington Beach/Mater Dei HS), who came off the bench.

Bocanegra debuted for the U.S. in December 2001 and has served as the team's captain since June 2007.

"It was a special night," Klinsmann told reporters afterward. "The team was pumped up all day, and they wanted to do well for him."

Five of the top seven on the all-time U.S. caps list are from Southern California -- Cobi Jones (Westlake Village/Westlake HS and UCLA), Landon Donovan (Redlands/Redlands East Valley HS), Marcelo Balboa (Cerritos/Cerritos HS), Paul Caligiuri (Diamond Bar/Walnut HS) and Eric Wynalda (Westlake Village/Westlake HS) -- and Bocanegra is joined at 100 caps by Joe-Max Moore (Irvine/Mission Viejo HS and UCLA).

U.S. Soccer has put together a "infographic" -- a poster, more or less -- commemorating Bocanegra's 100 maches, and a PDF is available for download.

U.S. CENTURY CLUB
(100 international appearances)
1. Cobi Jones 164
2. Landon Donovan 138
3. Jeff Agoos 134
4. Marcelo Balboa 128
5. Claudio Reyna 112
6. Paul Caligiuri 110
7. Eric Wynalda 106
8. Kasey Keller 102
9. Earnie Stewart 101
10. Carlos Bocanegra 100
Tony Meola 100
Joe-Max Moore 100


February, 17, 2011
2/17/11
9:06
PM PT
By
Scott French
| ESPNLosAngeles.com
Galaxy legend
Cobi Jones
, the most-capped player in U.S. national team history, could be, should be (OK, will be) inducted into the National Soccer Hall of Fame this summer.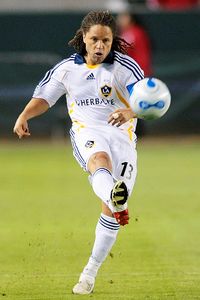 Robert Mora/MLS/WireImageCobi Jones is on the Soccer Hall of Fame ballot for the first time and could be elected this spring.
Jones, who played 164 times for the U.S. and spent 15 seasons with the Galaxy, as player and coach, before taking a position last month with the New York Cosmos, makes his initial appearance this year on the ballot, which arrived in voters' e-mail boxes Thursday.

He's a slam dunk. So is former U.S. national team backline anchor Eddie Pope, also among six newcomers on the eligibility list.

Others making their first appearances are Chivas USA assistant coach Carlos Llamosa, former Galaxy midfielder Chris Armas, Real Salt Lake head coach Jason Kreis and former U.S. women's standout Danielle Slaton. Armas, among the four, is the best bet for first-year induction, although it is more likely one or more of 18 holdover join Jones (Westlake Village/Westlake HS and UCLA) and Pope in the class.

Our first choice among the holdovers: Dutch-born former U.S. star Earnie Stewart.

Others holdovers include Chivas USA head coach (and former Galaxy defender) Robin Fraser, former Galaxy midfielder Mauricio Cienfuegos, former UCLA standout (and Seattle Sounders technical director) Chris Henderson, and two local players: former U.S. national team stars Joe-Max Moore (Irvine/Mission Viejo HS and UCLA) and John O'Brien (Playa del Rey/Brentwood School).

Others on the player ballot: Sporting Kansas City head coach Peter Vermes, Philadelphia Union head coach Peter Nowak, New England Revolution VP of player personnel Mike Burns, former U.S. national-teamer Steve Trittschuh, former MLS stars Raul Diaz Arce, Marco Etcheverry, Roy Lassiter and Carlos Valderrama, indoor legend Victor Nogueira, and former U.S. women's national-teamers Shannon MacMillan, Cindy Parlow, Tiffany Roberts and Tisha Venturini-Hoch.

The 10 names before the veterans committee include San Jose Earthquakes GM John Doyle and the late, great George Best, who spent a little time with the old L.A. Aztecs; Seattle Sounders coach Sigi Schmid (Torrance/Bishop Montgomery HS and UCLA) is one of seven men up for consideration by the builders committee.

Votes are due in by March 11 and results will be announced in early spring.
December, 3, 2010
12/03/10
6:40
AM PT
By
Scott French
| ESPNLosAngeles.com
The state's junior college soccer championships kick off Friday morning at College of the Canyons in Santa Clarita. Mt. San Antonio men's coach
Juan Sanchez
is seeking a second successive title. Cerritos women's coach
Ruben Gonzalez
is aiming for his third trophy in four years.
Their link goes far deeper than that.
Sanchez was a midfield creator and Gonzalez a backline anchor for Cal State L.A.'s men's team in the early 1990s -- a breeding ground, it turns out, for outstanding coaches.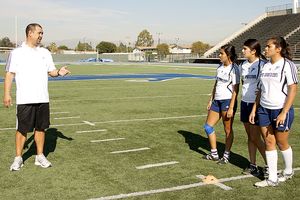 Kelly Kwan/Courtesy of Cerritos CollegeCerritos College coach Ruben Gonzalez.
They're among several Golden Eagles from the era, all prodigies of former Mexican national-teamer Leo Cuellar, who have gone on to guide title-winning teams, and the jobs they've done this year -- no matter what occurs this weekend -- have been among their best.

Sanchez returned just five players from last year's champions for what was supposed to be a "restructuring" campaign. His Mounties are 17-1-4, ranked second in the state and fourth in the nation, and one victory -- Friday morning at 10 against Northern California's West Valley College (16-4-2) -- from an opportunity to defend their title on Sunday.

Gonzalez's Falcons (22-1-2) have more experience but are somewhat of an underdog, forced to knock off the nation's Nos. 1 and 3 teams to reach the final four. They're no favorite at Canyons, either: NorCal powerhouse Santa Rosa (17-0-5), the state's lone unbeaten side, is their foe in Friday's 4 p.m. semifinal.

The other games: Canyons (16-5-2) vs. Fresno City (15-4-3) in a men's semi at 1 p.m., and San Bernardino Valley (17-1-3) vs. Fresno City (19-2-2) in a women's clash at 7 p.m.