Los Angeles Soccer:

Joe Sofia
December, 10, 2011
12/10/11
12:28
AM PT
By
Scott French
| ESPNLosAngeles.com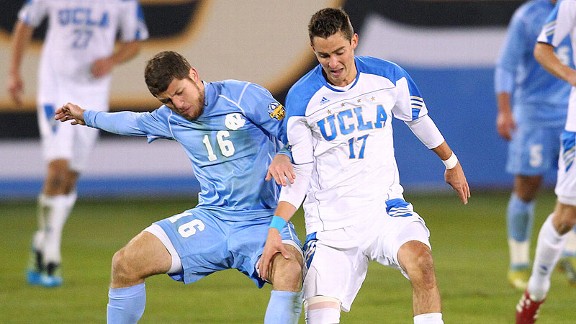 Marvin Gentry/US PresswireUCLA forward Chandler Hoffman and North Carolina midfielder Enzo Martinez battle for the ball during Friday's game.

UCLA stood five minutes from a chance to play for another NCAA soccer championship. Turns out their destiny led somewhere else.

The Bruins on Friday night twice watched leads slip away in the second half, lost their homecoming hero to heavy cramps, then came up wanting at the finish, falling to top-seeded North Carolina on penalties following a 2-2 draw in a Division I men's semifinal in Hoover, Ala., outside Birmingham.

The third-ranked Tar Heels (20-2-3), making their fourth successive College Cup final-four appearance, advance to Sunday's title game against Charlotte (16-4-4), which beat No. 2 Creighton on penalties in the first semifinal.

It was a devastating end for fourth-ranked (but 13th-seeded) UCLA (18-4-2), which dominated stretches of the match with a possession game that wearied North Carolina, went ahead on superb goals by Ryan Hollingshead in the 17th minute and Kelyn Rowe in the 74th, then conceded a late equalizer to All-American Billy Schuler.

"It was so close tonight, it could have gone either way," UCLA head coach Jorge Salcedo told ESPN Los Angeles after the game. "To win win a game, you need to have a little bit luck, a little bit skill. We had skill but no luck tonight."

It was a marvelous encounter, full of incident, featuring great drama, massive momentum swings, great individual performances on both sides, some beautiful soccer -- especially by UCLA the latter part of the first half -- and four stunning goals.

All-American striker Chandler Hoffman, a Birmingham boy playing before family and friends, assisted both UCLA strikes but wasn't in position to score himself, thanks to expert work by North Carolina All-American Matt Hedges.

His departure with a hamstring injury in overtime -- "I was cramping like I've never cramped before," he reported -- deprived the Bruins of their best finisher in the closing minutes and in the penalty-kick shootout, when they really missed him.

North Carolina won the tiebreaker, 3-1, with three of the Bruins' four shots taken poorly. Andy Rose and Rowe didn't get the ball close enough to the posts on the first two rounds, leaving simple stops for goalkeeper Scott Goodwin. Victor Munoz went up the middle to score on the third round, but Fernando Monge fired well wide left with the fourth shot, and Ben Speas -- an NCAA champion last year at Akron -- followed with the decisive kick.

"Unfortunately, when you miss the first one, it doesn't set a good tone," Salcedo said. "But we didn't lose because we took poor penalty kicks. It's not one player, not one call, not one penalty kick in soccer that decides whether you win or lose. It's just the overall game."


December, 9, 2011
12/09/11
10:40
AM PT
By
Scott French
| ESPNLosAngeles.com
There are 16 players from L.A., Orange, Riverside, San Bernardino, Ventura and Santa Barbara counties playing in the NCAA College Cup this weekend in Hoover, Ala.
Almost all of them, no surprise, play for UCLA. (And not all of them, to be fair, actually play.)
The number is impressive, given that the Bruins recruit nationally, with their biggest names coming from Alabama (
Chandler Hoffman
), Washington (
Kelyn Rowe
), Oregon (
Brian Rowe
) and England (
Andy Rose
).
UCLA's starting lineup includes a winger from Chino Hills (
Eder Arreola
), and two defenders and a forward from Orange County (
Patrick Matchett
,
Joe Sofia
and
Reed Williams
). Another starting back from Bakersfield, in Kern County, and the first forwards off the bench are from Fontana (
Victor Chavez
) and Calabasas (
Evan Raynr
).
Second-ranked Creighton has two local products, both starting midfielders, both juniors, both All-Missouri Valley Conference second-team selections:
Dion Acoff
(Upland/Damien HS) and
Jose Gomez
(Santa Ana/Century HS and Cal State Fullerton).
December, 9, 2011
12/09/11
10:10
AM PT
By
Scott French
| ESPNLosAngeles.com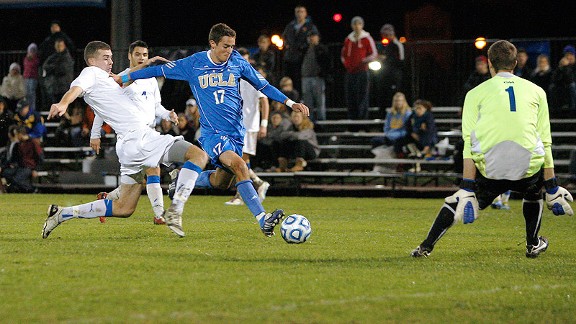 Courtesy of Jeff SipseyChandler Hoffman of UCLA is returning home to Alabama to help lead the Bruins in the College Cup.

LOS ANGELES -- Chandler Hoffman was heading home to Birmingham, and he was bringing a couple dozen of his best college buddies with him.

They hope to return to L.A. with an NCAA trophy.

Hoffman, a sure-to-be All-American striker, leads UCLA into this weekend's College Cup men's soccer final four in Hoover, Ala., where the Bruins figure to be a fan favorite, with all of his family and friends filling seats.

"Man, my phone has been blowing up. Facebook has been blowing up," Hoffman said as the Bruins prepared for Friday night's semifinal showdown with top-seeded North Carolina. "Everyone's excited to come out. It should be like a home game for UCLA."

This is what Hoffman has envisioned since word arrived earlier this year that the College Cup would be played in Birmingham's suburbs. Now that it's here -- and the Bruins are there -- he can barely contain his excitement.

"I'm so waiting for someone to pinch me and wake up," he said. "It just feels like a dream."

That dream comes true if UCLA (18-4-1) overcomes the Tar Heels (20-2-2), then knocks off second-seeded Creighton (21-2-0) or Charlotte (16-4-3) in Sunday's final. It would be the fifth NCAA men's soccer title in school history, and it would fulfill Jorge Salcedo's dream, too.

The Bruins' head coach has been part of three UCLA titles -- as a ballboy in 1985, a freshman midfielder in 1990 and an assistant coach in 2002 -- and came close to winning another in his third season in charge of the program.

"It would mean so much," said Salcedo, who played for four Major League Soccer clubs, including the Galaxy, and Morelia in Mexico. "I quietly always hope that it's going to happen, and now, once again, we have another chance. The loss [to UC Santa Barbara in the final] in 2006 left a bitter taste in my mouth, because we were a good team back then, I think ready to win a championship. But I think we're even more ready now as a program to win one."

The Bruins have ample talent, extraordinary depth -- especially in attack -- and solid upperclass leadership, and there's that destiny thing at work, too. At least Hoffman believes so.


December, 3, 2011
12/03/11
10:04
PM PT
By
Scott French
| ESPNLosAngeles.com
UCLA is headed to its 13th NCAA College Cup after Reed Williams' goal in overtime paid back Louisville for last year's quarterfinal thriller.
Williams (Newport Beach/Corona del Mar HS) scored 91 seconds into the second extra period to send the fourth-ranked (but 13th-seeded) Bruins (18-4-1) to next weekend's final four in Hoover, Ala., just outside Birmingham.
They'll face top-seeded North Carolina (20-2-2), a 2-0 winner over St. Mary's (11-7-5), in the semifinals. The other game will pair Sunday's winners, with third-seeded Connecticut (19-3-2) or Charlotte (16-4-2) facing second-seeded Creighton (20-2-0) or seventh-seeded South Florida (13-3-4). The game at Creighton was postponed by snow Saturday.
Williams fired from the top of the box through a thicket of defenders and inside the left post after
Patrick Matchett
(Laguna Niguel/Dana Hills HS) made a run from midfield, then played a give and go with
Ryan Hollingshead
on the right flank.
It led to a wild celebration for the Bruins, who watched two two-goal leads slip away and lost, 5-4, to Louisville in the closing seconds of last year's quarterfinal, which was played in a snowstorm.
This time, the conditions were mild -- low 50s drifting into the high 40s -- and UCLA did a superb job of absorbing pressure, pushing forward when the opportunity arrived, then forcing the issue once overtime arrived.
Louisville (14-7-2), which lost to Akron in last year's title game, had the better of the play much of the game but struggled to find chances when i got to the Bruins' box. All-American
Chris Rolfe
had several opportunities, but he fired high with an open shot in the 16th minute, poked the ball just wide of the right post while battling UCLA goalkeeper
Brian Rowe
in the 48th, then forced Rowe to parry a blast in the 85th.
That was all Rowe needed to tie a school record with his eighth straight shutout, extending his goal-less streak to 747 minutes, 40 seconds.
UCLA nearly tallied several times. A
Fernando Monge
header from a long throw-in by
Joe Sofia
(Dove Canyon/Mission Viejo HS) forced an early save from Cardinals goalkeeper
Andre Boudreaux
, who also made big stops on
Eder Arreola
(Chino Hills/Chino Hills HS) in the 75th minute and, with a diving save, on Williams' header just a minute before the goal.
In other men's action:
Michael Salazar (Moreno Valley/Canyon Springs HS) scored twice, with the winner in the 81st minute, to lead Cal Baptist (17-5-1) past Geneva (Pa.), 2-1, in the National Christian Collegiate Athletic Association title game in Kissimmee, Fla. Salazar's 18th minute goal was answered by Jake McCracken's header eight minutes into the second half, and he netted the winner from a feed from Alex Anderson (Palmdale/Palmdale HS).
In women's action:
Bernadette Witz
(Temecula/Temecula Valley HS) scored just before halftime and again midway through the second half as Cal Baptist (18-2-1) rallied from an early deficit to beat Trinity International (Ill.), 2-1, and win the NCCAA championship in Kissimmee, Fla. The Lancers outshot TIU, 22-2, and took 14 corner kicks to none for their foe, but they were behind after Kelly Streekstra's long-distance drive in the 17th minute. Witz scored from a feed by
Channing Perea
(Riverside/Riverside Poly HS)'s feed to tie the score and from tournament MVP
Fabiola da Silva
's pass to net the winner.
December, 3, 2011
12/03/11
7:04
AM PT
Jorge Salcedo didn't want to look.

His UCLA men's soccer team had just secured a quarterfinal showdown at Louisville, the game every Bruin wanted, and what he remembered most from last year's classic was the snow.

No. 4 UCLA (17-4-1) seeks its 13th final-four appearance in the sport Saturday night with a rematch of one of the greatest NCAA games in history, any sport, and Salcedo will be happy to know no snow will greet his side.

"I'm afraid to [check the forecast]," he kidded last weekend, after the Bruins dominated Rutgers to claim the school's 20th elite-eight berth. "We'll see. We've had inclement weather [in Louisville], we had hot weather when we were there [for a season-opening rematch] in August."

It doesn't matter, the weather.

"We'll play them in a barn, we'll play them anywhere," Salcedo said. "We're just excited about the chance to play a good team."

The forecast for Saturday in Louisville is a high of 61 and a low of 47, cloudy but nothing falling from the sky. That's a lot nicer than in last year's quarterfinals, when the Bruins didn't deal well with the snow and slush and surrendered three goals after taking a 3-1 lead, rallied to tie, then conceded in the final seconds of regulation for a 5-4 loss.

Salcedo's judgment: "One of the wildest matches I have ever been a part of."


October, 29, 2011
10/29/11
8:20
AM PT
By
Scott French
| ESPNLosAngeles.com
Pepperdine's dream of an unbeaten season ended Friday night to a goal scored with just eight seconds to go in the first half.

No. 10 Santa Clara pulled out a 1-0 triumph over the third-ranked Waves, vaulting into the top spot in the West Coast Conference when Bridgett Miller (Los Angeles/Archer School for Girls) put away a deflected free kick in the Bay Area showdown.

Roxanne Barker (Irvine/Woodbridge HS) made two big saves to keep Pepperdine (13-1-4) level, but there were no answers for Miller's goal.

"[Santa Clara is] a good team, and, to their credit, they came out firing, and we came out flat," Waves head coach Tim Ward told his school's athletics web site. "As poorly as we were playing in the first half, I thought we were going to come out with a 0-0 score at half, but, unfortunately,
it didn't happen.

"The second half, we played much better and had some excellent scoring opportunties."

The best was a Myriah Stockman try off a corner kick in the 52nd minute that Broncos goalkeeper Bianca Henninger saved.

Santa Clara (12-1-5) is 5-0-1 in the WCC. The Waves, who are home Sunday against Portland, and San Diego are 5-1; BYU is 4-1-1.

The loss ended a program-record 18-game unbeaten streak for Pepperdine,

In other women´s action:


Taylor Nelson (Garden Grove/Pacifica HS) and Nicole Sweetman (Oxnard/Oaks Christian HS and UCLA) scored goals three minutes apart early in the second half as Long Beach State (12-5-1) clinched a Big West Conference tournament berth and climbed within a point of first-place UC Irvine with one game to go with a 2-0 victory over visiting UC Davis.
Sydney Leroux netted her second first-half hat trick in as many weeks and Jenna Richmond added two goals as sixth-ranked UCLA (13-1-2) romped to an 8-0 Pacific 12 Conference victory at Colorado.
Lauren Mellano (Fullerton/Troy HS) scored 105 seconds into overtime as Cal State Fullerton (8-8-3) edged Pacific, 1-0, in Big West play. The Titans tied an NCAA record (set in 2005 by William & Mary) with their 11th overtime game of the season and are 4-4-3 in games with the extra period.
USC (6-12-0) saw its three-game winning streak halted in a 3-0 Pac-12 loss at Utah.
July, 5, 2011
7/05/11
11:37
AM PT
By
Scott French
| ESPNLosAngeles.com
Was it a conference-title preview we saw Sunday, when the National Premier Soccer League's divisional winners wrapped up their regular seasons with a showdown in San Diego?
Hollywood United FC certainly hopes not. A red card, two injuries and the decision to rest two influential starters contributed to a 5-1 loss to the San Diego Flash, which posted the Western Conference's best record on the field (12-1-1) if not on the official books (10-3-1, after two forfeits).
HUFC (11-2-1, including one of the forfeit wins) can figure on another meeting next week perhaps -- the schedule has not been determined by the league, but July 16 sounds reasonable -- with a berth in the NPSL final four in Alabama on the line.
The Hitmen, who won the Northwest Flight and last week claimed the No. 1 seed for the conference final four, open the playoffs Saturday night against the Santa Ana Winds (8-4-2) at Crenshaw High School in Los Angeles. The Flash, Southwest Flight winners, are home against the Sacramento Gold (7-3-4) in the other semifinal.
Hollywood United, which lost its second game of the year to the Flash (a 3-1 decision that turned into a 3-0 win) and went unbeaten in the next nine, took both its losses last week. Thousand Oaks' FC Hasental (6-5-3), which made a late, failed run for a playoff berth, pulled out a 2-1 victory last Tuesday night that had HUFC, in its official game report, calling Los Conejos "by far the best team [we've] faced all year."
It followed with a 6-0 rout of Lancaster's Rattlers FC to guarantee the conference's top record, led by
Andy Contreras
' hat trick and two goals from
Jose Miranda
.
More on local clubs and players:
December, 4, 2010
12/04/10
10:54
PM PT
By
Scott French
| ESPNLosAngeles.com
UCLA was on target for the NCAA Division I College Cup men's final four after twice taking two-goal leads Saturday night at top-ranked Louisville, but the Bruins' start was better than their finish in a cold, snowy quarterfinal clash.

The Cardinals (19-0-3) claimed their first final-four appearance with a wild 5-4 triumph captured on Aaron Hester's goal with just 52 seconds to play.

Louisville, which will face fourth-seeded North Carolina (16-3-2) on Friday at UC Santa Barbara's Harder Stadium, overcame 2-0 and 3-1 first-half deficits to end UCLA's run toward what it hoped would be a fifth NCAA soccer crown.

Eder Arreola (Chino Hills/Chino Hills HS) and Kellyn Rowe provided the Bruins (16-5-1) a two-goal advantage by the 18th minute, and Chandler Hoffman's breakaway in the 33rd restored the cushion after Colin Rolfe got Louisville on the board with a free kick in the 29th.

But the Cardinals surged ahead with three goals in 17 minutes: a penalty kick near the end of the first half, Rolfe's second goal -- a header from a free kick -- just three minutes into the second half, and Nick DeLeon's finish from Rolfe in the 56th.

Victor Chavez (Fontana/A.B. Miller HS) scored from a throw-in by Joe Sofia (Dove Canyon/Mission Viejo HS) to even it, 4-4, in the 81st minute, but Hester dribbled through UCLA's defense to score the winner in the 90th.

The other semifinal will pit third-seeded Akron (20-1-2) against 10th-seeded Michigan (17-4-3).

November, 28, 2010
11/28/10
10:43
PM PT
By
Scott French
| ESPNLosAngeles.com
Eder Arreola
's second goal Sunday night couldn't have come at a better time.
The junior midfielder with extensive U.S. youth national team experience, tapped home from close range after a long throw-in just eight seconds before the end of overtime to lift UCLA past visiting Dartmouth, 2-1, and into the NCAA Division I men's quarterfinals.

The Bruins (15-4-1) will play Saturday at top-ranked Louisville (18-0-3), with the winner advancing to the College Cup final four Dec. 10 and 12 at UC Santa Barbara.
Arreola (Chino Hills/Chino Hills HS), whose blast to the upper-right corner gave the Bruins (16-4-1) a 26th-minute lead, had scored only once in the first 19 games of the season.
"It's unreal," Arreola told UCLA's athletics website after a throw-in into the Dartmouth box by freshman
Joe Sofia
(Dove Canyon/Mission Viejo HS) was headed onto his path by a Big Green defender. "Words cannot describe this feeling right now. It's a dream come true. I've been waiting for this day when I could score at Drake Stadium, and today I was able to score for the team and help us get to the next round."
Eight more seconds, and the game would have been decided on penalty kicks.