Los Angeles Soccer:

Joel Lindpere
May, 8, 2012
5/08/12
5:07
PM PT
By
Scott French
| ESPNLosAngeles.com
CARSON --
Leonardo
got a full half and
Brian Perk
played for the first time since preseason, substantial developments both, as the Galaxy and San Jose Earthquakes traded penalty kicks in an MLS Reserve League game Tuesday.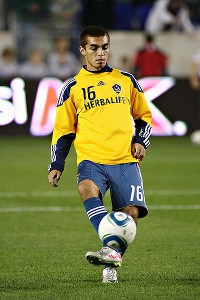 Andy Marlin/Getty ImagesHector Jimenez, normally a midfielder, was impressive at right back for the Galaxy in a reserve game against San Jose on Tuesday.
More significant, perhaps, was Hector Jimenez's performance in a new position.

The second-year winger from Bell Gardens was terrific as right back, teaming with Michael Stephens on the flank as L.A. dictated terms nearly the entire match before settling for a 1-1 draw on the Galaxy's training field at Home Depot Center.

Jimenez, who would be playing decent first-team time with a lot of Major League Soccer clubs but is caught behind L.A.'s deep, veteran midfield core, said he'd played as an outside back "toward the end of last year in a reserve game for a few minutes" but that this was otherwise a debut.

"I felt good," he said. "I thought offensively I got involved a lot, it's just the defensive part, where I need to get used to checking the [restraining] line and stuff like that, but I thought I played good for the 90 minutes."

Galaxy assistant coach Curt Onalfo, who runs the reserve side, agreed.

"The interesting thing sometimes in sport is when through injury and that sort of stuff you end up shifting things around, and sometimes all of a sudden something pops up that maybe you haven't seen. And I think that's the case.

"If you look at his game and you compare it to when he plays in midfield, he had just as much an influence going forward -- or maybe even more. The combination of Mikey Stephens coming inside and [Jimenez] overlapping, I thought was good. Would have liked to see more goals from it. It was a game where we possessed and had really the majority of possession, the majority of play. It's a game where you think you're going to get three points from."


May, 5, 2012
5/05/12
11:10
PM PT
By
Scott French
| ESPNLosAngeles.com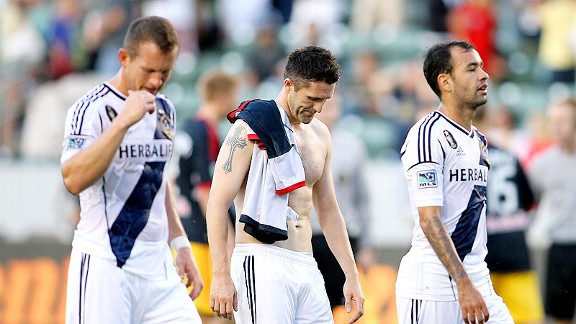 Victor Decolongon/Getty ImagesSaturday's loss to the Red Bulls has left the Galaxy continuing to search for answers.

CARSON -- The Galaxy lost five games all of the 2011 Major League Soccer season, and two of those were giveaways, with B sides sent in to absorb defeat in New York at the end of a insane stretch in early October and in the season finale at Houston a few weeks later.

They matched that total Sunday in just their ninth game, another hapless display in front of the net costing them plenty in a 1-0 defeat to the New York Red Bulls, who scored an early goal, then bunkered in and survived a second-half onslaught to escape with the points.

"It's a bit of a broken record," head coach Bruce Arena said, then did his best impression, mentioning 11 times in eight minutes that the Galaxy had "enough chances to create [enough] goals" to win, or words to that effect. Chances are all well and good, but when they're not put away, things go wrong.

Things are going very wrong for L.A. (3-5-1, 10 points), which has lost three of six league home games and sit a dozen points -- four victories -- behind San Jose and Real Salt Lake in the Western Conference standings.

Ryan Meara made four big saves and the Red Bulls (5-3-1, 16 points) defended with vigor, but it's the Galaxy's lack of precision when it counts -- a recurring nightmare for them -- that's quickly defining what is developing into a deeply disappointing campaign.

"It's getting even more frustrating week after week ...," said David Beckham, whose crosses into the box provided a good deal of the dozen decent opportunities the Galaxy found and quickly lost. "We keep saying we're not worried about it. It's got to come a point where we need to be worried about it, and we're close to that now."

Joel Lindpere scored the goal for New York, striding through an open expanse and into the Galaxy box to collect a short pass from Jan Gunnar Solli and fire into the right-side netting. It was all that was required for the Red Bulls, who were missing six regulars -- injured Thierry Henry and Teemu Tainio and suspended Rafa Marquez the headliners -- and employed the expected tactics.

There wasn't a whole lot of space for L.A. to operate, and the sharpness needed to break down New York's 4-1-4-1 alignment wasn't forthcoming. The rookie Meara did well to repel an Edson Buddle header at the start, a Mike Magee shot to begin the second half, a tremendous Juninho blast in the 82nd minute and Landon Donovan's reflex shot from 12 yards in the 86th.


October, 30, 2011
10/30/11
8:45
PM PT
By
Scott French
| ESPNLosAngeles.com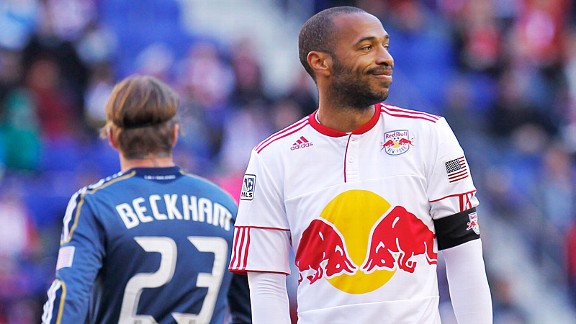 Mike Stobe/Getty ImagesThierry Henry and the Red Bulls still have hope they can come back on David Beckham and the Galaxy.

HARRISON, N.J. -- Hans Backe's take on the Galaxy's triumph Sunday: The Red Bulls were in command the whole way.

David Beckham's: The Galaxy played their game and got the result they were after.

Mike Magee's: L.A. isn't going to win an MLS Cup with many more performances like that one.

The opener of the first-round Major League Soccer playoff series served as a "Rashomon" experience for those involved, with no two versions of what occurred on the Red Bull Arena turf quite alike.




What can be agreed upon is this: The Galaxy is halfway to the Western Conference final following a gritty 1-0 decision over New York in which one beautiful Beckham ball, one tremendous Magee finish and plenty of lights-out defending by the visitors in the second half added up to an often invigorating and unquestionably intense battle.

Part II comes Thursday night, when L.A. takes its advantage into the second leg of the two-game, total-goals matchup at Home Depot Center knowing that a draw will be enough to send it to its third successive conference title game.

Magee scored the goal, firing home from a tough angle after his late run for a superb long ball by Beckham beat the Red Bulls' offside trap, and the Galaxy's backline -- led by center back Omar Gonzalez and goalkeeper Josh Saunders, both impeccable -- absorbed heavy pressure the final 45 minutes to notch the club's 21st shutout in 43 games this season, all competitions.

"Listen, we're not happy with the way we played," Magee said afterward. "We're extremely happy with the points, but we stopped playing for some reason, which is uncharacteristic of us this season. That [kind of play is] not why we're here. I think we're well aware that if we have a similar performance and a similar effort, we might not get three points. We need to play better.

"We had some chances to score, to put a second one away. We gave them chances to score. We're well aware that performance isn't going to win us MLS Cup."

Divide the game in half. The first half belonged to the Galaxy, which dictated the pace with an elegant possession game -- despite a heavy, pockmarked field damaged somewhat in the snow-removal process following Saturday's storm -- and created two chances, both from Beckham long balls, that should have provided a two-goal lead by the 15th minute.

The second half was all about the Red Bulls, who finally found a way to get wide -- primarily on the left, through Joel Lindpere and Roy Miller -- and quickly set a tone with three superb chances in the first four minutes after the break, the first two from Rafa Marquez balls over the top.

Saunders slapped away two of them, denying Dane Richards and, even better, Lindpere, and the backline, with Gonzalez doing much of the dirty work, was resolute the rest of the way.

Better aim by New York might have made for a different result. The Bulls put just five of 17 shots on target, and Marquez managed just one of six on frame, a stoppage-time grass-burner that Saunders leapt to corral.


October, 26, 2011
10/26/11
8:57
PM PT
By
Scott French
| ESPNLosAngeles.com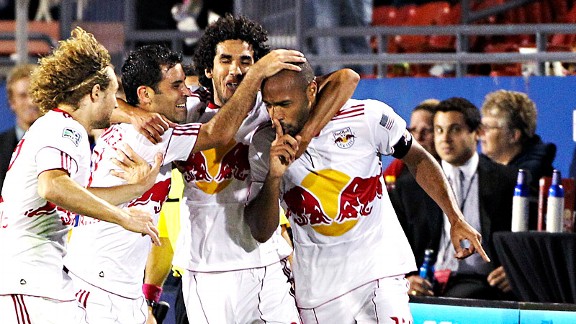 Kevin Jairaj/US PresswireThierry Henry celebrates his goal that closed out New York's win at Dallas on Wednesday and secured a playoff matchup against the Galaxy.

The Galaxy is New York-bound.

Well, New Jersey.

The New York Red Bulls' 2-0 triumph in a wild-card clash Wednesday night at FC Dallas sets up a major-market showdown, one Major League Soccer and television rights-holder ESPN will relish, for the first round of the league's playoffs.




The Galaxy (19-5-10), winner of the Supporters' Shield as Western Conference champion, will open its postseason campaign against New York on Sunday afternoon at Red Bull Arena in Harrison, N.J. Kickoff will be noon PT, and the game will be televised by ESPN2 and ESPN Deportes.

The second leg will be next Thursday at Home Depot Center, with an 8 p.m. start. The team that scores the most goals over two games advances to the Nov. 6 Western Conference final.

Columbus plays Thursday night at Colorado in the second wild-card game, and the winner meets Eastern Conference winner Sporting Kansas City in a first-round opener Saturday.

The Red Bulls went 1-0-1 against the Galaxy this season, drawing in a sizzling encounter at Home Depot Center in May, then winning earlier this month in Harrison when the Galaxy, weary from a difficult month of MLS and CONCACAF Champions League action, used a reserve lineup filled with heavy legs.

Thierry Henry and Landon Donovan traded goals in the first meeting, a 1-1 draw; Henry and Luke Rodgers scored in the second, a 2-0 Red Bulls win.

"New York -- you can kind of put an asterisk next to those games," left back Todd Dunivant said earlier Wednesday. "The first was a good game, probably one of the best games of the year in MLS, to be honest. And on the road we were exhausted.

"I don't think anyone fears New York, and we would love that [matchup], and I think the league would love that."


July, 25, 2011
7/25/11
1:56
PM PT
By
Scott French
| ESPNLosAngeles.com
Galaxy midfielder Juninho is a Major League Soccer All-Star. So is Montclair's Nick Rimando, the goalkeeper for Real Salt Lake. Don't bother looking for either Wednesday.
They were among a half-dozen players selected in a vote among their colleagues for the final slots on the official All-Star list, but none of them are on the game-day roster for the clash with Manchester United at Red Bull Arena in Harrison, N.J.
The collective bargaining agreement between the league and the MLS Players Union mandates 32 all-stars, proportioned by position to resemble a realistic roster, but Red Bulls coach
Hans Backe
will take only 21 players into Wednesday night's game, which will be televised on ESPN2 and TeleFutura (KFTR/Channel 46). Coverage begins at 5:30 p.m. PT.
Backe was allowed a 22-man roster, but
Landon Donovan
pulled out Sunday with a calf strain, and the coach said Monday he would not replace the Galaxy captain on the roster.
Four others previously chosen for the game-day roster -- Galaxy defender
Omar Gonzalez
, New York defender
Rafa Marquez
, Seattle goalkeeper
Kasey Keller
and FC Dallas winger
Brek Shea
-- pulled out previously with injuries or CONCACAF Champions League conflicts.
The others added to the list Monday were Seattle midfielder
Osvaldo Alonso
, D.C. United midfielder
Dwayne De Rosario
, Vancouver forward
Eric Hassli
and New York winger
Joel Lindpere
.
Juninho, a 22-year-old Brazilian in his second season on loan from Sao Paulo, has been pivotal in central midfield for the Galaxy, which have the league's best record (11-2-9) heading into the All-Star break.
Rimando (Montclair HS/UCLA), 32, is in the top tier of MLS goalkeepers -- arguably at the top of that tier -- and his exclusion from the game-day roster was one of Backe's more shocking decisions. Rimando hasn't spoken publicly about the snub, but RSL head coach
Jason Kreis
last week told The Salt Lake Tribune that his star netminder was "deeply hurt."
July, 17, 2011
7/17/11
12:29
AM PT
By
Scott French
| ESPNLosAngeles.com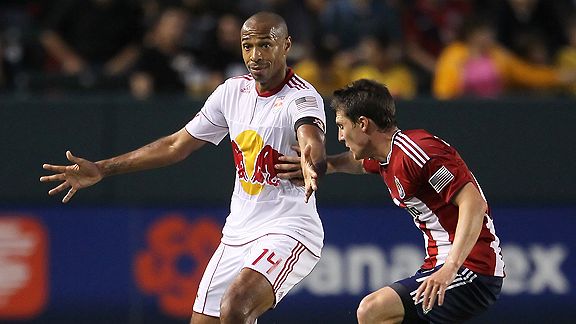 Jeff Gross/Getty ImagesThierry Henry of the Red Bulls fends off Chivas USA's Ben Zemanski during Saturday night's game.

CARSON -- Chivas USA didn't manage to put one shot on target, and here they were, on the verge of victory. For a few seconds, at least.

Then referee Mark Kadlecik conferred with his linesman, and the penalty kick he'd awarded the Goats in the 90th minute was waved off.

The Goats' peaks-and-valleys campaign went through another one of those nights Saturday, and all in all, a 0-0 draw with New York was a reasonably positive result. But, oh, what could have been.

Chivas' half-chances weren't enough to test debuting Red Bulls goalkeeper Frank Rost, fresh from the German Bundesliga, but some fine play, as always, by goalkeeper Dan Kennedy was enough to keep a clean sheet as the Goats (5-7-8) extended their unbeaten streak to four games.

It was the struggles connecting in the final third, a problem that keeps resurfacing, that defined the match for Chivas, which put one shot off the crossbar (a Jorge Flores blast in the 38th minute) but couldn't get on the end of crosses into the box and found it difficult to find shots that might matter.

The attack could be strengthened in the next week, head coach Robin Fraser and general manager Jose Domene acknowledged, with signings of "more than one" player apparently imminent.

"Sure. Yes," Fraser said when asked if a signing was about to happen. How soon? "You know how the process works, with signing and visas and that sort of thing, so as soon as it can happen, you will know."

Domene said deals were "almost done" and that Chivas "wants to bring in [players] right away, but it's a process. It takes time. It's pretty much done, but it's not finalized." A forward is the the biggest need, and Fraser acknowledged that signing one "certainly is a very big priority."

No shots on goal usually means no goals, but the Goats had to think one was coming when Kadlecik whistled Red Bulls defender Carlos Mendes for handling a Pearce corner kick in the final minute. The Red Bulls quickly surrounded the referee, who talked it over with linesman Jeff Hosking before reversing himself.

"That's quite a roller-coaster there in a matter of seconds," said midfielder Nick LaBrocca. "You're in there, and the end of the game is in sight, you're given something, and to have it taken away is an emotional thing."

Fraser didn't want to talk about it much. "It's extremely disappointing and confusing, to say the least, but whatever," he said. "Anything else I say will lead to me getting fined."

Mendes was sliding toward the goal when the ball hit him, and Kadlecik apparently thought it caught his arm. Replays seemed to indicate the ball hit Mendes in the face, caroming toward the goal, where Rost made the stop.

"It would have been really frustrating to gt that kind of wrong decision against you," Red Bulls coach Hans Backe said, "but luckily the linesman saw that the ball hit Mendes' chin and not a handball."

Chivas forward Justin Braun acknowledged the officials seemed to get it right, not that that eases the frustration.

"It just sucks that the ref did call it at first," he said. "That's stuff that shouldn't go on. At this level, if you call a PK, you should stick with it."

A quick look at Chivas' draw:


July, 15, 2011
7/15/11
11:43
PM PT
By
Scott French
| ESPNLosAngeles.com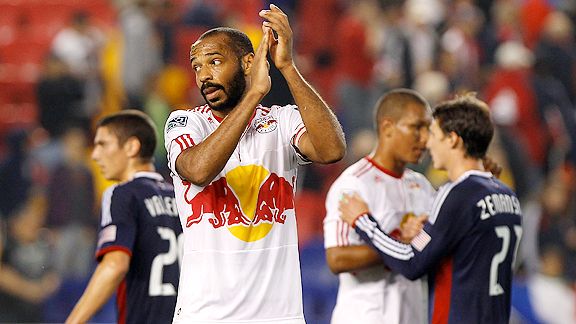 Mike Stobe/Getty ImagesThierry Henry is having an MVP-like season for the Red Bulls, who have struggled of late.

The best soccer game Saturday night in Southern California will feature one of the game's most celebrated figures playing for a team looking to quickly find itself before things truly begin to matter in the coming weeks.

More attention will be paid to what's going on 12 miles up the road, where Real Madrid meets up with the Galaxy in a Coliseum friendly, but Chivas USA's clash with Thierry Henry and the New York Red Bulls matters more.

It's a critical contest for both sides.

Chivas is, as it has seemed to be at several junctures this season, on the verge of something special, although it might require a transfer-window move for a frontline finisher to bring it to fruition.

The Red Bulls, with more talent than anybody else in the league -- and not just Henry -- is playing like anything but title favorites, with just two wins in their last 13 matches, both over Major League Soccer bottom-feeders.

Inconsistent form, poor finishing and missing personnel (through injury and international duty) has produced a lot of groans in the Red Bulls locker room, with head coach Hans Backe noting after one defeat that he expected -- and desired -- a locker-room fight, and winger Joel Lindpere moaning that he wasn't having fun anymore.

The Red Bulls haven't beaten Chivas USA in Carson since 2005, not at all since June 2008, and were outslugged, 3-2, back in New Jersey two months ago, thanks to Justin Braun's hat trick. As Lindpere told the league's website this week: "We seem to struggle when we play them."

What does it all mean? Nothing, says Robin Fraser.

"I think they're very dangerous because they have five or six players that can hurt you at any single time in the game," Chivas' coach said this week. "Whether they're getting results or not has nothing to do with what's happening on the day."

The consensus is that New York (6-4-10), with its quality, should be getting better results. They're even with Philadelphia on points but sit second in the Eastern Conference on head-to-head results. Backe and Sporting director Erik Soler have been adamant that they expect to win the conference and play for the league title.

The key to that, and to Saturday's game, is Henry, a French forward who starred at Arsenal and Barcelona and played in four World Cups (with a title in 1998) before coming to MLS last summer. He has been exceptional this year, scoring nine goals (tied with Galaxy captain Landon Donovan for most in the league), an uncommon percentage of them highest quality.

"He's got pace and experience and quality in front of the goal, doesn't waste too many chances," Fraser said. "He's a difficult player to deal with individually because he's got such a great change of pace. Knows where to be and when to be and that sort of thing.

"He's the kind of guy who changes games in three, four seconds. Can be doing nothing and turn that into a 35-yard run by three people and score. You have to be very aware of him."


May, 15, 2011
5/15/11
10:56
PM PT
By
Scott French
| ESPNLosAngeles.com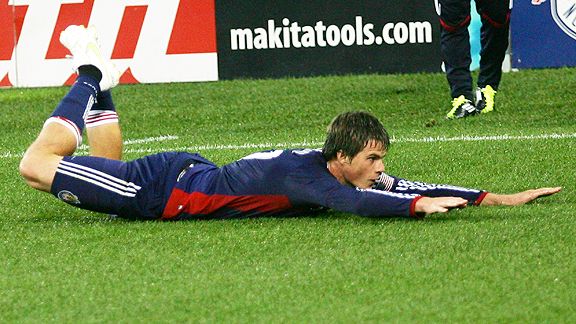 Andy Marlin/Getty ImagesJustin Braun celebrates the second goal of his hat trick in Chivas' 3-2 win over the New York Red Bulls.
Justin Braun, relegated to the sidelines following preseason injuries and indifferent form that followed, made a major statement Sunday evening as Chivas USA pulled off the biggest upset of the Major League Soccer campaign.
Only it wasn't much of an upset.
The Goats, whose aggressive possession game is quickly making a big impression across the league, set up a showdown with the Galaxy in next weekend's SuperClasico with a 3-2 thriller over New York in Harrison, N.J. They were the better side a lot of the game, dominating big swaths of action, then relying on yeoman's efforts in the back when the Red Bulls' immense class shined through.
Braun scored a hat trick, the first in club history -- each goal providing Chivas (3-3-3) a one-goal advantage -- to define a sensational, box-to-box performance that coach
Robin Fraser
called a "coming-out party" for the 24-year-old striker.
"Justin was tremendous," said Fraser, who inserted Braun into his lineup for suspended forward Marcos Mondaini. "I thought all night long he was just a real presence on the attacking end of the field. He ran a lot of things down; he was obviously very efficient in front of the goal. I think for him it's great. It's good for him, for his confidence. …
"You have a performance like that, you certainly make a statement for yourself. "
It's a statement for Chivas, too -- not only knocking off perhaps MLS's best side, and doing it at Red Bull Arena, but with an offensive explosion few could have imagined. New York (4-2-3), the Eastern Conference's leader, had conceded just three goals in its first eight games. Braun had three by the 56th minute.
"This is definitely huge for me," Braun told ESPN Los Angeles after the game. "I've always wanted to score a hat trick in MLS. It's a big moment for me. I've been in a little slump mostly, so I was happy to get the first one. The other two were just gravy."
The first, in the sixth minute, was a beauty, a blast from just above the box on the left to the far-post netting. He got the second in the 21st minute, toe-poking past Red Bulls goalkeeper
Bouna Coundoul
after
Ante Jazic
did great work to keep
Heath Pearce
's free kick alive. And the winner came in the 56th, a tap-in after Coundoul pushed
Alejandro Moreno
's blast off the left post and across the goalmouth.
They were the first three goals this season for Braun, who led Chivas with nine last year.
May, 8, 2011
5/08/11
12:16
AM PT
By
Scott French
| ESPNLosAngeles.com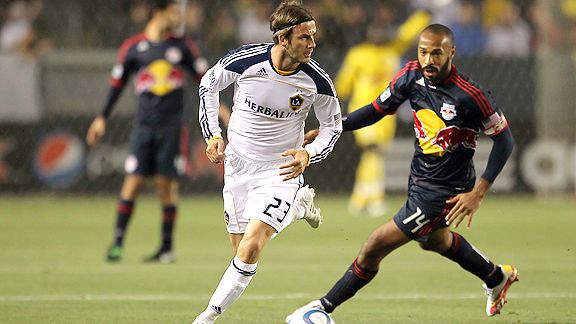 Jeff Gross/Getty ImagesDavid Beckham, left, and Thierry Henry met on an MLS field for the first time Saturday.

CARSON, Calif. -- Major League Soccer's biggest showdown yet this season also was among its best encounters, a 1-1 draw Saturday night between the Galaxy and New York Red Bulls that had a little bit of everything.

Except a winner.

Thierry Henry fired New York ahead in the fourth minute, his fourth successive game with a goal, and Landon Donovan nodded home David Beckham's corner kick just before halftime to pull L.A. even, but it was the goals that didn't count -- and the chances that just missed -- that defined this thriller.

"It should probably ended up 3-3, with all the chances from both sides," Red Bulls coach Hans Backe said. "It's a very intense game. It's a very good game. It's a good level on the game today. Probably the best you can see in MLS at the moment.

"Very entertaining, it must have been. That's two teams that definitely wanted to attack for 90 minutes and go for the winning goal."

Galaxy striker Juan Pablo Angel, looking plugged in as he hasn't all season, scored against his former team midway through the first half, but the goal was waved off by an offside call that replays indicated was correct.

And Donovan, who has four goals in the last three games, should have had a second just moments after his header. Beckham lofted a ball over the New York backline for Donovan to run onto, and he pushed it past onrushing Red Bulls goalkeeper Bouna Coundoul a good 10 yards outside the box.

That left an empty net, but his roller from 19 yards was way too slow, and defender Tim Ream chased it down, slid and booted it from danger just as it reached the goal line.

Did it cross the line? Replays were inconclusive, but Galaxy coach Bruce Arena said his "take" was "it should have been a goal."

"Part of that ball was over the line for sure," Arena said. "Whether all of it was, I sure can't tell from where I am."

Said Donovan: "It looked like it was in. I think we're learning this year if we want to score a goal, we really have to score two goals. If we want to score two goals, we have to score three or four. It's unfortunate. You would hope that at some point you have to think we'll get the benefit of the doubt, but it hasn't happened yet."


November, 21, 2010
11/21/10
12:21
AM PT
By
Scott French
| ESPNLosAngeles.com
TORONTO -- This is where the Galaxy wanted to be, planned to be: In Canada's largest city, preparing for Sunday's MLS Cup title game, 90 minutes from the club's first Major League Soccer championship in five years.
The disappointment from last weekend's loss to FC Dallas in the Western Conference final slowly is ebbing away, replaced by a broader perspective of what the Galaxy accomplished over eight months and what will be required to reach next year's goal: winning the MLS Cup title, of course.
L.A. posted the best record during MLS's regular season (18-7-5) -- that would have meant the championship in most leagues on the planet -- it won the Western Conference title, claimed the Supporters' Shield for the third time (gaining entry to the group stage of next season's CONCACAF Champions League) and came just a handful of miraculous Kevin Hartman saves of reaching an MLS-record seventh title game.
All in all, not bad. Just not good enough.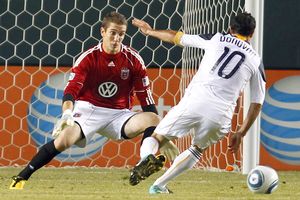 AP Photo/Lori SheplerLos Angeles Galaxy's Landon Donovan scores a goal against D.C. United's Troy Perkins, left, the second half of an MLS soccer game on Saturday, Sept. 18.


"It hurts. There's only one team that's happy at the end of the year," defender Todd Dunivant said a few days after FC Dallas' 3-0 triumph ended the Galaxy campaign. "It was a tough ending for us. We had every intention to get back to the Cup [after losing on penalties to Real Salt Lake in last year's final] and win it this year. But we've looked at the positives, too. We won the Supporters' Shield and qualified for the Champions League, so there are a lot of positives to take out of it."

Goalkeeper Donovan Ricketts acknowledges "it means a lot to lead the regular season. It's good. But in this league, it means nothing. Ultimately, you have to play the playoffs and get to MLS Cup. So the Supporters' Shield is only a consolation for me, personally.

"It's not bad we got some silverware. But that's not what I play for. I play for MLS Cup."


October, 31, 2010
10/31/10
8:32
AM PT
By
Scott French
| ESPNLosAngeles.com
A look at Saturday's MLS postseason action:
IN BRIEF:
Two harsh red cards -- one to Real Salt Lake playmaker extraordinaire
Javier Morales
-- mar FC Dallas' 2-1 comeback triumph captured on former UC Santa Barbara standout
Eric Avila
's late strike. … New York heads home with a 1-0 advantage after
Joel Lindpere
lifts the Red Bulls at San Jose.
BEST PLAYER:
Lindpere might not get the press that DPs
Thierry Henry
,
Rafa Marquez
and
Juan Pablo Angel
attract, but the Estonian midfielder clearly is the Red Bulls' MVP this year -- and he tormented the Earthquakes in New York's win. He had the lone goal, a superbly placed shot from a tight angle past a diving
Jon Busch
and inside the right post from a poorly headed clearance, and would've had another had
Jason Hernandez
not been stationed on the goal line.
BEST GOAL:
Two candidates from FC Dallas' victory. Hard to beat
Fabian Espindola
's blast, from
Andy Williams
' ball from the midfield stripe, into the upper-left corner to give RSL a fifth-minute lead. But beat it Avila's bender into the left-side netting did. The 88th-minute winner, less than a minute after he came on for
Jair Benitez
, was a splendid finish to an invigorating clash.
October, 27, 2010
10/27/10
6:13
PM PT
By
Scott French
| ESPNLosAngeles.com
Edson Buddle, who scored 17 goals -- nine of them in the first six games -- to lead the Galaxy to Major League Soccer's Western Conference and Supporters' Shield titles, is one of three finalists for the league's MVP honor.

Teammate Landon Donovan, who won the award last year and led MLS in assists this season, isn't.

Buddle, who won the Galaxy's MVP honor over Donovan, is contending with FC Dallas midfielder David Ferreira and San Jose forward/midfielder Chris Wondolowski for the league's top award. It's a wide-open contest. My vote went: 1. Ferreira; 2. Donovan; 3. Wondolowski.

Omar Gonzalez is a finalist for Defender of the Year, with Real Salt Lake's Jamison Olave and Nat Borchers (my vote: 1. Olave; 2. Borchers; 3. FCD's George John), and Donovan Ricketts is up for Goalkeeper of the Year with UCLA products Kevin Hartman (Palos Verdes/Peninsula HS) of FCD and Nick Rimando (Montclair/Montclair HS) of RSL (my vote: 1. Hartman; 2. Rimando; 3. Ricketts).