Los Angeles Soccer:

John Owoeri
March, 23, 2012
3/23/12
4:44
PM PT
By
Scott French
| ESPNLosAngeles.com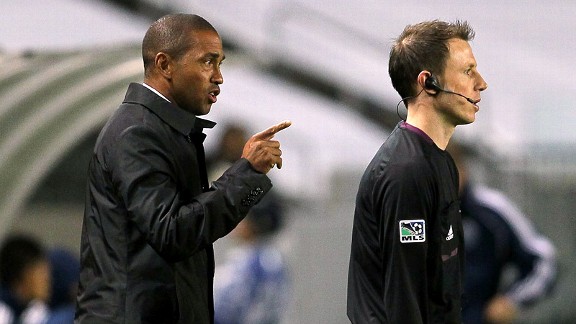 Victor Decolongon/Getty ImagesChivas USA coach Robin Fraser will face his former team, Real Salt Lake, on Saturday.

Nobody has to tell Robin Fraser how good Real Salt Lake is. He spent three years as chief assistant to Jason Kreis, playing a significant role in the club's rise from doormat to champion and -- before the Galaxy's resurgence -- standard-bearer for Major League Soccer.

It's a model of sorts for what Fraser is trying to build at Chivas USA, a task that's going to take some time but is, as the Goats' head coach puts it, "coming to fruition," even with back-to-back shutout losses to start the season.



"Every experience is different. Every team is different," Fraser said. "They have a lot of consistency. They have a number of guys who've been on the team … this is their fifth year, I think. When you have that kind of carryover with good players, then good things happen."

Fraser is still building his roster, and only goalkeeper Dan Kennedy, left back Ante Jazic, midfielders Blair Gavin and Ben Zemanski, and forward-turned-midfielder Alejandro Moreno have been around longer than the coach, who was hired in January 2011.

Carryover of RSL's sort will take another three or four seasons.

"It's all part of the process of building a team," Fraser said. "I think any of the successful teams over the years -- look at D.C. United, look at our Galaxy teams [in the league's early years], Houston/San Jose for a while -- these are teams that spent a lot of time together. It's definitely part of the key to enduring success."

Chivas, however, needs results now, and heads into Saturday night's clash in Sandy, Utah, against Fraser's old team desperate for points and facing long odds.

Chivas has shown little sign of attacking coherency is 1-0 home losses to Houston and Vancouver, and they're without star striker Juan Pablo Angel, who is dealing with concussion issues. RSL, with tremendous talent all over the field, sits atop MLS's Supporters' Shield standings following victories over the Galaxy and New York, the two biggest clubs in the league.


March, 20, 2012
3/20/12
4:56
PM PT
By
Scott French
| ESPNLosAngeles.com
Still no decisions on most of the trialists still in camp with Chivas USA, but Santa Ana's
Kevin Huezo
will not become a Goat.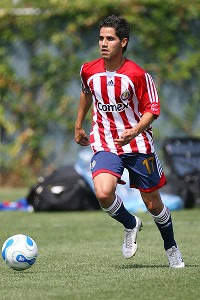 Juan Miranda/MLS/Getty ImagesRodrigo Lopez has been with Chivas USA before and is again on trial with the Goats.
Huezo (Segerstrom HS), who has played in Pachuca's system and was in camp with Colorado during preseason, has been released from Chivas' camp, head coach Robin Fraser reported, but seven players remain in the running for roster slots -- with more possibly to come.

"We're still looking, still looking at different players, different positions," Fraser told ESPN Los Angeles on Tuesday. "Still looking around the world."

Chivas has 26 players on their roster, with five more additions possible. The Major League Soccer maximum is 30, including players away on loan (such as forward Tristan Bowen, who is in Belgium), but midfielder Marvin Iraheta is on the disabled list because of a torn anterior cruciate ligament, and his spot is open.

The Goats are in pursuit of a South American player, according to a source with knowledge of the situation, and expect to sign him within the next week or so. Another source said the player was from Colombia, the top foreign provider of MLS talent, with 28 players, 14 of them newcomers this season. Chivas striker Juan Pablo Angel is Colombian.

Defenders Matt Dallman, Patrick Kanyuka and Mario Ledesma, midfielders Rodrigo Lopez, Cameron Artigliere and Ernesto Hutchinson, and forward John Owoeri remain in camp on trial. Fraser said he planned to make decisions "within a day or two" on Owoeri, a former Nigerian youth international who scored three goals in Sunday's 6-1 rout of UC Riverside, and Ledesma (Woodland Hills/El Camino Real HS), who has been in camp from the start.


March, 18, 2012
3/18/12
7:44
PM PT
By
Scott French
| ESPNLosAngeles.com
CARSON -- Chivas USA's struggles in front of the net were forgotten -- for the time being, at least -- during Sunday afternoon's reserve friendly against UC Riverside. The Goats scored three times in three minutes and four in eight to pull away in a 7-1 romp.

Cesar Romero and trialist John Owoeri scored hat tricks for the Goats, whose lack of attack has been costly in successive Major League Soccer defeats, both by 1-0 scorelines, to Houston and Vancouver.

Owoeri, a former Nigerian youth international who has demonstrated great energy but subpar finishing skills since joining camp two weeks ago, tallied in the 60th, 62nd and 67th minutes as Chivas turned a two-goal advantage into a 6-0 game. He assisted Romero's finale, in the 85th.

Romero has seven goals since joining Chivas at the end of January. He had four during preseason.

Head coach Robin Fraser used the match to give six trialists -- three of them newcomers -- a look in advance of this week's expected roster decision. Left back Kevin Huezo (Santa Ana/Segerstrom HS) and former Goats midfielder Rodrigo Lopez, who was with the Portland Timbers last year, were most impressive, until Owoeri took charge after narrowly missing three times.

Lopez, 24, who was born in Mexico but grew up in Santa Barbara, played eight games in 2005-07 with Chivas but made no league appearances last year with the Timbers. He just joined camp, along with 24-year-old Congolese defender Patrick Kanyuka and 21-year-old, San Fernando Valley-bred midfielder Cameron Artigliere (Winnetka/El Camino Real HS).

March, 12, 2012
3/12/12
8:54
PM PT
By
Scott French
| ESPNLosAngeles.com
CARSON -- Jorge Villafaņa celebrated his call-up to the U.S. Olympic qualifying roster Monday with 90 solid minutes in a friendly against the L.A. Blues. The Goats' 1-0 defeat at Home Depot Center's Track and Field Stadium couldn't knock the smile from his face.
"I'm happy to be called up for the qualifiers," said Villafaņa, who as
Jorge Flores
(he legally adopted his mother's name last fall) made Chivas' roster five years ago after winning a television competition for the chance. "Can't wait to be there with my teammates and the national team. It's going to be a great experience and a good opportunity for all the players who will be there."
Villafaņa was among 19 players on University of Akron coach
Caleb Porter
's U.S. under-23 national team roster for the March 22-April 2 qualifying tournament, which will determine CONCACAF's two entrants for the men's soccer tournament at this summer's London Games. Home Depot Center will stage one of the first-round groups, but the U.S. will play in Nashville, Tenn., with the all-important semifinals and the title game in Kansas City, Kan.
Galaxy midfielder
Michael Stephens
, former UCLA midfielder
Amoki Okugo
(with Philadelphia), former Chivas defender
Zarek Valentin
(with Montreal) and San Diego's
Joe Corona
(with Club Tijuana) are part of the group set to convene Tuesday in Nashville. Porter has one player to add before the 20-man tournament roster must be finalized March 20.
Villafaņa, who in the last year has been converted from left-sided midfielder to left back, grew immensely the past two seasons and impressed the U.S. staff during a January camp with the U.S. U-23s and last month's stint in Frisco, Texas, before a Feb. 29 victory over Mexico's U-23s. He's the first-choice backup for
Ante Jazic
with Chivas, and Goats coach
Robin Fraser
likes how he's developing.
"You get picked for a national team, you're obviously doing something right," said Fraser, who made 26 international appearances for the full U.S. national team from 1988 to 2001. "I think he's a determined player who wants to play well wherever he's put on the field. An opportunity arose for him [at left back], and he's taken in and run with it. … I just think his confidence and understanding has grown greatly."
March, 9, 2012
3/09/12
11:26
PM PT
By
Scott French
| ESPNLosAngeles.com
CARSON -- Chivas USA opens its season Sunday afternoon against the Houston Dynamo, and there will be a more intimate Home Depot Center to greet the club.
The Goats have altered the stadium configuration, dropping capacity for their games from 27,000 to 18,800 -- about what they're looking for in the new stadium the hope to build somewhere in the L.A. area in the next five years.

To do so, they will close the upper-level seats on the eastern stands and sections 116-127 on the north end, covering them with banners, according to a media advisory distributed Friday.
Chivas has been scouting locations for a new stadium for several years and would like to have one in place by 2014, according to sources within the club. They have looked at sites in Pomona and Santa Ana, and there have been talks with USC about an 18,000-seat facility on the space now occupied by the Los Angeles Sports Arena, according to multiple sources with knowledge of the discussions.
One possibility, a Chivas source said, would be to play in the Coliseum while such a stadium -- which also would be used by USC's lacrosse and women's soccer teams -- was constructed. The plans require the university to take control of the Coliseum site.
NEW TRIALIST:
Chivas is up to eight trialists in camp with the addition this week of two more, one of them quite interesting. Nigerian
John Owoeri
, a small but solidly built forward/winger who has played in Holland for Feyenoord, Belgium for Westerlo, Nigerian power Enyimba and most recently in Egypt with Ismaily.