Los Angeles Soccer:

John Spencer
May, 30, 2012
5/30/12
11:36
PM PT
By
Scott French
| ESPNLosAngeles.com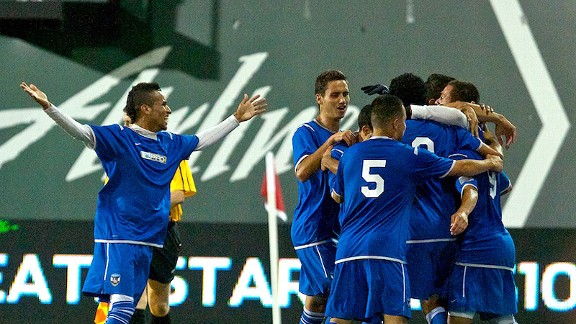 Leah Parr/Portland Timbers Cal FC players celebrate with Artur Aghasyan after his overtime goal against the Portland Timbers.
Cal FC's stirring run through the U.S. Open Cup hadn't been all that unexpected -- this is a team filled with pros, remember, even if they're amateurs here, or at least close to it.
But what the Thousand Oaks club pulled off Wednesday night defied belief.
Artur Aghasyan
finished a breakaway five minutes into overtime, and Cal FC fended off wave after wave of attacks by the Portland Timbers to stun the Major League Soccer side, 1-0, in a third-round clash at Jeld-Wen Field, a result that shook the foundations of American soccer.
Eric Wynalda
's side was outshot, 43-11, conceded 11 corner kicks and dodged more than a dozen bullets to pull off what might be the greatest upset in this country's premier knockout tournament since MLS's formation 16 years ago.
The reward: a showdown next week in Tukwila, Wash., with three-time defending champion Seattle Sounders, which routed the second-tier Atlanta Silverbacks, 5-1, on Wednesday to advance to the round of 16.
"I think we are the ultimate Cinderella story -- that's for sure," Wynalda told reporters in Portland. "A bunch of misfit kids who did something unbelievable. This is what this Cup is about."
Cal FC is the first U.S. Adult Soccer Association team to defeat an MLS club in the Open Cup, although Texas' Roma FC toppled Chivas USA on penalties following a 0-0 third-round draw in 2006. The Galaxy took care of the amateurs in the following round.
Timbers Army, Portland's fanatical supporters group, serenaded Cal FC when it was over with chants of "You deserve it!" and "Beat Seattle!" The game drew 5,489 fans to the stadium a few blocks west of downtown Portland.
Wynalda, a veteran of three World Cups and a star striker in Germany and in MLS, had on his mind the UEFA Champions League final a week and a half ago in Munich, which he covered as a studio analyst for Fox Sports. Chelsea upset Bayern Munich on penalties in that one after being outshot, 43-9, and outcorner-kicked, 20-1.
April, 8, 2012
4/08/12
7:11
PM PT
By
Scott French
| ESPNLosAngeles.com
Robin Fraser laughed Saturday night when we asked if he'd like to play every game on the road.

"That's a popular question," Chivas USA's head coach said after Saturday night's 2-1 victory at Portland gave the club, which is 0-3 at home, two wins in two road games.


[+] Enlarge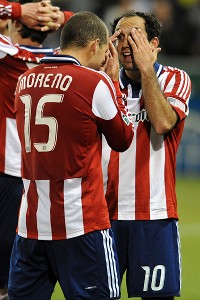 Steve Dykes/Getty ImagesChivas USA's Alejandro Moreno and Nick LaBrocca celebrate after their 2-1 win against the Portland Timbers on Saturday.
The Goats pulled off improbable wins in two of the most difficult places to play in MLS. Real Salt Lake has a terrific team (as good as any in the league), a loud and loyal fan base, and the 4,450-foot elevation takes a toll on visitors. They had lost just three games in two years at Rio Tinto Stadium before Chivas' 1-0 victory two weeks ago.
Portland has the most intimidating atmosphere in American soccer.
"For whatever reason, we seem to focus and engage into the game a little more on the road than at home," said
Alejandro Moreno
, who scored the first goal Saturday. "When you come to a place like Salt Lake or Portland, the environment forces you to be engaged for 90 minutes, and your mind is not allowed to wander. At home at times, we're not able to gather the support that is important for us.
"We encourage fans to come out and give their best effort so we can put our best effort forth as well. We appreciate our fans, and we encourage those on the fence to come out and support us as well."
Chivas has drawn just 35,559 fans through three games -- fewer than attend a Seattle Sounders game-- for an average of 11,853, and there are far fewer in the stadium than is announced. The crowd for the New England game was a league-low 7,723, although it bears mentioning that it was played on a very cold evening on a very stormy weekend.
February, 15, 2012
2/15/12
9:39
PM PT
By
Scott French
| ESPNLosAngeles.com
If there were an MVP honor for Southern California's preseason slate, Portland Timbers trialist Franck Songo'o would be celebrating.

The Cameroonian midfielder, looking to move to Major League Soccer from Spanish club Albacete, burnished his chances to make the Timbers' roster with two more assists in a 2-0 win Wednesday over the Chicago Fire at Home Depot Center.

Songo'o also had two assists in a man-of-the-match performance in Portland's 4-1 romp over the Galaxy eight days ago. The Timbers were the most impressive of the eight teams training in SoCal -- that number includes the Galaxy and Chivas USA -- posting a 3-0-1 record. They also beat Houston, 2-0, and drew, 0-0, with Montreal.

Eric Alexander and Jorge Perlaza scored in the 120-minute exercise, and Portland coach John Spencer was pleased with his defense.

"We've now played against four decent teams in preseason and conceded one goal," Spencer told his club's website. "For us, I'd rather be winning these games, because it builds confidence and spreads a good spirit amongst the group. The first part of the preseason is over, and I think we're starting to hit our stride and we're starting to look fitter and stronger."

Chicago wraps its SoCal trip with a game Saturday morning at 9 against San Jose at Oxnard College.


June, 3, 2011
6/03/11
10:39
PM PT
By
Scott French
| ESPNLosAngeles.com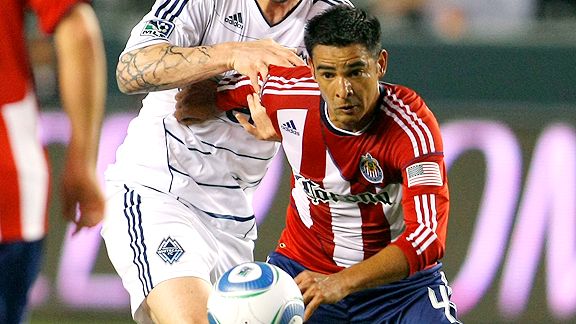 Victor Decolongon/Getty ImagesMichael Umana played well Wednesday against Vancouver and hopes to do it again Saturday vs. Portland.
Chivas USA head coach
Robin Fraser
has more options as he puts together his lineup for Saturday's nights clash with the Portland Timbers at Home Depot Center.
Three players return from suspension or international duty, several more are getting healthier by the day, and the Goats suddenly have something close to a real roster again.
As Fraser burrowed deep into his depth to deal with long-term injuries to a half-dozen players, he failed to include Costa Rican defender
Michael Umaña
, who started 28 of 30 games for the Goats last season.
An injury while with Costa Rica's national team at the end of March cost him a chance, and the next one didn't come along until Wednesday night's HDC draw with Vancouver. Partnered in central defense with
Heath Pearce
, Umaña made a statement with his performance, and Fraser took notice.
"He was solid. I think he really took ahold of the challenge," Fraser said. "I think positionally he was pretty good, and won some stuff in the air, and his distribution was good. I think he did well."
Umaña was at times very good last season for a very different Chivas side, but he dropped steadily down the depth chart, with even two non-center backs -- Pearce and midfielder
Ben Zemanski
-- seeing prominent action as he watched from the bench. He'd seen just three minutes on the field, at the end of the April 23 victory at San Jose, before going 90 against the Whitecaps.
Fraser says he had spoken to Umaña about his status.
"He's a tremendous professional. I can't say enough about him," Fraser said. "And I know it's been difficult for him. We've had a few conversations along the way, and I just can't tell you how much respect I have for him, because I'm sure it is [difficult]. We all want to play, as players, and he's handled it tremendously well and took his chances [Wednesday] and did well with it."
He could get another call Saturday.
Andy Boyens
is still off with New Zealand's national team,
Jimmy Conrad
isn't ready to play yet, and
Zarek Valentin
looks much more comfortable on the right flank than he does in the middle.
May, 18, 2011
5/18/11
7:15
PM PT
By
Scott French
| ESPNLosAngeles.com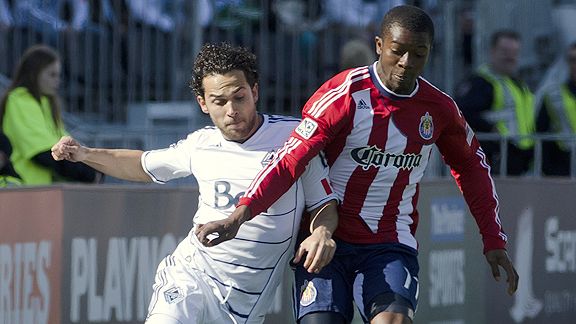 Rich Lam/Getty ImagesMichael Lahoud had a setback in his recovery from a concussion and won't be available to play the Galaxy on Saturday.
Michael Lahoud
was out at Chivas USA's training session Wednesday in Home Depot Center's Track and Field Stadium, and he was looking good. Wrap-around shades and a baseball cap.
"I guess," he said, "it's pretty cool to have glasses on for training."
Not cool enough. Lahoud would rather have been on the field with his teammates, but concussion problems cropped up again in Sunday's 3-2 victory over the New York Red Bulls -- his first game with Chivas' first team since sustaining the injury on April 16 -- and now he's forced to start over in his recovery.
"More or less," he acknowledged. "It's happenstance and kind of a freak thing. Because I was feeling very well leading up to it. It's another obstacle to overcome."
Lahoud, initially injured in a collision with teammate
Nick LaBrocca
in a 0-0 draw at Vancouver, returned to action in an MLS Reserve League clash May 8 at Seattle. He was at right back Sunday, and says everything was going as hoped for until he headed away a 24th-minute corner kick, a blistering drive, from Red Bulls defender
Rafa Marquez
. He looked dazed right away and was pulled from the game six minutes later after heading two more balls, then sitting down on the turf.
"That's exactly what happened," said the third-year pro out of Wake Forest. "I was feeling pretty good up until then, and as soon as that happened, I just started feeling it. And after that, it felt like it was the best thing for me and for the team to come out, especially in a game of that magnitude. As exciting as it was, got to look at the bigger picture."
It's another blow to a makeshift backline that has been beset with injury, but
Andy Boyens
returns from suspension this week and probably will team up with
Heath Pearce
in central defense, as in the four previous games, in Saturday's SuperClasico against the Galaxy at HDC. Midfielder
Ben Zemanski
and little-used
Michael Umaña
, a starter last year, also are options.
Coach
Robin Fraser
was saddened to see Lahoud go down again, and the versatile midfielder/defender must again complete the post-concussion protocol, which requires a week without symptoms before a return to training and neurological tests before playing in a game.
"Extremely [unfortunate]," Fraser said. "Obviously, he's a wonderful talent. You just never know. Obviously, we want him to get well as quickly as possible, and in the meantime, we have to keep pushing forward."
April, 23, 2011
4/23/11
2:01
PM PT
By
Scott French
| ESPNLosAngeles.com
A reunion in the middle for former Maryland teammates Omar Gonzalez and A.J. DeLaGarza is likely Saturday night when the Galaxy takes on the Portland Timbers at Home Depot Center.
That's the most appropriate response to
Leonardo
's season-ending knee injury in last week's victory at Chicago. Gonzalez and DeLaGarza, third-year pros who won a national championship with the Terrapins, were paired quite effectively at the end of the season and through the playoffs following
Gregg Berhalter
's mysterious illness last year, and it was somewhat surprising they haven't seen time together this year with Berhalter sidelined with a knee injury.
And it's not certain head coach
Bruce Arena
will team them against the expansion Timbers and their vibrant attack led by
Kenny Cooper
and
Jorge Perlaza
and perhaps newcomer
Diego Chara
.
Sean Franklin
, MLS's Rookie of the Year in 2008 while playing at center back, approached Arena after Leonardo's injury and volunteered to step into the middle. He's played at right back and right midfielder this season.
"Right now, it would either be Franklin or DeLaGarza," Arena said Thursday. What determines who is "a variety of things, maybe opponent, form, all kinds of things. But A.J.'s got the most experience playing in there."
DeLaGarza's versatility -- he's at home in any of the four backline spots -- has made him most valuable but hindered his finding a permanent home in the lineup. He impressed U.S. national team coach
Bob Bradley
with his play for the Galaxy last season and received a call-up for January's camp.
Leonardo, 22, was hurt near the finish of Sunday's 2-1 victory when he landed awkwardly during a challenge with Fire forward
Dominic Oduro
. He tore the anterior cruciate and lateral collateral ligaments in his right knee and is slated to undergo the first of two surgeries next week.
February, 5, 2011
2/05/11
1:25
PM PT
By
Scott French
| ESPNLosAngeles.com
The Portland Timbers played their first match as a Major League Soccer side Friday night and needed an equalizing goal from its rookie star to avoid defeat against one of So Cal's best amateur teams.
Darlington Nagbe
, the No. 2 overall pick (from the University of Akron, naturally) in last month's MLS draft, scored at the start of the second half to give the Timbers a 1-1 draw with the Ventura County Fusion in front of 1,400 at Ventura College.
Portland, training in Oxnard for eight days while preparing for its MLS debut next month, will face the Galaxy in a scrimmage Tuesday at Home Depot Center.
Nagbe, a Liberian-born forward considered the big can't-miss star of this year's class, headed home Colombian forward
Jorge Perlaza
's cross in the 46th minute. The Fusion, who won the Premier Development League title in 2009 and the semipro/amateur league's Southwest Division crown last year, went ahead in the 17th minute on Ecuadoran forward
Eder Vaca
's deflected shot following El Salvador national-teamer
Andres Flores
' 30-yard run on a counterattack.
"It was our first game, and we have a lot of positives to take from it and build from," Timbers coach
John Spencer
said on the club's Web site. "At this time of the season, it is just about fitness levels. That is what these games are about; you can only do so much in practice. It was a good game, and the Fusion battled for 90 minutes as well."
Former Galaxy winger Quavas Kirk, who is on trial with Portland, departed late in the game with a hamstring injury. Rodrigo Lopez, who joined the Timbers after leading the Fusion to their PDL championship, played the second half for Portland.
Portland's lineup:
First half:
Troy Perkins; Eric Brunner, Steve Purdy, Alo Bärengrub, Josh Cameron; Kalif Alhassan, Jeremy Hall, James Marcelin, Ryan Pore; Bright Dike (Darlington Nagbe, 20), Brian Umony.
Second half:
Jake Gleeson; Mamadou Danso, Chris Taylor, David Horst, Quavas Kirk (Robby Lynch, 83); Freddie Braun, Darlington Nagbe, Peter Lowry, Rodrigo Lopez; Doug DeMartin, Jorge Perlaza.
February, 3, 2011
2/03/11
2:59
PM PT
By
Scott French
| ESPNLosAngeles.com
The Portland Timbers opened training at Oxnard College earlier this week and meet the Ventura County Fusion -- the reigning Premier Development League Southwest Division champion -- in a friendly Friday night at Ventura College.
The Timbers, preparing for their Major League Soccer debut, conclude their So Cal stay with a closed-door match Tuesday afternoon against the Galaxy at Home Depot Center.
Here's a quick look at the Timbers:
WHO ARE THEY?
One of two Pacific Northwest expansion teams that, like the Seattle Sounders before them (but more so), emerges from longstanding organizations -- and even lengthier histories. The original Timbers, of course, played in the old North American Soccer League; this club was formed in 2001 and has spent the past 10 years in whichever league constituted the second tier of American pro soccer.
THE MAN IN CHARGE
Scotsman
John Spencer
, a compactly built pit bull of a forward for 15 years in Britain, Hong Kong and MLS, takes on his first head-coaching job after serving as Dominic Kinnear's top assistant with the Houston Dynamo for 4½ seasons.
Spencer was a Rangers FC product who toiled for Chelsea and Everton (and others) in England and Scotland (and 14 times for Scotland's national team), then wrapped up his playing career with four fine seasons (and two MLS Best XI awards) with the Colorado Rapids.
THE STAR PLAYER
There isn't one, although there soon will be. Rookie forward/midfielder
Darlington Nagbe
, the No. 2 overall selection in last month's draft, could be something very special, although he's likely -- unlike former University of Akron teammate
Steve Zakuani
up in Seattle -- to seek to avoid the spotlight.
Caleb Porter
, his college coach, told
The Oregonian
Nagbe is "a very humble, soft spoken and genuine kid with a big heart," and Spencer said: "Every time you talk to him, you walk away thinking he's someone you would be happy if your daughter brought him through door and said, 'Hey dad, this is who I'm marrying.' You go up to your room and think, 'Thank God she brought home a good one.' That's probably the highest compliment I could pay the kid."
December, 11, 2010
12/11/10
1:51
AM PT
By
Scott French
| ESPNLosAngeles.com
GOLETA -- It's No. 1 against No. 2.
Top-ranked Louisville and second-ranked Akron offered scintillating displays in Friday's NCAA College Cup semifinals at UC Santa Barbara's Holder Stadium, but both needed a bit of fortune -- and a late goal -- to claim berths in Sunday afternoon's final.
Louisville (20-0-3) was most impressive against North Carolina, creating far more opportunities but waiting until the end to pull out a 2-1 decision. Akron (21-1-2) was far more dominant against upstart Michigan, spending huge swaths of time in and in front of the Wolverines' box, but it took a defensive miscue to pull out a 2-1 victory and gain a repeat trip to the title game.
Bests, worsts and so forth:
BEST PLAYER:
Lot of candidates -- Louisville's
Chris Rolfe
and
Ryan Smith
, Michigan's
Justin Meram
, a whole host of guys from Akron: midfielders
Michael Nanchoff
,
Anthony Ampaipitakwong
and
Perry Kitchen,
forward
Darlington Nagbe
and defender
Zarek Valentin
, etc. -- but
Kofi Sarkodie
was sensational from start to finish.
He set the tone for nearly everything Akron did: His forays up the right flank and into Michigan's box (he spent more time there than anyone, perhaps, aside from Wolverines goalkeeper
Chris Blais
) drove the attack; his physical play -- not always clean, to be sure -- kept Michigan honest; and he capped the performance with the winning goal, a fine header from Nanchoff's cross in the 74th minute.
BEST GOAL:
After scoring with 52 seconds to play to beat UCLA in the quarterfinals, could it get any better for
Aaron Horton
? Oh, yeah. Three minutes after coming on for All-American Rolfe, the Louisville freshman took a defense-splitting pass from Smith and chipped
Scott Goodwin
-- lifting the top-ranked Cardinals into the final … with just 51 seconds to go.
December, 7, 2010
12/07/10
8:08
PM PT
By
Scott French
| ESPNLosAngeles.com
Trevor James, the Galaxy's longest-tenured assistant coach and the club's director of player development, has left to become assistant coach of the expansion Portland Timbers.
The former English pro, whose coaching career began in Ipswich Town's academy, joined the Galaxy in June 2006 after
Frank Yallop
became head coach and served under
Ruud Gullit
and
Bruce Arena
, twice guiding the club in postseason friendlies as interim head coach.
James, one of the nicest guys in the American soccer coaching community, was the pivotal figure behind the creation three years ago of the Galaxy's youth academy.
He'll work under
John Spencer
, a former Scottish national-teamer who wrapped his playing career with the Colorado Rapids in 2004 and spent four-plus seasons as
Dominic Kinnear
's top assistant with the Houston Dynamo before taking the Timbers job last summer. Portland will make its MLS debut next season.
November, 24, 2010
11/24/10
4:04
PM PT
By
Scott French
| ESPNLosAngeles.com
He's signed, sealed and all but delivered to Mexico's UANL Tigres, but that didn't dissuade the Portland Timbers from taking a chance on Chivas USA captain Jonathan Bornstein.
The Timbers, one of two clubs joining Major League Soccer next season, selected Bornstein (Los Alamitos/Los Alamitos HS and UCLA) with the 15th selection in Wednesday's 20-player expansion draft, no matter that the left back/midfielder is beginning a four-year contract in January with Monterrey-based Tigres.
"Contract's are only worth the paper they're printed on. It doesn't mean he's going to complete the contract," said Portland head coach
John Spencer
, a Scotsman who finished his playing career with the Colorado Rapids in 2004 and served as an assistant coach with the Houston Dynamo for four seasons. "And possibly after the course of the contract, he might end up back in Major League Soccer."
The Timbers made two risky picks, also taking Real Salt Lake's
Robbie Findley
, a teammate of Bornstein's on the U.S. World Cup team in South Africa. Findley, a former Galaxy forward who played college soccer at Oregon State, has said his intention is to look for a club in Europe.
"There were reasons behind those decisions," said Spencer, who noted they could have value in a trade. "We'd love to bring [Findley and Bornstein] to Portland. We understand that might not be in the immediate future. If we were able to bring Bornstein back, that would be tremendous. ... I think anything's possible in the game."
Bornstein, 26, has expressed interest in returning to MLS at some point in his career, and he hoped to return to Chivas USA. The Goats, a team source acknowledged, would consider trading for his rights should he come back into the league.
The Timbers traded the top selection in the draft, FC Dallas midfielder
Dax McCarty
, to D.C. United for defender
Rodney Wallace
in a deal that had been agreed to before the draft.
"His multiyear contract with Tigres factored in our decision to unprotect him in the draft, especially as we focus on building for next season," Chivas VP of soccer operations Stephen Hamilton said in a statement. "I'm sure we'll revisit this issue if and when he chooses to rejoin MLS."
October, 27, 2010
10/27/10
10:39
PM PT
By
Scott French
| ESPNLosAngeles.com
Wednesday's dismissal by Chivas USA of Martin Vasquez isn't all that surprising except for vice president of soccer operations Stephen Hamilton's insistence Saturday that the club's head coach definitely would return in 2011, that "the things we saw in him previously, we still see in him, and I think he's going to benefit from a year of experience as a head coach."
Perhaps so, just not with the Goats. Looking for potential candidates? There are, at least on the surface, hundreds of them. No, thousands. Which are viable and which are not depends on how much Chivas wants to spend -- both on a coach and on players -- and how wide a net Hamilton and the club's "soccer committee" choose to cast.
Some possibilities:
THE BIG NAMES:
The biggest, at least in local circles, is German legend
Juergen Klinsmann
, one of the premier strikers of his (or any) generation -- and an innovative coach who took an unfancied Germany side to the 2006 World Cup semifinals, ran into problems at tradition-minded Bayern Munich (where Vasquez was among his assistants) and twice broke off talks with U.S. Soccer about taking the reigns of our national team, both times over control issues.
Klinsmann lives in Huntington Beach, is between coaching jobs, and is familiar with MLS through his years in the U.S. and history with the Galaxy, for which he served as consultant during
Sigi Schmid
's reign. He might find the opportunity to build with Chivas most attractive: the club's anti-corporate style stands in stark contrast to their neighbors down the hall, and it wouldn't surprise us if he and President/CEO
Shawn Hunter
got along famously.