Los Angeles Soccer:

John Thorrington
May, 27, 2012
5/27/12
8:29
PM PT
By
Scott French
| ESPNLosAngeles.com
Major League Soccer's salary list, which the Players Union released Friday, reveals that nearly everyone in the league received a raise of some sort this year, most of them a mild step-up of a few thousand dollars, a few getting more considerable reward.

Among players bred or educated in the L.A.-area, one of the biggest jumps occurred at the top: Galaxy captain Landon Donovan, the best-paid American in MLS, saw his salary jump 100 grand -- from $2.3 million to $2.4 million. Donovan, who is from Redlands (Redlands East Valley HS), is the league's fifth-highest-paid player.

Bruising forward Steven Lenhart (Yorba Linda/Esperanza HS and Azusa Pacific University), who is so key to San Jose's success, picked up a bigger raise, some 400 percent, when he signed a contract extension last November. He made $45,000 in base salary last season and is making $180,000 this year.

Also improving by six figures: Galaxy defender Sean Franklin (Palmdale/Highland HS and Cal State Northridge), from a little more than $97K to $205K, and Chivas USA goalkeeper Dan Kennedy (Yorba Linda/El Dorado HS and UC Santa Barbara), from about $62,500 to $175K.

New England's Benny Feilhaber (Irvine/Northwood HS and UCLA), whose contract mechanics led Chivas USA to decline his services when he showed up on the allocation list last year and the club had first dibs, also received a $100,000 raise, to $400,000 in base salary.

The only local players whose salaries declined were New England goalkeeper Matt Reis (Mission Viejo/Santa Margarita Catholic HS and UCLA), who dropped about $30K to $157,000 base salary; Vancouver midfielder John Thorrington (Palos Verdes Estates/Chadwick School), whose $170,000 is a cut of almost $25K; and FC Dallas backup goalkeeper Chris Seitz (Thousand Oaks/Thousand Oaks HS), who dipped from $100,000 to $75,000.

Here is the full list of salaries for local players, those who grew up or attended high school or college in the greater L.A. area. Also included is Portland Timbers forward Bright Dike, who is playing on loan with the third-division L.A. Blues. The first figure is base salary and the figure in parentheses is average guaranteed compensation):

February, 26, 2012
2/26/12
12:52
PM PT
By
Scott French
| ESPNLosAngeles.com
CARSON -- Chivas USA is heading to Portland a little lighter. The club Saturday released forward Chris Cortez and left two trialists at home when it departed Sunday for the final phase of preseason.
Cortez, 23, lost his battle for a roster spot, dropping further down the depth chart with the additions of first-round draft choice
Casey Townsend
and just-signed
Cesar Romero
. The 6-foot-4 striker from Mission Viejo joined the Goats during preseason last year and made nine Major League Soccer appearances, with one start.
"We had a lot of high hopes for Chris when he came in," Chivas coach
Robin Fraser
told ESPN Los Angeles on Sunday morning. "He's a big, strong man who hits the ball extremely hard. We certainly expected him to develop quite a bit, and while he's come along, probably not as quickly as we would have needed him to.
"He definitely has qualities that will make him a big pro, for sure. It's a matter of time -- we have to make decisions as we get close to the season here, and some of the other forwards have proven to be more dangerous on a daily basis."
Cortez made appearances in six of eight preseason games, all off the bench, and he scored in the victory over Thousand Oaks-based minor-leaguers FC Hasental. The former Cal star played in all 10 MLS Reserve League games last year, scoring five goals.
Fraser must submit by Thursday a roster of as many as 30 players, with the first 18 to 20 counting against the league $2.81 million salary cap. Some decisions likely won't be made until after that date, with trialists fighting for open spots or the club making further roster moves to accommodate additional signings.
The season begins March 11 against Houston at Home Depot Center; the roster freeze date and trade deadline don't arrive until Sept. 15.
Fraser left at home defender
Mario Ledesma
, from Woodland Hills, and Mexican midfielder
Pablo Sandoval
, who have been in camp since preseason began in mid-January. The coach said both had a chance to continue with the club when it returns after a week in Portland.
December, 7, 2011
12/07/11
1:38
PM PT
By
Scott French
| ESPNLosAngeles.com
The Galaxy have a new midfielder, is he's to be believed.

Marcelo Sarvas, whom the Galaxy battled twice this year in CONCACAF Champions League play, has signed a two-year contract with two option years, his agent told Costa Rican sports website Al Pie del Deporte.

Sarvas, who plays for reigning Costa Rican champion Alajuelense, last week told Costa Rican daily La Nacion that he was weighing a two-year deal from the Galaxy against a three-year offer to stay at Alajuela and that he was "postponing [a decision] as long as possible because the truth is that I don't know what decision to make. The economics [of the Galaxy offer] is very good."

A Galaxy spokesman said the club, as is its policy in such matters, would have no comment.

Sarvas, 30, is from Sao Paulo, began his pro career with Corinthians and played for clubs in Sweden and Poland before signing with Alajuela last January. He is preparing for Liga's Invierno (fall) title series against Herediano, although he is suspended for Sunday's first leg.

The Galaxy, which this season won the MLS Cup/Supporters' Shield double in Major League Soccer and advanced to next year's Champions League knockout stage, arrived home Wednesday morning from a 12-day, three-game postseason tour to Indonesia, the Philippines and Australia.

The players will be off, national team considerations aside, until probably the third week of January, but head coach/general manager Bruce Arena and his staff has pressing work to do determining his roster for next season.

The pivotal decision is David Beckham's, and everything the Galaxy must accomplish this offseason will be determined by his choice. The English superstar, who five-year contract ends at the close of December, could re-sign with the Galaxy, accept Paris Saint-Germain's millions or, far less likely, return home to England.


December, 2, 2011
12/02/11
7:15
PM PT
By
Scott French
| ESPNLosAngeles.com
Chivas USA on Friday re-signed left back Ante Jazic, as expected, and Galaxy forward Adam Cristman withdrew from Monday's first-stage draft in Major League Soccer's re-entry process.
Jazic, 35, was expected to return to the Goats after the club declined its option on his contract, which was worth $115,000 ($123,000 average guaranteed compensation). Figures from the new pact weren't released and likely won't be available until the MLS Players Union next spring unveils every league salary, as it does annually. The contract is believed to be for one year.
Cristman, 26, whose option was declined, withdrew from the process and could be negotiating a new deal with the Galaxy, although it's unlikely he would accept much less than the $42,000 he made this season.
Midfielder
Jovan Kirovski
, 35, whose option also was declined, pulled out of the process before the re-entry list was released Wednesday. The Escondido product, who made $84,000 in 2011, is expected to re-sign with the Galaxy or retire.
Several others, including one local player, have pulled out of Monday's draft for one reason or another.
Vancouver midfielder
John Thorrington
(Palos Verdes Estates/Chadwick School) withdrew from the process and is in talks on a new contract with the Whitecaps, a club spokesman said.
November, 30, 2011
11/30/11
9:01
AM PT
By
Scott French
| ESPNLosAngeles.com
The Galaxy declined options on forward Adam Cristman and defender Frankie Hejduk, who played in Wednesday's friendly in Indonesia. Chivas USA passed on starting left back Ante Jazic.

All three are among 69 players available in Monday's first-stage draft of Major League's Soccer's re-entry process.

The Galaxy also declined the option on defender Dasan Robinson, acquired in mid-September from Toronto FC, who also played in he Galaxy's 1-0 victory over Indonesia's national team to start its postseason tour of Asia and Australia.
Chivas declined options on goalkeeper Zach Thornton, defender Andrew Boyens, midfielder/defender Mariano Trujillo and forward Chukwudi Chijindu and decided not to offer a new contract to midfielder Simon Elliott.

Clubs may negotiate with their players, and players may opt out of the process, through Friday.

The Galaxy might want to bring back Hejduk and Robinson, but not at their current salaries -- Hejduk made $96,000 this year, Robinson $97,500. Their intentions with Cristman seem clearer: He was making only $42,000, a relative bargain.

Jazic, who at 35 had one of his finest MLS campaigns, also is a money decision. He made $115,000 this year, and the Goats would like to pare that number considerably. It is unlikely any of the other five on Chivas' list will return next season.


August, 6, 2011
8/06/11
2:53
PM PT
By
Scott French
| ESPNLosAngeles.com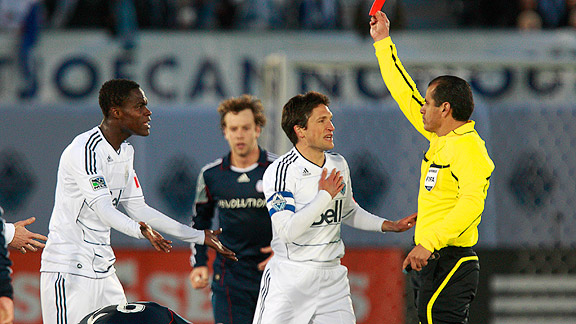 Jeff Vinnick/Getty ImagesJohn Thorrington points to a vitamin deficiency as a cause of some health struggles.
VANCOUVER, British Columbia -- It's been a long year and half, even longer, for John Thorrington, whose repeated muscle injuries have made him more professional rehabber than pro soccer player. At least it had.
The midfielder from Palos Verdes Estates has endured more than his share of injuries in a 14-year career that began in Manchester United's youth system, but the past couple of seasons -- last year at Chicago, this year with the expansion Vancouver Whitecaps -- have been nightmarish.
Nothing massive, nothing major -- just the same things, the same muscle strains, over and over. Right as he's recovers, there it is again.
He's been on the field with the Whitecaps' first team just once, back in April, but made a short appearance in last weekend's MLS Reserve League game against the Galaxy -- a big step toward returning for real, maybe this weekend.
"It's the first time I've opened it up. It felt great," he told ESPNLosAngeles.com afterward. "That's step one. ... That's actually about step five, but another hurdle cleared. It just feels great to be feeling [like] myself and being able to help the team."
He says he's available Sunday afternoon for the Whitecaps' home game against the Chicago Fire (Galavision, 4 p.m.), would love to get a few minutes against his former club, but that it's "obviously up to the coaches." Either way, he's back -- hopefully for good.
Just a few weeks of work with a world-renowned physiotherapist on top of a lengthy but incisive series of medical tests seems to have solved his problem, he says, "gotten to the foundational issue, so for the first time, not only am I feeling good, but I think we're all confident in moving forward that we can break this injury cycle."
The foundational issue?
"I had a neurological issue going on in my back ...," Thorrington said. "The symptoms were these muscle strains I kept getting, but then the muscle strains in and of themselves, treating them didn't really treat the back. It was literally like I had a little poisonous bug in my body. I would treat one, it would get better, and it would keep catching up with me.
"That has been extremely frustrating, because numerous times I got to the point where I was feeling good and ready to go, and I've sort of had little hiccups along the way."
The turning point was the Whitecaps bringing in noted physiotherapist
Rick Celebrini
-- a former Whitecaps player -- as a consultant. He began working closely with Thorrington and U.S. national team defender
Jay DeMerit
, whose time also has been limited by repeated injuries.
Since Celebrini identified the problems, Thorrington said, "I've been clearing every hurdle along the way."
July, 31, 2011
7/31/11
7:55
PM PT
By
Scott French
| ESPNLosAngeles.com
VANCOUVER, British Columbia -- Let's be clear about this up front: The Galaxy wants to win its games in Major League Soccer's Reserve League.
That it has done so just once in seven outings isn't a problem.
Victory No. 2 probably should have arrived Sunday, when the Galaxy let a two-goal advantage disappear in a draw with the Vancouver Whitecaps.
Curt Onalfo
, L.A.'s reserve-team coach, liked enough of what he saw to consider that a positive result.
"There's a lot of things you're accomplishing with the Reserve League," Onalfo said after the 2-2 draw at Empire Field. "Obviously, any time you step on the field, you want to win. Today's we're disappointed we didn't get three points, because we had a two-goal lead, and we had a chance to bury it, to make it 3-1 or 3-0, for that matter."
That, he says, is "the learning process," which might be the most important of the three primary aims of Reserve League play: developing the younger talent on the roster.
"It's better it happens in reserve games," Onalfo said, "so when you're ready for the first team, you're honed and polished."
The Galaxy (1-5-1) got the opportunity to hone several youngsters, starting a backline with three of the four slots occupied by rookies (
Dan Keat
and
Dustin McCarty
in the middle and
Ryan Thomas
on the left), getting a very good showing from rookie midfielder
Hector Jimenez
and giving two Academy kids -- one a new arrival from Mission Viejo-based Pateadores' U.S. Development Academy championship squad -- a little action against real pros.
They also saw trialist
Paulinho Le Petit
in a game situaton, and he wasn't bad, scoring the first goal, in the 31st minute, and coming close to netting another.
"He's a solid player," Onalfo said. "Strong physically, good in the air. Good technique. Solid player."
Jimenez, the Bell Gardens product out of Cal, was superb while playing in central midfield for the first time with the Galaxy and scored the second goal, from
Jack McBean
's feed, six minutes into the second half.
Long Tan
scored both goals for the Whitecaps (0-3-2), in the 60th and 71st minutes, and
Nizar Khalfan
nearly got a 90th-minute winner, forcing a diving save from second-year goalkeeper
Brian Perk
.
April, 16, 2011
4/16/11
1:22
PM PT
By
Scott French
| ESPNLosAngeles.com
Chivas USA's struggles to start the season are about continuity and consistency more than anything else.

Continuity continues to challenge the Goats (0-2-2), who have had to use several players' versatility -- sometimes previously unmined -- to deal with an injury crisis in midfield and along the backline.

Despite the turmoil, Chivas at its best has dominated possession and created chances while playing solid team defense nearly everywhere on the field. The attack has sometimes suffered a lack of ideas or initiative, and individual errors have led to goal opportunities opponents have put away.

A first victory is the primary aim Saturday afternoon in Vancouver against the Whitecaps, but seeing real improvement in deficient areas is almost as important.

"In the situation we're in right now," forward Alejandro Moreno said, "we need to focus on putting a good 90 minutes together … a consistent 90 minutes of a good, solid performance and a little continuity into our play, and hopefully that will translate into a good result."

The expansion Whitecaps possess an attack that can cause Chivas' backline problems, so head coach Robin Fraser must decide whether he'd be better off with veteran Andy Boyens, rather than rookie Zarek Valentin, partnering converted outside back Heath Pearce in the middle.

Vancouver has surrendered 10 goals in five games, so here's an opportunity for the Goats, after just four goals in five games, to find their footing up front.


November, 24, 2010
11/24/10
1:19
PM PT
By
Scott French
| ESPNLosAngeles.com
Chivas USA captain Jonathan Bornstein, who is headed in January to his mother's native Mexico to join UANL Tigres, can no longer call himself a Goat.

The U.S. national team defender was a surprise selection by the Portland Timbers in Wednesday's Major League Soccer expansion draft, although he has no plans to head north.

Bornstein (Los Alamitos/Los Alamitos HS and UCLA) was the 15th selection in the draft, through which the Timbers and Vancouver Whitecaps, making the leap from the second-tier USSF D2 Pro League to MLS, are building their rosters for next season. Each took 10 players from the existing 16 clubs' unprotected lists.

Chivas USA forward Alan Gordon, who played all or part of seven seasons for the Galaxy before an Aug. 5 trade, was taken by Vancouver with the 10th pick. Chivas USA, allowed to add a 12th player to its protected list following Gordon's selection, took defender Mariano Trujillo off the table.

No Galaxy player was taken in the draft.

Chicago Fire midfielder John Thorrington (Palos Verdes Estates/Chadwick School) was the final selection, taken by Vancouver.

Defender Patrick Ianni (UCLA) was added to Seattle's protected list when Vancouver made Sanna Nyassi its first pick. Goalkeeper Chris Seitz (San Luis Obispo/Thousand Oaks HS) was added to Philadelphia's protected list when Vancouver selected Shea Salinas with the eighth pick.

Bornstein, who played for the U.S. at the World Cup in South Africa, has a four-year contract with Tigres, but Portland would hold his MLS rights indefinitely. If the veteran left back/midfielder were to return to MLS, he would return as a Timber.

Bornstein was a Chivas regular from the moment he arrived in the 2006 draft. Then-Goats coach Bob Bradley converted him from a forward/midfielder to left back, and he rewarded the club with an MLS Rookie of the Year performance. He played a club-record 131 MLS games for Chivas, scoring nine goals with 10 assists.

Gordon, 29, scored once with three assists in nine appearances from the Goats after arriving from the Galaxy. He scored 16 goals with 12 assists in 106 MLS games for L.A.

Portland's selections:

1. Dax McCarty (FC Dallas), midfielder
2. Eric Brunner (Columbus), defender
3. Adam Moffat (Columbus), midfielder
4. Anthony Wallace (Colorado), defender
5. David Horst (Real Salt Lake), defender
6. Robbie Findley (Real Salt Lake), forward
7. Peter Lowry (Chicago), midfielder
8. Jonathan Bornstein (Chivas USA), defender/midfielder
9. Jordan Graye (D.C. United), defender
10. Arturo Alvarez (San Jose), forward

Findley, a former Galaxy forward who played for the U.S. in South Africa, has said his intention is to play in Europe. McCarty, taken with the No. 1 overall selection, was a key figure in FC Dallas' run to the MLS Cup final.

Vancouver's selections:

1. Sanna Nyassi (Seattle), midfielder
2. Atiba Harris (FC Dallas), midfielder/forward
3. Nathan Sturgis (Real Salt Lake), midfielder
4. Shea Salinas (Philadelphia), midfielder
5. Alan Gordon (Chivas USA), forward
6. O'Brian White (Toronto FC), forward
7. Alejandro Moreno (Philadelphia), forward
8. Joe Cannon (San Jose), goalkeeper
9. Jonathan Leathers (Kansas City), defender
10. John Thorrington (Chicago), midfielder

Harris is a former Chivas USA player. Sturgis, Moreno and Cannon previously played for the Galaxy.


November, 23, 2010
11/23/10
1:10
PM PT
By
Scott French
| ESPNLosAngeles.com
Twenty-one players with Southland roots will be available to the Portland Timbers and Vancouver Whitecaps in Wednesday's Major League Soccer expansion draft.

The full list of available players can be found at MLS's Web site.

Here are the local guys on the unprotected list: