Los Angeles Soccer:

Jorge Perlaza
February, 15, 2012
2/15/12
9:39
PM PT
By
Scott French
| ESPNLosAngeles.com
If there were an MVP honor for Southern California's preseason slate, Portland Timbers trialist Franck Songo'o would be celebrating.

The Cameroonian midfielder, looking to move to Major League Soccer from Spanish club Albacete, burnished his chances to make the Timbers' roster with two more assists in a 2-0 win Wednesday over the Chicago Fire at Home Depot Center.

Songo'o also had two assists in a man-of-the-match performance in Portland's 4-1 romp over the Galaxy eight days ago. The Timbers were the most impressive of the eight teams training in SoCal -- that number includes the Galaxy and Chivas USA -- posting a 3-0-1 record. They also beat Houston, 2-0, and drew, 0-0, with Montreal.

Eric Alexander and Jorge Perlaza scored in the 120-minute exercise, and Portland coach John Spencer was pleased with his defense.

"We've now played against four decent teams in preseason and conceded one goal," Spencer told his club's website. "For us, I'd rather be winning these games, because it builds confidence and spreads a good spirit amongst the group. The first part of the preseason is over, and I think we're starting to hit our stride and we're starting to look fitter and stronger."

Chicago wraps its SoCal trip with a game Saturday morning at 9 against San Jose at Oxnard College.


September, 27, 2011
9/27/11
11:02
PM PT
By
Scott French
| ESPNLosAngeles.com
A Chivas USA lineup heavy of academy players got thumped in MLS Reserve League play Tuesday, conceding four goals over little more than 20 minutes in a 5-1 loss at Portland.
Bright Dike
scored twice and
Jorge Perlaza
added a goal and an assist for the Timbers (5-2-2), who dictated play most of the way in at Jeld-Wen Field.
Academy player
Ben Spencer
, just 16, scored for the Goats (1-3-3), who also used youth players
Eric Gonzalez
,
Esteban Rodriguez
,
Marky Delgado
and
Brian Kennedy
.
Jeld-Wen Field (Portland, Ore.)
Portland Timbers 5, Chivas USA 1
P -- Jorge Perlaza (Peter Lowry) 32
P -- Rodney Wallace (Peter Lowry, Jorge Perlaza) 39
P -- Bright Dike (Rodney Wallace) 46+
P -- Bright Dike (Omar Jasseh) 53
C -- Ben Spencer (Eric Gonzalez) 62
P -- Brian Umony 78
Portland Timbers:
Jake Gleeson; Steve Purdy, David Horst (Douglas Nyame, 78), Chris Taylor, Rodney Wallace; Peter Lowry, James Marcelin (Freddie Braun, 46), Eric Alexander (Omar Jasseh, 46; Tracy Hasson, 89), Brian Umony; Bright Dike, Jorge Perlaza (Rodrigo Lopez, 46).
Chivas USA:
Sergio Arias; Mariano Trujillo, Zarek Valentin, Chris Cortez, Bryan de la Fuente (Esteban Rodriguez, 46); Michael Lahoud, Eric Gonzalez (Marky Delgado, 89), Blair Gavin, Jorge Flores (Brian Kennedy, 89); Ben Spencer, Victor Estupiñan.
Unused subs:
Jack McGuire.
Yellow cards:
Gavin 24, Trujillo 89.
Referee:
Ronald Lagraff.
Att.:
1,118.
August, 4, 2011
8/04/11
12:14
AM PT
By
Scott French
| ESPNLosAngeles.com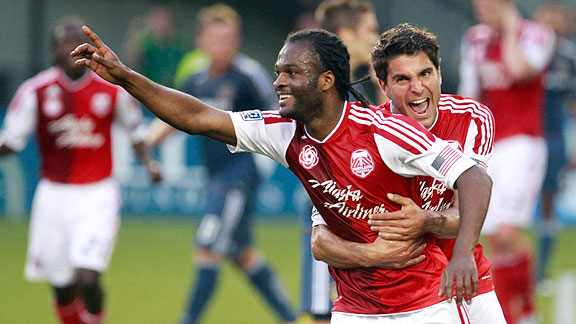 AP Photo/Rick BowmerTimbers forward Jorge Perlaza celebrates with teammate Sal Zizzo, right, after scoring during the first half of their game with the Galaxy.
PORTLAND, Ore. -- The Galaxy faces FC Dallas on Saturday in a showdown between Major League Soccer's two best teams, and good thing: They want to put Wednesday night behind them as quickly as they can.
L.A. was beaten every which way possible in its first visit to the Rose City, a 3-0 romp by the Timbers -- a loss far more one-sided than that score might suggest -- halting a 14-game unbeaten streak that's been going since a May 1 defeat at Dallas.
It might have been the Galaxy's worst performance of the season, and it was surely the lowly Timbers' best. Fine goals by
Mike Chabala
and
Jorge Perlaza
gave Portland control before halftime, and L.A.'s second-half adjustments didn't make a whole lot of difference.
Eric Brunner
's header, after he beat
Sean Franklin
to
Sal Zizzo
's corner kick in the 68th minute, ended all doubt.
The Galaxy (12-3-9) were beaten to nearly every ball, were overrun everywhere on the field, and the one number that speaks loudest is this one: Zero, as in how many shots they managed in the first half.
"I'm surprised in the way we played," said
David Beckham
, who delivered a few nice crosses that failed to connect. "We're not a team that usually gets outworked or out-hustled, but if you perform like that, you deserve to lose like that.
"We got home a little embarrassed because of the result, but at the end of the day, it's the first game we've lost in three months. We've been on a good run. It had to end somewhere."
It was over right from the start. Portland spent most of the first half in and around L.A.'s box, and when the Galaxy gained possession, they couldn't hold it for more than a pass or two.
"From minute one, it seemed like they were on the front foot and we were one the back foot, and we could never regain our confidence," Galaxy left back
Todd Dunivant
said. "[That's what happens when you] play positively and aggressively."
It was as bad a loss, by margin, as the 4-1 debacle March 26 at Real Salt Lake, but at least that one came against what was, at that moment, probably the finest MLS side ever to take the field. These Timbers (7-10-4) hadn't won at home since May 21, six games in all, and had surrendered leads three times in that span.
"I asked the guys from the first minute to try and outrun them every inch of the field, and I think we did that tonight," Portland coach
John Spencer
said. "It's a very pleasing result, obviously, after the way things have been going. I think we showed a massive amount of character tonight."
Galaxy coach
Bruce Arena
was ready to move on.
"You have to throw it behind you," he said. "If you dwell on this, you're not going to win any more games. We were beat tonight, and there's absolutely no excuses."
A quick look at the Galaxy's loss:
BEST PLAYER:
All 11 Timbers are worthy, but we're going to single out forward
Kenny Cooper
, who is going through a tough time in Portland. The former FC Dallas striker returned from a difficult spell in Germany as the Timbers' new star, and Spencer has been shopping him around, looking for the best deal he can find.
April, 23, 2011
4/23/11
2:01
PM PT
By
Scott French
| ESPNLosAngeles.com
A reunion in the middle for former Maryland teammates Omar Gonzalez and A.J. DeLaGarza is likely Saturday night when the Galaxy takes on the Portland Timbers at Home Depot Center.
That's the most appropriate response to
Leonardo
's season-ending knee injury in last week's victory at Chicago. Gonzalez and DeLaGarza, third-year pros who won a national championship with the Terrapins, were paired quite effectively at the end of the season and through the playoffs following
Gregg Berhalter
's mysterious illness last year, and it was somewhat surprising they haven't seen time together this year with Berhalter sidelined with a knee injury.
And it's not certain head coach
Bruce Arena
will team them against the expansion Timbers and their vibrant attack led by
Kenny Cooper
and
Jorge Perlaza
and perhaps newcomer
Diego Chara
.
Sean Franklin
, MLS's Rookie of the Year in 2008 while playing at center back, approached Arena after Leonardo's injury and volunteered to step into the middle. He's played at right back and right midfielder this season.
"Right now, it would either be Franklin or DeLaGarza," Arena said Thursday. What determines who is "a variety of things, maybe opponent, form, all kinds of things. But A.J.'s got the most experience playing in there."
DeLaGarza's versatility -- he's at home in any of the four backline spots -- has made him most valuable but hindered his finding a permanent home in the lineup. He impressed U.S. national team coach
Bob Bradley
with his play for the Galaxy last season and received a call-up for January's camp.
Leonardo, 22, was hurt near the finish of Sunday's 2-1 victory when he landed awkwardly during a challenge with Fire forward
Dominic Oduro
. He tore the anterior cruciate and lateral collateral ligaments in his right knee and is slated to undergo the first of two surgeries next week.
February, 5, 2011
2/05/11
1:25
PM PT
By
Scott French
| ESPNLosAngeles.com
The Portland Timbers played their first match as a Major League Soccer side Friday night and needed an equalizing goal from its rookie star to avoid defeat against one of So Cal's best amateur teams.
Darlington Nagbe
, the No. 2 overall pick (from the University of Akron, naturally) in last month's MLS draft, scored at the start of the second half to give the Timbers a 1-1 draw with the Ventura County Fusion in front of 1,400 at Ventura College.
Portland, training in Oxnard for eight days while preparing for its MLS debut next month, will face the Galaxy in a scrimmage Tuesday at Home Depot Center.
Nagbe, a Liberian-born forward considered the big can't-miss star of this year's class, headed home Colombian forward
Jorge Perlaza
's cross in the 46th minute. The Fusion, who won the Premier Development League title in 2009 and the semipro/amateur league's Southwest Division crown last year, went ahead in the 17th minute on Ecuadoran forward
Eder Vaca
's deflected shot following El Salvador national-teamer
Andres Flores
' 30-yard run on a counterattack.
"It was our first game, and we have a lot of positives to take from it and build from," Timbers coach
John Spencer
said on the club's Web site. "At this time of the season, it is just about fitness levels. That is what these games are about; you can only do so much in practice. It was a good game, and the Fusion battled for 90 minutes as well."
Former Galaxy winger Quavas Kirk, who is on trial with Portland, departed late in the game with a hamstring injury. Rodrigo Lopez, who joined the Timbers after leading the Fusion to their PDL championship, played the second half for Portland.
Portland's lineup:
First half:
Troy Perkins; Eric Brunner, Steve Purdy, Alo Bärengrub, Josh Cameron; Kalif Alhassan, Jeremy Hall, James Marcelin, Ryan Pore; Bright Dike (Darlington Nagbe, 20), Brian Umony.
Second half:
Jake Gleeson; Mamadou Danso, Chris Taylor, David Horst, Quavas Kirk (Robby Lynch, 83); Freddie Braun, Darlington Nagbe, Peter Lowry, Rodrigo Lopez; Doug DeMartin, Jorge Perlaza.
February, 3, 2011
2/03/11
2:59
PM PT
By
Scott French
| ESPNLosAngeles.com
The Portland Timbers opened training at Oxnard College earlier this week and meet the Ventura County Fusion -- the reigning Premier Development League Southwest Division champion -- in a friendly Friday night at Ventura College.
The Timbers, preparing for their Major League Soccer debut, conclude their So Cal stay with a closed-door match Tuesday afternoon against the Galaxy at Home Depot Center.
Here's a quick look at the Timbers:
WHO ARE THEY?
One of two Pacific Northwest expansion teams that, like the Seattle Sounders before them (but more so), emerges from longstanding organizations -- and even lengthier histories. The original Timbers, of course, played in the old North American Soccer League; this club was formed in 2001 and has spent the past 10 years in whichever league constituted the second tier of American pro soccer.
THE MAN IN CHARGE
Scotsman
John Spencer
, a compactly built pit bull of a forward for 15 years in Britain, Hong Kong and MLS, takes on his first head-coaching job after serving as Dominic Kinnear's top assistant with the Houston Dynamo for 4½ seasons.
Spencer was a Rangers FC product who toiled for Chelsea and Everton (and others) in England and Scotland (and 14 times for Scotland's national team), then wrapped up his playing career with four fine seasons (and two MLS Best XI awards) with the Colorado Rapids.
THE STAR PLAYER
There isn't one, although there soon will be. Rookie forward/midfielder
Darlington Nagbe
, the No. 2 overall selection in last month's draft, could be something very special, although he's likely -- unlike former University of Akron teammate
Steve Zakuani
up in Seattle -- to seek to avoid the spotlight.
Caleb Porter
, his college coach, told
The Oregonian
Nagbe is "a very humble, soft spoken and genuine kid with a big heart," and Spencer said: "Every time you talk to him, you walk away thinking he's someone you would be happy if your daughter brought him through door and said, 'Hey dad, this is who I'm marrying.' You go up to your room and think, 'Thank God she brought home a good one.' That's probably the highest compliment I could pay the kid."