Los Angeles Soccer:

Jorge Salcedo
March, 2, 2012
3/02/12
2:02
PM PT
By
Scott French
| ESPNLosAngeles.com
UCLA lost an assistant coach Friday when Kenny Arena, the son of Galaxy coach Bruce Arena, was hired as Florida International University's men's soccer head coach.
Arena, 31, also was coaching in the Galaxy's youth academy and guided its under-16 team to the U.S. Soccer Development Academy U-15/16 national championship last summer.
The former defender starred at the University of Virginia and played in Major League Soccer for the MetroStars (now the New York Red Bulls) and D.C. United. He was part of former Galaxy midfielder
Jorge Salcedo
's staff at UCLA the past four years, helping the Bruins to three conference titles and a NCAA College Cup final four berth last fall. He previously was on staffs at Virginia and George Mason.
Arena replaces
Munga Eketebi
, who was 27-51-9 in five seasons as Miami-based FIU's head coach. The Golden Panthers were 5-8-2 last year.
Salcedo, a former UCLA standout, and assistant coach
Eddie Soto
, a former MLS forward who starred at Cal State Fullerton, were childhood friends and teammates from Cerritos. Soto is head coach of the Galaxy Academy's U-18 team.
December, 25, 2011
12/25/11
2:11
PM PT
By
Scott French
| ESPNLosAngeles.com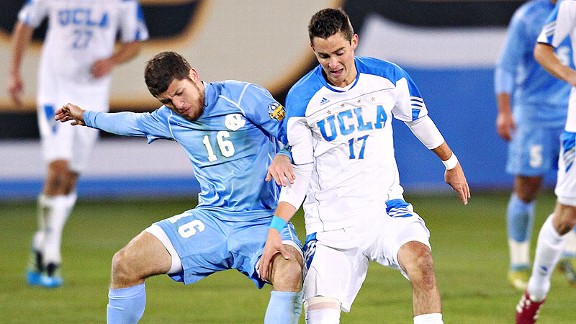 Marvin Gentry/US Presswire
UCLA's Chandler Hoffman battles North Carolina's Enzo Martinez in the NCAA semifinals.
Counting down the 11 biggest 2011 stories in Southern California soccer ...
UCLA's soccer programs might be forgiven for thinking of NCAA College Cup appearances as some sort of birthright. The Bruins' programs have long been among the nation's best, with the men winning four national championships and the women making it to final four eight times in 10 years through 2009.
But the men hadn't been to championship weekend since 2006, when they were upset in the title game by UC Santa Barbara despite talent that begged for trophies. They were stopped one game short the past two seasons.
2011 was a return to normalcy, perhaps. With a startling amount of ability returning from last year's quarterfinalists and a refined scheme, emphasizing a beautiful possession game, directed by head coach
Jorge Salcedo
, the Bruins absorbed early lessons, built momentum en route to the Pacific 12 Conference title, then sprinted through the postseason, shutting out every foe, en route to the program's 13th College Cup appearance.
Chandler Hoffman
, with a terrific support group led by returning All-American
Kelyn Rowe
, midfield general
Andy Rose
and a defense anchored by top goalkeeper
Brian Rowe
, was responsible for the goals, 18 in all, as the Bruins took an eight-game shutout streak to Birmingham, Ala., the junior striker's hometown.
The Bruins (18-4-2) got no further -- they conceded equalizers twice and lost on penalties following a 2-2 draw in the semifinals with North Carolina, which won the championship -- but laid groundwork for return trips. They expect to be back in 2012.
UCLA's men highlighted a outstanding fall for local college sides.
December, 24, 2011
12/24/11
8:56
PM PT
By
Scott French
| ESPNLosAngeles.com
Counting down the top 11 personalities of 2011 in Southern California soccer ...
Jorge Salcedo
already was Southern California soccer royalty.
He is, remember, the son of FIFA/U.S. Soccer mover/shaker
Hugo Salcedo
, a former U.S. national-teamer (youth and full) who played professionally in Mexico and Major League Soccer, part of three NCAA championship teams at UCLA, and, since 2004, head coach of the Bruins' legendary men's program.
Salcedo guided UCLA to the NCAA title game five years ago, and he took the Bruins within a game of the final four the past two seasons, all the while helping to prepare nearly two dozen players for the pros. His team is annually among the best in the nation, just as it was under his predecessors
Sigi Schmid
and
Tom Fitzgerald
.
There are pressures that go along with that -- the Bruins must win; it is demanded. They need to be competing for national titles every year, and the talent Salcedo welcomed to start the 2011 season certainly was capable of doing that.
But the former midfielder from Cerritos decided to shake things up a little bit, alter the Bruins' style of play -- concede results, perhaps, in search of something bigger and better. High risk, high reward.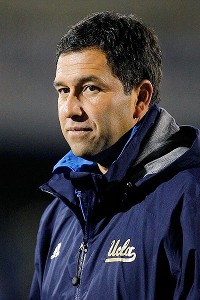 Courtesy of Jeff SipseyUCLA coach Jorge Salcedo changed his tactics this season and the Bruins reached the College Cup.
"I took a chance in the style we wanted to play this year," said Salcedo, who was a UCLA ballboy when the program won its first NCAA crown in 1985, scored the decisive penalty kick to deliver the 1990 trophy and was an assistant coach for Fitzgerald in 2002, when UCLA won for the fourth time. "I think we're unique to every other college team in the country, in that we'll pass the ball atop our own penalty box to keep possession. We'll get numbers around the ball in our half of the field. We don't necessarily make it a territorial game where we put it in the other half of the field and take our chances to win the ball back.

"We want to build the ball from back to front, and it's something that I feel strongly about -- and I feel strongly about teaching the guys how to develop that mindset, because it's really easy to break up the game and destroy the game and call it soccer. It's really difficult to make the game."

He had the players to do it, which exceeding talent in midfield, and after a stumble here and there, the Bruins were a machine as the games turned vital. By November, they were playing the prettiest soccer in America -- the closest thing in these parts to Barcelona or Spain -- and it led to a 10-0 mark in the Pac-12 a march through the NCAA tournament to the College Cup in Birmingham, Ala., where the Bruins fell on penalties after a 2-2 draw with North Carolina in the semifinals.

The ending wasn't what he wanted, but his revolution will make UCLA more attractive to top prospects and help him develop more and better talent for MLS and leagues abroad, and it ought to lead to some impressive victories, too.

"When I was hired, I was 32 years old, one of the youngest head coaches in Division I soccer, and so much of it was about me trying to get results to continue the tradition we had here, and that sacrificed a little of bit of what I thought the game should be like," Salcedo said. "Now I get to the point where I feel a little bit more secure, that I'm not going to be fired after one bad year, that now we can implement some things that I truly believe in.

"So hopefully this will be a springboard for the next few years."
December, 10, 2011
12/10/11
12:28
AM PT
By
Scott French
| ESPNLosAngeles.com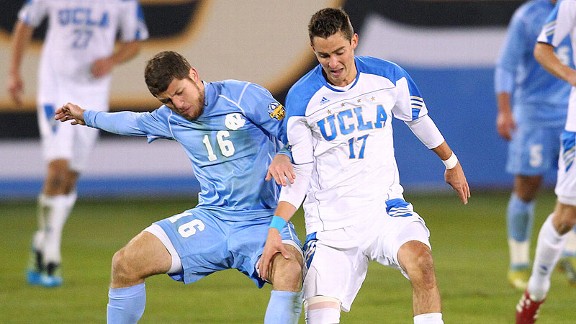 Marvin Gentry/US PresswireUCLA forward Chandler Hoffman and North Carolina midfielder Enzo Martinez battle for the ball during Friday's game.

UCLA stood five minutes from a chance to play for another NCAA soccer championship. Turns out their destiny led somewhere else.

The Bruins on Friday night twice watched leads slip away in the second half, lost their homecoming hero to heavy cramps, then came up wanting at the finish, falling to top-seeded North Carolina on penalties following a 2-2 draw in a Division I men's semifinal in Hoover, Ala., outside Birmingham.

The third-ranked Tar Heels (20-2-3), making their fourth successive College Cup final-four appearance, advance to Sunday's title game against Charlotte (16-4-4), which beat No. 2 Creighton on penalties in the first semifinal.

It was a devastating end for fourth-ranked (but 13th-seeded) UCLA (18-4-2), which dominated stretches of the match with a possession game that wearied North Carolina, went ahead on superb goals by Ryan Hollingshead in the 17th minute and Kelyn Rowe in the 74th, then conceded a late equalizer to All-American Billy Schuler.

"It was so close tonight, it could have gone either way," UCLA head coach Jorge Salcedo told ESPN Los Angeles after the game. "To win win a game, you need to have a little bit luck, a little bit skill. We had skill but no luck tonight."

It was a marvelous encounter, full of incident, featuring great drama, massive momentum swings, great individual performances on both sides, some beautiful soccer -- especially by UCLA the latter part of the first half -- and four stunning goals.

All-American striker Chandler Hoffman, a Birmingham boy playing before family and friends, assisted both UCLA strikes but wasn't in position to score himself, thanks to expert work by North Carolina All-American Matt Hedges.

His departure with a hamstring injury in overtime -- "I was cramping like I've never cramped before," he reported -- deprived the Bruins of their best finisher in the closing minutes and in the penalty-kick shootout, when they really missed him.

North Carolina won the tiebreaker, 3-1, with three of the Bruins' four shots taken poorly. Andy Rose and Rowe didn't get the ball close enough to the posts on the first two rounds, leaving simple stops for goalkeeper Scott Goodwin. Victor Munoz went up the middle to score on the third round, but Fernando Monge fired well wide left with the fourth shot, and Ben Speas -- an NCAA champion last year at Akron -- followed with the decisive kick.

"Unfortunately, when you miss the first one, it doesn't set a good tone," Salcedo said. "But we didn't lose because we took poor penalty kicks. It's not one player, not one call, not one penalty kick in soccer that decides whether you win or lose. It's just the overall game."


December, 9, 2011
12/09/11
10:26
AM PT
By
Scott French
| ESPNLosAngeles.com
UCLA has been to a dozen NCAA men's soccer final fours, played in eight finals and won four championships.

A look back at the titles:


UCLA 1, American 0 (8 OT)
UCLA had lost in three finals, all to St. Louis, back in the early 1970s -- the last two during coach Sigi Schmid's playing days. When the Bruins finally prevailed, they had to wait for it. Little-used defender Andy Burke was the hero, scoring in the 167th minute -- his first collegiate goal -- to overcome American at the Kingdome in Seattle. UCLA went 20-1-4, winning its final dozen games behind forward Dale Ervine (15 goals), defenders Paul Caligiuri and Paul Krumpe, and goalkeeper David Vanole.


UCLA 0, Rutgers 0 (4 OT)
(UCLA wins on penalties, 4-3)
What a team the Bruins put together in 1990: future World Cup picks Brad Friedel, Joe-Max Moore and Mike Lapper, plus 1990 World Cup reserve Chris Henderson. The hero, it turned out, was current Bruins coach Jorge Salcedo, a freshman who had missed three times in penalty-kick shootouts at Cerritos High School but came through when it mattered, converting the decisive shot to topple Alexi Lalas and Rutgers in Tampa, Fla. UCLA (17-1-6) also needed spot kicks to get past North Carolina State in the semifinals.


UCLA 2, Virginia 0
Matt Reis gave one of the most phenomenal performances in NCAA history, making 20 mostly spectacular saves to beat No. 1 Indiana in the semifinals and Virginia in the title game and lead the Bruins to their third title. UCLA (22-2-0) needed Reis' heroics after injuries took away team MVP Peter Vagenas, star midfielder Sasha Victorine and All-Mountain Pacific Sports Federation defender Kevin Coye during the postseason, but McKinley Tennyson Jr.'s rebound in the 132nd minute toppled the Hoosiers and Seth George scored twice in the final 10 minutes to beat Virginia in Richmond, Va.


UCLA 1, Stanford 0
The late Tom Fitzgerald was in charge of UCLA for only two seasons, and the first one was spectacular. He guided the Bruins to an 18-3-3 mark, with playoff victories over two of the teams that beat them during the regular season (Loyola Marymount and Cal), a tight triumph in the semifinals over No. 1 Maryland and the title-game victory over Pac-10 rival Stanford, their third 1-0 win over the Cardinal of the season. The championship, captured in Dallas, arrived in most dramatic fashion: Aaron Lopez first-timed Ryan Futagaki's free kick into the net with 62 seconds to go until overtime.


December, 9, 2011
12/09/11
10:10
AM PT
By
Scott French
| ESPNLosAngeles.com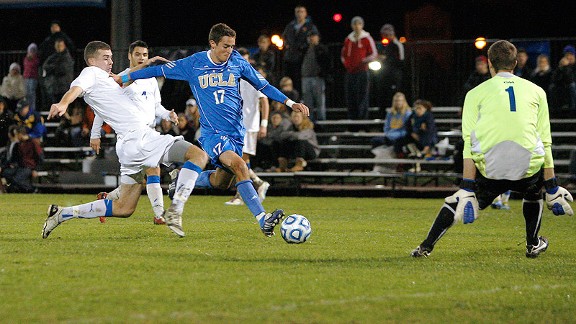 Courtesy of Jeff SipseyChandler Hoffman of UCLA is returning home to Alabama to help lead the Bruins in the College Cup.

LOS ANGELES -- Chandler Hoffman was heading home to Birmingham, and he was bringing a couple dozen of his best college buddies with him.

They hope to return to L.A. with an NCAA trophy.

Hoffman, a sure-to-be All-American striker, leads UCLA into this weekend's College Cup men's soccer final four in Hoover, Ala., where the Bruins figure to be a fan favorite, with all of his family and friends filling seats.

"Man, my phone has been blowing up. Facebook has been blowing up," Hoffman said as the Bruins prepared for Friday night's semifinal showdown with top-seeded North Carolina. "Everyone's excited to come out. It should be like a home game for UCLA."

This is what Hoffman has envisioned since word arrived earlier this year that the College Cup would be played in Birmingham's suburbs. Now that it's here -- and the Bruins are there -- he can barely contain his excitement.

"I'm so waiting for someone to pinch me and wake up," he said. "It just feels like a dream."

That dream comes true if UCLA (18-4-1) overcomes the Tar Heels (20-2-2), then knocks off second-seeded Creighton (21-2-0) or Charlotte (16-4-3) in Sunday's final. It would be the fifth NCAA men's soccer title in school history, and it would fulfill Jorge Salcedo's dream, too.

The Bruins' head coach has been part of three UCLA titles -- as a ballboy in 1985, a freshman midfielder in 1990 and an assistant coach in 2002 -- and came close to winning another in his third season in charge of the program.

"It would mean so much," said Salcedo, who played for four Major League Soccer clubs, including the Galaxy, and Morelia in Mexico. "I quietly always hope that it's going to happen, and now, once again, we have another chance. The loss [to UC Santa Barbara in the final] in 2006 left a bitter taste in my mouth, because we were a good team back then, I think ready to win a championship. But I think we're even more ready now as a program to win one."

The Bruins have ample talent, extraordinary depth -- especially in attack -- and solid upperclass leadership, and there's that destiny thing at work, too. At least Hoffman believes so.


December, 3, 2011
12/03/11
7:04
AM PT
Jorge Salcedo didn't want to look.

His UCLA men's soccer team had just secured a quarterfinal showdown at Louisville, the game every Bruin wanted, and what he remembered most from last year's classic was the snow.

No. 4 UCLA (17-4-1) seeks its 13th final-four appearance in the sport Saturday night with a rematch of one of the greatest NCAA games in history, any sport, and Salcedo will be happy to know no snow will greet his side.

"I'm afraid to [check the forecast]," he kidded last weekend, after the Bruins dominated Rutgers to claim the school's 20th elite-eight berth. "We'll see. We've had inclement weather [in Louisville], we had hot weather when we were there [for a season-opening rematch] in August."

It doesn't matter, the weather.

"We'll play them in a barn, we'll play them anywhere," Salcedo said. "We're just excited about the chance to play a good team."

The forecast for Saturday in Louisville is a high of 61 and a low of 47, cloudy but nothing falling from the sky. That's a lot nicer than in last year's quarterfinals, when the Bruins didn't deal well with the snow and slush and surrendered three goals after taking a 3-1 lead, rallied to tie, then conceded in the final seconds of regulation for a 5-4 loss.

Salcedo's judgment: "One of the wildest matches I have ever been a part of."


November, 28, 2011
11/28/11
11:10
PM PT
By
Scott French
| ESPNLosAngeles.com
UCLA's Kelyn Rowe is the Pacific 12 Conference Player of the Year and Bruins coach Jorge Salcedo, a former Bruins (and Major League Soccer) star from Cerritos, is Coach of the Year.

In the Big West Conference, UC Irvine's Miguel Ibarra (Lancaster/Lancaster HS) and UC Riverside's Cesar Diaz Pizarro (Chino/Ayala HS) were co-Offensive Players of the Year. UCI's Andrew Fontein was honored as top goalkeeper, and Riverside's Nat Gonzalez was Coach of the Year. UC Santa Barbara's Luis Silva (Los Angeles/Salesian HS) won Midfielder of the Year honors, and James Kiffe was the best defender.

California Collegiate Athletic Association champion Cal State L.A. dominated the league's awards, with UC Santa Barbara transfer Taylor Rivas (Lancaster/Lancaster HS) winning for Most Valuable Defensive Player, Rosario Bras for Newcomer of the Year and Chris Chamides as Coach of the Year. Cal Poly Pomona star Luis Gonzalez (Long Beach/Millikan HS and Cerritos College) was the Most Valuable Offensive Player.

Redlands' Cody Carlson (Burbank/Burbank HS) is the Southern California Collegiate Athletic Conference Athlete of the Year.

Here are all of the local men's all-conference teams:


November, 27, 2011
11/27/11
9:51
PM PT
By
Scott French
| ESPNLosAngeles.com
LOS ANGELES -- Beating Rutgers wasn't enough for many affiliated with UCLA's men's soccer program. They wanted a Louisville victory, too.
The Bruins got everything they wished for Sunday, romping to a 3-0 third-round triumph over visiting Rutgers to set up a quarterfinal showdown with Louisville, which kept them from the College Cup final four last year and won a season-opening showdown in August.


Chandler Hoffman
netted his 17th and 18th goals of the season, the first just 42 seconds after kickoff, and fourth-ranked UCLA (17-4-1) advanced to the elite eight for the third straight year with an emphatic victory at Drake Stadium in front of an audience that included former Rutgers star
Alexi Lalas
and Seattle Sounders coach
Sigi Schmid
and technical director
Chris Henderson
, both of whom have UCLA roots.
Victor Chavez
(Fontana/A.B. Miller HS) tallied just before halftime, knocking home the rebound after Scarlet Knights goalkeeper
Kevin McMullen
parried a sizzling
Kelyn Rowe
shot from an abrupt angle, and Hoffman completed his fourth multigoal game of the campaign with a volley four minutes into the second half.
"I thought that we played well," said Hoffman, who will be heading home to Birmingham, Ala., for the College Cup final four with a victory Saturday night at Louisville (14-6-2). "Scoring that goal in the opening munute was huge. Last week, we let Delaware hang around for way too long [in a 1-0 second-round victory], put us under a lot of pressure. So tonight we wanted to put them away early."
Hoffman did that with his first touch, clinically finishing
Patrick Matchett
's ball across the box after a
Ryan Hollingshead
run from midfield. Hoffman also played the ball to Rowe to set up Chavez's 44th-minute goal, and Rowe and Hollingshead had assists on Hoffman's finale.
"[Hoffman has] a huge desire to put the team on his back and get us to College Cup and his hometown. What more can you ask for?" UCLA coach
Jorge Salcedo
said. "The goals that he scores, his hold-up play, his intelligence on the field have all be extremely helpful. ... He's in a great moment right now."
January, 1, 2011
1/01/11
6:01
PM PT
By
Scott French
| ESPNLosAngeles.com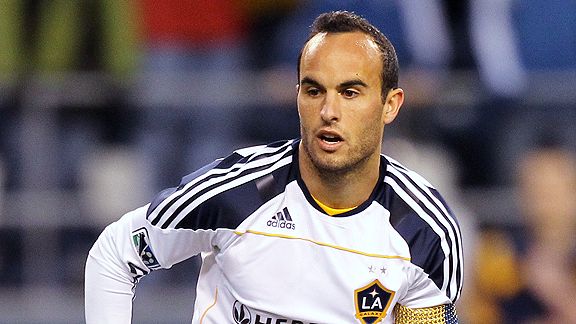 Otto Greule Jr/Getty ImagesAnything less than a championship would be considered a failure in the eyes of Landon Donovan.
1. U.S.-MEXICO SUPREMACY
U.S. Soccer has avoided scheduling against Mexico's national team in Southern California for obvious reasons, but the federation has no (reasonable) choice this year. Circle June 25 on the calendar: If all follows form, the Yanks and El Tri will renew the region's best rivalry in a packed Rose Bowl with the CONCACAF Gold Cup title on the line. A young version of the U.S. will face Chile at Home Depot Center on Jan. 22, and we're hearing talk of Mexico at the Rose Bowl in March. And the HDC gets a Gold Cup date June 6, but no idea who will play in the doubleheader.
2. GALAXY'S GOAL: A TROPHY
The Galaxy might have answered its biggest need in Major League Soccer's re-entry draft, selecting aging but gifted Colombian striker
Juan Pablo Angel
. Now they've got to sign him -- and hope
Edson Buddle
doesn't bolt for England or Scotland. L.A. has come close to After coming close to MLS Cup titles the past two years, losing in the 2009 final and in the 2010 Western Conference title game, and anything other than a trophy in 2011 will disappoint (although getting through the CONCACAF Champions League's group phase might mitigate somewhat).
Landon Donovan
is nearing 30,
David Beckham
's contract ends next December, and Angel is a quick-fix kind of addition. The backline is getting younger (and better, it seems), and if
Bruce Arena
can find a little more speed, L.A. will be tough to beat. But so will Real Salt Lake, FC Dallas and the New York Red Bulls, and maybe reigning champ Colorado if it can keep Omar Cummings from bolting to Europe. Our expectation: a terrific MLS race.
3. THE GERMAN MISSION
The U.S. women haven't won a Women's World Cup title since that delightful summer of '99, and they've since lost the American public's attention, mostly because
Mia Hamm
(and others) retired and Nike stopped contributing millions to the team's marketing campaign. This group of Yanks will try to restore some of the glitz, but it's not going to be easy. They'll certainly among the teams to beat at the WWC in Germany next summer -- and they might pull it off, if
Abby Wambach
and
Hope Solo
are at their best -- but if anyone other than the Germans are celebrating come July 17 in Frankfurt, it's a massive upset.
December, 24, 2010
12/24/10
4:00
PM PT
By
Scott French
| ESPNLosAngeles.com
Our countdown of 2010's top 10 soccer stories and newsmakers -- from a Southern California slant -- continues.
Stories/No. 8: UCLA's fabulous freshmen
It was an odd (and some might say off) year for college soccer in the Southland:
UCLA's women didn't come close to an eighth straight trip to the NCAA College Cup final four (USC's disappointed, too)
UC Santa Barbara's men never got a chance to try to win a championship at home (deserving Akron celebrated on the Gauchos' field)
UC Irvine's stirring fall finished just short (what a run by the Anteaters' women) and with a stunning snub (how did their men, top 10 all year, not get an NCAA Tournament bid?)
Let's not even mention the lower divisions, Azusa Pacific's women (NAIA semifinalists) aside.
The best team in these parts, and that wasn't clear until season's end, was UCLA's men, who needed nearly half the season to figure things out, then came up just shy of the program's 13th final-four appearance.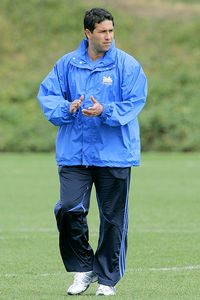 Courtesy of UCLA Athletics
UCLA coach Jorge Salcedo has one of the most talented collection of young players in the nation.

No surprise they needed time to find their feet: The Bruins had the finest collection of freshmen in the country, and their sophomores were pretty good, too. They might be the NCAA's No. 1 team when the season opens next fall, but their window for winning a title ought to be short: The players Bruins coach (and former Galaxy and UCLA midfielder)
Jorge Salcedo
brings to Westwood are so good, they rarely last more than a couple of years before going pro.
And this year's youngsters might be the Bruins' best. Included were an All-American midfielder (
Kellyn Rowe
), a forward who turned down pro offers to come to UCLA (Fontana's
Victor Chavez
) and another forward coveted by top programs everywhere (Newport Beach's
Reed Williams
). Two top defenders (Dove Canyon's
Joe Sofia
and Laguna Niguel's
Patrick Matchett
) sneaked in under the radar. And maybe the best of the lot (goalkeeper
Earl Edwards
) saw no action, sitting behind a top veteran (junior
Brian Rowe
).
Seven freshmen played considerably and the class accounted for most of the goals (23 of 40, with Chavez's 10 tops on the team) and assists (27 of 52, with Rowe's 10 tops on the team).
UCLA went 16-5-1, absorbing a big loss early (5-1 to Indiana) and another defeat in front of the biggest crowd ever to watch a soccer game at a university field (2-0 to UC Santa Barbara in front of 15,896), then taking off on a 14-2 spree into the NCAA quarterfinals. They held two two-goal leads before succumbing, 5-4, to No. 1 Louisville in the snow.
November, 15, 2010
11/15/10
4:13
PM PT
By
Scott French
| ESPNLosAngeles.com
UCLA was seeded eighth, but UC Irvine and Loyola Marymount were left in disbelief when the 48-team NCAA Division I men's soccer tournament bracket was released Monday afternoon.

The ninth-ranked Bruins (14-4-1), runners-up in the Pac-10, will be home Sunday at 5 p.m. against West Coast Conference co-champion Santa Clara (10-5-5) or Mountain Pacific Sports Federation tournament titlist Sacramento State (10-4-7), who meet Thursday in Sacramento.
Big West Conference tournament champion UC Santa Barbara (13-4-3), which will play host to the Dec. 10-12 College Cup final four, will be home Thursday against Denver (9-6-4), with the winner playing at Pac-10 champ California (12-2-3) on Sunday.
Loyola Marymount (12-6-2), which won a share of the WCC title but lost the automatic berth to Santa Clara when it lost Sunday on a late goal to San Francisco, isn't in the field.
More shocking is the omission of Big West Conference regular-season champion UC Irvine (14-3-3), which was ranked 10th in last week's National Soccer Coaches Association of America poll. The Anteaters will surely drop in this week's rankings, which come out Tuesday, after losing to Cal State Fullerton in the Big West tournament semifinals.
October, 27, 2010
10/27/10
10:39
PM PT
By
Scott French
| ESPNLosAngeles.com
Wednesday's dismissal by Chivas USA of Martin Vasquez isn't all that surprising except for vice president of soccer operations Stephen Hamilton's insistence Saturday that the club's head coach definitely would return in 2011, that "the things we saw in him previously, we still see in him, and I think he's going to benefit from a year of experience as a head coach."
Perhaps so, just not with the Goats. Looking for potential candidates? There are, at least on the surface, hundreds of them. No, thousands. Which are viable and which are not depends on how much Chivas wants to spend -- both on a coach and on players -- and how wide a net Hamilton and the club's "soccer committee" choose to cast.
Some possibilities:
THE BIG NAMES:
The biggest, at least in local circles, is German legend
Juergen Klinsmann
, one of the premier strikers of his (or any) generation -- and an innovative coach who took an unfancied Germany side to the 2006 World Cup semifinals, ran into problems at tradition-minded Bayern Munich (where Vasquez was among his assistants) and twice broke off talks with U.S. Soccer about taking the reigns of our national team, both times over control issues.
Klinsmann lives in Huntington Beach, is between coaching jobs, and is familiar with MLS through his years in the U.S. and history with the Galaxy, for which he served as consultant during
Sigi Schmid
's reign. He might find the opportunity to build with Chivas most attractive: the club's anti-corporate style stands in stark contrast to their neighbors down the hall, and it wouldn't surprise us if he and President/CEO
Shawn Hunter
got along famously.