Los Angeles Soccer:

Jorge Serrano
June, 5, 2012
6/05/12
4:39
PM PT
By
Scott French
| ESPNLosAngeles.com
The W-League's Western Conference title appears to be headed the Pali Blues' way or to the Seattle Sounders. They're the chief contenders just four weeks into the campaign.
Pali completed sweeps of its Southern California rivals, both of them one-goal home wins, to improve to 4-0-0. The Sounders, also 4-0-0, won three games last week with U.S. national team stars
Alex Morgan
,
Hope Solo
,
Sydney Leroux
,
Megan Rapinoe
and
Stephanie Cox
on hand.
Morgan (Diamond Bar/Diamond Bar HS) scored and assisted Lyndsey Patterson's goal in the 3-0 romp Monday night over Colorado Rapids' women's team. Leroux (UCLA) had an assist in a 2-1 win Thursday over the third-place Colorado Rush (3-1-0), a match that sold out the Starfire Sports Complex's 4,500-seat stadium in Tukwila, Wash.
Pali, which is affiliated with the L.A. Blues' men's team (both are coached by
Charlie Naimo
), got goals from
Nikki Washington
and
Liz Bogus
to beat the L.A. Strikers, 2-1, then pulled out a 1-0 triumph over Santa Clarita Blue Heat on Australian national-teamer
Servet Uzunlar
's goal three minutes into second-half stoppage.
The Blues and Sounders meet twice this season: June 20 in Tukwila and in the July 15 regular-season finale at Palisades High School.
Elsewhere in minor-league soccer:
December, 25, 2011
12/25/11
7:56
AM PT
By
Scott French
| ESPNLosAngeles.com
UCLA's Chandler Hoffman scored goals by the bunches on a quest to go home. Nadia Link netted nearly as many to take Long Beach State to unprecedented heights. Christian Ramirez dazzled for Concordia. And Fabiola da Silva prodded Cal Baptist to a national championship.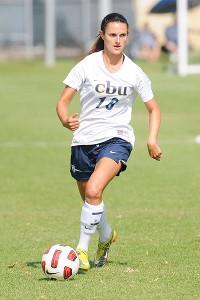 Rachel McDaniel/CBU SportsBrazilian midfielder Fabiola da Silva led Cal Baptist to the NCCAA national title.
They're ESPN Los Angeles College Players of the Year after superb fall campaigns on local fields.

We selected men's and women's teams, one for players from 10 local NCAA Division I institutions and another for players from 24 NCAA Divisions II and III, NAIA and unaffiliated schools.

Our coaches of the year in Division I are Junior Gonzalez, who led the remarkable turnaround by UC Riverside's men, and Tim Ward, whose Pepperdine women were a top-five team during the regular season. In the lower divisions, it's Ralph Perez, who took Redlands' men to 20 wins and NCAA Division III third-round berth, and Kristen St. Clair, who presided over a superb transition from NAIA to NCAA Division II, with the Pacific West Conference title and National Christian Collegiate Athletic Association Division I national crown.

The freshmen of the year: Cal State Northridge's Edwin Rivas and UCLA's Abby Dahlkemper in D1, Cal Baptist's Michael Salazar and Cal Lutheran's Taylor Will in D2/D3/NAIA.

Here are our inaugural postseason all-star teams:


November, 17, 2011
11/17/11
10:41
PM PT
By
Scott Frenh
| ESPNLosAngeles.com
Cal Baptist's men's soccer team is 90 minutes from joining its women at the NCCAA national championships at the end of the month in Kissimmee, Fla.

The Lancers first must get past former Golden State Athletic Conference rival The Master's.

Cal Baptist (14-5-0) and TMC (11-5-3) on Thursday advanced to the West Regional final in the National Christian Collegiate Athletic Association's annual tournament with home victories. They'll meet Saturday afternoon in Riverside, with the winner heading to Florida.

The NCCAA tournaments will be held Nov. 30-Dec. 3. Cal Baptist's women won the West Regional last week.

The Lancers, who are wrapping up their first season as an NCAA Division II team, pulled out a 2-1 victory over Trinity Lutheran of Everett, Wash., as Willie Rupert converted his fourth penalty kick of the season in the 83rd minute.

Michael Salazar (Moreno Valley/Canyon Springs HS) drew the penalty as Cal Baptist withstood a physical test from Trinity Lutheran (12-5-1), which was whistled for 22 fouls and received four yellow cards and one red card.

Jonathan Garcia (Long Beach/Millikan HS) gave the Lancers a third-minute lead, but Edwin Aguilar pulled the Eagles even four minutes into the second half.

The Master's routed GSAC foe Hope International, 7-1, in Santa Clarita. Kevin Scheunemann scored twice, Marcelo Silva scored a goal and assisted two more, and Jorge Serrano (Sylmar/Sylmar HS and College of the Canyons) and Joel Peluffo (Newhall/Hart HS) added goals and assists to lead the Mustangs. Fullerton-based Hope's season ended at 7-8-2.


October, 20, 2011
10/20/11
6:26
AM PT
By
Scott French
| ESPNLosAngeles.com
Kevin Schulte's second goal of the night sunk No. 7 UC Irvine, lifting UC Davis to a 2-1 overtime triumph and into a share of the Big West Conference lead in men's soccer.

Schulte (Riverside/M.L. King HS) tallied from a give-and-go with John Joslin (Santa Ana/Foothill HS) 8˝ minutes into the extra period as the Aggies (6-6-2) pulled off the upset Wednesday night at Anteater Stadium.

Lester Hayes III gave UCI (12-4-0) a 28th-minute lead, but Schulte pulled UC Davis even in the 60th.

The Anteaters, at 4-2, dropped into a tie with UC Davis, three points ahead of Cal Poly and Cal State Northridge, which also were beaten Wednesday.

In other men's action:


Hayden Leslie (Apple Valley/Apple Valley Christian) scored in the 88th minute and Ivan Garcia (Corona/Santiago HS) with just 19 seconds remaining in regulation to lead UC Riverside (7-5-2) to a 2-1 triumph over Cal State Northridge (6-7-1). The Highlanders ended a four-game winless skid by keeping CSUN from a share of the Big West lead.
Jameson Campbell (Diamond Bar/Diamond Bar HS) tallied in the seventh minute, and Cal State Fullerton (7-4-3) ended a five-game winless streak, claiming its first Big West win with a 1-0 triumph over Cal Poly. The Mustangs, at 3-3, are three points off the Big West lead.
Osvaldo Bastida (Anaheim/Katella HS) scored a hat trick, Michael Salazar (Moreno Valley/Canyon Springs HS) added two goals and both contributed an assist as Cal Baptist (10-4-0) romped to a 6-0 Pacific West Conference victory at BYU Hawaii.
October, 16, 2011
10/16/11
7:41
AM PT
By
Scott French
| ESPNLosAngeles.com
All-American Ethan Finlay scored a hat trick, and fourth-ranked Creighton overwhelmed No. 7 UC Irvine in a non-conference men's soccer showdown Saturday night in Omaha, Neb.

Finlay provided a fifth-minute lead, then added goals in the 62nd and 88th minutes, each time extending the Bluejays' lead to two goals. Jimmy Turner (Mission Viejo/Mission Viejo HS) headed home a Christopher Santana cross in the 63rd for the Anteaters (12-3-0).

"That's a very, very good opponent. They will do well this year," Creighton coach Elmar Bolowich, whose team notched its second win over a top-10 foe in its past three games, told his school's athletics website. "That's a great win for us. I thought the first half was probably the best half I have seen us play this season."

Creighton (11-2-0) hadn't conceded a goal in its first five home games.

UCIrvine leads the Big West Conference with a 4-1 mark, one game ahead of Cal State Northridge, Cal Poly and UC Davis.

In other men's action:
Matt Sheldon tallied three minutes into overtime, his second goal of the game, to give UC Davis a 2-1 Big West victory at Cal State Northridge (6-6-1). Edwin Rivas (Los Angeles/Santee Educational Complex) scored in the 79th minute for the Matadors.
Ben Sperber (Palm Desert/Desert Christian HS) slotted home a loose ball in the 83rd minute as UC Riverside (6-5-2) rallied for a 1-1 Big West draw at Cal State Fullerton (6-5-2). Kevin Venegas (Lakewood/Los Alamitos HS) tallied for the Titans.
October, 9, 2011
10/09/11
1:21
AM PT
By
Scott French
| ESPNLosAngeles.com
UC Irvine took command of the Big West Conference race Saturday night, using two second-half goals by
Miguel Ibarra
to beat visiting Cal State Northridge, 2-0.
The match was a showdown between two of the Big West's three two-win teams and sent the seventh-ranked Anteaters (11-2-0) to 3-1, ahead of Northridge (5-5-1) at 2-1 and UC Davis at 2-2.
Ibarra (Lancaster/Lancaster HS) gave Irvine a 58th-minute lead through a give-and-go with
Jimmy Turner
(Mission Viejo/Misson Viejo HS) and a deflection off a Matadors defender.
Memo Licona
(Lake Forest/Laguna Hills HS) set up the second goal in the 89th minute.
In other men's action:
Sam Garza scored in the seventh minute of overtime, and No. 19 UC Santa Barbara (8-3-1) toppled UC Davis, 2-1, for its first Big West victory. The Gauchos lost their first two conference games, to UC Riverside and UC Irvine, but bounced back Wednesday with a 3-2 overtime victory over third-ranked Akron.
Osvaldo Bastida (Anaheim/Katella HS) scored in the first half for Cal Baptist (7-4-0) in a 1-0 win over Western Washington at the Grand Canyon Tournament in Phoenix.
Redlands (11-3-0) is closing in on the Southern California Intercollegiate Athletic Conference title following a 2-0 victory at second-place Pomona-Pitzer (6-5-0) on goals by Alex Laughton and Will Walker. The Bulldogs are 8-0-0 in SCIAC play; the Sagehens fell to 5-2-0.
September, 15, 2011
9/15/11
11:15
PM PT
By
Scott French
| ESPNLosAngeles.com
Cal State Northridge rallied from an early two-goal deficit Thursday night, with
Thomas Ramos
scoring one goal and assisting the net in a 2-2 draw at Cal State Bakersfield.
Ramos scored in the 44th minute and assisted the 60th-minute strike off a corner kick by
Brian Behrdad
(Woodland Hills/Taft HS) to pull the Matadors (2-3-1) even.
Star striker
Gyasi Zardes
(Hawthorne/Leuzinger HS) netted his seventh and eighth goals of the season for Bakersfield (2-0-2), tallying in the 26th and 30th minute.
In other men's action:
Trenton Titus (Chino Hills/Ayala HS) assisted three goals and Carlos Garcia-Partida and Oktay Bulut netted their fourths of the season as Azusa Pacific (4-1-0), No. 7 in the NAIA poll, routed St. Xavier (Ill.), 5-0.
Jorge Serrano (Sylmar/Sylmar HS and College of the Canyons) scored one first-half goal and assisted three more to lead NAIA No. 15 The Master's (6-0-0) in a 7-0 romp over Arizona Christian.
David Taylor scored a hat trick in 13˝ minutes, carrying defending conference champ Claremont-Mudd-Scripps (3-1-0) to a 3-1 victory over Cal Lutheran (0-4-0) in a Southern California Intercollegiate Athletic Association opener.
Whittier (1-3-0) also won its first conference game, a 2-1 win over La Verne (1-2-0) as Srdan Jovanovic's second goal arrived in overtime. Nick Eary scored twice as Redlands (2-2-0) scored six against Pomona-Pitzer (1-3-0). Occidental (1-2-0) also won.
In women´s action:
Erin Edmonds and Traci Lopez scored goals as Pomona-Pitzer (3-0-0) surprised Redlands (2-1-1), ranked No. 19 in the NSCAA Division III poll, with a 2-0 triumph in a SCIAC opener.
Freshman Taylor Will scored twice as defending SCIAC regular-season champ Cal Lutheran (4-1-0) romped, 4-0, over Claremont-Mudd-Scripps (0-1-2). La Verne (2-1-2) also won.
September, 11, 2011
9/11/11
7:11
AM PT
By
Scott French
| ESPNLosAngeles.com
The Master's College improved to 5-0-0 and won its men's tournament title Saturday, edging Oakland's Holy Names in a showdown for the trophy.

Marcelo Silva converted an 84th-minute penalty kick to lift the Santa Clarita-based Mustangs, who went ahead when Fabrice Gautrat (Valencia/Hart HS) headed in a cross from Jorge Serrano (Sylmar/Sylmar HS and College of the Canyons) in the seventh minute. Henry Goh pulled Holy Names even in the 78th.

Biola (4-1-0), ranked 14th in NAIA, also won, bouncing back from its loss to Holy Names with a 3-1 win over Westminster (Utah). Carlos Ballesteros (Sun City/Paloma Valley HS), Joao Toscan and Daniel Chew (Lake Forest/El Toro HS) scored goals.

In other men's action:
Matthew Howard (Temecula/Great Oak HS) scored and set up Jesus Ramos (Norco/Norco HS) as Fullerton's Hope International rallied to beat Whittier, 3-2.
James Ross' goal seven minutes into overtime lifted Riverside's La Sierra past Occidental, 2-1.
Anaheim's unaffiliated Bethesda Christian (5-0-0) won Soka University's Peace Cup in Aliso Viejo, toppling Rancho Palos Verdes' Marymount, 2-1, in the title game.
WOMEN: Defending champs top Cal Lu

Cal Lutheran was beaten for the first time this season, falling to defending NCAA Division III champion Hardin-Simmons in a tight clash in Abilene, Texas.

Austin Ricker and Courtney Cramer scored on each side of halftime to lead the 14th-ranked Cowgirls (2-1-0) to a 2-0 victory. No. 12 Cal Lutheran (3-1-0) was coming off a 10-0 rout of Texas Lutheran.

In other women's action:
Kylee Nicassio (Alta Loma/Los Osos HS) tallied twice as Cal Baptist (3-1-0) crushed College of Idaho, 4-0.
Traci Lopez's first-half goals gave Pomona-Pitzer (2-0-0) a 2-0 win over visiting Biola, the NCAA Division III Sagehens' second shutout over NAIA opposition.
Kiri Christiansen scored both goals in Marymount's 2-0 win at Soka.
December, 4, 2010
12/04/10
7:59
PM PT
By
Scott French
| ESPNLosAngeles.com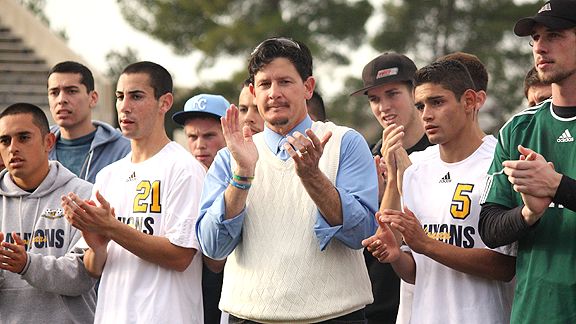 Celina Baguiao/College of the Canyons athletics
Coach Phil Marcellin started the College of the Canyons' women's program in 1998 and the men's team in 2003.
SANTA CLARITA -- A 1-16-6 campaign had been followed by a 4-16-3 season, and College of the Canyons men's soccer coach
Philip Marcellin
and his staff sat in their home stadium and watched Cerritos College capture and celebrate the 2008 state junior college championship.
It left them with a most sour taste -- and a resolution.
"We said: We're not hosting [the state final four] again," Marcellin said, "without making every effort we can to get in it."
Jump forward two years. The state finals have returned to Canyons, and Marcellin's Cougars are on the cusp of history.
Riding an 11-game winning streak and improbable, or so it seemed, romps over state powers Santa Ana and Fresno City, they've made it to their first state title game and will take on reigning California champion Mt. San Antonio, from Walnut, Sunday morning at 10.
It is, Marcellin notes, "a dream matchup: Home field, defending state champs. … Whatever side we end up on, I don't think we can ask for anything more than that."