Los Angeles Soccer:

Jorge Vergara
March, 12, 2012
3/12/12
11:16
PM PT
By
Scott French
| ESPNLosAngeles.com
Galaxy owner Philip Anschutz is worth $7 billion, according to Forbes Magazine, which last week unveiled its annual list of global billionaires, more than 1,200 this time around.
That's not bad. Nowhere near Mexican telecommunications magnate
Carlos Slim's $69 billion
, but decent walk-around money.
Where does Anschutz rank among
owners of soccer clubs
? Fourth.
The Colorado-based owner of AEG, who also owns the L.A. Kings, a piece of the Lakers, Staples Center, half of the Houston Dynamo, Hammarby in Sweden and hockey clubs in the U.S. and Europe, sits behind Shakhtar Donetsk's
Rinat Akhmetov
($16.9B), Seattle Sounders co-owner
Paul Allen
($14.2B) and Chelsea's
Roman Abramovich
($12.1 B).
He's No. 6 among sports-team owners -- India's
Mukesh Ambani
($22.3B), who has cricket interests, tops that list -- and sits 133rd on the list of the world's richest men.
Chivas USA's
Jorge Vergara
does not make this list. Club Tijuana's
Jorge Hank
($1.4B) in 913th on the rich list.
May, 24, 2011
5/24/11
10:18
PM PT
By
Scott French
| ESPNLosAngeles.com
A couple of published reports have Chivas USA ready to take on the cloak of its brother (or father) club, Guadalajara. Jalisco's Chivas plays only with Mexican players, and our Goats, the story went, will soon be playing only with talent from Southern California.
Truly a home-spun squad.
Only it's not so.

"To only go with Southern California guys, it's not realistic. It's not smart," general manager
Jose Domene
said Tuesday. "If we only used players from our youth, from our academy, you're shooting yourself in the foot."
The message, he says, got lost in translation. That sounds reasonable.
The talk stemmed from two interviews, by new marketing director
Rodrigo Morales
with The Sporting News and co-owner
Jorge Vergara
with reporters at halftime of the Goats' 1-0 SuperClasico loss to the Galaxy on Saturday night at Home Depot Center.
Morales and Vergara are Mexican, and although both are bilingual -- Vergara more so than Morales -- English is neither's first language. Vergara is based in Guadalajara, where his holdings include Chivas de Guadalajara, and Morales moved to L.A. in December from a position with Guadalajara.
Morales last week told The Sporting News that the club "will play only with South California players," that "sooner or later, 11 of our players [on the field] will be from Southern California." That, he said, would distinguish the Goats from their cross-stadium rival and enable the club to "achieve the sense of belonging to the people of Southern California" where fans will "be supporting their neighbor."
It picked up traction when Vergara, asked about the comments, confirmed the policy. Sort of.
March, 26, 2011
3/26/11
6:37
PM PT
By
Scott French
| ESPNLosAngeles.com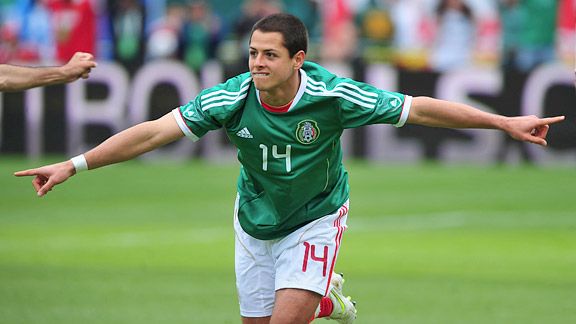 Steve Lopez/Getty ImagesJavier "Chicharito" Hernandez celebrates a goal in Saturday's friendly against Paraguay.
Jorge Vergara was asked about Javier "Chicharito" Hernandez when he visited the press box at halftime of last week's Chivas USA opener, and the man who sold Mexico's reigning soccer god to Manchester United couldn't contain his excitement.

"I'm very pleased to be part of his success," said Vergara, whose holdings include Club Deportivo Guadalajara and a good piece of Chivas USA, Guadalajara's little brother. "We decided to sell him instead of locking him up, and we made a statement when we sold him to Manchester United: He was going to be the best player in the world, and I think he's going to be, too.

"And I think even [Manchester United manager Alex] Ferguson didn't believe me, but the capabilities of the player -- now he believes what I told him."

OK, we can all agree that Argentina's Lionel Messi is the world's finest talent, and his Barcelona teammates Xavi and Andres Iniesta -- the midfield foundation of Spain's World Cup triumph -- aren't far behind, and several others perhaps belong in the conversation, including Dutchman Wesley Sneijder, Portugal's Cristiano Ronaldo and, when he's on, Swede Zlatan Ibrahimovic. Who are we leaving out?

Is "Chicharito" in this class? Those who think not might want to watch tape of Mexico's 3-1 rout of Paraguay on Saturday afternoon up in Oakland. Hernandez scored twice to lead El Tri to a 3-0 lead by the 35th minute, and the quality of his finishes was breathtaking.

He scored on a superb header -- dipping his head to redirect Pablo Barrera's cross -- in the seventh minute and emphatically finished Ricardo Osorio's feed in the 34th.

That's 14 goals in 21 international matches over the past 13 months and two days, a stirring rate for any forward, and they include strikes against France and Argentina at the World Cup and goals against World Cup champion Spain (a month after the final) and runner-up Holland (two weeks before the Cup).


March, 21, 2011
3/21/11
9:48
PM PT
By
Scott French
| ESPNLosAngeles.com
When was rookie defender Zarek Valentin's welcome-to-the-MLS moment?

Was it in the 10th minute, when Kei Kamara dodged his challenge and raced by, leaving him sprawled on his face before firing across the goalmouth. Or in the 33rd, when Kamara's high boot sent him to the ground? Or in the 37th, when fellow rookie C.J. Sapong tossed him to the ground?

Or in the 52nd, when referee Edvin Jurisevic showed him the yellow card for taking down Kamara?

No, it was earlier.

"It was a rush," Chivas' top draft pick, just 19, said after going the full 90 minutes in central defense in Saturday's 3-2 loss to Sporting Club Kansas City at Home Depot Center. "It's weird, because you see the lights and the cameras and your name out there, so it was definitely a rush. But I've played in big games like that with the [U.S. under-17 and -20 national teams], so it kind of helped me settle in.

"And once the national anthem came, it kind of was a little comforting. Because it reminded me that I've played games like that."

The battles with Kamara and Sapong provided a real taste of Major League Soccer's physical nature.

"The physicality is a lot different than college and what I wasn't used to," said Valentin, who at 5-foot-11, 160 pounds is small for a center back. "I know I have to bring 110 percent in especially that aspect every game. I knew they were going to battle from the first minute, so I tried to match that to the best of my ability."


December, 25, 2010
12/25/10
7:59
AM PT
By
Scott French
| ESPNLosAngeles.com
Our countdown of 2010's top 10 soccer stories and newsmakers -- from a Southern California slant -- continues.
Stories/No. 7: Sol starts a trend
The L.A. Sol set the standard in Women's Professional Soccer's inaugural campaign in almost every regard, with the league's most professional organization, the most sponsorship and merchandising revenue, the best fan experience (in the league's best stadium) -- and, especially, on the field.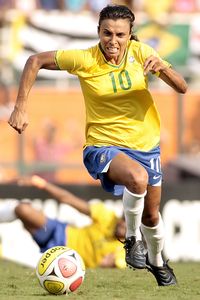 Rodrigo Coca/Getty ImagesThe Sol's lone season was a memorable one because it included Brazilian star Marta.
The Sol, featuring Brazilian superstar Marta and local heroine Shannon Boxx (Redondo Beach/South Torrance HS), went 12-3-5 in 2009, easily capturing WPS's regular-season title. They likely would have won the championship if not for a controversial red card not quite a half-hour into the final.

The team would never play another game. The team folded on Jan. 28 after negotiations with a potential new ownership group fell apart.

It began a trend in the league, and not a good one. Saint Louis Athletica, which posted the second-best regular-season record in year one, dissolved just six weeks into the 2010 campaign, and Bay Area-based FC Gold Pride -- winner of the 2010 title with Marta and Boxx leading arguably the finest women's team ever assembled -- packed up shop in November.

A month later, the Chicago Red Stars went on hiatus, with plans to return in 2012. The Washington Freedom, the lone survivor from the late, great 2001-03 Women's United Soccer Association, nearly went under, too.

What's left? A six-team league, entirely on the East Coast for 2011. The San Francisco-based front office has been all but scuttled, and survival remains uncertain, perhaps unlikely. Yet there are groups angling to join in 2012 and beyond, including one that wants to put a team in Orange County.

The Sol lost somewhere around $3 million in 2009. Anschutz Entertainment Group, which owned half the team and paid about 90 percent of the bills, pulled out -- as planned, it turned out -- after the first season, and Blue Star LLC, a partnership that included L.A. Blues owner Ali Mansouri and Australian actor Anthony LaPaglia, couldn't afford to run things on its own.

The league took control of the club in November 2009 and had a new owner, never identified, all but signed, sealed and delivered. That owner pulled out in mid-January, and the Sol was dead a week later.


December, 17, 2010
12/17/10
9:27
PM PT
By
Scott French
| ESPNLosAngeles.com
Of the many spots on the lineup card in which Chivas USA needs an upgrade, goalkeeper isn't one of them -- and, as always, there are a ton of fine netminders in the U.S. if it was.
But
Jorge Vergara
, one of the club's owners -- also owner of big Chivas: Club Deportivo Guadalajara -- says the Goats are getting a new one from Mexico.

Vergara told ESPN Deportes radio that
Sergio Arias
, one of Mexico's most promising young netminders, will be joining Chivas USA next season.
Arias, who will be 23 in February, was one of the backups to Guadalajara starter
Luis Michel
during the Mexican Primera Division's fall Apertura, but he hasn't yet made his first-team league debut for the club.
The 6-foot-2 keeper emerged from Guadalajara's youth system and starred on the Mexican side that won the FIFA U-17 World Cup in 2005 and played for Mexico at the 2007 Panamerican Games. He made 36 appearances on loan to second-tier Dorados de Sinaloa in 2007-08.
Arias was set to join Gallos Blancos de Queretaro in Mexico's Primera Division on loan, but Vergara said the agreement was canceled "because we needed him to go to Chivas USA, we want the goalkeeper at Chivas USA."
Zach Thornton
, 37, has been Chivas USA's No. 1 goalkeeper since 2008; he was MLS's Goalkeeper of the Year in 2009.
Dan Kennedy
(Yorba Linda/El Dorado HS and UC Santa Barbara), who missed the last 2½ months of last season with a torn biceps muscle and all of 2009 with a knee injury, is a worthy backup.
And we like
Kevin Guppy
(Chino Hills/Chino Hills HS and Cal State Northridge), an MLS pool goalkeeper (available to any team requiring one) who saw action for the Goats last year.
Arias clearly has a future with Guadalajara, but he needs games, and Vergara's hope is he'll get them with Chivas USA. This is how the relationship between the clubs should work, with our Goats taking top prospects on loan from the mother club, but a playmaking midfielder, sturdy defender or steady finisher up top would be a better value.
November, 15, 2010
11/15/10
6:27
PM PT
By
Scott French
| ESPNLosAngeles.com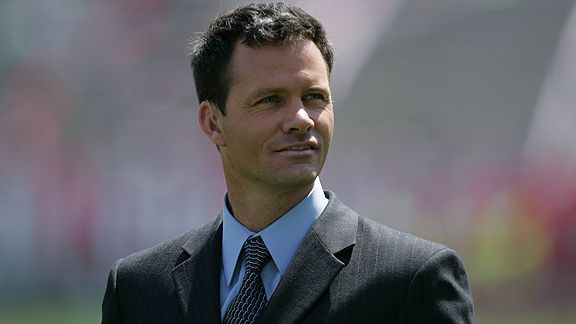 John Todd/MLS
Eric Wynalda, a former U.S. national team player, is one of the more intriguing coaching candidates for Chivas USA.
Chivas USA managing partner
Antonio Cue
has said he'd like to have a new head coach in place before this week is over, and whether or not the Goats meet that deadline, there no question they've got some interesting candidates.
Former Chivas midfielder
Jesse Marsch
, who retired after the 2009 season to join U.S. national team coach
Bob Bradley's
staff, has talked to club management, and
The Washington Post
reported Monday that former Galaxy defender
Robin Fraser
, an assistant coach for Real Salt Lake, has had conversations about the job.
A club source earlier this month said there were a dozen names on the team's list of candidates and that some belonged to Mexicans, hardly a surprise given Chivas' roots -- with Club Deportivo Guadalajara -- and chief owners Cue and
Jorge Vergara
, who are Mexican.
Perhaps the most intriguing candidate is former U.S. national team star
Eric Wynalda
, 41, who has two of the biggest names in Mexican soccer on his side.
November, 9, 2010
11/09/10
12:07
PM PT
By
Scott French
| ESPNLosAngeles.com
America is peaking at the best possible time. Toluca is crumbling when it counts. The impact on the Mexican Primera Division's Apertura campaign is massive.
The Aguilas clinched a berth in the eight-team playoff
Liguilla
with a 1-0 victory at Atlante, courtesy of
Matias Vuoso
's eighth goal of the season, and head into their final regular-season outing -- against Mexico City rival Pumas UNAM -- with three-game winning and six-game unbeaten streaks.
They've pulled through last month's attacking drought, in which they were shut out by first-place Cruz Azul, second-place Monterrey and archrival Guadalajara, scoring seven times in their past three games -- and that should be eight.
Pavel Pardo
converted a stoppage-time penalty kick against Atlante, but referee
Paul Delgadillo
ordered a retake for encroachment, and Potros goalkeeper
Moises Muñoz
saved Pardo's second attempt.
America, which is atop Group 2 and fourth overall, behind Santos Laguna on goal difference (plus-8 to plus-7), appears to have shored up its defensive problems, and the relationship among Vuoso, playmaker
Daniel Montenegro
and former Toluca star
Vicente Sanchez
has solidified just when it most matters.
"We're there, and we were able to get there," America coach
Manuel Lapuente
said after Saturday night's victory, according to
Reforma
. "We're playing well … we've finished the league well, although we have a game against Pumas to play, and we cannot lose at home. We're going to put a lot of effort into that game. This isn't over until it's over, and we're going to fight to climb one spot higher."