Los Angeles Soccer:

Jose de Jesus Corona
August, 30, 2011
8/30/11
10:06
PM PT
By
Scott French
| ESPNLosAngeles.com
Monterrey paid tribute to those who lost their lives in last week's brazen drug-cartel attack on a casino in the city, organizing a white-out for its Mexican Primera Division showdown with Santos Laguna.
The Rayados, playing just two days after the arson attack, encouraged fans to wear white and the players released white balloons to honor the 52 killed and send a message that Mexicans are tired of the violence and want to see positive, peaceful change.
It worked for the club, too. Goals by
Luis Perez
and
Humberto Suazo
led Monterrey to a 2-0 triumph, ending a four-game stretch in which it was beaten by San Luis and Guadalajara in league play and the Seattle Sounders in the CONCACAF Champions League.
1. CHANGING AMERICA?
Seems about time for Club America's bosses to cut ties with
Carlos Reinoso
, whether or not that would be the wisest move. The underachieving Aguilas, riding a string of disappointments despite always possessing some of Mexico's best talent, have won just two of six games in the Apertura and slipped to 11th overall with a 2-0 defeat at Pachuca.
It's too early to panic -- America (2-2-2) is just one point out of the top eight with 11 games to go -- but that hasn't stopped the club before, and there's a growing disillusionment with the Chilean Reinoso, who is in his third stint as Aguilas boss.
Rumors are swirling, but he says he's going nowhere, that the speculation that he'll be dismissed is "normal" and doesn't bother him.
"I work here for free because I love America. Who wouldn't want to be here?" he told Mexican media this week. "I'm not leaving. We know and believe and want to succeed -- and we will succeed. We will achieve the objectives, which is to qualify for the playoffs and then fight for the title. ... America fans want the best for America, and the dream of all America fans is to be champion. So we are aware that we need to improve, that we must be in the final."
July, 25, 2011
7/25/11
10:43
PM PT
By
Scott French
| ESPNLosAngeles.com
Baja futbol fans enjoyed a historic couple of hours Saturday night at Estadio Caliente: The debut of top-flight soccer in Mexico's forgotten metropolis.
Tijuana, the country's third-largest city (with 1.65 million residents, in the 2010 census), has resided outside Mexico's sporting consciousness, all because it has lacked a Primera Division soccer team -- or the deep pockets willing to spend what's necessary to play with the big boys.
Enter
Jorge Hank
, the controversial former Tijuana mayor and self-proclaimed billionaire, who in 2007 formed Club Tijuana, which became more than successor to a lengthy line of lower-division failures. The goal, professed from the start, was to play in the top league, and it happened Saturday night, when the newly promotos Xoloitzcuintles debuted in an Apertura opener against Morelia, the runner-up in last spring's Clausura tournament.
A full, festive crowd at Caliente, a short drive south of the border, watched their heroes go down, 2-1, on a late, questionable penalty kick.
San Diego's
Joe Corona
scored the Xolos' goal with a rebound, and good thing. Of three attackers near the ricocheting ball, Corona was the only one clearly onside.
Joao Rojas
drew the penalty kick in the 81st minute, clipped from behind by Tijuana backline leader
Javier Gandolfi
-- or so it looked. Replays indicated Gandolfi expertly twisted around Rojas and poked the ball away before there was contact.
Miguel Sabah
was precise from the spot, and the Monarcas spoiled the party, but the Xolos' supporters saw something they hadn't in more than a year: a home defeat.
1. PA-CHOKE-A
Pachuca is the popular pick to zoom back into the title-game picture and steal the prize, product of nice makeover that has Tuzos fans thinking about an 11th major trophy (a sixth league title, to go with five CONCACAF Champions League and a Copa Sudamericana triumph) since 1999.
June, 4, 2011
6/04/11
9:16
PM PT
By
Scott French
| ESPNLosAngeles.com
The CONCACAF Gold Cup begins Sunday, with a Costa Rica-Cuba/Mexico-El Salvador doubleheader in front of a sellout crowd at Cowboys Stadium in Arlington, Texas, and plenty is at stake.
There's the trophy, to be sure, plus the berth in the 2013 FIFA Confederations Cup -- that's the real prize, as the U.S., a 2009 Confederations finalist, can report -- and spirited competition to prepare for the start of qualifying for the next World Cup.
More vital could be the tournament's role in restoring credibility to CONCACAF, which is on its third president in a week after FIFA's corruption scandal exploded in the Caribbean.
HEAVY INTRIGUE:
It's been a wild week in the soccer world, and especially the confederation's New York offices, since a FIFA investigation into charges levied by CONCACAF general secretary
Chuck Blazer
that CONCACAF President
Jack Warner
, of Trinidad & Tobago, and fellow FIFA executive committee member
Mohamed bin Hamman
offered cash to Caribbean officials in exchange for votes in Wednesday's FIFA presidential election.
Warner and bin Hamman were suspended last weekend by FIFA's Ethics Committee -- bin Hamman was forced to withdraw from the election, and
Sepp Blatter
, unopposed, was reelected -- and Barbadan
Lisle Austin
took over as acting CONCACAF president. His first order was to dismiss Blazer, an American, leading to a legal skirmish, with the confederation telling Austin he didn't have the power to fire Blazer and Austin accusing Blazer of trespassing and stealing company resources by continuing at his job.
It hid a head Thursday, with Austin suspended -- and claiming his suspension wasn't legal -- Honduran
Alfredo Hawit
taking charge, and Blazer still on the job. Expect more fireworks shortly.
May, 19, 2011
5/19/11
9:38
PM PT
By
Scott French
| ESPNLosAngeles.com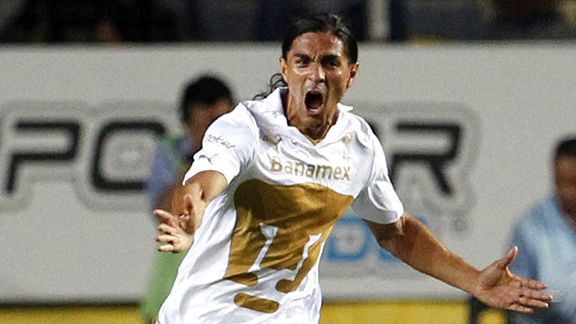 AP Photo/Eduardo VerdugoFrancisco "Paco" Palencia celebrates his goal for Pumas in the first leg of the Mexican league final Thursday.

Former Chivas USA striker Francisco "Paco" Palencia has scored plenty of goals in 17 years as a pro, but his blast Thursday night might have been the biggest. For at least five minutes.

Palencia, 38, rifled a shot to the upper-left corner to give visiting Pumas UNAM the advantage in Thursday's first leg of the Mexican Primera Division's Clausura final, but Morelia countered through Joao Rojas for a 1-1 scoreline heading into Sunday's finale in Mexico City.

Palencia, a former Mexican national-teamer who played in two World Cups and three Copa America tournaments, struck in the 68th minute. Efrain Velarde made a steal on the left flank, just above the Monarcas' box, and squared the ball to Palencia, who 25-yard, first-time rocket left Morelia goalkeeper Federico Vilar with no chance.

Rojas got the equalizer in the 73rd, racing forward to slot home a pass from Luis Gabriel Rey, beating Pumas netminder Alejandro Palacios from the top of the box to the lower-left corner.

Morelia, seeking its second title, nearly went ahead eight minutes later, but Rey's header sailed just past the left post.

Pumas, which has won six top-tier league titles, has a distinct advantage in the second leg. The Cats are 13-3-5 at home since the fall Apertura began last July and have lost just once at Estadio Olimpico Universitario, on May 1 to America, during the Clausura.

COPA CALL: Jaguares' unexpected run through Copa Libertadores is over. The Chiapas club was ousted in the quarterfinals, falling to Paraguay's Cerro Porteņo, 1-0, in Asuncion for a 2-1 aggregate loss.

May, 15, 2011
5/15/11
9:36
PM PT
Pumas UNAM and Morelia took care of business at home Sunday, posting emphatic victories to advance to the Primera Division's Clausura final.
Pumas overcame a slow start, with goalkeeper
Alejandro Palacios
making three huge saves in the first 23 minutes, to topple Guadalajara, 2-0, making for a 3-1 aggregate triumph in the two-games, total-goals semifinal series.
Morelia stunned Cruz Azul, 3-0, rallying from a two-goal disadvantage after the first leg to advance on 3-2 aggregate.
The final is tentatively slated for Thursday in Morelia and next Sunday in Mexico City, but Mexico's soccer federation will finalize plans Monday.
Rafael Marquez Lugo
erased Morelia's deficit with goals in the ninth and 12th minutes, then set up
Jaime Lozano
for a late strike moments after
Joel Huiqui
made a series-saving stop on the goal line. Had the game ended 2-0 (and the series at 2-2), Morelia would have advanced as the higher seed.
Javier Cortes
curled a free kick inside the right post just before halftime to give Pumas command, and
Dante Lopez
tallied in the 76th minute following a superb
Dario Veron
run.
Pumas, which was atop the regular-season standings through most of the winter/spring Clausura, was expected to push through after a 1-1 draw in the first leg Thursday in Zapopan, Jalisco. Morelia's triumph was not anticipated, not after Cruz Azul scored twice in the first half in a 2-0 first-leg win.
Sunday's game in Morelia turned ugly at the end, after a fan ran onto the field and tried to shake Cruz Azul captain
Gerardo Torrado
's hand. The Mexican national team veteran refused the request, and his teammates attacked the fan. That prompted some Morelia players to intervene, and a brawl quickly broke out, with Cruz Azul's
Christian Gimenez
trading punches with the fans and two Cruz Azul goalkeepers, backup
Yosgart Gutierrez
and starter
Jose de Jesus Corona
, attacking a member of Morelia's technical staff.
Referee
Francisco Chacon
red-carded Gimenez, his Cruz Azul teammates
Julio Cesar Dominguez
and
Isaac Romo
, and Morelia's
Miguel Sabah
. Corona, who escaped punishment, faces a lengthy ban for head-butting the Morelia staffer.
February, 9, 2011
2/09/11
9:52
PM PT
By
Scott French
| ESPNLosAngeles.com
Jose Manuel "Chepo" de la Torre's debut Wednesday night as Mexico's national team coach -- with a 2-0 victory over Bosnia and Herzegovina in Atlanta -- offered a few clues on how El Tri will move forward under his direction and who will lead the way.
The former national team midfielder, hired in October from Mexican league power Toluca, fielded a veteran lineup, for the most part, while providing opportunities to a few more inexperienced players. Atlas'
Edgar Pacheco
took advantage, scoring from Cruz Azul goalkeeper
Jose de Jesus Corona
's punt to double Mexico's advantage in the 55th minute.
Pacheco, 21, was the lone starter without double-digit caps. De la Torre's lineup was as close to first-choice as any missing New York Red Bulls midfielder/defender
Rafa Marquez
and West Brom forward
Carlos Vela
.
De la Torre gave Monterrey midfielder
Jesus Zavala
, 23, his first cap, Toluca forward
Nestor Calderon
his second, and Santos Laguna forward
Jose Maria Cardenas
and Monterrey forward
Aldo de Nigris
their third off the bench. He also used Monterrey midfielder
Luis Perez
, who last played for Mexico nearly two years ago.
Manchester United's
Javier "Chicharito" Hernandez
also scored for Mexico, his 12th goal in 21 international appearances, knocking home the rebound after Bosnia and Herzegovina goalkeeper
Kenan Hasagic
saved his penalty kick.
De la Torre's verdict: "I think it's a good start. It's always good to start a new project. You have to keep in mind that we had little time together."
Mexico's lineup:
Jose de Jesus Corona
/Cruz Azul;
Paul Aguilar
/Pachuca,
Francisco Javier Rodriguez
/PSV Eindhoven/Netherlands,
Hector Moreno
/AZ Alkmaar/Netherlands,
Carlos Salcido
/Fulham/England;
Pablo Barrera
/West Ham United/England (
Jose Maria Cardenas
/Santos Laguna, 68),
Gerardo Torrado
/Cruz Azul;
Israel Castro
/Pumas UNAM (
Jesus Zavala
/Monterrey, 88),
Edgar Pacheco
/Atlas (
Nestor Calderon
/Toluca, 73);
Giovani Dos Santos
/Racing Santander/Spain (
Aldo de Nigris
/Monterrey, 58),
Javier Hernandez
/Manchester United/England (
Luis Perez
/Monterrey, 80).
February, 4, 2011
2/04/11
6:52
PM PT
By
Scott French
| ESPNLosAngeles.com
Jose Manuel "Chepo" de la Torre's first Mexico roster features a healthy share of the regular crew -- the Chicharitos and Giovanis and Torados -- a couple of newcomers among those looking to cement their spot in the player pool, and two old standouts returning to El Tri after absences of almost two years.
Zinha
, Toluca's Brazilian-born playmaker, and
Luis Perez
, a midfielder for Monterrey, were part of Mexico's 2006 World Cup team and contributed during the qualifying campaign for last year's World Cup in South Africa, and their presence for Wednesday's clash against Bosnia and Herzegovina in Atlanta (TeleFutura/KFTR Channel 46, 5 p.m. PT) restores international careers that elapsed when
Javier Aguirre
took charge in April 2009.
Zinha last suited up for El Tri in a 5-1 romp over Bolivia on March 11, 2009, in Commerce City, Colo. Perez made his last appearance in a World Cup qualifying loss at Honduras on April 1, 2009, two days before Aguirre replaced Swede
Sven-Goran Eriksson
.
De la Torre, a former Mexican national team midfielder, was hired Oct. 18 to succeed Aguirre, who resigned after guiding Mexico to the World Cup round of 16. Wednesday's match is his first as El Tri manager.
His roster includes 11 players from the team in South Africa -- including star forwards
Javier "Chicharito" Hernandez
and
Giovani Dos Santos
, both based in Europe, and captain
Gerardo Torrado
, the veteran (three World Cups) holding midfielder from Cruz Azul -- and a half-dozen who were on the roster four years earlier in Germany.
A half-dozen players based in Europe have been called in, but not forward
Carlos Vela
, who was just loaned from Arsenal to fellow English Premier League team West Bromwich Albion, or midfielder
Efrain Juarez
, who plays for Scottish powerhouse Celtic FC. Their six-month suspensions, for their involvement in a team party following a Sept. 7 match against Colombia in Ciudad Juarez, expire next month.
Hernandez (Manchester United), Dos Santos (Racing Santander, on loan from Tottenham), midfielder
Pablo Barrera
(West Ham United) and first-choice defenders
Carlos Salcido
(Fulham),
Francisco Javier Rodriguez
(PSV Eindhoven) and
Hector Moreno
(AZ Alkmaar) comprise the foreign legion.
Toluca goalkeeper
Alfredo Talavera
and Monterrey midfielder
Jesus Zavala
hope to make their international debuts. Talavera is expected to back up Cruz Azul's
Jose de Jesus Corona
, who was a backup at the 2006 World Cup. Five others on the roster have played just once or twice for the full national team.