Los Angeles Soccer:

Jose Erik Correa
June, 26, 2012
6/26/12
11:51
PM PT
By
Scott French
| ESPNLosAngeles.com
FULLERTON --
Jose Erik Correa
took a goal away from Chivas USA a half-hour into Tuesday night's U.S. Open Cup showdown, and he wasn't about to let that be his legacy in the Goats' biggest game so far this season.
The Colombian forward, returning from a hamstring injury that had sidelined him most of June, made up for his miscue by scoring two goals, including a dramatic stoppage-time winner, as Chivas USA overcame the pesky Charlotte Eagles to advance to the 99-year-old competition's semifinals for the second time in club history.

Correa headed home a
Laurent Courtois
free kick nearly four minutes into added time to deliver a 2-1 triumph at Cal State Fullerton and set up a July 10 date with
three-time defending champion Seattle Sounders
, a 1-0 winner over the San Jose Earthquakes. The Sounders beat the Goats two years ago in the semifinals.
"This is huge ...," said Chivas coach
Robin Fraser
after the Goats' third one-goal victory in this Open Cup and the second in a row on a stoppage-time finish. "Sometimes the play's been good, sometimes the play's not been great, but at the end of the day, the team is finding ways to get results. That's going to serve you well in the long run."
Correa also tallied in the 64th minute, finishing a through ball from
Juan Agudelo
that looked as if it would hold up until the end. Charlotte, a third-division side that beat FC Dallas in a third-round game nearly a month ago, pulled even in the 89th minute when
Mauricio Salles
knocked home the remains of a
Jorge Herrera
shot that
James Riley
slid in to block.
"It goes to show you waste some really big chances and you let the team stay in it, they're going to fight until the very end," said center back
Danny Califf
, who wore the captain's armband. "We didn't make it easy on ourselves, especially in the second half. We weren't able to hold the ball, we didn't finish our attacks very well, they were able to get rebounds and come at us with numbers.
"It wasn't pretty, but in the end it showed a lot of character. That's two games in a row that we've done that, so we'd like to make it easier on ourselves, but a win is a win is a win."
Correa clinically finished on the first, with Agudelo -- a late-first-half substitute for
Miller Bolaņos
, who retweaked his hamstring injury in his first game since May 23 -- feeding him after Courtois chested a
Tim Melia
clearance onto his path near midfield. The second was almost as nice, with Correa getting assistance from countryman
Juan Pablo Angel
to nod home Courtois' free kick from about 30 yards out on the right flank.
"I was arriving at that ball with not a lot of strength, and [Angel] pushed me from the back with a lot of strength," Correa said through a translator. "The next thing I know, he yells, 'Goal!' and then I turn around. Practically, the whole strength on that goal was from him. He pushed me."
June, 26, 2012
6/26/12
10:35
PM PT
By
Scott French
| ESPNLosAngeles.com
Chivas USA has reached the U.S. Open Cup semifinals for the second time in club history. A familiar foe awaits.

The Goats will meet three-time defending champion Seattle Sounders, who won the meeting in the semis two years ago, on July 10 in Tukwila, Wash. The Sounders toppled the San Jose Earthquakes, 1-0, in Tuesday's semifinal in San Francisco.

Jose Erik Correa's second goal of the evening, nearly four minutes into stoppage, lifted Chivas to a 2-1 victory over USL Pro side Charlotte Eagles at Cal State Fullerton.

The Philadelphia Union and Sporting Kansas City will meet in the other all-MLS semifinal after cruising past opposition from the third-division USL Pro.

The Union scored three times in the first half-hour en route to a 5-2 romp over the Harrisburg City Islanders; Sporting received goals three minutes apart early in the second half from Graham Zusi and C.J. Sapong to pull away to a 3-0 victory over the Dayton Dutch Lions.

Philadelphia will be home for the July 11 clash. The U.S. Open Cup final will be played Aug. 7 or 8.

A quick look at the three quarterfinal matches not involving Chivas USA:


June, 25, 2012
6/25/12
11:12
PM PT
By
Scott French
| ESPNLosAngeles.com
CARSON -- Chivas USA has survived stiff tests from two lower-division teams to reach the U.S. Open Cup quarterfinals for just the second time, and they know that's not about to change.

The Charlotte Eagles, the Goats' foe in Tuesday night's final-eight showdown at Cal State Fullerton's Titan Stadium, have an air of destiny about them -- and a belief, tested and proved, they can handle whatever a Major League Soccer team throws at them.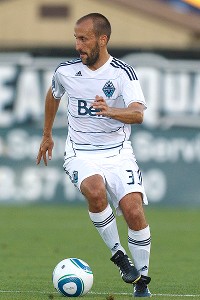 Jason O. Watson/US PresswireMidfielder Peter Vagenas of Chivas USA.
The third-division club has shown it already, winning its first three matches in the 99th edition of America's longest-running soccer tournament on the road, in Texas, the last two against higher-division teams. The defining result: 2-0 over FC Dallas, the MLS club.

"We feel like we deserve to be here, because we've really put some good games together," said Charlotte head coach Mark Steffens, whose team also beat second-tier San Antonio Scorpions in the fourth round. "Now if we added all of our play the whole season, I'd say, no, we don't deserve to be here. But the way we've played the second half of the season, it hasn't been a surprise winning a few big games."

The Eagles, who are affiliated with Christian group Missionary Athletes International and, Steffens says, consider their religious mission more important than winning trophies, are ninth in the 11-team USL Pro with a 3-8-2 record (and a game at home Thursday against the L.A. Blues). They're 6-4-1, including the Open Cup wins, since the end of April, and the losses have come to the league's Nos. 1 and 3 teams and to longtime rival Richmond Kickers, a result they answered in a 4-1 romp a week and a half ago.

"Our turnaround has been defensively," Steffens said. "So we're not going to do anything different than we've done [during a 4-2-1 run] the last six weeks. We're just working on defending and defending as a unit and getting behind the ball, so that's what we're going to do. If we can counter and get one [goal], it's always good to get ahead."

Chivas, which made it to the semifinals two years ago, understands well Charlotte's approach. The Goats have had to battle to get past amateur powerhouse Ventura County Fusion in the third round, then needed a Juan Pablo Angel penalty kick in stoppage to beat second-tier Carolina RailHawks three weeks ago.

"In some respect, these games are harder than MLS games because you're playing guys who are salivating at the mouth, and that's always difficult," said Chivas midfielder Peter Vagenas, who has won four Open Cups, twice with the Galaxy and twice with three-time defending champion Seattle Sounders. "You're playing teams that are desperate and have nothing to lose, and that's always difficult. ...

"By no means are we taking it lightly. The first two games were, quote-unquote, lesser opponents, and at some point they gave us everything we could handle, and we expect more of the same. We have to make sure that we match [their] intensity, and if we match [their] intensity -- this is no disrespect to them -- but certainly our soccer will prevail."


June, 17, 2012
6/17/12
12:23
AM PT
By
Scott French
| ESPNLosAngeles.com

CARSON -- Chivas USA has been punished for mistakes all season -- it's a recurring theme for the Goats, and so is how they create so little from a goodly amount of possession.

Both were at play Saturday night, when they ran into a stronger, more precise and -- because of Chivas' unexpected win back in March -- more pumped up Real Salt Lake side, which used its every advantage to post a 3-0 victory before an announced 13,816 at Home Depot Center.

Fabian Espindola scored on each side of halftime and Will Johnson added a stoppage-time strike as RSL (10-3-2, 32 points) extended its unbeaten streak to seven games, became the first MLS club with double-digit wins and restored its lead atop the Supporters' Shield standings after D.C. United had grabbed the top spot a few hours earlier.

An uncharacteristic error from goalkeeper Dan Kennedy led to the first goal, RSL's transition game tore a hole in Chivas' midfield for the second, and the Goats had no answer, struggling again to accomplish something worthwhile in the final third.

"That's been, I'd say, our Achilles all year," said left back Ante Jazic, who was involved in the error on RSL's opener. "I mean, we do a great job getting to the final third, and then that last pass or the final cross or the final product is lacking.

"It's coming. I think we're playing better as a team in general, but the toughest thing to do in this game is score, and we definitely have to start scoring some goals."

It's the sixth time in 14 games Chivas (4-7-3, 15 points) has been shut out this season -- and the fifth time in eight home games. Only Toronto FC and Philadelphia, the two worst teams in MLS, have fewer than the Goats' nine goals.

Chivas created virtually nothing worth noting until it was down by two goals, and only Juan Agudelo's 85th-minute header from a Ryan Smith cross tested RSL goalkeeper Nick Rimando.

"Certainly, we have players that we think are good players, and we have to be able to execute," Goats coach Robin Fraser said. "Tonight we didn't execute in the attacking end, and we took stretches of possession and didn't turn them into dangerous chances.

"I do feel like we've had this conversation many times."


May, 26, 2012
5/26/12
5:50
AM PT
By
Scott French
| ESPNLosAngeles.com
CARSON -- Juan Agudelo is back, Osvaldo Alonso is out. If that's not enough to push Chivas USA into the favorite's role for Saturday night's Major League Soccer clash with the Seattle Sounders at Home Depot Center, consider current form.

The Goats (4-6-2, 14 points) are quickly solidifying into a real contender, with the draw at San Jose two weeks ago followed by last weekend's victory over the Galaxy and a tie Wednesday at Eastern Conference leader New York -- plus the burgeoning partnership up front between Agudelo and Jose Erik Correa -- and Juan Pablo Angel, too -- promising big things down the road.

They're in better shape for once than Seattle (7-3-2, 23 points), which started so well -- six shutouts and just three goals allowed in its first nine games -- but has struggled in its last three, sandwiching home losses to Real Salt Lake and on Wednesday to Columbus around a draw at Cascadia Cup rival Vancouver.

There's a goalkeeping crisis, troubles at the back -- the Sounders have allowed four goals in their last two matches -- and now Alonso, perhaps the best holding midfielder in the league, is gone, suspended two games Friday by MLS's disciplinary committee for a two-footed tackle in the Columbus loss that wasn't caught by the referee.

How big is that?

Alonso is the foundation for nearly everything the Sounders do.

Danny Califf, a few hours before word was out about the Cuban star, said trying to "move Alonso around" was critical.

"[We can't] just let him sit in the middle, because he does such a great job of breaking up plays and really covering so much ground," said Califf, Chivas' backline leader after just two games since arriving from Philadelphia. "I think also when they have the ball [we need to try] to really have someone on him. A lot of their game goes through him, and he likes to lift his head up and look for cheeky runs from [top scorer Fredy] Montero."

Agudelo is back early from the U.S. national team camp after not making Jurgen Klinsmann's 23-man roster for the "five-game tournament," as U.S. Soccer is calling three friendlies (the first Saturday against Scotland) and the first two 2014 World Cup qualifiers. He and fellow Colombian Correa represent the future for Chivas, which has been desperate for something in the final third and is starting to find it.


May, 25, 2012
5/25/12
3:40
PM PT
By
Scott French
| ESPNLosAngeles.com
David Beckham took a fairly sizable cut in pay to stay with Galaxy rather than chase Paris Saint-Germain's millions, it turns out, and he's no longer Major League Soccer's top earner.
That's the big news from the MLS Players Union's release Friday of salary figures across the league, an annual event that provides the only substantial look at at least a portion of player contracts in the league.
Beckham, whose initial five-year deal with the Galaxy paid him $32.5 million -- $5.5 million in annual salary and $6.5 million in average guaranteed compensation -- settled for $2.5 million less this go-round: His salary is $3 million and guaranteed compensation is $4 million.
That drops him below New York Red Bulls stars
Thierry Henry
($5 million and $5.6 million) and
Rafa Marquez
($4.6 million for both figures). Galaxy striker
Robbie Keane
(making $2.917 million in salary, $3.417 million guaranteed) is No. 4 on the league's list, and captain
Landon Donovan
($2.4 million) is No. 5.
Beckham was offered a reported 18-month, $18.7 million contract by French giant PSG before re-signing a two-year deal with the Galaxy in January.
Additional compensation, beyond base salary and guaranteed compensation, is not accounted for in the Players Union survey.
Chivas USA striker
Juan Pablo Angel
also took a substantial pay cut, dropping out of Designated Player territory. He's making only $350,000 in base salary (after receiving $1 million under his previous contract) but $600,000 in guaranteed compensation (down from $1.25 million).
The Galaxy has the second-highest payroll at about $10.76 million, behind only the Red Bulls' $12.2 million. Chivas is 14th at nearly $2.62 million.
Chivas has been economical in picking up talent in South America. Star central midfielder
Oswaldo Minda
is making only $50,000 ($68,750 guaranteed), fellow Ecuadoran
Miller Bolaņos
and Colombian forward
Jose Erik Correa
just $48,000 apiece, and Colombian center back
John Alexander Valencia
$50,000.
Decent raises were given to Chivas goalkeeper
Dan Kennedy
($175,000 from $62,496) and Galaxy defenders
Omar Gonzalez
($180,000 from $120,000) and
Sean Franklin
($205,000 from $97,389).
May, 20, 2012
5/20/12
11:18
PM PT
By
Scott French
| ESPNLosAngeles.com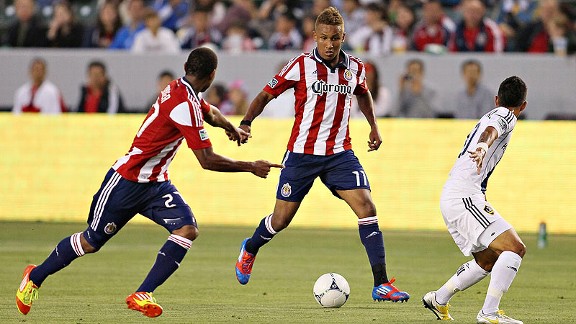 Victor Decolongon/Getty ImagesJuan Agudelo of Chivas USA looks to lead a pass to teammate Jose Erick Correa as A.J. DeLaGarza of the Galaxy tries to defend the play in the first half. Chivas USA defeated the Galaxy 1-0.
CARSON -- Chivas USA has had its share of legends and big stars, most of them -- Claudio Suarez, Ramon Ramirez, even Francisco Palencia and John O'Brien -- near or at the ends of their careers.

Juan Agudelo is something else: a superstar in the making, and his Goats debut in Saturday night's SuperClasico victory over the Galaxy could go down as one of the signpost events in club annals.

The tall, talented teen with bearing beyond his years did nothing spectacular and a whole lot of things really well in his first start with his new club, playing a key role setting up Jose Erik Correa's penalty kick and showing flashes of what he, Correa and Miller Bolaņos -- and Juan Pablo Angel, too, perhaps -- can achieve once they're all on the same page.

"I think Juan had a good debut," coach Robin Fraser said after Chivas (4-6-1) ended a 12-game winless streak against their cross-stadium rival. "He's a player that wants to be on the ball, he's a very attack-minded player, he's got very solid feet. You can see there are times when he wanted the ball, he wants to run at people, he wants to make things happen, and I thought his impact was immediate.

"We're extremely excited to have him, and we're extremely excited to watch him develop. He's very special."

Agudelo, whose excitement was such that he experienced "probably one of the most anxious feelings that I've had before a game ever," was happy with how things went:


"I felt great, and at times I wasn't able to find the spacing [with teammates] that I wanted, but I think that it's something that over time I'll improve, knowing the positions and holes with this team."

"[My chemistry with Correa] is going great. We're both Colombian, so we speak Spanish to each other, and I think that connection of South America is working."

"[Fraser's system] suits me really well. Just with my height [6-foot-1], I felt like crosses to the far post, I was dangerous then, and I think that moving forward that could be something that could help us get some goals. I feel like sometimes with my heading that I've got more power on it, and in this type of system, I love it that the coach encourages freedom."

The 19-year-old, Colombian born striker, who departed Sunday to join the U.S. national team's Florida preparations for next month's start to its World Cup qualifying campaign, has impressed in international play but didn't fit into the New York Red Bulls' Eurocentric approach, and his trade Thursday to Chivas has rejuventated his young career. The Goats are a far better fit stylistically, culturally and in terms of opportunities to grow.


May, 19, 2012
5/19/12
11:59
PM PT
By
Scott French
| ESPNLosAngeles.com
CARSON -- Chivas USA ended the most painful drought in club history Saturday night, beating its hated rival for the first time since 2007, but more than that, the Goats offered a tantalizing glimpse at what their future could look like.
Juan Agudelo
, acquired in a trade Thursday from the New York Red Bulls, made a fine impression in his debut, teaming up front with
Jose Erik Correa
and
Miller Bolaņos
to create an attack that, once everyone is on the same page, could lead to something very special.
The Goats dictated play most of the first half and, with new defender
Danny Califf
anchoring a fine backline performance, held off a resurgent Galaxy after halftime to claim a 1-0 triumph before a sellout crowd of 18,800 at Home Depot Center.


The goal came on a 72nd-minute penalty kick by Correa, who had to take it twice -- the first was waved off when
Jorge Villafaņa
encroached before the shot -- firing both to virtually the same spot.
That's two goals Chivas (4-6-1, 13 points) has scored at home this year, both on penalties, but this one meant a lot more, giving the club its first home victory in six tries.
That it came against the Galaxy (3-6-2, 11 points) made it all the more spectacular. L.A.'s unbeaten streak against its cross-stadium rival had reached 12 games, with victories in the last five meetings and in the last six regular-season encounters.
"It's big," said Chivas coach
Robin Fraser
, a former Galaxy star. "I think I underestimated the level of rivalry between the two teams when I first got here. I was surprised by the nature of the comments after our first game last year, and it was very evident that there is very little respect for this club [from the other side]. We talked a lot during the week that the only way to get respect is to go out and earn it and I thought they did a good job of that tonight."
Chivas came closest to scoring in the first half -- Bolaņos hit the base of the right post from 24 yards after stripping the ball from
Juninho
near midfield in the 34th minute -- and got big back-to-back saves from goalkeeper
Dan Kennedy
, on
Pat Noonan
and
Kyle Nakazawa
, five minutes into the second half -- and got the only goal following a rather odd play.
Oswaldo Minda
, returning from a yellow-card suspension, lofted the ball into the Galaxy goalmouth, and goalkeeper
Brian Perk
leapt over Agudelo to knock the ball away. As both crumpled to the ground, it fell to Correa, who volleyed sharply past
A.J. DeLaGarza
and at former Chivas defender
David Junior Lopes
, who was standing on the goal line.
The ball caromed off Lopes' left arm. Referee
Mark Geiger
showed him the red carded and gave Chivas the spot kick.
May, 19, 2012
5/19/12
11:25
AM PT
By
Scott French
| ESPNLosAngeles.com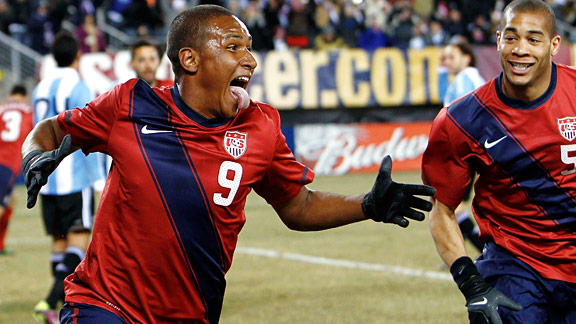 Jeff Zelevansky/Getty ImagesJuan Agudelo has impressed with the U.S. national team. He hopes to do the same with Chivas USA.

CARSON -- It took Juan Agudelo all of an hour, not even that, to feel more at home with Chivas USA than he had in two-plus seasons with his hometown club.

This, he believes, is going to be great.

The 19-year-old striker, the most exciting young player in America, was the big prize in Chivas USA's pick-ups Thursday, a big (6 feet 1, 183 pounds), strong, skilled striker who has impressed with the U.S. national team while wilting under the New York Red Bulls' disinclination to use him.

Heading west, he figures, is the best thing that could have happened for him.

"I was happy in New York," the Colombian-born forward, who moved with his family to New Jersey when he was 7, said Friday morning following his first training session with the Goats. "I wish things would have worked out better, but I feel like the best place, honestly, for my development was not a team like New York.

"I'm just happy to be here. I truly believe already from the first day here that my development is going to shoot up and the sky's the limit here. I feel valued here."

He hopes to start repaying Chivas for setting him free Saturday night in the SuperClasico against the Galaxy at HDC. No word from head coach Robin Fraser that he'll be in the starting XI, but don't bet against it.

Fraser and his staff's initial instruction to Agudelo was simple: enjoy yourself.

"They told me go out there, play with a smile and have fun," Agudelo said. "That's really all I need to hear to excel myself. I just want to have that free feeling. I feel like I understand how the game is and the things I have to do to help out the team, and it was awesome for them to give me that freedom."

Just looking around, he felt at home.

"A lot of Hispanics here," he noted. "It's awesome. To feel welcomed. A lot of Colombians, [the team will] speak Spanish, English. It's great. It's got a little bit of flavor from my hometown [Manizales] in Colombia. ... It's a South American-kind-of-style team, and I think it's great because it's somewhere I feel like I fit in."

He didn't fit in with the Red Bulls, who have a European owner, European GM, European coach and a bunch of European players -- and little use for a South American player with different qualities that need to be refined.


May, 13, 2012
5/13/12
9:02
PM PT
By
Scott French
| ESPNLosAngeles.com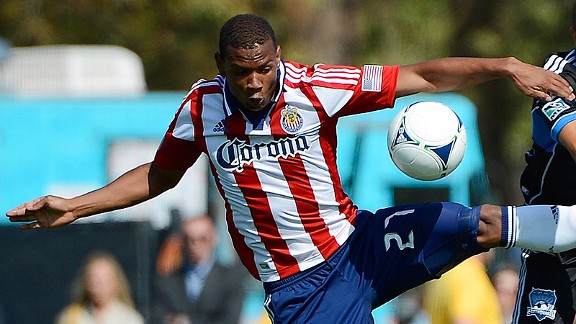 Thearon W. Henderson/Getty ImagesJose Correa of Chivas USA battles for the ball in the air with Justin Morrow of the Earthquakes.
Jose Erik Correa made the most of his first start, but Chivas USA couldn't hold onto to its advantage at the finish, settling for a draw in game they should have won even if they didn't really deserve to.

Correa scored with a simple but tremendous touch in the fourth minute, and the Goats defended with everything they had the rest of the way, coming within two minutes plus stoppage of their fourth road victory of the season before Alan Gordon's header gave the San Jose Earthquakes a 1-1 draw at Buck Shaw Stadium in Santa Clara.

It's the sixth goal, of the dozen the Goats (3-6-1, 10 points) have conceded in 10 games, to come after the 80th minute. It's the first that turned a win into a tie, although twice would-be draws became losses on stoppage-time strikes.

"At the end of the day, you take every point you get, because at the end of the year, they're all going to be important," Chivas head coach Robin Fraser told ESPN Los Angeles. "Certainly having lost [three in a row], it was important to come out of this with something."

Given the onslaught they survived in the second half, the Goats are fortunate to have that point. Dan Kennedy was again superb in the nets, making three huge saves -- on Simon Dawkins in the 28th minute and Yorba Linda's Steven Lenhart in the 55th and 74th -- and the men in front of him were organized and committed, terrific if hardly perfect.

"I think if you were to tell us that we were going to come in here and get a point, we would have been happy with that," said Kennedy, who faced 24 shots (to five by Chivas) and 15 corner kicks. "The team really put in a shift in the second half. Obviously, we were under pressure. They had a lot of service. For me, I think this is something we can build on."

Gordon, a former Galaxy stalwart who spent time with Chivas in 2010 and most of preseason last year, returned from a hamstring injury to score the equalizer. First-round draft pick Sam Garza, from UC Santa Barbara, delivered the cross from the left flank, and Gordon got behind center back John Alexander Valencia to easily head the ball into the net.

Valencia failed to jump on the play, and Garza had far too much time to prepare his service. As relentless as the Goats were defensively -- Fraser called it "a very resolute effort" -- there were problems. They left San Jose little space to operate, but their marking was sometimes ridiculously poor (Chris Wondolowski and Dawkins were open at the far post for a cross from Lawndale's Rafael Baca in the 18th minute) and struggles to effectively clear the ball helped San Jose maintain constant pressure the final 45 minutes.

San Jose (7-2-2, 23 points) had far more possession -- 62.5 percent, officially, although completed passes (503 to 302 for Chivas) better illustrate the dominance -- and the Goats put just one shot on target, Correa's goal on their first genuine foray.


May, 4, 2012
5/04/12
11:40
PM PT
By
Scott French
| ESPNLosAngeles.com
CARSON -- Chivas USA took care of their first need Friday night, finally finding the net in a home game. It took 383 minutes and came from the penalty spot, courtesy of Juan Pablo Angel.
That was supposed to spark the Goats to some real home success, but another hit-and-mostly-miss performance -- marked by many of the same troubles -- led to another home defeat.
Marco Pappa
scored a superb goal in the third minute of stoppage time to deliver to the Chicago Fire a 2-1 victory, handing Chivas their fifth one-goal loss in as many matches at Home Depot Center.

"Not a whole lot to say, really," said
Robin Fraser
, who dropped to 5-12-5 in home games as Chivas head coach. "Bitterly disappointing to give up a goal in the dying seconds to lose at home. It's a bitter pill to swallow for sure."
Their season-worst third successive loss left them 3-6-0, and things aren't going to get any easier. The next five games, through mid-June, are against a Major League Soccer murderers' row: at San Jose, home against the Galaxy, at New York, home against Seattle, home against Real Salt Lake.
Fraser changed his formation, heavily altered his lineup and gave four players their season debuts -- two of them, Colombian defender
John Alexander Valencia
and newly arrived Colombian forward
Jose Erik Correa
, their MLS debuts -- but Chivas' game ebbed and flowed, with moments of great clarity obscured by extended spans in which they created very little.
They got the goal in the 23rd minute, with Angel converting after rookie
Austin Berry
, making his MLS debut, dragged down Alejandro Moreno just inside the Fire box. Berry made up for it about two minutes later, volleying a chip from
Sebastian Grazzini
inside the left post after a throw-in was cleared.
The Goats did enough to earn a point, but Pappa crushed those aspirations following a sequence on the right flank with
Federico Puppo
, firing across the goal and inside the left post from about 22 yards.
"[It's great] any time you can score a goal like that late and put three points in a difficult place," said Fire coach
Frank Klopas
, who was confined to a luxury suite while serving a one-game suspension. "It took a special player to make a special play at the end."
Kennedy was, as always, outstanding, making three big saves -- including back-to-back stops on Grazzini and
Dominic Oduro
in the 62nd minute. There was nothing he could do on Pappa's winner.
May, 1, 2012
5/01/12
7:25
PM PT
By
Scott French
| ESPNLosAngeles.com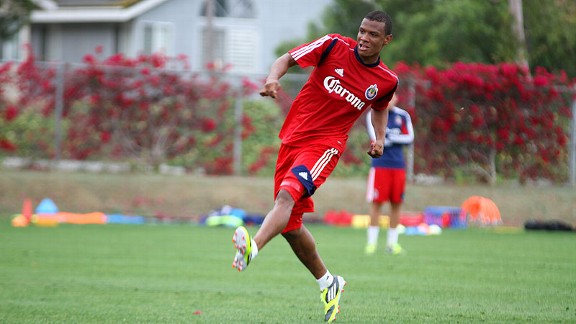 Juan Paz/Chivas USAColombian forward Jose Erik Correa joined Chivas USA's camp this week.

CARSON -- Chivas USA hopes Jose Erik Correa possesses what it needs, and so does he.

"I want to score a lot of goals," the young Colombian forward said through an interpreter after Tuesday's training session at Home Depot Center, his second with the Goats since arriving on an end-of-the-window transfer two weeks ago. "That's one of the characteristics of a forward, and [I want to] do things the best way I can so the coaches and staff are happy with me and the team continues to grow in the league."

Chivas needs those goals to grow -- it's scored a league-worst four in eight games while otherwise playing rather decent soccer -- and Correa, a burgeoning Colombian national teamer who was tearing up his country's top league, provides an intriguing option up front, hopefully sooner than later.

He's only 19, or 21 -- his official papers say he's a teen, word within the club is he's not -- and needs to adjust to his first experience abroad.

"He's certainly an interesting player," Chivas head coach Robin Fraser said. "He's got a good build and a good workrate and a good attitude so far. He's a hard-worker, he's got good pace, he can hold the ball up well. He's a good athlete."

Correa, who scored six goals in his final seven games with Boyaca Chico and last month was called into Colombian national team coach Jose Pekerman's domestic-player camp, the first step toward World Cups and Copa Americas, has characteristics of a target striker but the speed and skill to play as a second forward, too. He could feature as early as Friday night's game against the Chicago Fire at Home Depot Center, Fraser said, depending on "how quickly he adapts to the team and his teammates ... and how he performs in practice."

Correa says he "thanks God" for the opportunity to come to Major League Soccer, that it's a "very important step for me" and "one of the best things to happen in my life and in soccer."

"This is a great place to be able to take the first step toward trying to get to Europe or to stay here and make a name for yourself in MLS ...," he said. "I believe I have grown a lot [in the past year]. If they wouldn't have seen that evolution in me, I wouldn't be here. That's one of the things I admire about myself, that every day I want to be a better player."