Los Angeles Soccer:

Joselu
May, 7, 2012
5/07/12
5:37
PM PT
By
Scott French
| ESPNLosAngeles.com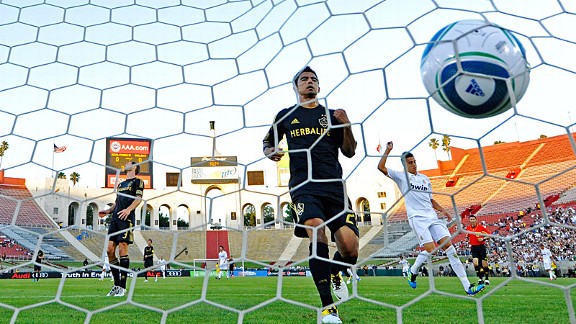 Kevork Djansezian/Getty ImagesA.J. DeLaGarza of the Galaxy reacts as the ball bounces in the net after a goal by Jose Callejon of Real Madrid during the Herbalife World Challenge at the L.A. Coliseum on July 16, 2011.
The Galaxy's Aug. 2 friendly against Real Madrid at Home Depot Center, which was announced Monday, will be the fourth meeting between the teams as Jose Mourinho brings the Merengues back to Southern California for the third straight preseason.

The last two were at far bigger venues -- 2010 at the Rose Bowl and last year at the Coliseum -- but this year's battle returns to cozy Home Depot Center, site of the first encounter, back in 2005.

Real Madrid is expected to play more games while in America, and soccer blog The Offside Rules reports that it will meet AC Milan in an Aug. 5 friendly in Las Vegas.

Here is a quick rundown of the first three Galaxy-Real Madrid games:

July 18, 2005, at Home Depot Center
Real Madrid 2, Galaxy 0
David Beckham makes his L.A. debut, in Real colors, but it's Zinedine Zidane's presence that makes this one of the most special occasions in Southern California soccer history. Zidane was mesmerizing in an hour's performance, and he set up Michael Owen's goal six minutes in. The dominance was greater than the margin of victory -- Roberto Soldado's second-half header doubled the advantage -- but L.A. clearly missed Landon Donovan, in his first year with the club, who was away on national team duty.
Att.: 27,000.

Aug. 7, 2010, at the Rose Bowl
Real Madrid 3, Galaxy 2
L.A. was on its way to an upset after Todd Dunivant and Donovan provided a two-goal lead by halftime, but then Real Madrid put in some of its bigger stars -- Cristiano Ronaldo, Gonzalo Higuain, Xabi Alonso and Iker Casillas included -- and tore apart the Galaxy. Higuain, coming off a superb World Cup performance for Argentina, scored twice, and Xabi Alonso netted the winner in the 71st minute.
Att.: 89,134.

July 16, 2011, at the Coliseum
Real Madrid 4, Galaxy 1
Real's quality overwhelmed the Galaxy, with Jose Callejon and Joselu scoring in the 15 minutes before halftime and Cristiano Ronaldo and Karim Benzema in the 15 minutes after the break to roll up a 4-0 lead. Fabio Coentrăo, newly arrived from Benfica, was the star among stars, repeatedly probing the L.A. defense and combining to create chances -- if not for Josh Saunders' and Brian Perk's play in the nets, Real might have scored seven or eight. Adam Cristman tallied in the 67th for the Galaxy.
Att.: 56,211.


July, 16, 2011
7/16/11
11:20
PM PT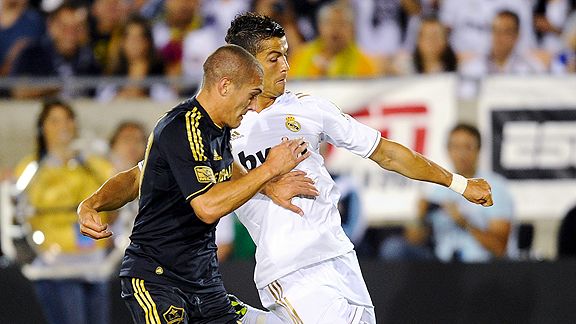 Kevork Djansezian/Getty ImagesCristiano Ronaldo unleases a wicked shot in the second half that unbelievably went into the goal from a sharp angle.

LOS ANGELES -- He danced to the right and swayed to the left. His feet fluttered. Again to the left and, finally, Cristiano Ronaldo was ready to unleash a left-footed rocket that's nowhere to be found in American soccer.

Galaxy backup goalkeeper Brian Perk did what he could, sticking his frame to the near post. Still, Ronaldo found the slightest crease, scoring on a scintillating blast that wowed those at the Memorial Coliseum. Ronaldo's goal was the highlight of all highlights, a world-class strike that stood out in Real Madrid's dominant 4-1 win Saturday night.

Galaxy defender Bryan Jordan, Ronaldo's dance partner during the sequence, did what he could, really. Jordan followed Ronaldo to the right and back to the left, forcing him wide. But the Portuguese star did everything at a different pace. Jordan never had a chance.

"When he's coming at you, you've got to drop," Jordan said. "If you get too close to him, he'll push it by you. He was cutting back and forward, so I gave him the inside originally and tried to get players to help me. He didn't have much space down there, but he hit a great shot."

Perk, meanwhile, thought he was in good position. His intention was to cut off Ronaldo's shooting angle, leaving a small space on the far post that is nearly impossible for offensive players to capitalize on.

"In retrospect, I was right in line," Perk said, shaking his head. "I couldn't get a full dive so all I could do was put my hand up. He took one step over and hit a ball. I mean, he hit the ball. I'll leave it at that. He beat me at a spot he shouldn't beat me but that's Ronaldo."


July, 16, 2011
7/16/11
8:31
PM PT
LOS ANGELES -- Kaká played a sharp, serene through ball and José Callejón viciously put it away, drawing synchronized chants of "Ma-drid, Ma-drid!" and swarms of bright flashes across the Memorial Coliseum.

Real Madrid, even without stars Cristiano Ronaldo and Xabi Alonso in the starting lineup, would add another goal to lead the Galaxy, 2-0, at the half in their World Football Challenge opener Saturday night. There were plenty of oohs and aahs but, unfortunately for the locals, they came as a product of Madrid's brilliance.

It might have been an uglier halftime score if not for a handful of saves from Galaxy goalkeeper Josh Saunders. Callejón had a favorable one-on-one chance against Saunders in the 10th minute but had his shot blocked. Later, Saunders left his feet to make a stop on a missile from Marcelo.

The Galaxy, despite fielding its usual starters, had little going offensively. David Beckham had two opportunities on set pieces but neither threatened Iker Casillas.

A shot from 21-year-old striker Joselu deflected off Beckham and sneaked past Saunders, giving Madrid a 2-0 lead in the 40th minute. It produced another flurry of camera flashes and resonating chants of "Ma-drid! Ma-drid!"