Los Angeles Soccer:

Josh Suggs
July, 11, 2012
7/11/12
3:21
PM PT
By
Scott French
| ESPNLosAngeles.com
Bright Dike has returned to Portland after energizing the L.A. Blues attack with six goals over a seven-game span, but the Fullerton-based USL Pro club picked up something good from the Timbers.

Center back Andrew Jean-Baptiste, a first-round pick in January's MLS SuperDraft, has joined the Blues on loan from Portland in advance of this week's games against last-place Antigua Barracuda in Bradenton, Fla.

Also arriving on loan is Orlando City forward Maxwell Griffin (Palmdale/Littlerock HS), a former UCLA star who scored 10 USL Pro goals last year and finished the season on loan to the San Jose Earthquakes. The Blues sent winger George Davis IV to Orlando on loan in the deal.

The moves with Portland coincide with Monday's dismissal of Timbers head coach John Spencer, with general manager Gavin Wilkinson taking charge on an interim basis for the rest of the MLS season.'

The Blues also have signed defender Josh Suggs, who played for the club last year and has been with San Jose this season, and goalkeeper Carl Woszczynski, a Chicago Fire supplemental draft pick who spent nearly a week on trial in February with Chivas USA. Head coach Charlie Naimo indicated L.A. also is talking to an MLS club about acquiring an attacking player.

Woszczynski could be replacing Amir Abedzadeh, the Blues' No. 1 goalkeeper, whose transfer to a club overseas appears imminent.

Naimo, whose team has lost five in a row, expects to release a few players this week.

"Everybody knows we're one win away from feeling good again," he said in a club release. "That said, it doesn't erase what I've seen over the past two weeks. Nothing will ever erase that -- not even two wins this week in Florida. What has happened has happened, and the mark has been left. Making changes now is nothing more than the logical conclusion from that.

"It's never personal, but we're absolutely going to release players and trade to bring on others who we think can help us. I'm exhausting every minute of my time right now to try to find a way for us to get better in our personnel."


July, 9, 2012
7/09/12
1:08
PM PT
By
Scott French
| ESPNLosAngeles.com
FULLERTON -- Charlie Naimo has never been one to hide his emotions, but after his L.A. Blues hit bottom Sunday evening, dropping their fifth in a row with a 4-0 debacle against Orlando City SC, he made it clear that he's ready to dump some of the more useless players under his command.

The Blues' head coach/general manager railed against his team's penchant for costly errors, its na´vete, lack of "mental strength" and shortage of "resourceful guys," and said if all USL Pro contracts weren't guaranteed, "I would cut so many guys from this team right now. ... Do you think I'd keep some of these guys around here? You kidding me?"

The Blues (5-8-2) were done after conceding two goals to Dennis Chin in first 17 minutes, both following turnovers, then gave up two more near the end, to Jean Alexandre in the 70th and Matt Luzunaris in the 78th minutes, Alexandre's also after a giveaway in the back.

"It's beyond frustrating to me at this point. The bottom line is we make too many mistakes right now," Naimo told ESPN Los Angeles. "Nobody scores a hard-earned goal against us. It's always a gift. I don't know, I don't have any answers. It's my fault. I picked the team. I'm the one who signed some of these guys that are allowing these things to happen, so, whatever. It's on me."

The Blues have in a week and a half fallen from fifth to eighth in the third-division league, and they haven't scored in their last three games, including back-to-back losses at Cal State Fullerton to first-place Orlando City (12-1-4), the defending champion.

They were without striker Bright Dike, who has six goals in 10 games after arriving on loan from Major League Soccer's Portland Timbers but tweaked a hamstring in Friday's loss.

Dike might be done with the Blues; he's set to return to the Timbers early this week, but what exactly that means is uncertain.

"He's supposed to go back tomorrow," Naimo said. "It could be for good, we don't know. We discussed about him going back [to Portland] short-term, coming back [to qualify before] out roster freeze" date in two weeks. "We're working pretty well with Portland right now. I'm sure we'll get another player or two [from them]."

They're getting another defender Monday, with Josh Suggs, who played for the Blues last year and has been with MLS's San Jose Earthquakes this season, arriving on a free transfer. Suggs "is going to give us another winner, winning mentality, good athlete. Helps you in a game like that. I would have played him [rather than Corey Miller] at left center back today, and I promise you the first two goals don't get scored."


May, 8, 2012
5/08/12
5:07
PM PT
By
Scott French
| ESPNLosAngeles.com
CARSON --
Leonardo
got a full half and
Brian Perk
played for the first time since preseason, substantial developments both, as the Galaxy and San Jose Earthquakes traded penalty kicks in an MLS Reserve League game Tuesday.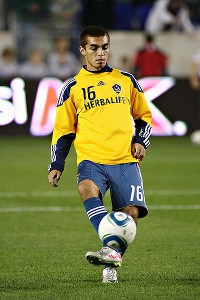 Andy Marlin/Getty ImagesHector Jimenez, normally a midfielder, was impressive at right back for the Galaxy in a reserve game against San Jose on Tuesday.
More significant, perhaps, was Hector Jimenez's performance in a new position.

The second-year winger from Bell Gardens was terrific as right back, teaming with Michael Stephens on the flank as L.A. dictated terms nearly the entire match before settling for a 1-1 draw on the Galaxy's training field at Home Depot Center.

Jimenez, who would be playing decent first-team time with a lot of Major League Soccer clubs but is caught behind L.A.'s deep, veteran midfield core, said he'd played as an outside back "toward the end of last year in a reserve game for a few minutes" but that this was otherwise a debut.

"I felt good," he said. "I thought offensively I got involved a lot, it's just the defensive part, where I need to get used to checking the [restraining] line and stuff like that, but I thought I played good for the 90 minutes."

Galaxy assistant coach Curt Onalfo, who runs the reserve side, agreed.

"The interesting thing sometimes in sport is when through injury and that sort of stuff you end up shifting things around, and sometimes all of a sudden something pops up that maybe you haven't seen. And I think that's the case.

"If you look at his game and you compare it to when he plays in midfield, he had just as much an influence going forward -- or maybe even more. The combination of Mikey Stephens coming inside and [Jimenez] overlapping, I thought was good. Would have liked to see more goals from it. It was a game where we possessed and had really the majority of possession, the majority of play. It's a game where you think you're going to get three points from."


January, 17, 2012
1/17/12
9:48
PM PT
By
Scott French
| ESPNLosAngeles.com
Andy Rose
figured to find a Major League Soccer club in last week's SuperDraft. He didn't. He made up for it Tuesday by joining two teams.
Rose was an early pick in the MLS Supplemental Draft, taken at No. 6 by Real Salt Lake, which promptly dealt UCLA's captain to the Seattle Sounders.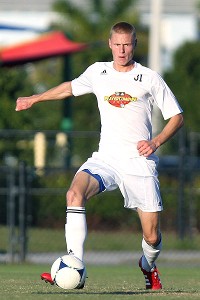 Courtesy of Major League Soccer Real Salt Lake took UCLA midfielder Andy Rose with the sixth pick of Tuesday's supplemental draft.
The Englishman, one of the most prominent players remaining on the board after 38 picks last week, was the first of four Bruins to go in quick succession in the supplemental, with left back Shawn Singh going to Sporting Kansas City with the 16th pick, winger Eder Arreola (Chino Hills/Chino Hills HS) to Houston at No. 18 and goalkeeper Brian Rowe to Chivas USA early in the second round.

That's six players drafted from UCLA's NCAA semifinal team -- New England's Kelyn Rowe and Philadelphia's Chandler Hoffman were first-round picks -- and there are several underclassmen likely to take the step in the next few years.

Rose was one of the real prizes available Tuesday.

"He's a player that we really like," Seattle technical director Chris Henderson, a former UCLA star, told his team's website. "He's a two-way midfielder. He can also sit in as a holding midfielder, so he's pretty versatile. He seems, at a young age, to be a student of the game."

He should be. He grew up in one of the most intense soccer cultures on the planet, and he can compare notes with former U.S. national team coach Bob Bradley, whose daughter dates Rose.

To get him, the Sounders gave up the rights to defender Leone Cruz, a former SMU standout drafted last year who failed to make the team.

Seattle draft selections included UC Santa Barbara defender Tim Pontius (Yorba Linda/Servite HS), the brother of D.C. United standout Chris Pontius, and Cal Poly defender Wes Feighner (Los Alamitos/Los Alamitos HS).


February, 24, 2011
2/24/11
9:49
PM PT
By
Scott French
| ESPNLosAngeles.com
The L.A. Blues spilled their worst-kept secret Thursday, announcing that Argentine attacker Walter Gaitan has signed a one-year contract with the USL Pro side.
Gaitan, who has played for Boca Juniors in Argentina and Villarreal in Spain and while with UANL Tigres led Mexico's Primera Division in scoring for the 2005 Apertura, could be a huge star in the third-division USL Pro, a new league under the United Soccer Leagues' umbrella. The Blues, a new pro club, will play home games at Cal State Fullerton, Centennial High School in Corona and -- just once -- College of the Canyons in Santa Clarita.
The season begins April 15, and the Blues play their home opener May 1 at Fullerton against Barracuda FC from Antigua.
"We are extremely excited to add a world-class player like Walter," Blues head coach/vice president
Charlie Naimo
said in a statement. "Breaking down defenses and scoring goals is not easy, and throughout his career Walter has proven success doing it."
Gaitan, who also played with Necaxa and Veracruz in Mexico, turns 34 next month. He said he hoped to serve as a mentor to Blues' lesser-experienced players.