Los Angeles Soccer:

Josh Tudela
August, 19, 2011
8/19/11
9:57
PM PT
By
Scott French
| ESPNLosAngeles.com
The ongoing struggle is over for the L.A. Blues, who followed form in their USL Pro playoff opener Friday night by failing to convert chances.
They paid for it with a 3-2 loss in Pennsylvania to the Harrisburg City Islanders, bringing an abrupt end to a perplexing first season that began so promising -- with four wins in the first six games -- and closed with a six-game winless streak.
Former Galaxy midfielder
Josh Tudela
gave the Blues an early lead, and
Erlys Garcia
pulled them even at 2-2 just before halftime, but L.A.'s inability to find the net after conceding to Harrisburg's Brian Ombiji seven minutes into the second half was decisive.
"I think we missed some very easy ones," Blues head coach
Charlie Naimo
told ESPN Los Angeles after the defeat. "We could have scored four goals in the first half, then we give ip two set-piece goals, and that goes against everything we've been improving on.
"It's so disappointing, and in the second half, I think we were the dominant team. We got in the box a lot, and their keeper did a good job keeping the ball out. We had loads of corner kicks, but we couldn't capitalize."
Harrisburg, which will play next Friday at Rochester in the National Division final, out-shot the Blues, 13-10, but surrendered nine corner kicks to L.A., seven after halftime.
Wayward forward
Cesar Rivera
returned from a club-mandated suspension by setting up both Blues goals, with the lead pass to
Jonathan de Leon
for Tudela's 11th-minute strike and the cross for Garcia's stoppage-time header.
Andrew Welker
scored in the 34th and 39th minutes for the City Islanders, who won twice and tied twice in four meetings this season with L.A. Welker scored in three of the games, with four of his team-best 10 goals.
August, 5, 2011
8/05/11
7:21
PM PT
By
Scott French
| ESPNLosAngeles.com
The L.A. Blues' penchant for falling behind, and for coming from behind, were on full display Friday night in Wilmington, N.C., as the West Coast's only USL Pro side began its final road trip of the regular season.

That they couldn't hold onto the point was just one more disappointment in a season that's wobbled between good and bad -- and already has been rewarded with a playoff berth.

Andriy Budnyy's was-it-cheeky-or-unintentional clip over goalkeeper Amir Abedzadeh in the 78th minute lifted the Hammerheads to a playoff-clinching 2-1 victory over the Blues before a club-record crowd of 5,783. Manny Guzman, left alone on a corner kick, provided Wilmington (13-6-3) a 31st-minute lead, and Peter Byers scored a fine goal from Josh Tudela's long ball to bring L.A. (8-6-7) even in the 62nd.

The Blues, who are chasing Rochester (11-7-4) and Harrisburg (9-6-7) in the National Division, play Sunday at Antigua Barracuda (8-13-2), then finish up next weekend with games against Richmond at Cal State Fullerton and Norco College.

L.A., playing a brutal 11-games-in-one-month schedule to close the regular season, have won just once in five games, and chemistry rather than weariness might be the prime culprit. There have been many roster changes, especially up top, with Antiguan star Byers, Mexican youngster Jonathan de Leon and now Armenian attacker Artur Aghasyan added to a multinational corps during the summer transfer window.


June, 24, 2011
6/24/11
10:42
PM PT
By
Scott French
| ESPNLosAngeles.com
The L.A. Blues played more than an hour with an extra man Friday night, but they needed a comeback to share the points with the Harrisburg City Islanders.

Former Galaxy midfielder Josh Tudela's goal in the 59th minute gave the Blues a 1-1 draw at Centennial High School in Corona, the first of two meetings this weekend with their USL Pro rival.

The Blues (5-2-3) are second in the National Division, three points behind the Rochester Rhinos (6-4-3), who Saturday play host to the Dayton Dutch Lions, the league's worst team. Harrisburg (5-4-3) also is three points back.

L.A. and the City Islanders meet again Sunday at Cal State Fullerton's Titan Stadium. Kickoff is 5 p.m.

Harrisburg played a man down after Jason Hotchkin picked up his second yellow card just before the half-hour mark. The Blues failed to take advantage and fell behind on Andrew Walker's strike in the 53rd minute.

Tudela finished a feed six minutes later from Chukwudi Chijindu, who is with the Blues on loan from Chivas USA.
May, 1, 2011
5/01/11
9:33
PM PT
By
Scott French
| ESPNLosAngeles.com
Charlie Naimo spoke last week to the importance of first impressions, and when his L.A. Blues finally got to make one, the message came garbled.
There was plenty of good but much too much that wasn't in the club's home opener Sunday, a 1-0 USL Pro defeat to Antigua Barracuda before a small but appreciative crowd at Cal State Fullerton.
The Blues (3-1-1) lacked sharpness in Barracuda's box without late scratch
Walter Gaitan
, who failed a pregame fitness test after tweaking a quad muscle last week, and suspended forward
Cesar Rivera
and got far too little from their overwhelming advantage in possession.
Barracuda (4-2-0), which overtook L.A. atop the third-tier USL Pro's International Division standings, was content to sit back -- but with a high and effective restraining line -- and counter, and forward
Peter Byers
might have had a hat trick, or more, had he finished as well as he beat defenders.
Stefan Smith
scored the goal, in the 24th minute, knocking home a rebound after a giveaway by
Nelson Akwari
led to a
Lawson Robinson
shot, but the Blues surely would have prevailed with better precision in the final pass or finish.
"We were good at the things Walter would've helped us be good at, which was keeping possession and creating chances," said Naimo, the Blues' head coach and vice president. "Cesar's that guy that if we had high amongst [Barracuda's] backline … [he's] so strong on the ball, you get him that ball in those areas, central, he's gonna turn you, he's gonna spin you, and he's also extremely creative. I think he would have made a difference.
"Obviously, Walter could have made a difference. But you know what? At the end of the day, whatever we had on the field tonight, I thought the guys did a good job. We lacked efficiency in the final ball, whether it was the service or the finish. We created some beautiful chances tonight.
"It had to be a great game to watch, but, obviously, you come up short, you come up short."
OPENING NIGHT:
The crowd count was 696, which is smaller by 7,157 than the gathering that saw the Blues' second team, playing in the lesser Premier Development League, in Fresno on Friday night.
April, 15, 2011
4/15/11
4:44
PM PT
By
Scott French
| ESPNLosAngeles.com
It's a new team in a new league, stuck by its lonesome out here, thousands of miles from its rivals, and guided by a coach who has worked exclusively with women the past dozen years.
The makings of a success story? The L.A. Blues hope so, and as they embark on their inaugural season in USL Pro -- American pro soccer's third tier -- they've got greater designs than putting out an affordable and entertaining alternative to the Galaxy and Chivas USA.
"We want to make the playoffs and get in the championship," says midfielder
Josh Tudela
, one of eight Blues with Major League Soccer experience. "We're not going to settle for anything less than that."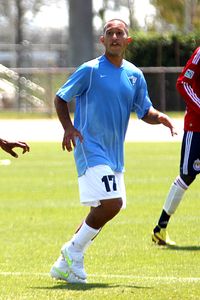 Chivas USAGerardo Bravo will be one of the key players for the L.A. Blues this season.


It's big talk, but the Blues, on paper, at least, have the makings of a contender. They've got Argentine midfielder Walter Gaitan, a superstar of mammoth proportion at this level of the game, veterans such as Tudela and defender Nelson Akwari, rising players like Chivas USA loaner Chukwudi Chijindu and some local-league stars head coach Charlie Naimo says he believes will make their names with the club.

"I feel we've done a pretty good job of putting together a very good roster for this level," said Naimo, who has won three titles in United Soccer Leagues' women's league and was general manager of the L.A. Sol, the short-lived Women's Professional Soccer club partially owned by the Blues organization. "So they need to find some strength in that, then say, 'Hey, we've got the group, now we have to win.' "

If they're not as good as the Galaxy, they might be more fun to watch. The plan is to play a pretty possession game, weaving passing patterns past foes to create chances for Chijindu and the other forwards.

"Everybody wants to play that way," Naimo said, "so time to put up or shut up. Do what is required, and a lot of what I see is when it doesn't work, it's the guys off the ball who aren't working hard enough to get into good spots. You've got to make the game easy for your teammates.

"We're certainly not afraid to pass the ball to guys that are contested. We're certainly not afraid to ask for the ball when guys are on us. It's just a matter of getting those people in a little bit spot, a matter of of making that pass a little bit better so they can escape. And then you discourage that high pressure. That's the only way to slow a game down. Otherwise, what stops the other team from chasing you, from running you over for 90 minutes? You've got to be able to step on the ball. … It's obviously attractive if it comes off."

The Blues open their season Friday night in Juncos, Puerto Rico, where the begin a four-games-in-nine-days sweep of the Caribbean, facing their four International Division rivals. First up: Sevilla FC Puerto Rico, which has weak ties to its Spanish namesake, followed by matches Sunday at Antigua Barracuda, Wednesday at Puerto Rico United and next Saturday against River Plate Puerto Rico.

The home opener is May 1 against Barracuda at Cal State Fullerton's Titan Stadium, and home games also will be played at Centennial High School in Corona and College of the Canyons in Santa Clarita.


December, 22, 2010
12/22/10
6:28
PM PT
By
Scott French
| ESPNLosAngeles.com
We begin a countdown today of the 2010's top 10 soccer stories and newsmakers, all, of course, from a Southern California slant.
Newsmakers/No. 10: Alex Morgan/Christen Press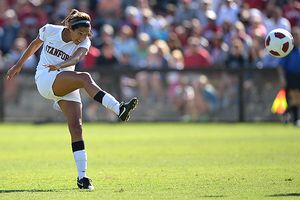 Richard C. Ersted/Stanford Athletics
Stanford's Cristen Press led the nation with 26 goals this season.
Nobody in college soccer had the kind of year
Christen Press
enjoyed. Except perhaps
Alex Morgan
.
Press (Palos Verdes Estates/Chadwick School), a senior forward with superb skill, broke every significant offensive record at Stanford while leading the top-ranked Cardinal to the NCAA College Cup championship game.
The U.S. under-23 national team standout, whose future likely is as a withdrawn forward or attacking midfielder, scored 26 goals to lead the nation, but she was shut out in Cary, N.C., and Stanford fell in the final for the second successive season, losing, 1-0, to Notre Dame.
Morgan's senior season wasn't quite so stirring -- Cal went out in the first round of the NCAA tournament -- but the striker from Diamond Bar (Diamond Bar HS) emerged as the U.S. national team's biggest weapon off the bench.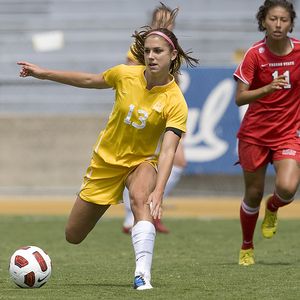 Courtesy of GoldenBearsSports.com
Alex Morgan emerged as a big weapon off the bench for the U.S. national team.
Morgan debuted with the U.S. women in March and was a regular contributor by the CONCACAF qualifying tournament for next summer's Women's World Cup. In all, she made eight international appearances -- all as a substitute -- and scored four goals, including the stoppage-time winner in the first leg of the playoff series with Italy for the final WWC berth.
Her numbers -- four goals in just 232 minutes of action -- were the best on the U.S. team: One goal every 58 minutes, 1.55 per 90 minutes.
International duty limited Morgan to a dozen games for Cal, but she scored 14 goals and joined Press as one of three finalists for the MAC Hermann Trophy, college soccer's most prestigious player-of-the-year honor.
What's next: Next month's Women's Professional Soccer draft, in which Morgan and Press could be the top two picks.
Stories/No. 10: Expansion!
The L.A. Sol might be no more, but the late Women's Professional Soccer club's legacy lives on in two new pro teams that will begin play next year in Orange County.
The L.A. Blues and OC Sol were unveiled in December, adding to a landscape that stars Major League Soccer's Galaxy and Chivas USA and features a host of minor-league clubs playing in national semipro/amateur leagues.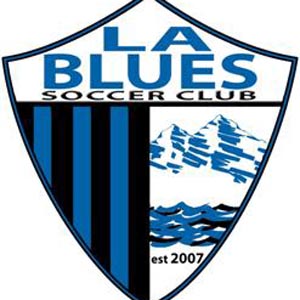 The Blues are successors of sorts to the L.A. Salsa, the old American Professional Soccer League club from the mid-1990s, which prospered, sort of, before MLS's birth. Owner
Ali Mansouri
has dreamed of putting a second-tier men's pro team in So Cal since before he bought a half-share of the L.A. Sol, which folded last January.
The Blues, with former Sol general manager
Charlie Naimo
as head coach/GM, will play in the United Soccer Leagues' new USL Pro division, with most of their home games at Cal State Fullerton's Titan Stadium. They've already got four players lined up, including former Galaxy midfielder
Josh Tudela
.
The OC Sol is one of two pro women's teams Bay Area-based Soccer Partners LLC is producing as a precursor to a planned WPS expansion team in 2012. Former L.A. Sol coach
Abner Rogers
will be the OC team's head coach and the technical director of both teams -- the other will be based in the Bay Area -- which will play in the semipro/amateur Women's Premier Soccer League.
Four other L.A.-area teams play in the WPSL, but all are amateur outfits.
December, 14, 2010
12/14/10
6:50
PM PT
By
Scott French
| ESPNLosAngeles.com
The L.A. Blues, set to play next year in the USL Pro league -- the third tier of American pro soccer -- were formally introduced Tuesday morning at Cal State Fullerton's Titan Stadium, which will serve as the club's primary home field next year.
Here's what we've learned:
The Blues will sit atop a club pyramid that includes two-time USL W-League champion Pali Blues' women's team, with plans to open a youth academy early next year with two boys teams -- either U14 and U16 or U16 and U18. The operating budget for next season is $800,000, but club president Ali Mansouri says it could go higher.
Head coach Charlie Naimo (GM of defunct Women's Professional Soccer club L.A. Sol, which the Blues' backers owned a piece of) will continue as manager of the Pali Blues, although an associate coach will do much of the on-field work. His associate head coach with the Blues is former Azusa Pacific University standout Shayon Jalayer, and longtime Blues coach Salvador "Chava" Moran is the assistant director of player personnel. Former Cal Baptist standout David Adams (who played in reserve games for Chivas USA) is the GM.
Mexican goalkeeper Oscar Dautt, former Galaxy midfielder Josh Tudela and attacking midfielder Cesar Rivera, a veteran of Blues amateur teams with experience in Mexico's lower divisions, are the club's first three players. The Blues are expecting to sign Gareth Evans, an All-USL2 central defender last season with Real Maryland who is playing on loan to England minor-league side Chester FC. There's a Blues-bred striker on trial with Mexico City's Cruz Azul -- Mansouri would not divulge his name -- the club will sign if the Cementeros decline to do so.
December, 14, 2010
12/14/10
9:49
AM PT
By
Scott French
| ESPNLosAngeles.com
L.A.'s new pro team has its first players.
Mexican goalkeeper
Oscar Dautt
and former Galaxy midfielder
Josh Tudela
will be unveiled Tuesday among the L.A. Blues' first signings at a combination news conference/fan rally at Cal State Fullerton's Titan Stadium, a source close to the team confirmed.
The club, which will play in the United Soccer Leagues' new USL Pro division next year, has promised to announce three signings at the 11 a.m. event.
Dautt, 34, hasn't played since spending the 2009 Apertura campaign with Lobos BUAP in Mexico's second-tier Liga de Ascenso. He was a Primera Division starter for most of 15 seasons with Monterrey (1998), Toros Neza (1999-2000), Puebla (2000-01, 2003-05 and 2008) and UANL Tigres (2001-03). His last Primera Division season was in the 2009 Clausura with Puebla, but he didn't see action.
Once considered among Mexico's most promising young goalkeepers, he was with Mexico's national team for the 2001 Confederations Cup but did not get into a game.
Tudela, 26, the Galaxy's second-round draft choice in 2007, has been club-less since he was waived July 1, 2009. He had trials last year with Romanian power Steaua Bucharest and Polish club Cracovia, then returned to Los Angeles and became Loyola Marymount University's director of soccer operations.
He played in 23 MLS games in three seasons with the Galaxy, contributing two assists.