Los Angeles Soccer:

Jozy Altidore
August, 16, 2012
8/16/12
9:35
PM PT
By
Scott French
| ESPNLosAngeles.com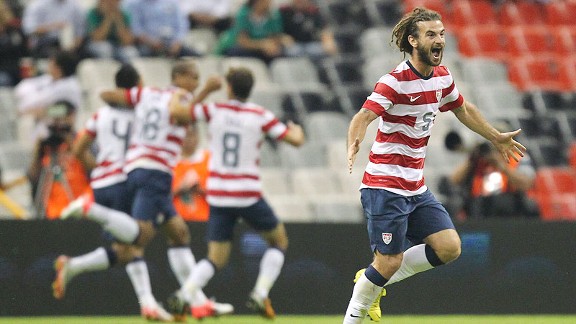 Marcos Delgado/Clasos.com/LatinContent/Getty ImagesKyle Beckerman of the U.S. team celebrates a goal during a friendly soccer match between Mexico and USA on Tuesday. The U.S. won 1-0.
MEXICO CITY -- The United States hopes its historic victory at Estadio Azteca is a precursor of sorts, but nobody is mistaking it as a shift in the balance within the region's primary rivalry. The gap separating the Americans from Mexico remains intact, and the only questions concern how great is the chasm and what must be done to bridge it.



Mexico's focus on youth development has created a golden generation of players and could signal El Tri's arrival among the truly elite in international soccer. Last weekend's gold-medal triumph at the London Olympics, with their under-23 team, follows successes by the U-17s (World Cup titles in 2005 and 2011) and the U-20s (third place at last year's World Cup), and the impact on the full national team -- the one that could, for real, be competing for the spoils in Brazil in two years -- has been profound.

Mexico's destruction of the U.S. at last year's CONCACAF Gold Cup final at the Rose Bowl, built on the sublime talent of Giovani Dos Santos, Javier "Chicharito" Hernandez and Andres Guardado, was product of Mexico's reaction to the Americans' dominance in the series for nearly a decade from 2000.

Now the U.S. must respond in kind.

"I think Mexico deserves a big compliment," coach Jurgen Klinsmann said in advance of the Yanks' 1-0 victory in Wednesday's friendly. "What they've done the last three or four years is tremendous. They've identified a way they want to play, and everybody dedicates themselves to that style of play. ...

"There is a gap. It would be foolish not to recognize that."

The U.S. went 10-2-2, with both losses at Azteca and one of the victories from the 2002 World Cup, over a span of about 8½ years. That dominance, star forward/midfielder Landon Donovan notes, was while "we had a group of us together for five, six, seven, eight years, and they were kind of in flux." The roles shifted: The U.S. team is now in transition under Klinsmann.

He took charge a year ago after that Gold Cup defeat and is working toward creating a system and a style that will emphasize attacking soccer, a necessity for success in a landscape that has been altered by Spain's success the past five years. He's also altering the makeup of an aging squad, especially at the back. The Americans' great youngsters aren't so young anymore; Donovan is 30.

Mexico's most important figures aren't yet in their primes. Chicharito is 24, Giovani 23. Defender Hector Moreno is 24. Guardado, a relative veteran, is 25. More than a dozen more first-team pool players are younger than 25.

The U.S. also has a promising young contingent -- Jozy Altidore and Brek Shea are 22, Terrence Boyd 21, Danny Williams 23 and Fabian Johnson 24 -- and several others under 25 who might or might not pan out as international players.

"It's hard to quantify a gap," Donovan said. "We're kind of a little more in flux now, but the hope is that in two years we've closed that gap and we're [like Mexico] a well-oiled machine."

The 2014 World Cup is the Americans' chief focus, but the real view is longer. Whatever success the U.S. has enjoyed has been about belief and power, not technical and tactical acumen, although there have been great improvement in both areas since the 1994 World Cup changed everything. Klinsmann, a legendary German striker who has called Orange County home for more than a decade, is looking to alter the foundation of how the U.S. plays, and that requires a philosophical shift.


February, 29, 2012
2/29/12
11:07
PM PT
By
Scott French
| ESPNLosAngeles.com
Rarely, if ever, has there been a day quite so golden for U.S. Soccer -- involving multiple teams -- as was Wednesday.
Consider:
The full men's national team beat Italy for the first time -- and in Italy, in Genoa -- as Clint Dempsey finished from Jozy Altidore's finish up top. Also splendid: midfielder Michael Bradley and German-born left back Fabian Johnson.
The U.S. women's national team won its Algarve Cup opener in Portugal, dominating Denmark, 5-0, as Diamond Bar's Alex Morgan scored two more goals -- her 17th and 18th in 34 international games -- and assisted another by Hermosa Beach's Abby Wambach. UCLA products Sydney Leroux (goal) and Lauren Cheney (assist) also contributed in the scoring.
The U.S. under-23 national team, preparing for the Olympic qualifiers in March, outclassed Mexico's U-23s, 2-0, in Frisco, Texas, on goals two minutes apart by Juan Agudelo and Freddy Adu.
One more international event to report, from Tuesday night. UCLA looked good in holding Mexico's under-20 national team to a scoreless draw at Birmingham High School in Van Nuys.
November, 15, 2011
11/15/11
1:42
PM PT
By
Scott French
| ESPNLosAngeles.com
The best thing about the U.S. national team's 3-2 victory Tuesday in Slovenia -- and there were a lot of good things -- might have been the opening whistle. It gave U.S. captain Carlos Bocanegra his 100th cap, a threshold only 11 American men had previously reached.

The central defender from Alta Loma (Alta Loma HS/UCLA) went the full 90 as the Yanks improved to 2-4-1 under Jurgen Klinsmann with their first victory in Europe in 3½ years.

Clint Dempsey forced a turnover that former Galaxy striker Edson Buddle finished from distance in the ninth minute, and Dempsey's header from Michael Bradley's corner kick restored the U.S. advantage in the 41st minute. Jozy Altidore converted a penalty kick two minutes later after Fabian Johnson was dragged down.

Tim Matavz's second goal of the night, in the 61st minute, pulled Slovenia closer.

Other L.A. area players seeing action were Bradley (Manhattan Beach), who started in midfield, and Maurice Edu (Fontana/Etiwanda HS) and Robbie Rogers (Palos Verdes and Huntington Beach/Mater Dei HS), who came off the bench.

Bocanegra debuted for the U.S. in December 2001 and has served as the team's captain since June 2007.

"It was a special night," Klinsmann told reporters afterward. "The team was pumped up all day, and they wanted to do well for him."

Five of the top seven on the all-time U.S. caps list are from Southern California -- Cobi Jones (Westlake Village/Westlake HS and UCLA), Landon Donovan (Redlands/Redlands East Valley HS), Marcelo Balboa (Cerritos/Cerritos HS), Paul Caligiuri (Diamond Bar/Walnut HS) and Eric Wynalda (Westlake Village/Westlake HS) -- and Bocanegra is joined at 100 caps by Joe-Max Moore (Irvine/Mission Viejo HS and UCLA).

U.S. Soccer has put together a "infographic" -- a poster, more or less -- commemorating Bocanegra's 100 maches, and a PDF is available for download.

U.S. CENTURY CLUB
(100 international appearances)
1. Cobi Jones 164
2. Landon Donovan 138
3. Jeff Agoos 134
4. Marcelo Balboa 128
5. Claudio Reyna 112
6. Paul Caligiuri 110
7. Eric Wynalda 106
8. Kasey Keller 102
9. Earnie Stewart 101
10. Carlos Bocanegra 100
Tony Meola 100
Joe-Max Moore 100


September, 2, 2011
9/02/11
11:51
PM PT
By
Scott French
| ESPNLosAngeles.com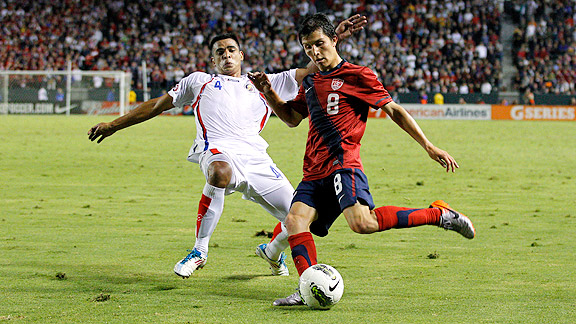 Ric Tapia/Icon SMI
Costa Rica's Michael Umana (4) and Jose Torres of the U.S. match up during the friendly at the Home Depot Center in Carson on Friday night.
CARSON -- It's a work in progress, a process that will take time and much effort, so if the U.S. national team wasn't everything its supporters hoped for in Friday night's friendly against Costa Rica at Home Depot Center, it was enough.
That was
Jurgen Klinsmann
's take, more or less, following a 1-0 loss to the Ticos, who absorbed heavy pressure -- especially in the first half-hour -- and found chances through counterattacks, with
Rodney Wallace
finishing one of them in the 65th minute.
The U.S. didn't get a shot on goal in the first half and lacked killer instinct in front of the net. If the Yanks deserved more from this outing, they didn't do enough to get it.
"Bad result," said Klinsmann, who suffered his first loss as U.S. coach. "Never like to lose a game, but very good performance. I was pleased with the performance. I was pleased with the way all the players tried to implement all the work that we did on the training field throughout the week. ... From a performance point of view, it was very, very positive, what we saw."
What were the positives? Here are three:
1. CONNECTIONS:
The U.S. moved the ball well and interchanged successfully in midfield, especially, more so at game's start than in the second half. Playing out of what amounted to a 4-1-4-1 formation -- with
Landon Donovan
and
Jose Francisco Torres
above
Maurice Edu
in a midfield triangle and
Robbie Rogers
and
Brek Shea
on the flanks -- the U.S. created pretty patterns between midfield and the Ticos' box.
June, 22, 2011
6/22/11
10:55
PM PT
By
Scott French
| ESPNLosAngeles.com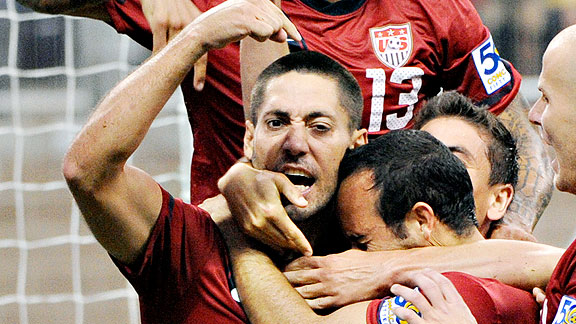 AP Photo/Dave EinselClint Dempsey and his U.S. teammates celebrate his goal in a 1-0 win over Panama.

It wasn't simple, but the U.S. and Mexico came through in Wednesday's CONCACAF Gold Cup semifinals in Houston to confirm their heavily anticipated showdown Saturday evening at the Rose Bowl.

The U.S. pulled out a 1-0 triumph over Panama as Clint Dempsey knocked home a brilliant feed from Landon Donovan in the 77th minute to send the Yanks to a record fourth successive title-game appearance in the region's nations championship.

Mexico needed overtime goals from Aldo de Nigris and Javier "Chicharito" Hernandez to conquer Honduras, 2-0, in the nightcap in front of 70,267 spectators at Reliant Stadium. Will the extra 30 minutes provide a boost for the Americans, who spent less time on the field and were finished 3½ hours earlier than their archrivals?

CONCACAF officials announced Wednesday that the game at the Rose Bowl, slated for a 6 p.m. kickoff, is a sellout. It will be the first meeting between the U.S. and Mexico in Southern California since October 2000.

The teams have met in four previous finals, with Mexico winning in 1993 (4-0), 1998 (1-0) and 2009 (5-0) and the U.S. prevailing four years ago, a 2-1 thriller sending the Yanks to the 2009 FIFA Confederations Cup, where they stunned Spain and nearly toppled Brazil in the final.

Saturday's winner will claim a berth in the 2013 FIFA Confederations Cup in Brazil, a precursor to the World Cup the following summer.

A quick look at the 18th day in the Gold Cup:

LANDON AND FREDDY SHOW: Donovan came off the bench again and Freddy Adu made his first appearance in the tournament, and they teamed with Dempsey to propel the U.S. to avenge its group-stage loss to Panama and advance to its eighth final since CONCACAF went to the Gold Cup format in 1991.


June, 19, 2011
6/19/11
9:24
PM PT
By
Scott French
| ESPNLosAngeles.com
Bob Bradley and the U.S. national team answered their critics Sunday with an exquisite performance, dominating Jamaica to set a rematch with Panama in the CONCACAF Gold Cup semifinals.
Jermaine Jones
' deflected volley at the start of the second half made the difference in the 2-0 triumph, and without the deflection -- and an unfortunate red card -- the opening quarterfinal in Washington would have gone to overtime and perhaps penalty kicks.
Galaxy goalkeeper
Donovan Ricketts
was
that
good -- easily the best player on the field, making six saves ranging from merely great to oh-my-God sensational to prevent the Yanks from ringing up an impressive scoreline.
Clint Dempsey
added a late goal, benefiting from the red card to Houston Dynamo defender
Jermaine Taylor
and the Reggae Boyz's need to push forward in search of an equalizer.
Panama, which stunned the U.S. in group play, did its part in the nightcap, winning on penalties after rallying for a 1-1 draw with El Salvador, which was supported by a vocal crowd of 45,423 at RFK Stadium in Washington.
A ninth-minute hamstring injury to
Jozy Altidore
, who was stretchered off the field with his face buried in his hands, marred a U.S. triumph that should -- but won't -- subside calls to end Bradley's tenure. The Manhattan Beach-based coach has always had his critics, but he's been particularly under fire after a disastrous showing in the pre-Gold Cup friendly with Spain was followed by poor performances against Panama and Guadeloupe.
Some of the criticism is on target. The U.S. has a knack for going behind early -- we saw it at the World Cup last year, and with better finishing Guadeloupe and Jamaica would have joined Panama with a quick lead. In a sport in which comebacks are difficult, it's a major concern, and it points to problems with preparedness.
The U.S. performance against Jamaica answers so many questions, and if it's something Bradley's boys can build upon -- if it is imbedded in the fabric of the team rather than a wonderful one-off -- it could open a path to unprecedented play and, perhaps, success.
But let's not get ahead of ourselves. As good as Jamaica has been in this Gold Cup -- watch out for the Reggae Boyz in World Cup qualifying! -- Mexico is a different animal, and El Tri won't sit back and counter, as the Jamaicans tried to do.
Play with this kind of verve, with all the possession and interchange, against Mexico -- and then against the Europeans and South America's giants -- and we might have something here.
A quick look at the 15th day in the region's nations championship:
SALUTING JONES:
Jones, the German-born and -bred son of an American serviceman, offered a Father's Day military salute after he volleyed Taylor's clearance from 25 yards to give the U.S. a 49th-minute lead.
June, 14, 2011
6/14/11
10:30
PM PT
By
Scott French
| ESPNLosAngeles.com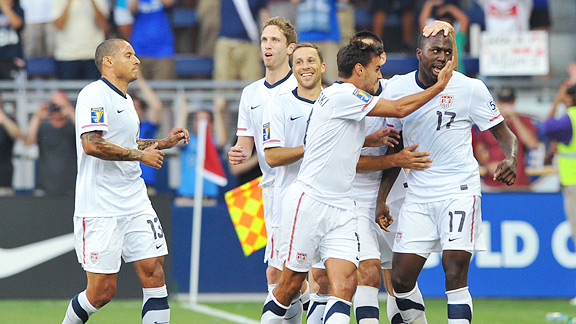 Stan Honda/AFP/Getty ImagesThe U.S celebrates Jozy Altidore's goal in a 1-0 victory Tuesday over Guadeloupe.

The follies in front of the net got worse for the U.S. national team Tuesday night, but they couldn't derail the Yanks from the business at hand: nailing down a CONCACAF Gold Cup knockout-stage berth that should have come far more easily.

Jozy Altidore's stirring strike to the upper-right corner in the ninth minute was enough for a 1-0 victory in Kansas City, Kan., that gave the Americans second place in Group C and a quarterfinal date Sunday with Jamaica in Washington.

El Salvador also got through to the quarters, qualifying when Panama rallied in stoppage time to tie Canada, 1-1, in the first game of the doubleheader. The Canucks were eliminated as all five Central American teams advanced from the group stage.

Panama's surprising victory Saturday over the U.S. had minimal impact on the bracket, merely giving the U.S. a tougher quarterfinal foe (Jamaica rather than El Salvador) but one it will be expected to defeat. Anything other than a U.S.-Mexico final on June 25 at the Rose Bowl would be a surprise, although the Jamaicans were more impressive than the Americans in group play -- and Mexico looks, frankly, unbeatable by anyone else here.

That includes the U.S., which looked far sharper while dominating Guadeloupe than it did against Panama, especially at the back, but was incomprehensibly sloppy in front of the net.

Big news off the field, too, with word that doping tests Friday at UCLA on the five suspended Mexican players all turned out negative for clenbuterol, a drug for treating respiratory diseases in horses that can build muscle. The players are requesting analysis of their "B" samples from the May 21 tests in Mexico.

A quick look at the 10th day of group play in the region's nations championship:

U.S. DOES JUST ENOUGH: Altidore offered a goal-of-the-tournament candidate (actually, a runner-up candidate; nothing will beat Mexican winger Andres Guardado's volley Sunday), but the Yanks could do little else right when they had a chance. They blew at least three sure-thing opportunities -- and those by Landon Donovan and, twice, Clint Dempsey, their surest finishers -- and were thwarted by Guadeloupe's fine goalkeeper Franck Grandel.


June, 7, 2011
6/07/11
8:49
PM PT
By
Scott French
| ESPNLosAngeles.com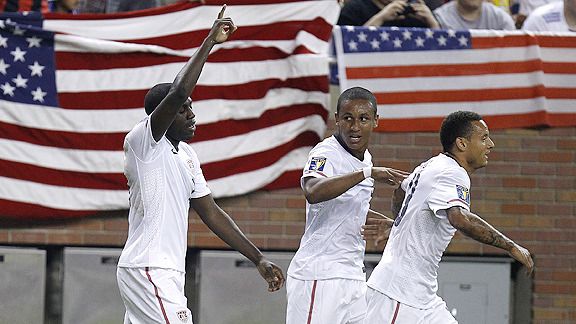 Gregory Shamus/Getty ImagesThe Americans put the Spain debacle behind them with an impressive 2-0 win over Canada in their opening match of the Gold Cup.
Jozy Altidore punctuated a confidence-building performance with a goal and an assist, Tim Howard came up big at the end, and the U.S. national team put last weekend's fiasco against Spain behind them with an impressive start to the CONCACAF Gold Cup.

Altidore scored from a Landon Donovan pass in the first half and set up Clint Dempsey in the second of a 2-0 Group C triumph over Canada in Detroit.

Coupled with an at-times scintillating doubleheader opener, in which Panama held off 10-man Guadeloupe, 3-2, it made for the best day yet in the region's nations championship.

A quick look at the third day of group play:

BACK IN STRIDE: The U.S., so out of sorts against the masterful Spaniards (in everything from lineup to tactics to inability to compete), looked like a title-game shoo-in against a game Canadian side, dominating throughout to take charge in Group C.


February, 7, 2011
2/07/11
6:08
PM PT
By
Scott French
| ESPNLosAngeles.com
Michael Bradley took the field, where he was greeted with cheers by Aston Villa's faithful, but was in suit and tie for Saturday's English Premier League clash with visiting Fulham.
The U.S. national team midfielder, whose family lives in Manhattan Beach, had to put off his debut with his new club until his International Transfer Certificate arrives from Borussia Moenchengladbach.
So he instead was introduced the crowd before kickoff, saluting all three sides of Villa Park, and then watched U.S. teammate
Clint Dempsey
beat former UCLA goalkeeper
Brad Friedel
to lift Fulham to a 2-2 draw.
"I have spoken to people, and the first thing they always say about Villa Park is the heritage of the ground," Bradley told Aston Villa's Web site. "They talk about Villa Park being a traditional stadium, with a great atmosphere, and they always say the fans are tremendous, they make loads of noise and they are really loud.
"I can't wait to play to get out there and play now. I am just excited to be here and ready to get going. That's why I have come to play in the Premier League. I want to play at the highest level and test myself in the biggest of games."
He'll likely make his club debut Saturday at Blackpool and hope to make his first home appearance two weeks later against Blackburn. His goal: Make the kind of impact former Irish star
Roy Keane
made in the EPL.
"I have watched all sorts of games from when I was little, and watched midfielders, obviously," Bradley told the
Guardian
. "The one I looked up to was Roy Keane and the job he did at Manchester United. The way he was able to be the engine and heart of their team and help them be successful was something to aspire to."
December, 31, 2010
12/31/10
5:40
PM PT
By
Scott French
| ESPNLosAngeles.com
Our countdown of 2010's top 10 soccer stories and newsmakers -- from a Southern California slant -- continues.
Newsmakers/No. 1: Landon Donovan
America's biggest soccer star enjoyed his finest year in 2010.
Landon Donovan
offered compelling evidence that he, indeed, is suited for the rigors of the European game; followed his Major League Soccer MVP campaign with a more complete performance; and emerged as one of the stars of the World Cup.
The 28-year-old forward/midfielder from Redlands (Redlands East Valley HS) has been pegged as something special since his teens. He won the Golden Ball, as top player, at the 1999 FIFA U-17 World Cup, was part of the U.S.'s semifinal team at the 2000 Sydney Olympics and was a pivotal figure as the Americans reached the quarterfinals at the 2002 World Cup, the furthest the U.S. has progressed on the game's biggest stage since reaching the semifinals in 1930 (an achievement not nearly as impressive).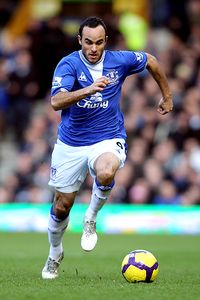 Ross Kinnaird/Getty Images Landon Donovan spent part of his year in England playing for Everton.
But he's climbed new heights since a poor outing at the 2006 World Cup, maturing into a true leader, taking on responsibilities he once avoided while devoting himself to his craft. He's been MLS's best player, by a significant margin, ever since.

Doubts about how he'd fare in a top European league -- remnants of his failures at Bayer Leverkusen and a disappointing loan stretch with Bayern Munich in 2009 -- were gone after a superb 10-week stint on loan with Everton in the English Premier League to start the year. He scored twice in 13 games, won a club Player of the Month honor and had legions of fans begging him to stay in Liverpool -- or, at the least, return.

After winning MLS's scoring title in 2008 and MVP award in 2009, he had arguably his finest league campaign in 2010, stepping back into midfield, where he was needed, and playing chief provider (his 16 assists led the league) and making a massive impact defensively. He led the Galaxy to the Supporters' Shield (as regular-season champion) and within one win of a second successive MLS Cup title-game appearance.

His year primarily will be remembered for his play at the World Cup. He was the Americans' top player -- and one of the best attackers in the tournament -- with an all-around performance marked by goals to help the U.S. rally for a 2-2 draw with Slovenia, to beat Algeria in the dying moments (securing the Group C title and a round-of-16 berth), and to forge a tie with Ghana before succumbing in overtime.

Donovan's international totals: 45 goals and 45 assists -- both U.S. records -- in 128 appearances.