Los Angeles Soccer:

Juan Carlos Osorio
February, 5, 2011
2/05/11
1:40
PM PT
By
Scott French
| ESPNLosAngeles.com
Former Major League Soccer head coach Juan Carlos Osorio has changed his mind about managing Honduras' national team.
Two days after accepting the assignment, the Colombian manager reversed course and will remain in charge at Once Caldas, which he guided last year to the Colombian league's Clausura title.
Osorio, formerly head coach of the Chicago Fire and New York Red Bulls, turned down Chivas USA in December to stay at Once Caldas and said when he accepted Honduras' offer earlier this week that the job's structure would allow him to coach both teams. Turned out that wasn't so, and the Honduran federation -- anxious to start on preparations for the June 5-25 CONCACAF Gold Cup -- wanted him in the position by next week.
"It saddens me deeply [to turn down Honduras]," Osorio told the Colombian press. "It's a great opportunity, but the word I had given Once Caldas is worth more. ... I fulfill contracts, and I have to respect them."
February, 2, 2011
2/02/11
7:27
PM PT
By
Scott French
| ESPNLosAngeles.com
Former Major League Soccer coach Juan Carlos Osorio, who turned down an offer from Chivas USA so he could guide Colombian champ Once Caldas in Copa Libertadores, on Wednesday was appointed head coach of Honduras' national team.
Mexican coach
Juan de Dios Castillo
resigned a little more than a week after leading the Hondurans to the Copa Centroamericana title and an expected berth in the June 5-25 CONCACAF Gold Cup.
Osorio, who formerly was coach of the Chicago Fire and New York Red Bulls and was pursued by Chivas after guiding Once Caldas to Colombia's Clausura title in December, said earlier this week that he had an agreement to take charge of the Catrachos when de Dios Castillo left the post, but such a move wasn't expected until after the Gold Cup at the earliest.
"We decided the right person to lead the national team process, which we hope concludes in Brazil [at the World Cup finals] in 2014, is professor Juan Carlos Osorio," said Fenafuth official
Rafael Ferrari
told the Honduran media.
Osorio, who attended college and began his coaching career in the U.S., will debut Feb. 9 in La Ceiba, Honduras, against Ecuador, which is led by Colombian coach
Reinaldo Rueda
, who was in charge of Honduras at last year's World Cup in South Africa.
February, 1, 2011
2/01/11
10:06
AM PT
By
Scott French
| ESPNLosAngeles.com
Major League Soccer's "major" announcement turned out to be that this year's All-Star Game is, indeed, headed to New York. Or, rather, New Jersey.
The New York Red Bulls will stage the annual showdown with a foreign club to be named on July 27 at Red Bull Arena in Harrison, N.J. The market was the site for the first two MLS All-Star Games, both East vs. West affairs.
The league's top players have battled foreign clubs seven of the last eight years -- British clubs the past six, all but one of them from England -- with MLS winning the first five before falling to Everton on penalties following a 1-1 draw in 2009 (in Sandy, Utah) and losing to Manchester United (in Houston) last year.
QUICK BITS:
Discarded Chivas USA striker
Maykel Galindo
is on trial with FC Dallas. …
Juan Carlos Osorio
, the Colombian coach who turned down Chivas USA, says he has a verbal agreement to become Honduras' next national team head coach. Osorio is in charge of Colombian champion Once Caldas.
January, 9, 2011
1/09/11
2:00
PM PT
By
Scott French
| ESPNLosAngeles.com
Denis Hamlett, the former Chicago Fire head coach who made the final three in Chivas USA's search for a new on-field boss, has joined expansion Vancouver Whitecaps' coaching staff.
Robin Fraser
, who last week was introduced as Chivas' sixth head coach;
Juan Carlos Osorio
, who turned down the Goats' overtures to remain in charge of Colombian champion Once Caldas; and Hamlett were the finalists for the Chivas position.
Hamlett, 41, who spent 12 seasons coaching with the Fire -- the last two, 2008 and 2009, as head coach -- will be one of Icelandic coach
Teitur Thordarson
's assistants with the Whitecaps pending receipt of a Canadian work permit.
Hamlett was head coach last fall at NAIA school Illinois Tech.
January, 1, 2011
1/01/11
6:01
PM PT
By
Scott French
| ESPNLosAngeles.com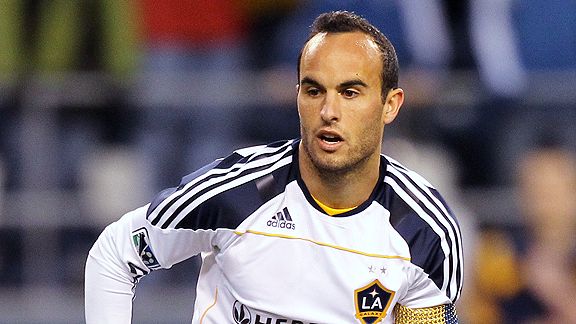 Otto Greule Jr/Getty ImagesAnything less than a championship would be considered a failure in the eyes of Landon Donovan.
1. U.S.-MEXICO SUPREMACY
U.S. Soccer has avoided scheduling against Mexico's national team in Southern California for obvious reasons, but the federation has no (reasonable) choice this year. Circle June 25 on the calendar: If all follows form, the Yanks and El Tri will renew the region's best rivalry in a packed Rose Bowl with the CONCACAF Gold Cup title on the line. A young version of the U.S. will face Chile at Home Depot Center on Jan. 22, and we're hearing talk of Mexico at the Rose Bowl in March. And the HDC gets a Gold Cup date June 6, but no idea who will play in the doubleheader.
2. GALAXY'S GOAL: A TROPHY
The Galaxy might have answered its biggest need in Major League Soccer's re-entry draft, selecting aging but gifted Colombian striker
Juan Pablo Angel
. Now they've got to sign him -- and hope
Edson Buddle
doesn't bolt for England or Scotland. L.A. has come close to After coming close to MLS Cup titles the past two years, losing in the 2009 final and in the 2010 Western Conference title game, and anything other than a trophy in 2011 will disappoint (although getting through the CONCACAF Champions League's group phase might mitigate somewhat).
Landon Donovan
is nearing 30,
David Beckham
's contract ends next December, and Angel is a quick-fix kind of addition. The backline is getting younger (and better, it seems), and if
Bruce Arena
can find a little more speed, L.A. will be tough to beat. But so will Real Salt Lake, FC Dallas and the New York Red Bulls, and maybe reigning champ Colorado if it can keep Omar Cummings from bolting to Europe. Our expectation: a terrific MLS race.
3. THE GERMAN MISSION
The U.S. women haven't won a Women's World Cup title since that delightful summer of '99, and they've since lost the American public's attention, mostly because
Mia Hamm
(and others) retired and Nike stopped contributing millions to the team's marketing campaign. This group of Yanks will try to restore some of the glitz, but it's not going to be easy. They'll certainly among the teams to beat at the WWC in Germany next summer -- and they might pull it off, if
Abby Wambach
and
Hope Solo
are at their best -- but if anyone other than the Germans are celebrating come July 17 in Frankfurt, it's a massive upset.
December, 28, 2010
12/28/10
9:37
PM PT
By
Scott French
| ESPNLosAngeles.com
Word that Juan Carlos Osorio was Chivas USA's choice to take the on-field reins was greeted with disdain by Goats fans who remember how bad the New York Red Bulls, under his command, were in 2009.
What they forget is the run to the Eastern Conference final in 2007 with Chicago, which he rescued at midseason -- OK,
Cuauhtemoc Blanco
had plenty to do with that, too. And 2008 with the Red Bulls, who pulled off a series of stunners to reach the MLS Cup final.
Osorio could be a nice fit for Chivas USA, except, it appears, he has decided to turn down the offer. The Colombian coach, citing family and competitive reasons (doesn't want to uproot his family, wants to coach in Copa Libertadores), has told media outlets in his homeland that
he's going to stick with Once Caldas
, the club with which he just won the national title.
So ... what's next for the Goats?
The other finalists, sources inside and outside the club reported, are Real Salt Lake assistant coach
Robin Fraser
and former Chicago Fire head coach
Denis Hamlett
, who was a Fire assistant for a decade before taking charge.
The Jamaica-born Fraser, a former star central defender with the Galaxy (who made 27 appearances with the U.S. national team), is among the league's most respected assistants; he's a fiercely cultured and intelligent student of the game who is going to get a shot as a head coach somewhere.
The Costa Rica-born Hamlett, also a former central defender with L.A. ties (he played for the indoor Anaheim Splash in the mid-1990s), was a highly respected assistant who took charge of the Fire after Osorio departed for New York. He was dismissed after Chicago lost on penalties to Real Salt Lake in the 2009 Eastern Conference final. Hamlett was in charge this fall at NAIA school Illinois Tech.
Fraser is respected by his players, Hamlett (owing to a more difficult personality) less so.
Chivas also could widen their search, but given that the club will not give the head coach complete control of the soccer operations, the pool of real contenders is rather narrow, unless management pulls in a coach from within parent club Guadalajara's system. That might be disastrous: To succeed, Chivas needs a coach with knowledge of the league and its odd (by international standards) roster rules.
December, 25, 2010
12/25/10
7:59
AM PT
By
Scott French
| ESPNLosAngeles.com
Our countdown of 2010's top 10 soccer stories and newsmakers -- from a Southern California slant -- continues.
Stories/No. 7: Sol starts a trend
The L.A. Sol set the standard in Women's Professional Soccer's inaugural campaign in almost every regard, with the league's most professional organization, the most sponsorship and merchandising revenue, the best fan experience (in the league's best stadium) -- and, especially, on the field.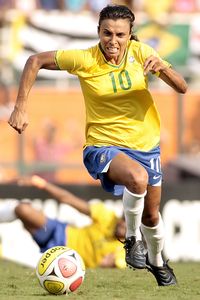 Rodrigo Coca/Getty ImagesThe Sol's lone season was a memorable one because it included Brazilian star Marta.
The Sol, featuring Brazilian superstar Marta and local heroine Shannon Boxx (Redondo Beach/South Torrance HS), went 12-3-5 in 2009, easily capturing WPS's regular-season title. They likely would have won the championship if not for a controversial red card not quite a half-hour into the final.

The team would never play another game. The team folded on Jan. 28 after negotiations with a potential new ownership group fell apart.

It began a trend in the league, and not a good one. Saint Louis Athletica, which posted the second-best regular-season record in year one, dissolved just six weeks into the 2010 campaign, and Bay Area-based FC Gold Pride -- winner of the 2010 title with Marta and Boxx leading arguably the finest women's team ever assembled -- packed up shop in November.

A month later, the Chicago Red Stars went on hiatus, with plans to return in 2012. The Washington Freedom, the lone survivor from the late, great 2001-03 Women's United Soccer Association, nearly went under, too.

What's left? A six-team league, entirely on the East Coast for 2011. The San Francisco-based front office has been all but scuttled, and survival remains uncertain, perhaps unlikely. Yet there are groups angling to join in 2012 and beyond, including one that wants to put a team in Orange County.

The Sol lost somewhere around $3 million in 2009. Anschutz Entertainment Group, which owned half the team and paid about 90 percent of the bills, pulled out -- as planned, it turned out -- after the first season, and Blue Star LLC, a partnership that included L.A. Blues owner Ali Mansouri and Australian actor Anthony LaPaglia, couldn't afford to run things on its own.

The league took control of the club in November 2009 and had a new owner, never identified, all but signed, sealed and delivered. That owner pulled out in mid-January, and the Sol was dead a week later.


December, 22, 2010
12/22/10
9:00
PM PT
By
Scott French
| ESPNLosAngeles.com
Chivas USA officials (majority owner
Antonio Cue
, primarily) made up their minds a few weeks ago on a new head coach, we're told, and plan to
announce their decision
after Christmas.
Former Chicago Fire and New York Red Bulls head coach
Juan Carlos Ososrio
is the choice, several sources (including one inside the club) have told ESPN Los Angeles, but Chivas USA has been forced to wait until the close of the Colombian season before it could make an announcement.

Osorio, a Colombian-born coach who was educated in the U.S. (and received much of his coaching education while serving as conditioning coach at Manchester City in 2001-06), last weekend won the Colombian championship with Once Caldas.
The other finalists, the sources say, were Real Salt Lake assistant coach
Robin Fraser
, a former star defender for the Galaxy and other clubs, and
Denis Hamlett
, who succeeded Osorio as head coach of the Fire.
Cue, also Chivas' president, and interim general manager
Jose L. Domene
were in Mexico and unavailable for comment.
Others considered for the job were former U.S. national team striker
Eric Wynalda
, whose staff would have included Chivas legends
Ramon Ramirez
and
Claudio Suarez
, and former Chivas USA captain
Jesse Marsch
, an assistant coach for the U.S. national team. Wynalda withdrew his name from consideration three weeks ago.
Osorio, who attended Southern Connecticut State University and began his coaching career with long-defunct minor-league side Staten Island Vipers in 1998, was an assistant to MetroStars coach
Octavio Zambrano
in 2000-01. After his time at Man City, he took charge of Colombia's Millonarios, his first head-coaching job.
He resurrected a struggling Chicago side in 2007, guiding it to a 6-3-6 record the second half of the season and into the Eastern Conference final before bolting to the Red Bulls (the rebranded MetroStars). He took New York to the 2008 MLS Cup title game, but resigned about two-thirds into a horrid 2009 campaign, stepping down with the Red Bulls 2-16-4 and without a win in more than three months.
December, 13, 2010
12/13/10
4:18
PM PT
By
Scott French
| ESPNLosAngeles.com
Chivas USA's search for a head coach is in its final stages, and a club source says management has trimmed the pool of candidates to three.
No word on whether former Chicago Fire and New York Red Bulls head coach
Juan Carlos Osorio
is one of the three.
Osorio, a Colombian coach who went to college and has coached extensively in the U.S., is currently in charge of Once Caldas in Colombia. He was in charge of the Fire in 2007 and left the club after the season to become coach of the Red Bulls. He resigned in August 2009 with New York holding the worst record in MLS.
Speculation in the U.S. coaching community is that Osorio might get the job, but Chivas USA spokesman
David Lindholm
said the club would not comment on specific candidates.
"The process is in the final stages, and there is a smaller list of candidates" being considered, Lindholm said. "
Stephen
[
Hamilton
, Chivas USA's director of soccer] has said that he's hopeful to have a hire by Christmas, and that is still the case."
Lindholm wouldn't confirm nor deny that three candidates remain. Hamilton was not made available.
"What I can tell you," Lindholm said, "is we've not made an offer to anyone and we've not made a decision on a specific candidate."
The initial list of about a dozen candidates included Real Salt Lake assistant coach
Robin Fraser
, a former star defender for the Galaxy; former Chivas USA midfielder
Jesse Marsch
, who retired after the 2009 season to join U.S. national team coach Bob Bradley's staff; and former U.S. national team striker
Eric Wynalda
, who plans to include Chivas legends
Ramon Ramirez
and
Claudio Suarez
on his staff if he's hired.
Chivas USA also is believed to have spoken to several candidates in Mexico, including some involved with Club Deportivo Guadalajara, Chivas' parent club.