Los Angeles Soccer:

Justin Davies
April, 2, 2012
4/02/12
11:13
PM PT
By
Scott French
| ESPNLosAngeles.com
CARSON -- Chivas USA's offensive problems, Robin Fraser believes, come down to mindset. The Goats need players willing to "go for it" if they're going to score goals and win games.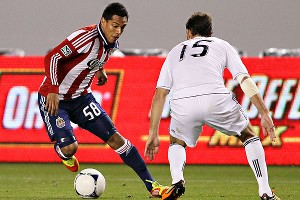 Victor Decolongon/Getty ImagesChivas USA's Cesar Romero
Cesar Romero has a message for Fraser: He can be that guy.

The first-year forward from San Diego scored a second-half hat trick Monday to lead Chivas past the Galaxy, 4-2, in an MLS Reserve League opener on L.A.'s training field at Home Depot Center, and after humbly noting that it "feels very good to win" and that he needs to "keep working hard to win my spot, try to win my time," a little of his swagger crept through.

"When I'm coming into the game, in my head I'm like, 'When I'm going to score?' " Romero said. "And if I get a chance, in my head, you know what? It's going to be in the back of the net. That's my confidence."

He sparked the Goats to a 3-0 lead, crossing for Miller Bolaños' header in the 54th minute, finishing from Bolaños' feed five minutes later, then volleying a Blair Gavin cross in the 64th. He scored his third in the 86th after Chad Barrett had pulled two back for L.A.

"Cesar, he's a dangerous player," Fraser said. "He makes good runs in behind, and if he continues to do that, I think he'll score goals in this league."

Chivas (1-3-0) could use goals. They've scored just one (from just eight real chances) in their first four Major League Soccer outings, wasting outstanding defensive performances in three 1-0 losses.

"Are we producing enough opportunities? Absolutely not. Absolutely not," Fraser said. "But a little bit of it, I think, is a shift in our mindset. To create goalscoring chances, you've got to just go, you've got to go for it. And I felt like today we did a decent job of that. We did a decent job of looking to play in behind, guys running in behind, and we have talented players. So we put ourselves into position where we can make plays, where we can make half-opportunities into whole opportunities.

"So I think the lesson to be learned for us is we've talked about being aggressive -- for a long time we've talked about it -- but really when you see it in practice and you just go for it, you just create more chances and you have to be willing to do it."


March, 6, 2012
3/06/12
3:53
PM PT
By
Scott French
| ESPNLosAngeles.com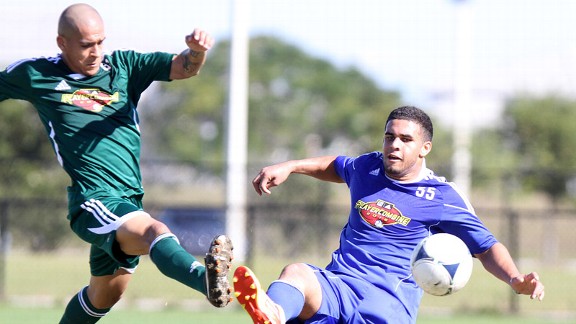 Major League SoccerCal State Northridge's Rafael Garcia, left, has made the Galaxy's 30-player roster.

TORONTO -- Rafael Garcia, whose San Fernando Valley exploits revealed him as one of Southern California's most promising young players, will get his shot at the big time.

The central midfielder from Canoga Park and Cal State Northridge survived preseason with the Galaxy, winning one of the final three roster spots. The Galaxy has not yet announced the deals but are expected to later Tuesday or Wednesday.

Defender Bryan Gaul and midfielder Kenney Walker also signed with the club, giving L.A. 31 players, although only 30 -- the MLS cap -- will count against the roster maximum until Omar Gonzalez, expected to be out until at least September because of a torn anterior cruciate ligament, comes off the disabled list. They'll then have to make a roster move.

Garcia, 23, part of the great Canoga Park High School team that won a mythical national championship in 2007, starred at Northridge, participated in Major League Soccer's pre-draft combine in Florida and was selected by the Galaxy in the second round of January's supplemental draft. He impressed in just three preseason match appearances, providing one of the highlights of L.A.'s preparations with a dynamic run to set up a Dan Keat goal in a 3-2 victory Feb. 16 against Chivas USA.

"I'm at a loss for words," Garcia said following the Galaxy's training session Tuesday afternoon at Rogers Centre, where they'll face Toronto FC in a CONCACAF Champions League quarterfinal first leg Wednesday night. "I'm really excited to be on the team, and to make it official is just a great feeling.

"I tried my hardest [during preseason]. I worked very hard. I like to think my hard work paid off. I looked at the rest of the midfielders, saw what they were doing, and I learned a lot. I think that was to my benefit, and thank God it all worked out for me."

Gaul, 22, a 6-foot-5 forward-turned-center back from Bradley University, also was selected in the supplemental draft. He made eight preseason appearances, with three full 90s, primarily partnering Andrew Boyens as a second-choice tandem in the middle.

Walker, 23, a central midfielder from the University of Louisville, was taken in the second round of the SuperDraft after an impressive performance at the combine. He played in seven preseason matches.

Supplemental draft pick Justin Davies, an outside back from San Diego State, and trialist J.T. Murray, an outside back from Louisville who was drafted last year by Sporting Kansas City but did not make the Wizards' roster, were released from camp.

Center back Tommy Meyer, the Galaxy's first-round SuperDraft selection, signed an MLS contract before the draft.


March, 4, 2012
3/04/12
4:22
PM PT
By
Scott French
| ESPNLosAngeles.com
CARSON -- Landon Donovan is starting to feel like himself again. Robbie Keane is "sharp" and "fit." Both finally are training with the Galaxy, just days before the season begins, and that's a huge step forward for the Major League Soccer's reigning champions.
Both have returned from short-term loan spells in England, but with one significant difference. Keane arrived last week after an exceptional stint with Aston Villa -- he was, from the moment he arrived, the Premier League club's most significant player.
Donovan, coming off a superb seven weeks at Everton, arrived home with the flu and spent the next week in bed.
He's finally coming around but needs to regain the fitness and form he had while overseas.
"It's been a really frustrating 2½ weeks, missing the last game [of the loan] at Everton, missing the trip [for last week's U.S. game] to Italy and just trying to get healthy," he said after L.A.'s training session Sunday morning at Home Depot Center. "Sometimes the flu or sickness doesn't care what's going on, it's just going to do what it's going to do."
Donovan said he felt he turned a corner on Wednesday, as he watched the Americans' victory over the Italians. He ran for the first time Thursday in Arizona, where the team ended its preseason preparations, and trained for the first time, for real, Saturday at HDC.
"Honestly, probably not till today did I feel closse to getting back to myself," he said. "I haven't been able to breathe very well with all this in my lungs. It's a nice feeling."
January, 23, 2012
1/23/12
9:38
PM PT
By
Scott French
| ESPNLosAngeles.com
CARSON -- Marcelo Sarvas' first training session with his new Galaxy teammates primarily involved running. Fitness is the focus as Major League Soccer's reigning champions opened their preseason camp, but the Brazilian midfielder already is looking ahead.
After facing L.A. twice last season while in midfield for Costa Rican power Alajuelense, he's got a decent understanding of L.A.'s strengths and what he believes he can add to the mix.
Sarvas, 30, is the most anticipated arrival among 13 new signings, draft picks and trialists who joined 13 returning players on the rain-soaked field Monday morning at Home Depot Center, where the plan called for a little simple stuff with the ball interspersed with lots and lots of running.
He's got the biggest role, too, replacing
Juninho
--
David Beckham
's midfield partner -- in one of the positions most pivotal to the club's chances for success.
"I know the story of Juninho here in this club," Sarvas said in Spanish through a translator. "He came and did big things here. I'm not coming here to replace Juninho. I'm here to implement my own game here. ... I'm hoping to win a starting spot and do my own thing here."
Sarvas is more attack-minded than Juninho, who arrived as a defensive midfielder and in two seasons on loan from Sao Paulo evolved into one of Major League Soccer's elite two-way midfielders, a progression that led his Brazilian masters to call him home. The job, head coach
Bruce Arena
says, is simple: "Whenever we play David centrally, the player next to David moves off of David."
Sarvas has no problem with playing deputy to Beckham.
"I think we need more time to get to know each other," he said. "I did face the Galaxy twice [in CONCACAF Champions League group play], and from seeing those games, David's a player I need to find a way to open up the game for him and give him the ball in spaces where he can create opportunities so we can do good things."
Arena, when Sarvas signed last month on a free transfer, called him "a good, experienced, two-way midfielder I think is going to help our team. ... I think he's going to be a good addition."
Beckham also thinks the partnership can be productive.
January, 17, 2012
1/17/12
1:28
PM PT
By
Scott French
| ESPNLosAngeles.com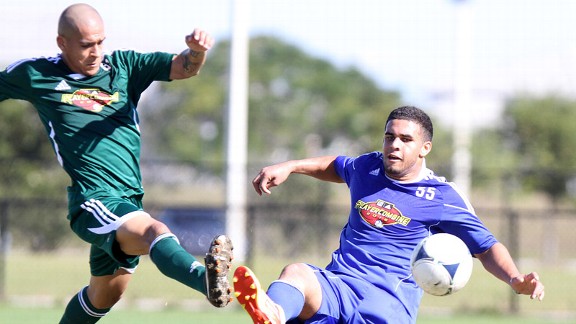 Major League SoccerCal State Northridge's Rafael Garcia, right, battles Dom Dwyer at the MLS player combine.

The Galaxy went after local talent with three of their five selections in Tuesday's MLS Supplemental Draft, including a Cal State Northridge midfielder who impressed at the pre-draft combine.

Rafael Garcia (Canoga Park/Canoga Park HS) was taken at the end of the second round, 38th in the draft (and 76th overall, factoring in last week's SuperDraft), bolstering depth in the middle. Well, at least for the future.

"I think the challenge for these players is to make our roster," said Galaxy head coach/general manager Bruce Arena, who nabbed San Diego forward/midfielder Stephen Posa and San Diego State right back Justin Davies in the fourth round. "I can't even look that far ahead to see if [any of them] are going to step on the field with our first team. The initial challenge is to make the roster."

Arena took Bradley's Bryan Gaul, a 6-foot-5 forward-turned-defender, with his first pick, 19th overall, and Brazilian attacker Yuri Gorentzvaig, 21, who arrives from Flamengo system after spending the previous season with Corinthians.

Gaul, whose little sister, Alexa, is a U.S. youth international, scored 23 goals the past two seasons at Bradley, but he was used primarily in the back at the combine. That's where the Galaxy, in need of defensive cover, see his future.

"He's left-footed, can play center back or left back, and we're going to look at him in that position," Arena said. "Hopefully he'll be able to adapt. He's a kid we think has a chance. That's why we drafted him."

Garcia, just 5-6, is a defensive-oriented central midfielder who grew up a Galaxy fan. He was a four-year starter for the Matadors and a first-team All-Big West Conference selection in 2011.