January, 2, 2012
1/02/12
3:14
PM PT
By
Scott French
| ESPNLosAngeles.com
David Beckham's proposed move to Paris Saint-Germain is looking iffier and iffier, with the latest reports across the Atlantic claiming he's leaning toward re-signing with the Galaxy.

It's about family, as we always thought it would be, with sources "close to" Beckham telling British tabloid Daily Mail that he is reluctant to relocate his family, which is happily settled in Beverly Hills.

And now there are questions about Paris Saint-Germain's desire to sign the English superstar. French sports daily L'Equipe reports that new PSG coach Carlo Ancelotti would rather bring in Brazilian midfielder Kaká, from Real Madrid, as Leonardo, the club's sporting director, says he's willing to give Beckham more time to consider the offer.

"The question has never been professional but about family. It is a difficult choice to make the whole family move to Paris," Leonardo said in remarks published by Sky Sports. "We will wait a little. It is a personal choice, and it is not that easy to him. We have some time, and he has some time, too.

"We never stated it has been done. There is no contract. We won't push him -- we respect him a lot. I know him and have an amazing admiration toward him both as a player and as a father. I can understand it is difficult to move. We will leave him in peace."

Beckham is expected to make a decision after talks with Simon Fuller, whose XIX Entertainment serves as Beckham's agents. His five-year, $32.5 million contract with the Galaxy expired Dec. 31, but L.A. reportedly has offered a rolling one-year contract to replace it. PSG is dangling an 18-month, $18.7 million pact, according to media reports.

KEANE TO VILLA?: Robbie Keane was adamant following the Major League Soccer season that he was not interested in an offseason loan, but there appears to be interest in England to bring him back for a spell.


July, 17, 2011
7/17/11
7:51
PM PT
By
Scott French
| ESPNLosAngeles.com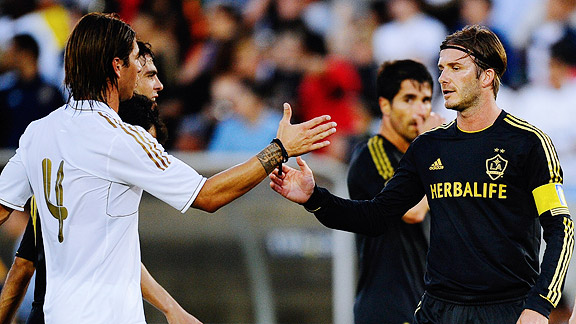 Kevork Djansezian/Getty ImagesDavid Beckham congratulates players from Real Madrid during their 4-1 victory over the Galaxy on Saturday.
The bliss for soccer fans when Real Madrid, or any team of such caliber, comes to visit -- not that that list is a lengthy one -- has nothing to do with whether the friendlies are competitive (the more so the better, of course) nor some desire to see how our local boys can stand up to so mighty a force.
It's in watching in amazement at the things these players can do.
David Beckham
has brilliant touch -- nobody plays a better ball over distance -- and
Thierry Henry
remains a regal figure with sublime skill and instinct, but games like Saturday's at the Coliseum, in which Real Madrid throttled the Galaxy, 4-1, are a reminder of how far Major League Soccer still must go to be considered a first-class league.
Consider: Real had been training all of four days before facing L.A. Two sessions every day. Yet not only were the Merengues vastly more talented, more dynamic -- more everything, really -- than MLS's No. 1 club, they were sharper and in better form, which they shouldn't be this early in their preseason.
The difference is, quite simply, quality. The Galaxy have one aging world-class star (Beckham), one player who could be a star in Europe in the right situation, such as Everton (
Landon Donovan
), and a defender with a decade and a half's worth of experience on Europe's fields (
Gregg Berhalter
), which shined through on several of Real's repeated forays into L.A.'s box.
Most impressive for the Galaxy were
Josh Saunders
and
Brian Perk
, the Nos. 2 and 3 goalkeepers, who each played for a half. Both made big saves -- the best: Saunders laying out to parry
Marcelo
in the 36th minute, Perk knocking
Mesut Özil
's blast wide in the 70th -- and did well on balls into their box. Without them, maybe this ends 7-1 or 8-1.
July, 16, 2011
7/16/11
11:13
PM PT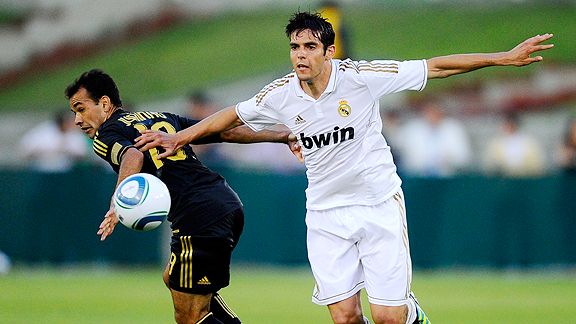 Kevork Djansezian/Getty ImagesThe Galaxy's Juninho, left, was pushed on this play by Brazilian countryman, Kaka, but the two later exchanged jerseys.

LOS ANGELES -- Galaxy midfielder Juninho was thankful in defeat Saturday night, citing the experience gained in playing against one of the world's top clubs. Perhaps giddy is a better description.

Juninho grinned from ear to ear when asked whom he exchanged jerseys with following the Galaxy's 4-1 loss to Real Madrid at the Memorial Coliseum.

"Kaká and two other Brazilians," Juninho said, his eyes lighting up.

Juninho, 22, is a product of the renowned Sao Paulo youth ranks. So is Real Madrid's Kaká, one of the Brazilian national team's recent jewels. They never played together and had never met before Saturday, but Juninho said Friday he would pursue his countryman's jersey at all costs.

Both players were on the pitch together in the first half before Kaká, and eight other Real Madrid players, exited at the break. A Juninho giveaway pass, to Kaká of all players, led to Real Madrid's first goal. Juninho's only shot attempt of the night sailed high.

"I think the experience was good," Juninho said. "We lost and we didn't play like we wanted to, but the experience was the most important thing."
July, 16, 2011
7/16/11
8:31
PM PT
LOS ANGELES -- Kaká played a sharp, serene through ball and José Callejón viciously put it away, drawing synchronized chants of "Ma-drid, Ma-drid!" and swarms of bright flashes across the Memorial Coliseum.

Real Madrid, even without stars Cristiano Ronaldo and Xabi Alonso in the starting lineup, would add another goal to lead the Galaxy, 2-0, at the half in their World Football Challenge opener Saturday night. There were plenty of oohs and aahs but, unfortunately for the locals, they came as a product of Madrid's brilliance.

It might have been an uglier halftime score if not for a handful of saves from Galaxy goalkeeper Josh Saunders. Callejón had a favorable one-on-one chance against Saunders in the 10th minute but had his shot blocked. Later, Saunders left his feet to make a stop on a missile from Marcelo.

The Galaxy, despite fielding its usual starters, had little going offensively. David Beckham had two opportunities on set pieces but neither threatened Iker Casillas.

A shot from 21-year-old striker Joselu deflected off Beckham and sneaked past Saunders, giving Madrid a 2-0 lead in the 40th minute. It produced another flurry of camera flashes and resonating chants of "Ma-drid! Ma-drid!"
July, 2, 2011
7/02/11
10:10
PM PT
By
Scott French
| ESPNLosAngeles.com
Major League Soccer looked into moving Chivas USA's game July 16 against the New York Red Bulls because it conflicted with the Galaxy's friendly against Real Madrid about a dozen miles up the Harbor Freeway.
The Goats weren't interested.
Club co-owner and president
Antonio Cué
said Saturday night that Chivas would keep its date with the Red Bulls and he hoped the game, one of the big draws on the team's calendar, would draw an ample crowd.
"We need to do what we need to do," Cué said after Chivas' 1-1 draw with the Chicago Fire at Home Depot Center. "I'm sure Real Madrid will draw a lot of people, but we just have to continue and have more fans come in."
The conflict means fans -- and media, too -- must decide between heading to the Coliseum to see the Spanish giant and its stars, such as
Cristiano Ronaldo
and
Kaká
, in a preseason game against the Galaxy for the second straight year or coming to HDC to watch
Thierry Henry
's second L.A. visit since joining New York last summer.
The Galaxy game begins at 7 p.m., and Chivas' kicks off at 7:30. It's not an ideal situation, surely, and the Goats seem certain to lose more than a few spectators to the game up the 110.
"Unfortunately, it came at the same time that day. [The league] thought about moving it," Cué said. "I said: 'If you want to move, you can move the other game.' Why would we move our game? ... So, hopefully, we draw some people, and, more than that, hopefully, we'll get three points."
June, 23, 2011
6/23/11
5:30
PM PT
By
Scott French
| ESPNLosAngeles.com
Real Madrid's roster for its preseason U.S. tour, including an 11-day camp at UCLA, is out, and -- as one might expect from a preseason roster -- it features all of the club's biggest stars: Cristiano Ronaldo, Kaká, Iker Casillas, Xabi Alonso, Ricardo Carvalho, Mesut Özil, Karim Benzema, Pepe, Sergio Ramos and Sami Khedira.

The Merengues arrive July 11 in Westwood, where Portuguese coach Jose Mourinho will lead training sessions for the second straight year, and have two matches planned in Southern California, on July 16 against the Galaxy at the Coliseum and July 20 against Guadalajara at Qualcomm Stadium in San Diego.

Here's the list:

GOALKEEPERS
Antonio Adán (Spain)
Iker Casillas (Spain)

DEFENDERS
Raul Albiol (Spain)
Alvaro Arbeloa (Spain)
Ezequiel Garay (Argentina)
David Mateos (Spain)
Pepe (Portugal)
Sergio Ramos (Spain)
Ricardo Carvalho (Portugal)
Marcelo Viera (Brazil)

MIDFIELDERS
Hamit Altintop (Turkey)
José Callejón (Spain)
Lassana Diarra (France)
Roysten Drenthe (Netherlands)
Fernando Gago (Argentina)
Sergio Canales (Spain)
Kaká (Brazil)
Sami Khedira (Germany)
Pedro León (Spain)
Mesut Özil (Germany)
Nuri Sahin (Turkey)
Xabi Alonso (Spain)

FORWARDS
Karim Benzema (France)
Esteban Granero (Spain)
Cristiano Ronaldo (Portugal)