Los Angeles Soccer:

Kevin Alston
March, 31, 2012
3/31/12
11:44
PM PT
By
Scott French
| ESPNLosAngeles.com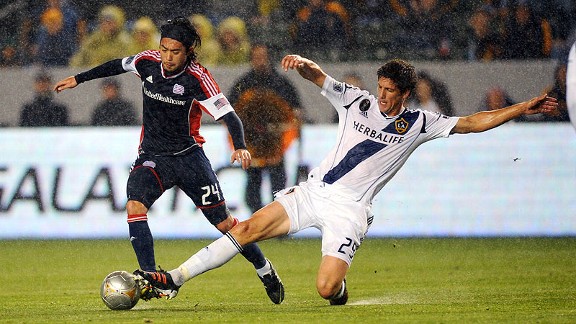 Kelvin Kuo/US PresswireGalaxy defender Andrew Boyens lunges against New England's Lee Nguyen in the first half.

CARSON -- The Galaxy's second shot at a decent start was far worse than the first one, some 3½ weeks ago. After a two-week break in which, the storyline goes, they worked out the kinks that capsized them against Toronto FC and Real Salt Lake, L.A. came out with a real stinker of a show.

New England scored two goals in the first 13 minutes and added a third midway through the second half, easily dismissing the Galaxy, 3-1, on a rainy night at Home Depot Center.




The defensive problems that have plagued L.A. (1-2-0) since the start of preseason have not improved -- both early goals were product of horrendous marking -- and the lack of spark in the Galaxy's game, at least until the second half, set standards the team does not want to repeat.

"I think you always have to be careful about not labeling things that clearly off of one game," head coach Bruce Arena said. "I think our second half [had] a lot more spirit and determination than there was in the first half. The first half was poor. Some bad communication in the early going, and it cost us a couple of goals. We were never sharp on any play in the first half. Sloppy in every aspect of the game on both sides of the ball."

The Galaxy was overrun in midfield and at the back, and goals three minutes apart by rookie Kelyn Rowe, a former UCLA All-American, and Chris Tierney more or less settled things by the 13th minute.

New England got behind L.A.'s defense three times in the first nine minutes, then struck in the 10th, when Rowe drifted behind A.J. DeLaGarza and Todd Dunivant to volley a cross from Shalrie Joseph, then volley the rebound after goalkeeper Josh Saunders parried the first strike.

Tierney made it 2-0 in the 13th, beating Paolo Cardozo to a ball from Kevin Alston, who played a give-and-go with Joseph to penetrate from the right channel.

"We did the exact same thing we've been doing the first three games, conceding sloppy goals," complained striker Robbie Keane, who wore the captain's armband in Landon Donovan's absence because of a quadriceps strain. "Every goal we've conceded so far has been very, very similar. It's stuff you do when you're a kid defending. We didn't do it properly tonight. We have only ourselves to blame. We can't point the finger at anyone else but ourselves. [We need] everyone to pick their heads up and be a man and get on with it."


February, 23, 2011
2/23/11
10:28
PM PT
By
Scott French
| ESPNLosAngeles.com
Chivas USA's playoff hopes increased dramatically Tuesday. Major League Soccer added two teams to the postseason mix.
The league boosted its playoff participants to 10 teams with the addition of two single-game wild-card showdowns, which should be welcomed by Chivas and Columbus, Chicago and D.C., K.C. and New England, even Toronto FC.
The Galaxy and the like? Are you kidding?
Here's how the postseason works this year:

The top three teams in each conference qualify for the main draw, which is just like before: home-and-home conference semifinals, one game conference finals, MLS Cup. The next four best teams, regardless of conference, take the wild-card slots, with the No. 7 seed playing 10 and 8 playing 9 and the winners advancing to play the regular-season champs, and … well, you know how it works.
This system will cut down on all that confusing cross-conference movement in the playoffs, which led to an all-West showdown in last year's Eastern Conference final, an Eastern Conference title (en route to MLS Cup glory) by Real Salt Lake in 2009, and a Western championship by New York in 2008.
Had this system been in place last year, K.C. would have been the No. 3 seed in the East and opened against Columbus, which the then-Wizards might have won. Which would have left them 90 minutes from MLS Cup.
One wild-card battle would have matched Colorado against San Jose. ... Hey, they did play -- in the Eastern Conference final. The Rapids prevailed, then won the MLS Cup crown. (The other wild-card matchup would have been Seattle-Chicago; the Galaxy likely would have opened against Colorado.)
MLS has had eight playoff teams since its 1996 start, when there were only 10 clubs. As the league slowly grew to 16 teams by 2010, eight playoff berths seemed sufficient. Portland and Vancouver make for 18 teams this season and Montreal for 19 next year, and eight still sounds perfect.
L.A. would have reached the 2006 playoffs had this format been in place, but nothing could have saved the Galaxy in 2007 and 2008. And forget Chivas last year or in 2005.