Los Angeles Soccer:

Khari Stephenson
June, 30, 2012
6/30/12
11:56
PM PT
By
Scott French
| ESPNLosAngeles.com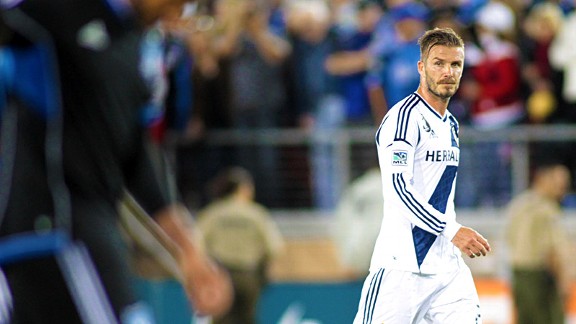 AP Photo/Mathew SumnerDavid Beckham's rough week ended with a postgame confrontation Saturday with San Jose players.
The wildest and weirdest of California Clasicos unfolded just as the Galaxy hoped, at least after an early hiccup, and exactly as the San Jose Earthquakes might have expected -- and desired.
Three goals in 11 minutes, two of them caused by
Jason Hernandez
errors, gave L.A. a two-goal edge just before halftime, and the way the Galaxy have been playing lately, that ought to be enough against nearly anyone in Major League Soccer.
But this Earthquakes side increasingly has the look of destiny about it, and given what's come before, its comeback for a 4-3 triumph Saturday night at sold-out Stanford Stadium was persuasive.
Victor Bernardez
blasted home a feed from a corner kick near the end of the first half,
Sam Cronin
finished a spectacular sequence to start the second half, and MLS scoring leader
Chris Wondolowski
's backheel from a corner kick in the 61st minute delivered San Jose its seventh comeback victory of the year.
It spoiled the Galaxy's best 10 minutes or so of the season and restored the Quakes' spot atop MLS's Supporters' Shield standings, which had been taken by D.C. United with a victory earlier in the day.
It was an absorbing match, probably the best in the league this season, marked by end-to-end action, huge shifts in momentum, sudden chances enhanced by a tight field, goals both brilliant and unfortunate, tremendous atmosphere (some 50,391 on hand), and a end-of-game meltdown by
David Beckham
, whose nightmare week closed with a one-game suspension certain and additional games likely to be added.
"It was enjoyable to be part of, for the most part," Galaxy captain
Landon Donovan
told media afterward. "I thought the crowd was great, the energy was great, and it's just 20 some-off people in here [in L.A.'s locker room] who aren't happy. ... It's a game we should have won."
Coach
Bruce Arena
agreed with the last part.
"It was a sloppy game, a lot of mishaps," he said. "Kind of what we expected on a tight, short field. ... We did a poor job [defensively] today. Our defense on set pieces wasn't good, and it cost us the game.
"We have no one to blame. We should not lose that game."
June, 29, 2012
6/29/12
11:36
PM PT
By
Scott French
| ESPNLosAngeles.com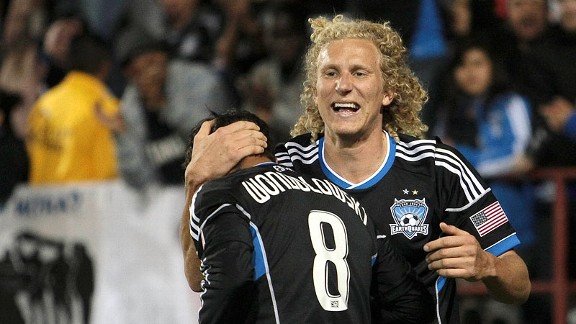 Kelley L Cox/US PresswireThe Earthquakes have had a knack for not only winning this season, but winning games late.
There are so many iconic moments from California Clasicos past:
San Jose's five-goal rally in Major League Soccer's 2003 playoffs

Landon Donovan's bitter 2005 return to Spartan Stadium

The Galaxy's 3-1 road triumph over the best-in-the-league Quakes en route to the 2005 MLS Cup title

Alan Gordon's stoppage-time header to complete a three-goal comeback
That last one, just 5½ weeks ago at Home Depot Center, still bothers the Galaxy, who were 15 minutes plus stoppage from ending a nightmarish five-game winless streak before
Steven Lenhart
,
Khari Stephenson
and Gordon delivered a most improbable 3-2 triumph.
Only it wasn't so improbable. San Jose (10-3-3), the best team in MLS record-wise, keeps pulling out late victories. It has won seven of its last 10 league games with a goal in the 84th minute or later, scored four stoppage-time winners, rallied from behind in six victories (all competitions) and gone 4-2-3 after conceding the first goal.
MLS teams have rallied from a halftime deficit to win six times this season -- the Earthquakes twice. They lead MLS with 11 goals in last 15 minutes and 20 in the last half-hour.
That's what the Galaxy (6-8-2), finally finding its stride after three horrid months (with that unbeaten streak, which reached eight games), is facing when in Saturday night's rematch before a sellout crowd of more than 50,000 at Stanford Stadium.
"That's the trademark of their team," said L.A. defender
Todd Dunivant
. "Just being the hungrier team, getting on the end of things."
It happened May 23 in Carson.
Hector Jimenez
, making his first start of the season, scored a fine goal just three minutes in, and L.A. dictated play for the first hour. Jimenez was red-carded about 15 minutes into the second half, but
Mike Magee
doubled the advantage in the 73rd minute.
"We felt we played one of the best first halves we'd played up to that point," Dunivant said. "We got out to a good lead, got a red card but still got another goal on top of it, so we were in good shape and let it slip."
Lenhart headed home a corner kick in the 75th minute, Stephenson converted a penalty kick after a
David Beckham
hand ball seven minutes later, and Gordon struck on a ball from the right flank four minutes into stoppage.
May, 23, 2012
5/23/12
11:49
PM PT
By
Scott French
| ESPNLosAngeles.com
CARSON -- The Galaxy couldn't have felt much better about things as the clock hit 75 minutes Wednesday night: Their best performance of the season had been rewarded with a two-goal lead, and although they were down to 10 men, they were in control. Hold on another 15 minutes, plus a few more in stoppage, and they'd have their first victory in a month.
But in a season in which nearly everything that can go wrong has, L.A. found a new, most devastating way to fall, surrendering three goals over the final 20 minutes -- the last deep in stoppage -- to drop its fourth game in the last five, a 3-2 defeat to the San Jose Earthquakes that left a lot of heads shaking.
Alan Gordon
's header in the 94th minute delivered the knockout blow, handing the Galaxy their seventh league defeat, extending their winless streak to six games and leaving them in the Western Conference basement, 16 points off the lead.

"We played awful well tonight not to get something out of this game. It's a shame," noted Galaxy coach
Bruce Arena
. "You make your own breaks, and tonight we were in position to get three points and really turned that game over."
Bell Gardens'
Hector Jimenez
, making just his second MLS start, third league appearance and 2012 debut, scored a fine goal in the third minute to give L.A. an advantage but was sent off for a studs-up challenge on
Steven Beitashour
in the 59th minute, and the Galaxy (3-7-2, 11 points) -- dominant to that point -- watched everything change in a matter of minutes.
First, they doubled their lead, with
Mike Magee
taking a pass on the break from
David Beckham
, then beating Quakes defender
Jason Hernandez
and stepping past goalkeeper
Jon Busch
to fire into the goal's ceiling in the 73rd minute.
Three minutes later, Yorba Linda's Steven Lenhart got one back for San Jose, a near-post header from Marvin Chavez's corner kick, and the Quakes were on the front foot the rest of the way.
"We're ahead 2-0, I don't know how many minutes left," Arena said. "Really a poor tactical approach on our behalf. We shouldn't get beat on a restart for a goal. That let them back in the game. And we can't lose the ball in our defensive half. We have to play the ball up the field, we have to pull in collectively as a group and defend with our 10 players and play the game out, get the three points and go home."
Khari Stephenson
tied the score in the 82nd minute, converting a penalty kick after Beckham handled the ball while leaping to block a drive by Hernandez. A turnover led to the winner, with Hernandez again pumping the ball into the box and Gordon, who scored equalizers in the 88th and 90th minutes of San Jose's last two games, escaped
Sean Franklin
's mark and soared above
A.J. DeLaGarza
to nod it into the net.
"I just was following up the play," said Gordon, who played for the Galaxy from 2004 through 2010. "I think there may have been a little bit of hesitation on their part, and I was just seeing the play through. They hesitated, I didn't, I finished it. Forwards get lucky sometimes. I got lucky. Who cares? I put it in, end of story, period."
June, 26, 2011
6/26/11
3:53
PM PT
By
Scott French
| ESPNLosAngeles.com
Mike Magee went well beyond the call when the Galaxy visited San Jose this weekend, and L.A.'s unbeaten streak hit double digits because of it.
Forced into the nets after starting goalkeeper
Donovan Ricketts
was injured and backup
Josh Saunders
red-carded, the 5-foot-10 forward/midfielder pulled on the gloves and stepped between the pipes in the 43rd minute and was rewarded with a shutout in Saturday's draw with the Earthquakes.
The Galaxy (9-2-8) is 5-0-5 in its last 10 after surviving more than a half down a man -- and that after the Quakes dominated the first 45 minutes. But superb defensive organization, marshaled by
Gregg Berhalter
(making his first first-team start of the year), and Magee's huge contribution in unfamiliar territory gained a share of the points.
Ricketts, making his return after missing three games while with Jamaica at the CONCACAF Gold Cup, was stellar in the opening minutes, but he suffered a left forearm injury in a 21st-minute collision with
Khari Stephenson
as both closed in on a
Ryan Johnson
cross and exited the game.
A Galaxy spokesman said the injury will be evaluated Monday and that reports that the preliminary diagnosis was a broken arm, first mentioned on Fox Soccer Channel's broadcast of the game, were in error.
Saunders, who has been solid in seven starts this year while Ricketts was injured or on international duty, stepped in. Within 20 minutes, he was gone, too. It occurred in the least likely of situations: The goalkeeper was holding onto the ball, seemingly by himself, preparing to throw it out to a teammate when San Jose forward
Steven Lenhart
, from behind, leaned down and headed the ball out of Saunders' possession.
That's a big no-no, and referee
Juan Guzman
should have whistled play dead right then. But he didn't, and Saunders scrambled to pick up the ball, then threw an elbow -- perhaps blindly -- that caught Lenhart in the head. Guzman showed Saunders a red card and Lenhart a yellow.
With no other goalkeeper on the bench, Magee volunteered to take the job. He made four saves -- the biggest on a 30-yard
Bobby Convey
blast in the 47th minute and a point-blank leg stop on Lenhart at the right post in the 89th -- and did well handling crosses and taking command of his box.
"I think I blacked out [when I volunteered]," said Magee, who claimed he had "never" played the position, "not even in a non-competitive match."
"I looked around after Josh Saunders got the red card, and I nominated myself. I did all right, I guess. Looking back, I have no idea why I nominated myself. … I only thought I had to make it 10 minutes, and then we'd have a great plan at halftime where I'd be back on the field. And then we got back in [to the locker room], and it started hitting me that I was going back in goal, and that was pretty nerve-wracking.
Bruce
[
Arena
, the Galaxy's head coach], he gave me all the confidence. He said to have fun with it and don't worry about it."
A quick look at the Galaxy's draw:
BEST PLAYER:
Magee gets the nod for his selflessness and for stepping into the most challenging assignment of his career and, truly, shining. He made two big saves -- the point-blank stop on Lenhart at the end was massive -- and provided a real presence in the box. Unquestionably one of the great performances in the Galaxy season.
June, 25, 2011
6/25/11
6:03
PM PT
By
Scott French
| ESPNLosAngeles.com
When is a draw just as good as a victory? How about when you've lost both your goalkeepers.

That's what the Galaxy endured Saturday afternoon in San Jose, with midfielder/forward
Mike Magee
forced to put on the gloves after
Donovan Ricketts
went down with an injury and
Josh Saunders
was red-carded.
The 0-0 draw pushed L.A.'s record to 9-2-8.
Ricketts suffered an arm or shoulder injury in a 22nd-minute collision with San Jose midfielder
Khari Stephenson
, so Saunders came off the bench. He was shown a red card after elbowing
Steven Lenhart
-- a most controversial call made after Lenhart headed the ball out of Saunders' hands, which isn't legal.
With no more goalkeepers on the bench, Magee stepped in, and he impressed, making one big save and taking command of his box.
Gregg Berhalter
, making his first start this season, captained L.A.
February, 16, 2011
2/16/11
4:52
PM PT
By
Scott French
| ESPNLosAngeles.com
There are numerous procedures to acquire talent in rule-crazy (lawyer-rich) Major League Soccer, and we saw one of them enrich the league's best club and mete out a little justice this past week.
Weighted lotteries dispersed three top young players into the league. Two of them have the potential to be big stars. The third is a highly regarded outside back pegged for a long, productive career.

Real Salt Lake, arguably the finest side in the league, came up the big winner, claiming former Wake Forest forward
Cody Arnoux
against all odds.
Former University of Virginia forward
Chris Agorsor
, who also has star potential, went to Philadelphia, and teen right back
Korey Veeder
was picked up by Columbus.
Neither the Galaxy nor Chivas USA entered the lotteries, for which a team's chances are based on its record in its past 30 games in relation to the other teams involved.
Arnoux, who scored 32 goals in his sophomore and junior seasons at Wake Forest, returned last summer from a year with English club Everton's reserves and seemed to settle in nicely with the Vancouver Whitecaps in their final season as a D2 club.
That's what the Whitecaps figured: They tried to sign Arnoux for their MLS side, but the league wouldn't have it. MLS uses lotteries for players coming out of college who sign after the draft or for players who previously turned down a league offer. Arnoux had been aggressively pursued before he left Wake Forest following his junior season, so to Friday's lottery he went.
RSL won despite just a 5.4 percent chance of success.
"Miracles never cease," quipped GM
Garth Lagerwey
to MLS's website.
Arnoux is renowned for his work rate and his nose for the net, and he said he hoped he could step in for
Robbie Findley
, the World Cup forward who moved to England's Nottingham Forest.
"I never stop working -- that's what I build my game around," Arnoux told the league's website. "I'm not the guy who's going to make the right pass every time or make the right decision. But I'm good in front of goal and have confidence in front of goal and that has to be built back up because I've been off for a while.
"I'm a hard worker, and that's something English fans like. Even though I wasn't playing with [Everton's] first team, they appreciated that a lot, and I know American fans appreciate that a lot. That's the kind of player I am. I've not always been the best, but I've always had to try to work harder to beat everyone else."
February, 7, 2011
2/07/11
1:21
PM PT
By
Scott French
| ESPNLosAngeles.com
The San Jose Earthquakes arrived Sunday for a week of training at Oxnard College, and they've got scrimmages planned against Chivas USA, the Galaxy and the Ventura County Fusion.
The Quakes meet Chivas on Monday afternoon at Home Depot Center Field 4, west of the main stadium. They'll face the Galaxy on Thursday at the HDC track and field stadium and take on the Premier Development League's Fusion on Friday at Oxnard College.
Here's a quick look at the Earthquakes:
WHO ARE THEY?
The Galaxy's former No. 1 rival, before Chivas USA arrived and MLS's original Clash/Quakes hightailed it to Houston after the 2005 season. This model returned to MLS in 2008, with Oakland A's owner
Lew Wolff
(encouraged by super soccer fan/A's GM
Billy Beane
) putting up the money, former star center back
John Doyle
as GM and the return of coach
Frank Yallop
, who guided the previous Quakes to MLS titles in 2001 and 2003. They reached the playoffs last year, knocking off Eastern Conference champ New York to make it to the MLS Cup semifinals.
THE MAN IN CHARGE
Yallop is no stranger to these parts. The English-born Canadian former defender was the Galaxy's head coach the last part of 2006 and during that wasted 2007 campaign, unfairly jettisoned afterward with the Quakes asking for his hand.
Yallop, who's one of the really good guys in MLS, spent 13 seasons with Ipswich Town, played in Tampa Bay in the first three MLS seasons, then worked for the Mutiny and then at D.C. United before taking over in San Jose in 2001. After three seasons and two MLS Cup titles, he became Canada's national team coach, a post he left for the Galaxy job after failing to qualify for the 2006 World Cup.
THE STAR PLAYER
The closest thing San Jose has to a star is forward/midfielder
Chris Wondolowski
, who burst into everyone's consciousness last year (his sixth in MLS) with 18 goals, 10 of them in the final eight games, to swipe the Golden Boot from L.A.'s
Edson Buddle
on the final day of the season.