Los Angeles Soccer:

Kiki Bosio
August, 3, 2011
8/03/11
6:38
AM PT
By
Scott French
| ESPNLosAngeles.com
The Southwest Division failed to get a team to the Premier Development League final four for the second straight year, but four of 11 selections on the All-PDL team went to players from the division's top teams.

Three from the quartet are local: Ventura County Fusion midfielder Danny Barrerra (Thousand Oaks/Westlake HS and UC Santa Barbara) and defender Dillon Barna (Westmont College), and Orange County Blue Star forward Chandler Hoffman (UCLA). Fresno Fuego forward Milton Blanco, the national semipro/amateur league's MVP favorite, also is listed.

The Fusion and Fuego were ousted during the Western Conference final four last weekend in Fresno, both dropping their first games of the season to the Kitsap Pumas, from Bremerton, Wash.

The Pumas pulled out two 1-0 wins, beating Fresno in the final as Daniel Scott -- an All-PDL pick at defender -- scored in the 90th minute of the final against Fresno and goalkeeper Bryan Meredith stopped Blanco's penalty kick in stoppage.

Also chosen to the All-PDL team were Thunder Bay defender Wilson Rodrigues Neto, Michigan Bucks goalkeeper Mitch Hildebrandt and defender Stewart Givens, Central Florida Kraze midfielder Jonathan Mendoza, Des Moines (Iowa) Menace midfielder John Sosa, and Westchester (N.Y.) Flames forward Jake Keegan.


July, 31, 2011
7/31/11
7:57
PM PT
By
Scott French
| ESPNLosAngeles.com
The Orange County Waves' inaugural season finished just as planned, with a trophy following a dramatic victory in Sunday's Women's Premier Soccer League title game in Lisle, Ill.
Former UC Irvine star
Tanya Taylor
(Buena Park/Sunny Hills HS) finished a feed from veteran pro
Brittany Klein
(Arcadia/Arcadia HS) 11 minutes into overtime, and the Waves (14-1-3) held on for a 2-1 triumph over the Chicago Red Stars at Benedictine University.
Kiki Bosio
(Mission Viejo/Santa Margarita Catholic HS and Capistrano Valley HS), like Klein a veteran of Women's Professional Soccer (both are Santa Clara University alums, too), gave the Waves an advantage just before halftime, and the Waves were counting down to a 1-0 victory when
Julie Ewing
pulled Chicago even in the 88th minute.
The speedy Taylor beat Chicago's offside trap to latch onto Klein's through ball on the decisive play.
"Tanya is a handful for anybody," Waves coach
Abner Rogers
told the WPSL's website. "She can just turn it on and just beat you. I felt the game could have gone either way. Like any big game, you're going to have to dodge some bullets, and we certainly got our breaks today."
Kristina Larsen
(Mission Viejo/Mission Viejo HS and UCLA), another WPS vet, came on as a substitute. She suffered a broken collarbone and fractured wrist last month and had been thought done for the season.
It was the fourth successive year a Los Angeles-area team reached the WPSL title game. Ajax America won its second championship in 2008, then lost in the 2009 and 2010 finals.
July, 31, 2011
7/31/11
8:00
AM PT
By
Scott French
| ESPNLosAngeles.com
Hollywood United rallied twice from deficits but couldn't do so a third time and lost in Saturday's National Premier Soccer League title game.
Tommy Krizanovic
's hat trick, with each goal assisted by
Rafak Safi
, prodded Florida's Jacksonville United to a 3-2 triumph at Madison, Ala. Krizanovic netted the winner in the 87th minute.
Hollywood United's
Arturo Albarran
also might have scored a hat trick, but he missed one of two penalty kicks. The Hitmen finish the season with a 14-3-1 mark, and Jacksonville closes at 8-4-0 after losing its first four games.
California teams had won four of the previous five NPSL titles: Sacramento Knights in 2006, Carlsbad-based Southern California Fusion in 2007, Sonoma County Sol in 2009 and Sacramento Gold last year.
WPSL:
The Orange County Waves romped into Sunday's Women's Premier Soccer League's championship game with a 3-0 romp over defending champion Boston Aztec Breakers Reserves in heavy heat in Lisle, Ill.
Meagan Snell
scored two goals and
Kiki Bosio
(Mission Viejo/Santa Margarita Catholic HS and Capistrano Valley HS) assisted a pair of strikes, one by
Katrin Omarsdottir
, for the Waves (13-1-3), who will face final-four host Chicago Red Stars (11-1-0) -- a club on hiatus from Women's Professional Soccer -- in the title match.
"This was a well-played game against a very good Boston team," said Orange County coach
Abner Rogers
. "They really composed some problems for us in the first 20 minutes, but we were able to score on our first or second quality scoring chance. That made a big difference for us in the match, and we're very pleased with the way our team continued to perform ... especially in this heat."
Boston Aztec, which is affiliated with the WPS's Boston Breakers, finished 8-3-3.
The Red Stars pulled out a 2-1 victory over Tampa Bay Hellenic (10-3-1) as former Notre Dame All-American
Michele Weisenhofer
scored and assisted goals.
Rogers was head coach of the L.A. Sol. Chicago's brain trust includes advisor
Charlie Naimo
, who was the Sol's general manager and currently directs the USL Pro's L.A. Blues, who are owned by the Sol's former co-owners.
PDL:
The Ventura County Fusion (10-1-6) completed their season a few steps earlier than they'd hoped to, falling, 1-0, to Kitsap Pumas (13-1-3) in the USL Premier Development League's Western Conference semifinals in Fresno.
Bryan Burke
's 11th-minute goal stood up for the Bremerton, Wash.-based club, which will face Fresno Fuego (14-0-3) on Sunday for a berth in next week's league final four.
Fresno romped to a 3-1 win over the Victoria (B.C.) Highlanders on
Tyler Reinhart
's hat trick, which gives him 15 goals this season.
July, 23, 2011
7/23/11
10:43
PM PT
By
Scott French
| ESPNLosAngeles.com
The Orange County Waves are one win from the Women's Premier Soccer League's final four, but they'll have to beat their toughest rival to get there.

The first-year Waves slipped into the league's Pacific Conference final as Icelandic forward Katrina Omarsdottir scored in the first half of a 1-0 win Saturday night over Marin County's North Bay FC Wave in Dublin, east of Oakland.

The Waves (12-1-2) will meet the San Diego SeaLions, a 3-2 winner over host Bay Area Breeze, in the title game. The winner will join the Chicago Red Stars, Tampa Bay Hellenic and either Boston Aztec Breakers Reserves or ASA Chesapeake in next weekend's final four in Lisle, Ill.

Omarsdottir scored from a pass by former Women's Professional Soccer forward Kiki Bosio in the 21st minute. The SeaLions (12-2-1) got two goals from Alex Webber in their victory.

The teams split their regular-season meetings, with the Waves winning, 3-2, in San Diego on June 19 and the SeaLions prevailing, 1-0, in Costa Mesa on June 25.
July, 22, 2011
7/22/11
11:21
PM PT
By
Scott French
| ESPNLosAngeles.com
It's not Women's Professional Soccer, but it is pro women's soccer, and that's a start -- for the Orange County Waves and a good number of their players. Where it leads is paramount: No less than the future of the women's game in America is at stake.
That's the starting point for the Waves, the most direct descendent of the great but short-lived L.A. Sol and a club that aspires to provide a foundation for the Westward expansion of WPS -- in whatever form that might take -- as the third-year league plots for the uncertainty ahead.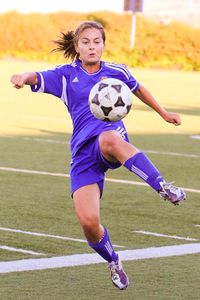 Manny Romero/OC WavesBrittany Klein of Arcadia is one of five players on the OC Waves who have WPS experience.
How that will play out is a mystery, but the Waves plan to be involved, and they've spent the last few months building a worthy résumé in the Women's Premier Soccer League, one of two national semipro/amateur women's leagues playing in the WPS's shadow.

Led by former Sol head coach Abner Rogers, the Waves have made it a point to proceed as professionals in every way -- and yes, everyone except a quintet with college eligibility is paid. It's made an impact on the field.

The Waves (11-1-2) won the WPSL's Pacific-South Division and this weekend is in the Bay Area, at Dublin High School, for the Pacific Conference finals. They take on Marin County's North Bay FC Wave (9-1-4) in a semifinal Saturday -- San Diego SeaLions (11-2-1) and Bay Area Breeze (9-2-3) play in the other semi -- and Sunday's winner heads to next week's WPSL final four in Lisle, Ill.

Rogers bids for the championship with a squad featuring five players with WPS experience (Mission Viejo's Kiki Bosio, Kristina Larsen and Jenny Anderson-Hammond, Arcadia's Brittany Klein and Czech-born midfielder Vendula Strnadova) and another selected in this year's WPS draft (Buena Park's Tanya Taylor, from UC Irvine). Larsen is sidelined because of a broken collar bone after scoring four goals in her first five games.

NOT WPS: The performances have been good, but let's be clear. The range of competition in the WPSL varies greatly, and only the Breeze and SeaLions have given the Waves much of a game. The playoffs will be much tougher: The Chicago Red Stars, one of four clubs shed through WPS's first two seasons, has already qualified for (and will play host to) the league's final weekend. The New York Fury, a virtual WPS side affiliated with the Philadelphia Independence, failed to get through the Eastern Conference bracket.

"The level of play is definitely lower than WPS," said Klein, a central midfielder who played for the Red Stars in 2009 and the Washington Freedom last season but chose not to pursue a WPS roster spot this year. "We still have some girls that are WPS level. So although our competition for the most part is definitely notches down, we try to still maintain a high level."

Says Rogers: "Oh, it's a drop. It's definitely a drop" from WPS to WPSL. "You don't have five or six foreign players. Those players make a big difference. They raise the level of competition in every training session. Everyone knows Marta, but to have [former Sol stars] Aya [Miyama] and Camille [Abily] ... that's what makes the difference."


May, 21, 2011
5/21/11
7:09
AM PT
By
Scott French
| ESPNLosAngeles.com
The Women's Premier Soccer League kicks off Saturday with two new teams from Orange County, and each arrives with very singular plans for success.
The Orange County Waves, led by former L.A. Sol head coach
Abner Rogers
, are primarily a professional club looking toward a jump to Women's Professional Soccer -- or whatever the top tier of the American women's game evolves into.
The Los Al Vikings are designed to provide opportunities for players out of its parent club, Los Alamitos-based Viking Soccer Club, to play competitive soccer after their youth careers have ended and gain exposure from college recruiters.
That both approaches fit the national semipro/amateur league is part of the charm, and part of the problem, with the women's game in the U.S. The primary issues: dwindling popularity of female soccer as a spectator sport in the post-
Mia Hamm
era (while an increasing number of talented players pour from clubs across the nation) and debate over how best to present top players, from the U.S. and abroad, in a country that stretches some 3,000 miles from coast to coast.
The future, the smart observers note, is regionalization, and not the kind the WPS, in its third year, has fallen into. The country's (and maybe the world's) top league has lost five of its original teams -- the Sol was the first to go -- and, this year, is an East Coast-only affair.
Rogers, who guided the Sol into the WPS's inaugural championship game in 2009, understands the minefield that must be traversed. The burning question: How can a national women's league be profitable and meaningful?
November, 19, 2010
11/19/10
2:51
PM PT
By
Scott French
| ESPNLosAngeles.com
Western New York's expansion team in Women's Professional Soccer is getting started with a local player. Moreno Valley's Beverly Goebel (Moreno Valley HS) was one of the two players the Buffalo/Rochester-based club selected Friday in the league's expansion draft.
Goebel, a midfielder who played collegiately at Sacramento State and Miami, saw action in 16 games (starting nine) with one goal during her rookie season this year with the Washington Freedom.
The Flash, which won the United Soccer Leagues' W-League title but must remake its roster in stepping up to the WPS, took Atlanta Beat defender
Kaley Fountain
with the first pick. After selecting Goebel, they passed -- there were only 19 players available -- and will fill their roster through the college draft and in a deep pool of free agents.
November, 16, 2010
11/16/10
11:05
AM PT
By
Scott French
| ESPNLosAngeles.com
Shannon Boxx is looking for a new home. FC Gold Pride, which the imposing midfielder from the South Bay helped to Women's Professional Soccer's title in September, disbanded Tuesday after failing to find the investment required to continue.
The Bay Area-based team follows the L.A. Sol and Saint Louis Athletica into oblivion. The Sol folded last January and Saint Louis' demise arrived seven weeks into the 2010 season. Boxx was on both clubs' rosters when they disbanded.
An effort by a group of investors to purchase part or all of Gold Pride and move the club to Orange County fell through. The group is one of two in Southern California seeking a WPS franchise for 2011.
Gold Pride, which played in Santa Clara in 2009 and in Hayward last year, put together the most impressive collection of talent the women's game has seen and posted a 16-3-5 record, finishing 17 points ahead of second-place Boston. The club routed Philadelphia, 4-0, in the title game.
The roster starred Brazilian superstar
Marta
-- the two-time WPS MVP -- Canadian striker
Christine Sinclair
and Boxx (Redondo Beach/South Torrance HS), plus WPS Rookie of the Year
Ali Riley
(Pacific Palisades/Harvard-Westlake School). Other local players were forward
Kiki Bosio
(Mission Viejo/Santa Margarita Catholic HS and Capistrano Valley HS), defender
Kandace Wilson
(Los Angeles/Walnut HS and Cal State Fullerton) and midfielder
Rosie Tantillo
(USC).
November, 2, 2010
11/02/10
12:11
AM PT
By
Scott French
| ESPNLosAngeles.com
As the U.S. marches toward another Women's World Cup appearance and Canada and Mexico seek to join the Americans, what's going on in Cancun -- site of CONCACAF's ongoing qualifying tournament -- isn't the only thing on players' minds.

All of the U.S. players, several of the Canadians and a couple of the Mexicans are keeping an eye on what's going on with Women's Professional Soccer. Champion FC Gold Pride and the Washington Freedom, a Women's United Soccer Association survivor that is the only team to reach the WPS playoffs in both seasons, are desperately seeking investment to stay alive.

A report over the weekend that both teams would fold Monday was premature, but the possibility they'll become the third and fourth teams in the second pro U.S. league to disband isn't remote by any means. Gold Pride GM Ilisa Kessler on Monday told the San Jose Mercury News that "it's do-or-die week for us." Freedom president Mark Washo was quoted in The Washington Post: "We're approaching the 90th [minute], hoping for extra time."