Los Angeles Soccer:

Kofi Sarkodie
June, 8, 2011
6/08/11
11:02
PM PT
By
Scott French
| ESPNLosAngeles.com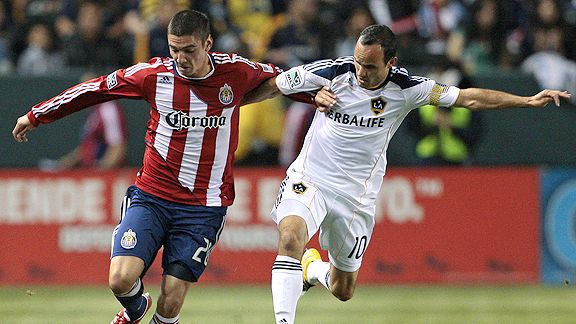 AP Photo/Jason RedmondChivas USA's Zarek Valentin, left, is one of many young players from the University of Akron finding success in MLS.

Last week's visits to Southern California by D.C. United, the Vancouver Whitecaps and the Portland Timbers provided occasion for a mini-reunion among Akron Zips. For Chivas USA defender Zarek Valentin, it was a chance to compare notes with a few other prized rookies produced by the college powerhouse.

Valentin, along with second-year Goats Blair Gavin and Ben Zemanski, was able to hang out with Vancouver midfielder Michael Nanchoff, D.C. United defenders Perry Kitchen and Chris Korb, and Portland midfielder Darlington Nagbe.

"There were a good, like, 10 of us in the L.A. area. So it was pretty cool," said Valentin, whom Chivas made the fourth overall selection in January's MLS SuperDraft. "We were all in one hotel room, just kind of laughing about old times and stuff."

New times, too. Valentin has played three positions on Chivas' backline. Kitchen, taken with the No. 3 overall pick, has been a revelation for D.C. United whether in central defense or at right back. Nagbe, the No. 2 selection, is considered can't-miss, although his young pro career has primarily been about rehabbing injuries. Nanchoff, the No. 8 pick, and Korb are starting to find their way with their new clubs.

Two more players from the Akron side that won the NCAA title last December also are in the league -- Houston defender Kofi Sarkodie was taken with the No. 7 pick, and San Jose midfielder Anthony Ampaipitakwong joined Korb as a second-round pick -- joining a group spearheaded by Seattle winger Steve Zakuani and Sporting Kansas City forward Teal Bunbury.

"It's nice to see that, and it's great to see [the guys from] our program, especially the guys playing," Valentin said. "You love to see two Akron guys in the D.C. game [Friday against the Galaxy], and you see Michael Nanchoff got into his first game -- we watched his touches online."

There's an oddity in all that Akron elegance: Four rookies among the Zips alums -- Valentin, Kitchen, Korb and Sarkodie -- have played at right back in MLS.


January, 12, 2011
1/12/11
11:19
PM PT
By
Scott French
| ESPNLosAngeles.com

The best players available in Thursday's Major League Soccer "SuperDraft"? They're below, in our mock first round. Trades will alter the order, with Real Salt Lake, in particular, looking to deal -- if anybody wants the No. 14 pick.
Several teams, the Galaxy included, could be looking to move up in the draft -- the first half-dozen or so players would help anybody, and there are a few more role players available in a class that might be better than first thought.
The draft has shrunk to just three rounds -- 54 picks -- but those not selected will be available in a four-round supplemental draft Tuesday.
And on to the picks:
January, 12, 2011
1/12/11
9:51
PM PT
By
Scott French
| ESPNLosAngeles.com
Chivas USA knows it's getting something special in Thursday's Major League Soccer draft (ESPN2, 9 a.m.), but what?

The guess here is that the Goats opt for one among the three best backliners available with the No. 4 selection: University of North Carolina center back
Jalil Anibaba
, Akron right back
Kofi Sarkodie
or Akron defender
Zarek Valentin
, a center back whose future probably is as an outside back.
Anibaba, skilled and smooth, is a center back with some of the qualities possessed by
Robin Fraser
, Chivas' new head coach. Sarkodie is ready to step in at right back -- he's a brazen attacker, but there are questions about his defensive game. Valentin, the brother of former Galaxy defender
Julian Valentin
, is most versatile.
Chivas has plenty of needs, and Fraser could decide to go for a forward -- there are at least a half-dozen who are highly regarded -- or a creative midfielder, but the best value will be at the back.
Chivas' draft:
SELECTIONS:
2 (1st round, No. 4; 3rd round, No. 40)
PRIMARY NEEDS:
Just about everything, except perhaps central midfielders -- and maybe wingers, if
Rodolfo Espinoza
is re-signed. Watch for a top-line central defender, who can learn from
Jimmy Conrad
, or an attack-minded outside back to arrive with the first pick, although there are a couple of forwards who might prove too enticing.
POTENTIAL TARGETS:
Anibaba, Sarkodie or Valentin are the best bets, but Texas-born forward
Omar Salgado
, just 17, would be a most fitting addition. He comes from the Chivas family -- he was in Guadalajara's youth ranks but was forced to leave when he committed his international future to the U.S. He's 6-foot-4 with tremendous upside. ... Two other forwards who might be considered are Ecuadorans
Joao Plata
, just 5-3 but with magic in his feet, and
Victor Estupian
. ... Tulsa wing-forward
Ashley McInnes
' stock dropped during the combine, but he might be a steal if he's still around at No. 40.
December, 12, 2010
12/12/10
7:06
PM PT
By
Scott French
| ESPNLosAngeles.com
GOLETA -- Akron should have won the NCAA men's soccer title a year ago. The Zips made amends Sunday, dominating top-ranked Louisville in the College Cup final at UC Santa Barbara and holding on for a 1-0 triumph.

Louisville (20-1-3), massively outplayed, especially in the second half, was unfortunate not to win. The Cardinals were denied a clear penalty kick midway through the first half and nearly netted a late winner, halted only by two desperation saves.

Akron (22-1-2), which fell on penalties to Virginia in last year's final, dictated nearly every phase of play in the second half, using a weaving passing game to trigger waves of attacks and spend most of half in or in front of Louisville's box.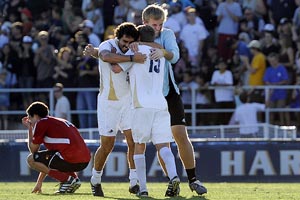 AP Photo/Mark J. TerrillScott Caldwell, second from left, found the net in the 78th minute Sunday to help Akron win its first national title in any sport.


It led to eight corner kicks in the half, and Scott Caldwell finished off one of them in the 79th minute.

Bests, worsts and so forth:

BEST PLAYER: Darlington Nagbe's finishing touch was off, but he was at the heart of Akron's attack all day, opening space for teammates and teaming with playmaker Anthony Ampaipitakwong to connect the dots through Louisville's defense. He set up chances by Michael Nanchoff and Darren Mattocks and fired just wide of the post, but our favorite moment: Nagbe, surrounded at midfield, twirls out of trouble and streaks forward, feeding Kofi Sarkodie on the right flank. The sequence ended with a foul, and the Zips did nothing with the free kick.

Three more we liked: Austin Berry, the backbone of Louisville's backline; Ampaipitakwong, the faux-hawked maestro who makes the Zips zip; and Nanchoff, the left-footer next to "Ampai" whose crosses cause havoc.


December, 11, 2010
12/11/10
1:51
AM PT
By
Scott French
| ESPNLosAngeles.com
GOLETA -- It's No. 1 against No. 2.
Top-ranked Louisville and second-ranked Akron offered scintillating displays in Friday's NCAA College Cup semifinals at UC Santa Barbara's Holder Stadium, but both needed a bit of fortune -- and a late goal -- to claim berths in Sunday afternoon's final.
Louisville (20-0-3) was most impressive against North Carolina, creating far more opportunities but waiting until the end to pull out a 2-1 decision. Akron (21-1-2) was far more dominant against upstart Michigan, spending huge swaths of time in and in front of the Wolverines' box, but it took a defensive miscue to pull out a 2-1 victory and gain a repeat trip to the title game.
Bests, worsts and so forth:
BEST PLAYER:
Lot of candidates -- Louisville's
Chris Rolfe
and
Ryan Smith
, Michigan's
Justin Meram
, a whole host of guys from Akron: midfielders
Michael Nanchoff
,
Anthony Ampaipitakwong
and
Perry Kitchen,
forward
Darlington Nagbe
and defender
Zarek Valentin
, etc. -- but
Kofi Sarkodie
was sensational from start to finish.
He set the tone for nearly everything Akron did: His forays up the right flank and into Michigan's box (he spent more time there than anyone, perhaps, aside from Wolverines goalkeeper
Chris Blais
) drove the attack; his physical play -- not always clean, to be sure -- kept Michigan honest; and he capped the performance with the winning goal, a fine header from Nanchoff's cross in the 74th minute.
BEST GOAL:
After scoring with 52 seconds to play to beat UCLA in the quarterfinals, could it get any better for
Aaron Horton
? Oh, yeah. Three minutes after coming on for All-American Rolfe, the Louisville freshman took a defense-splitting pass from Smith and chipped
Scott Goodwin
-- lifting the top-ranked Cardinals into the final … with just 51 seconds to go.
December, 9, 2010
12/09/10
12:14
AM PT
By
Scott French
| ESPNLosAngeles.com
College soccer's top team? It's Akron, regardless of what the rankings say. (And the rankings say the mighty Zips are No. 2, so close enough.) And college soccer's best team is seeking a return to the the NCAA Division I College Cup final -- and its first championship -- at this weekend's final four at UC Santa Barbara.
Chivas USA midfielders
Blair Gavin
and
Ben Zemanski
are the resident experts on the Zips (20-1-2), and they're doing all they can to be in Goleta for Friday night's semifinal against Michigan (17-4-3) -- or at least, they hope, a title-game clash Sunday against No. 1 Louisville (19-0-3) or North Carolina (16-3-4).
Gavin (who arrived in Akron from Phoenix via the U.S. U-17 residency in Bradenton, Fla.) and Zemanski (a hometown boy) wrapped up their college careers in last year's title game, in which Akron -- No. 1 and unbeaten -- was toppled by Virginia on penalty kicks after a 0-0 draw.
The Zips have soccer pedigree. They went to the 1986 final and have been in the NCAA Tournament 10 of the past 13 seasons. But they've been something else since
Caleb Porter
(an Indiana University product who played in four MLS games in three seasons with San Jose and Tampa Bay in the late '90s) took charge in 2006, going 88-12-11 the past five seasons -- and they're 43-1-2 the past two years and 60-3-8 the past three.
Our view: It's a combination of talent -- MLSers
Steve Zakuani
(Seattle) and
Sinisa Ubiparipovic
(New York) are Akron products, too, and watch for
Anthony Ampaipitakwong
, junior
Kofi Sarkodie
and freshman
Darren Mattocks
soon -- and Porter's superb guidance that has made Akron into a powerhouse. But we went to Chivas' rookie stars for the real scoop.
Three questions:
1. WHAT MAKES AKRON SOCCER SO SPECIAL?
ZEMANSKI:
"I think Caleb has everyone believing that they are the best team in the country and that at the end of the day, they'll find a way to win and achieve their goals. ... It means a lot to the community. The whole community is behind Akron soccer, doing everything they can to support Caleb and bring Akron it's first team national championship. We're not a BCS school. We're a small school that's not recognized a lot for their sports, but Akron has earned the tight to be recognized as a powerhouse in soccer. We're not just a small school when it comes to soccer."