Los Angeles Soccer:

Kyle Davies
January, 17, 2012
1/17/12
9:48
PM PT
By
Scott French
| ESPNLosAngeles.com
Andy Rose
figured to find a Major League Soccer club in last week's SuperDraft. He didn't. He made up for it Tuesday by joining two teams.
Rose was an early pick in the MLS Supplemental Draft, taken at No. 6 by Real Salt Lake, which promptly dealt UCLA's captain to the Seattle Sounders.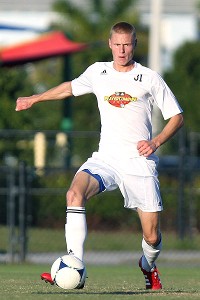 Courtesy of Major League Soccer Real Salt Lake took UCLA midfielder Andy Rose with the sixth pick of Tuesday's supplemental draft.
The Englishman, one of the most prominent players remaining on the board after 38 picks last week, was the first of four Bruins to go in quick succession in the supplemental, with left back Shawn Singh going to Sporting Kansas City with the 16th pick, winger Eder Arreola (Chino Hills/Chino Hills HS) to Houston at No. 18 and goalkeeper Brian Rowe to Chivas USA early in the second round.

That's six players drafted from UCLA's NCAA semifinal team -- New England's Kelyn Rowe and Philadelphia's Chandler Hoffman were first-round picks -- and there are several underclassmen likely to take the step in the next few years.

Rose was one of the real prizes available Tuesday.

"He's a player that we really like," Seattle technical director Chris Henderson, a former UCLA star, told his team's website. "He's a two-way midfielder. He can also sit in as a holding midfielder, so he's pretty versatile. He seems, at a young age, to be a student of the game."

He should be. He grew up in one of the most intense soccer cultures on the planet, and he can compare notes with former U.S. national team coach Bob Bradley, whose daughter dates Rose.

To get him, the Sounders gave up the rights to defender Leone Cruz, a former SMU standout drafted last year who failed to make the team.

Seattle draft selections included UC Santa Barbara defender Tim Pontius (Yorba Linda/Servite HS), the brother of D.C. United standout Chris Pontius, and Cal Poly defender Wes Feighner (Los Alamitos/Los Alamitos HS).


September, 15, 2011
9/15/11
3:49
PM PT
By
Scott French
| ESPNLosAngeles.com
The Galaxy made a backline upgrade on Major League Soccer's roster-freeze date Thursday, acquiring Dasan Robinson from Toronto FC for Kyle Davies.

Robinson, 27, provides experienced depth in central defense, an area of need after Gregg Berhalter's foot injury. Two other center backs, Leonardo and Sean Alvarez, have been out for months after tearing anterior cruciate ligaments.

Davies, 22, also is a center back, but he is considered more of a project than Robinson and has far less pro experience.

Robinson, who is 5 feet 11, 160 pounds, has started 81 MLS games in six seasons, all with the Chicago Fire, which traded him to Toronto FC in July. He made five appearances with two starts this season for the Fire but did not make a league appearance for TFC, although he started three of four MLS Reserve League games after his arrival.

He was a regular starter for Chicago in 2006 and 2007, when Galaxy associate head coach Dave Sarachan guided the Fire, but was slowed by injury in his third and fourth seasons. He made 17 league starts last year for the Fire after just 10 the two previous years.

Davies was acquired in May off waivers from FC Dallas. He did not appear in a league game but played in five reserve games and friendlies against Real Madrid and Manchester City.
July, 24, 2011
7/24/11
7:34
PM PT
By
Scott French
| ESPNLosAngeles.com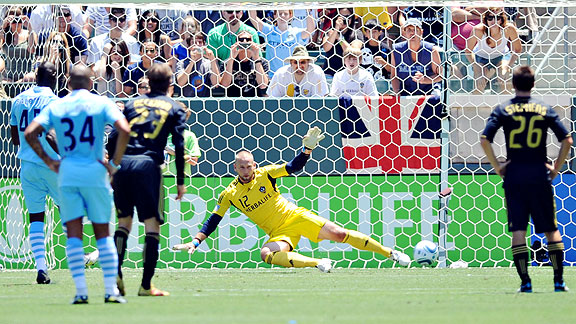 Kelvin Kuo/US PresswireManchester City forward Mario Balotelli shoots a penalty kick against Los Angeles Galaxy goalkeeper Josh Saunder.
CARSON -- Officially, Manchester City won Saturday afternoon's friendly against the Galaxy, prevailing on penalty kicks following a 1-1 draw. But it felt like a victory for L.A., who were the better side in the second half, rallied on a superb Mike Magee goal and accomplished most of what it set out to do.
"I think I saw a little bit more today than I saw in [last week's friendly against Real] Madrid," Galaxy coach
Bruce Arena
said after his team shook off a poor first half to create more than enough chances to beat the English Premier League powerhouse in the World Football Challenge clash at Home Depot Center.
"I think we're gonna have to be playing three games a week for an extended period of time" -- actually, it's twice a week, once CONCACAF Champions League play begins -- "and we need to go deep into our roster. Today were some indications that there are some players we can use, which is a positive."
The best such impression was made by rookie midfielder
Dan Keat
, from New Zealand by way of Dartmouth College, who was slowed by injury early this season but looks like he's ready to contribute now.
Keat played two superb long balls to
Chris Birchall
, the first one leading to Magee's 53rd-minute goal, the second to a
Todd Dunivant
chance two minutes later, and and tested City goalkeeper
Joe Hart
with a blast from Dunivant's rebound. He won balls in midfield and was a solid conduit as the Galaxy took charge over their tiring foe as time wore on.
"I thought Dan Keat played real well," Arena said twice during his postgame news conference. "I was impressed with his composure, his passing. He had a good look at goal. ... His distribution was good, he got around the ball pretty well, won some tackles. ... That was very encouraging."
Said Keat: "Today was all about going out there and showing that I can play at that level and giving a good showing of myself," Keat said. "I think I did that. ... A lot of players stood up and did well. It's good for Bruce to see that everyone performed at that level and showed they can contribute to the second half of the MLS season."
Winger
Hector Jimenez
and defender
Kyle Davies
made their first starts for the first team, and 16-year-old forward
Jack McBean
and midfielder
Dustin McCarty
made their initial first-team appearances.
Frankie Hejduk
returned to the field following a lengthy ankle injury, playing 30 minutes in the second half -- "Huge for us," Arena said -- and reserve forward
Adam Cristman
, midfielder
Jovan Kirovski
and goalkeeper
Brian Perk
got ample time.
Michael Stephens
went the full 90, splitting time in central defense and on the left flank.
Omar Gonzalez
, wearing a mask to protect his fractured nose, played 45 minutes after missing L.A.'s last two games.
June, 20, 2011
6/20/11
5:43
PM PT
By
Scott French
| ESPNLosAngeles.com
It's been a difficult campaign for veteran defender Gregg Berhalter, who sees his playing career nearing its end and wishes he could spend more of the remaining time on the field rather than the trainer's room.
The center back, who will be 38 in August, missed the second half of preseason and most of the first three months with a knee injury and didn't make play in a league game until the final minutes of the Galaxy's victory Saturday night at Colorado.
On Monday, he saw 90 minutes for the third successive MLS Reserve League game and, even better, scored the first goal in a 2-1 triumph over the Vancouver Whitecaps on L.A.'s training field outside Home Depot Center's main stadium, volleying home
Paolo Cardozo
's 27th-minute feed.
"It's been very disappointing [this year]," Berhalter said afterward. "The knee injury took a lot longer than I thought. The preseason was going great, and it's part of it. At some point, you think, listen, you're getting toward the end and you want it to go like a storybook, you know? But it's not always going to happen. You have to deal with what's given to you, and that's what I'm doing right now."
Berhalter has been a major contributor to the Galaxy since signing with MLS in 2009 following 15 seasons in Holland, England and Germany. But he was sidelined with an unexplained injury or virus last August and saw only incremental action at the end of the regular season and in the MLS playoffs.
He was added to
Bruce Arena
's coaching staff during the offseason, so he's had had plenty of work to do while rehabbing his knee and preparing to step in when called upon.
"That's been the positive side, that I was still able to help the team in a certain way, so I'm thankful for that," he said. "But personally, not being on the field, I've thought about that. I played my first 10 minutes in 18 games [on Saturday]. It's disappointing for me, personally, but you still try to stay positive and work hard, and hopefully things will come."
June, 13, 2011
6/13/11
10:31
PM PT
By
Scott French
| ESPNLosAngeles.com
The Galaxy's primary goals this season: Win another Supporters' Shield, reach the knockout phase of the CONCACAF Champions League and claim the MLS Cup title in front of their home fans.
Good thing an MLS Reserve League championship isn't vital, because they're all but dead after Monday's 1-0 loss at Seattle. L.A. is 0-4-0 and can catch the Sounders (6-0-0) only by winning its six remaining league games as the West Division leaders go winless in their last four.
Not very likely. The Sounders, who have shut out their past three foes, pride themselves on their depth, and it certainly showed. Their lineup included Swedish star
Erik Friberg
, Costa Rican outside back
Leo Gonzalez
, veteran defender
Patrick Ianni
and veteran forward
Pat Noonan
.
Riverside's
Sammy Ochoa
(Riverside Poly HS), on trial with Seattle after playing the past five years with Mexico's Estudiantes Tecos, scored the goal. He knocked a rebound over a pile of bodies after Galaxy goalkeeper
Brian Perk
made a point-blank save on his first shot from a Friberg feed.
Perk made seven saves, the biggest a diving foot save on
Miguel Montaņo
in the 71st minute.
WORTH NOTING:
Defender
Kyle Davies
, who exited last week's Reserve League loss at San Jose with an ankle injury, was a second-half substitute. … Duke-bound winger Riley Wolfe (Manhattan Beach/Mira Costa HS) came on late for the Galaxy. On the bench were Loyola Marymount-bound goalkeeper Vince Paldino (Torrance/North Torrance HS) and midfielder Grady Howe (Newport Beach/Corona del Mar HS), a high school junior (and CdM teammate of Galaxy forward
Jack McBean
's). All three are from L.A.'s Academy. ... MLS on Monday awarded defender
Todd Dunivant
a secondary assist on
Chris Birchall
's second-minute goal in Saturday night's 2-2 draw with Toronto FC.
Miguel Lopez
was credited with the primary assist Saturday. TFC's
Danleigh Borman
was given an assist on
Alan Gordon
's first goal. … Next Monday's Reserve League game against Vancouver has been moved to Home Depot Center's Track and Field Stadium. It will begin at 11 a.m. … No playoffs are planned at the end of the Reserve League regular season; the top teams in each of three divisions will be divisional champs.
June, 7, 2011
6/07/11
3:49
PM PT
By
Scott French
| ESPNLosAngeles.com
Another game, another central defender down with an injury.
This time it's newcomer
Kyle Davies
, signed last month off waivers from FC Dallas. He lasted just 16 minutes of the Galaxy's 3-0 MLS Reserve League loss Monday at San Jose, hobbling off because of an ankle injury in his debut for the club.

The good news: It doesn't appear to be severe. The Galaxy's backline depth has been tested considerably with starter
Leonardo
and backup
Sean Alvarado
out for the season because of torn anterior cruciate ligaments and
Gregg Berhalter
missing most of preseason and the first couple of months in the season because of a sprained knee.
Berhalter, also a Galaxy assistant coach, on Monday went 90 minutes for the first time since returning from his injury, signaling he's ready for first-team action. L.A.'s backline leader had played a half-hour in the previous reserve game, a month ago against Chivas USA, and has been on the 18-man game rosters the past six matches.
Goalkeeper
Brian Perk
made his Reserve League debut, and forward
Adam Cristman
, coming off a knee injury, returned to the field for the first time since that May 3 reserve game against Chivas.
ANOTHER LOSS:
The defeat, on two first-half goals by Turkish trialist
Sercan Guvenisik
and another in second-half stoppage -- a 30-yard rocket to the upper corner -- by
Ellis McLoughlin
, left the Galaxy at the bottom of the West Division with a 0-3-0 record. They've surrendered three goals in all three losses.
May, 20, 2011
5/20/11
3:32
PM PT
By
Scott French
| ESPNLosAngeles.com
The worst-kept secret in Major League Soccer is a secret no more:
Kyle Davies
has signed with the Galaxy.
The veteran U.S. youth international center back adds depth to a backline that has lost two central defenders to season-ending knee injuries and been without leader
Gregg Berhalter
, also sidelined because of a knee injury, most of preseason and through nearly two months of the regular season.

Davies was waived May 5 by FC Dallas, and the Galaxy claimed him the following day. MLS had added the Galaxy to Davies' stat page on the league website almost immediately, but L.A. officials say nothing was finalized until this week. He will be eligible for Saturday's game against Chivas USA at Home Depot Center.
The Northern California native's MLS contract was worth $62,500, according to the players' union. A Galaxy official said that contract was semi-guaranteed, and he signed a guaranteed deal with L.A., and it's uncertain if his compensation changed.
Davies, 22, began his professional career in 2007 with Southampton in England, returned to MLS in 2009, was allocated to Real Salt Lake and then traded to FC Dallas, where he made 14 appearances in two seasons and missed most of last year because of a broken arm and an ankle injury. He had not featured for the Hoops this year.
Davies captained the U.S. side at the 2009 FIFA U-20 World Cup in Egypt, where his teammates included the Galaxy's No. 3 goalkeeper,
Brian Perk
, and midfielder
Michael Stephens
.
WORTH NOTING: David Beckham
's free kick to the upper-left corner that finished off last week's 4-1 rout of Sporting Kansas City has been selected MLS's Goal of the Week in an online vote. The strike, a real beauty, was favored by 77 percent of respondents among five nominees. Chivas USA forward
Justin Braun
's first goal of his hat trick in a 3-2 win at New York, also superb, finished fourth with 4 percent of the vote. …
The Sun
in Britain reports that Beckham's wife,
Victoria
, will give birth to the couple's fourth child by C-section on July 4 in Los Angeles, which could force the Galaxy's biggest name out of that night's game against Seattle at Home Depot Center. The tabloid also says the Beckhams are considering naming the baby, their first daughter, Atlanta.
May, 12, 2011
5/12/11
10:40
AM PT
By
Scott French
| ESPNLosAngeles.com
The Galaxy have a second friendly on their schedule now, announcing Thursday that they'll meet England's Manchester City FC on July 24 at Home Depot Center.

The game will come eight days after L.A. meets Real Madrid at the Coliseum. Man City also is slated to play the Vancouver Whitecaps on July 18. All of these matches are part of the World Football Challenge series of exhibitions this summer in North America.

Man City, which is in renaissance under Italian manager Roberto Mancini and a succession of big-money foreign owners. Sheikh Mansour bin Zayed Al Nahyan and United Arab Emirates-based Abu Dhabi Group took over the club in September 2008 and have lavished millions on top players, spending more than $203 million on the transfer market, most in the English Premier League, heading into this season.

The Blues, who Saturday meet Stoke City in the F.A. Cup final, are led by Argentine forward Carlos Tevez, Ivorian defender Kolo Toure, English midfielder Gareth Barry, Spanish midfielder David Silva, Italian forward Mario Balotelli and Dutch midfielder Nigel de Jong.

Man City is fourth in the EPL standings with a 19-9-8 record and this week clinched a berth in next season's UEFA Champions League. Two games remain in the EPL season.

DAVIES SIGNED?: Have the Galaxy signed former U.S. youth international Kyle Davies off waivers from FC Dallas? Reports Wednesday out of New York say yes -- and the Galaxy is listed on his stats page on Major League Soccer's website -- but a club official said negotiations were still ongoing.