Los Angeles Soccer:

Kyle Nakazawa
June, 12, 2012
6/12/12
7:21
PM PT
By
Scott French
| ESPNLosAngeles.com
The Galaxy returns to Major League Soccer action this weekend riding a little wave of success.
Not in the games that count -- they've got eight games in all, seven of them in league, without a victory -- but Tuesday's 3-1 triumph in Vancouver takes L.A. out of the league's minibreak with successive MLS Reserve League victories.

Jose Villarreal
netted two goals in his first start of the year and
Jack McBean
came off the bench to nod home a late winner as the Galaxy (3-1-1) climbed atop the Western Division standings at the University of British Columbia.
Things aren't going so well in MLS proper: L.A. is last in the West and 17th of 19 clubs overall with a 3-8-2 mark heading into Sunday afternoon's clash with Portland at Home Depot Center. Do Reserve League victories translate to the real deal? Subtly but surely.
"It's that feeling," goalkeeper
Josh Saunders
, who went the full 90 after retuning from a month in MLS's Substance Abuse and Behavioral Health program for a 2-1 win 10 days ago at Portland, noted last week. "The guys that were in the locker room after the [reserve games] remember that feeling of winning. That's contagious. Those guys know what it's like to win again, and, hopefully, we can push that into our first team."
Trialist
Andy Iro
, the former UC Santa Barbara All-American who played for Columbus and Toronto FC, went 90 minutes in central defense. Rookie
Rafael Garcia
, a central midfielder, got a look at right back. And assistant coach
Curt Onalfo
, who guides the reserve team, gave Galaxy Academy players
Oscar Sorto
and
Mario Rodriguez
spots in the starting XI.
Villarreal, a Home Grown Player from Inglewood, scored his first two goals since signing in December, finishing a
Michael Stephens
feed two minutes into the second half and adding an insurance goal in second-half stoppage from a long clearance by Saunders.
June, 2, 2012
6/02/12
11:14
PM PT
By
Scott French
| ESPNLosAngeles.com
Josh Saunders
made his return to action,
Leonardo
departed with an injury and the Galaxy finally held onto a lead, winning for the first time since late April in a most noteworthy MLS Reserve League clash.
Two first-half free kicks were put away by
Leonardo
and
Chad Barrett
as the Galaxy claimed a 2-1 victory over the Portland Timbers to vault from fifth to second place in the West Division standings with a 2-1 victory at Jeld-Wen Field in Portland, Ore. It's L.A.'s first win that counts since the April 21 MLS triumph at Colorado and the first of any sort since a reserve friendly three days later against the L.A. Blues, a span of nine games in all.

The biggest news was Saunders' first game appearance since entering Major League Soccer's Substance Abuse and Behavioral Health treatment program at the end of April, but that was quickly overshadowed when Leonardo, just back from a devastating knee injury suffered 13˝ months ago, appeared to reinjure his right knee after a collision in L.A.'s box with Timbers forward
Sebastian Rincon
.
There was no immediate diagnosis on Leonardo, who appeared anguished while lying on the turf, was comforted by several teammates, and had to be stretchered to the sideline.
The Brazilian center back tore several knee ligaments near the end of an April 2011 MLS game in Chicago, including the anterior cruciate and, worse, the lateral collateral, requiring two surgeries and an extended rehabilitation. He made a brief appearance in the April 24 game against the Blues, played a half in the May 8 Reserve League match with San Jose, was activated from the MLS Disabled List on May 18, made the 18-man game-day rosters (but did not play) for the last three MLS matches, and went the full 90 in Tuesday's U.S. Open Cup loss at the Carolina RailHawks.
He went down just five minutes after giving the Galaxy a quick lead, volleying home a free kick that
Kyle Nakazawa
curled toward the left post. L.A. got its second goal in the 30th, also on a Nakazawa free kick, from the right edge of the box.
Jack McBean
, beyond the far post, headed the ball into the goalmouth, and Barrett outleapt
Eric Alexander
to nod it home.
Alexander scored on a 69th-minute penalty kick for Portland after
Rafael Garcia
fouled
Brent Richards
.
Saunders, who remains in the SABH program but returned to training May 21, looked solid in his first action since April 21. He did well on crosses into the box, ably cut off balls meant for Portland's forwards and made all the saves he was supposed to make, none of them particularly difficult.
May, 12, 2012
5/12/12
7:19
PM PT
By
Scott French
| ESPNLosAngeles.com

The Galaxy offered a nice-sized view of what's been going wrong all year and a little of bit of where they want to be, and as bad as they began Saturday's visit to Montreal, they looked very good by the finish.

David Beckham scored on a second-half free kick as L.A. rallied from an early deficit for a 1-1 draw with the Impact, a result that can be considered fortuitous -- the Galaxy deserved absolutely nothing for its first 45 minutes -- or another in a long line of disappointments. Maybe a little of both.

The Galaxy (3-5-2, 11 points) might have scored four or five goals if not for the presence of their former goalkeeper Donovan Ricketts, who made huge diving stops on Landon Donovan and Marcelo Sarvas and shined in a quick sequence to deny Donovan and Robbie Keane to reward the Impact (3-5-3, 12 points) with a point.

"I think [we] played well in the second half, and I think the difference in the game was probably Ricketts, came up with some big saves for Montreal to keep them in the game," Galaxy head coach Bruce Arena said on the club's television broadcast. "I thought the way our guys went out in the second half and got after it and got the ball on the ground and started passing and moving, we were a different team."

Might it be, finally, the stride forward that starts L.A. on the expected path following a horrendous first two months to the season marked by muddy, imprecise play, defensive miscues and struggles to match foes' intensity in battle?

"After the second half, yeah, I believe it is," Beckham said on the Galaxy telecast. "Just because we worked hard. We're going through a tough time at the moment, where we're not getting the results, we're not getting the run of the green. But I think we've got character. We've got a lot of pride. I think we showed that in the second half, and we played a lot better. Hopefully, we can push on from here."

The first half was a reminder of how bad things have been. The Galaxy, the numbers say, had a lot more of the ball, they just couldn't do anything with it. Montreal dominated the duels, continually built toward L.A.'s box and was in charge almost from the start, after Davy Arnaud delivered just eight minutes in.

It was another defensive error, or a couple of them, that led to the goal. Dan Keat, whom L.A. is converting from holding midfielder to central defender, got his chance in the middle -- it was his second first-team appearance this year and just his second MLS start in all -- and it didn't go smoothly.

Keat was caught flat-footed when A.J. DeLaGarza failed to adequately deal with a long ball from Impact defender Nelson Rivas, which bounced to Arnaud, who with just a couple of touches was past the New Zealander and honing in 1-on-1 with goalkeeper Brian Perk, an unexpected starter, who hesitated coming off his line. Arnaud's finish was precise.


April, 7, 2012
4/07/12
7:12
PM PT
By
Scott French
| ESPNLosAngeles.com
Could it possibly just be that the Galaxy isn't very good?
It's something worthy of consideration following their latest defeat, a 1-0 decision Saturday afternoon to a vastly superior Sporting Kansas City side, in which L.A.'s vaunted attack -- missing
David Beckham
, yes -- created nearly nothing against Major League Soccer's new standard-bearer.

It was an improvement over last weekend's loss to New England, in that the Galaxy was tight at the back and made K.C. work for its every opportunity, but hardly the stuff championship runs are made of.
Lawndale's Kei Kamara scored the only goal
, [click the link to view a nice video feature on Kamara] and he should have had another, as Sporting became the first MLS club since the Galaxy in 1996 to start a campaign with five straight victories. The ex-Wizards dictated nearly every facet of the match, stringing passes together, opening space through possession and direct play, pressuring the Galaxy all over the field while denying them anything in midfield.
L.A. (1-3-0) got off just four shots, none on target -- K.C. has conceded only one or no shots on goal in four of its five wins -- and completed an abysmal 62 percent of its passes, a number that declined as it increasingly utilized Route 1 trying to get back into the game in the countdown to 90.
One team was outstanding, and that team wasn't the Galaxy.
"We came to compete today, but I don't remember us connecting five passes in a row," Galaxy midfielder
Mike Magee
told media afterward. "Sporting Kansas City played at a high level today. They've got some amazing players, and some good guys coming off the bench. … They're a big, fast, athletic team. They're getting hungrier and hungrier the more they win. They aren't a team I'd like to play every day."
The Galaxy lost most of the battles, seemed to lose every second ball, and struggled to keep the plot, goalkeeper
Josh Saunders
and striker
Robbie Keane
aside.
Edson Buddle
was a step or two slow and never really got involved --
Chad Barrett
's entrance in the 56th minute sparked some life in L.A.'s offense -- and poor showings by
Juninho
in central midfield and right back
Sean Franklin
hurt as Kansas City, fueled with superb showings by Kamara and fellow winger
Bobby Convey
, dominant front man
C.J. Sapong
, central midfielders
Graham Zusi
and
Roger Espinoza
, and center back
Aurelien Collin
, scored a triumph far more one-sided than the score suggests.
March, 22, 2012
3/22/12
3:40
PM PT
By
Scott French
| ESPNLosAngeles.com
CARSON -- The Galaxy announced Thursday they will take on Tottenham Hotspur in a July friendly at Home Depot Center. What they didn't announce is how difficult a fit the game is in their schedule.
The July 24 date makes for five matches in 15 days in the middle of one of the toughest stretches in L.A.'s schedule: Seven of eight league clashes on the road, with the home game (and one of the away games) a SuperClasico match against Chivas USA.
The Galaxy plays at Portland on July 14, at Vancouver on July 18, and at home July 21 against Chivas. L.A. is off to play FC Dallas in Frisco, Texas, four days after the Tottenham match.
Summer friendlies are increasingly a highlight of the American soccer schedule, and the Galaxy is expected to play two top clubs this summer. Tottenham, with which L.A. has a longstanding relationship, had long been rumored. Manchester United's name has been bounced around a bit, too.
What about Real Madrid? The Galaxy played friendlies with the Merengues the past two seasons, at the Rose Bowl and the Coliseum, and manager
Jose Mourinho
has annually brought his team -- first Chelsea, then Inter Milan, the Real -- to UCLA for preseason. There has been speculation Mourinho will depart Real in May, and former president of business operations
Tom Payne
last summer told ESPN Los Angeles that he had told the Spanish giant that their presence in Southern California prevented other clubs, which the Galaxy hoped to play in friendlies, from visiting the area.
The Galaxy has been more aggressive about scheduling friendlies since
Bruce Arena
took charge in August 2008. AC Milan and Barcelona visited in 2009, Real Madrid and Argentina's Boca Juniors in 2010, and Manchester City -- currently second in the EPL -- played at Home Depot Center eight days after last year's Real Madrid tilt. Chelsea visited HDC in 2007.
The Galaxy also played a July 2009 friendly against Crystal Palace in Richmond, Va., but it was abandoned at halftime because of heavy rains.
Tottenham, which features American goalkeeper
Brad Friedel
and has spent most of this season sitting third in the English Premier League standings, has a business relationship with the Galaxy, and
David Beckham
and
Robbie Keane
are close to Spurs manager
Harry Redknapp
, who could become England's national team coach in May. Beckham trained before the 2011 season with Tottenham, and Keane, a former Spurs striker, spent a few days in January working out with the club before joining Aston Villa on loan.
BECKHAM IS WEALTHY:
Beckham is the soccer world's second-best earner,
France Football
magazine reports, making $41.5 million last year through salary, endorsements and other earnings. He was MLS's only player in the top 20, no surprise except that New York's
Thierry Henry
was a regular presence on the annual list until arriving in the league two years ago.
March, 14, 2012
3/14/12
1:20
PM PT
By
Scott French
| ESPNLosAngeles.com
UCLA's presence in Major League Soccer is somewhat staggering. There are 20 Bruins on opening-day rosters, at least one for 11 different clubs. Several others were in camps during preseason and could crop up again.

Westwood has long produced top players -- at least three in every U.S. World Cup team back to 1990, usually in important roles; on the last seven men's Olympic rosters; and 61 Bruins have played in MLS since the league's 1996 debut.

The 20 this year includes Galaxy forward Chad Barrett, midfielders Kyle Nakazawa and Michael Stephens, and goalkeeper Brian Perk, and Chivas USA midfielder Peter Vagenas.

The others, by club:

Colorado Rapids: Defender Marvell Wynne.
FC Dallas: Goalkeeper Kevin Hartman.
New England Revolution: Midfielders Benny Feilhaber and Kelyn Rowe, and goalkeeper Matt Reis.
Philadelphia Union: Forward Chandler Hoffman and midfielder Amobi Okugo.
Portland Timbers: Midfielder Sal Zizzo.
Real Salt Lake: Defender Tony Beltran and goalkeeper Matt Reis.
Seattle Sounders: Forward David Estrada, midfielder Andy Rose and defender Patrick Ianni.
Sporting Kansas City: Defender Chance Myers.
Vancouver Whitecaps: Defender Jordan Harvey.

That's not all. Sounders head coach Sigi Schmid played at UCLA, then guided the Bruins to three NCAA titles before winning MLS Cup titles with the Galaxy and Columbus Crew. Chivas USA assistant coach Greg Vanney played at Westwood. Sounders technical director Chris Henderson, part of the 1990 World Cup side, is a member of the fraternity.

Former Chivas USA captain Jonathan Bornstein, now in Mexico, is a Bruin. So are Jimmy Conrad, who moved into Chivas USA technical department after retiring last year; Frankie Hejduk and Sean Alvarado, who were with the Galaxy last year, and Maxwell Griffin, a second-division forward who spent time last season with San Jose.

UCLA's former MLS standouts also include National Soccer Hall of Famers Cobi Jones and Paul Caligiuri, slam-dunk future inductee Brad Friedel (with Tottenham in England) and U.S. national team captain Carlos Bocanegra, a two-time MLS Defender of the Year toiling for Rangers FC in Scotland.

Here's this week's power rankings:

1. SEATTLE SOUNDERS (0-0-0, 0 points), Last Week: 2
Last week: Idle after David Estrada and Brad Evans fueled 2-1 win over Santos Laguna in the first leg of the CONCACAF Champions League quarterfinals.
We say: UC Irvine-produced national-team pool midfielder Brad Evans says Santos is "the best team we're going to face all year." He's probably right.
So Cal hero: Lots to choose from. We're rooting for Riverside's Sammy Ochoa, who landed in Seattle after playing in Mexico.
Next: Wednesday in a Champions League quarterfinal second leg at Santos Laguna (Mexico), 5 p.m. (Fox Soccer Channel and Telefutura); Saturday vs. Toronto FC, 7 p.m. (MLS Direct Kick).

2. REAL SALT LAKE (1-0-0, 3 points), LW: 3
Last week: Javier Morales and Fabian Espindola add to an own goal as RSL scores three in the last 18 minutes to beat the Galaxy, 3-1.
We say: Kyle Beckerman huffs after beating Galaxy: "When have they been the better team? … They never possess the ball. They sit in. It's a matter of if we score or not. We're always going to have the possession."
So Cal hero: Montclair's Nick Rimando might be MLS's best netminder.
Next: Saturday vs. New York, 7 p.m. (MLS Direct Kick).

3. GALAXY (0-1-0, 0 points), LW: 1
Last week: The Galaxy rally for a 2-2 Champions League draw at Toronto FC, then concede a late lead in a 3-1 loss to Real Salt Lake, ending a 25-game HDC unbeaten streak.
We say: Goals-against average after two games: 2.5. In preseason: 1.89. Last year: 0.79.
So Cal hero: Bell Gardens' Hector Jimenez is a winger ready to contribute.
Next: Wednesday in a Champions League quarterfinal second leg vs. Toronto FC at Home Depot Center, 7 p.m. (Fox Soccer Channel and Telefutura); Sunday vs. D.C. United at Home Depot Center, 4 p.m. (KDOC/Channel 56 and Galavision).

March, 6, 2012
3/06/12
3:53
PM PT
By
Scott French
| ESPNLosAngeles.com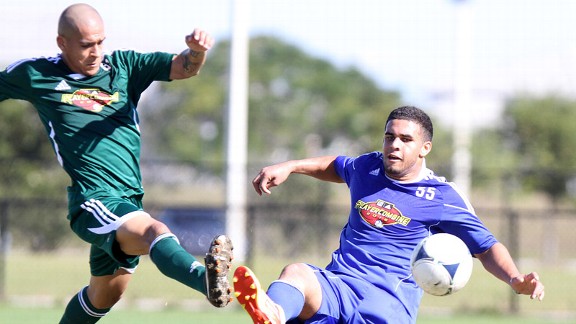 Major League SoccerCal State Northridge's Rafael Garcia, left, has made the Galaxy's 30-player roster.

TORONTO -- Rafael Garcia, whose San Fernando Valley exploits revealed him as one of Southern California's most promising young players, will get his shot at the big time.

The central midfielder from Canoga Park and Cal State Northridge survived preseason with the Galaxy, winning one of the final three roster spots. The Galaxy has not yet announced the deals but are expected to later Tuesday or Wednesday.

Defender Bryan Gaul and midfielder Kenney Walker also signed with the club, giving L.A. 31 players, although only 30 -- the MLS cap -- will count against the roster maximum until Omar Gonzalez, expected to be out until at least September because of a torn anterior cruciate ligament, comes off the disabled list. They'll then have to make a roster move.

Garcia, 23, part of the great Canoga Park High School team that won a mythical national championship in 2007, starred at Northridge, participated in Major League Soccer's pre-draft combine in Florida and was selected by the Galaxy in the second round of January's supplemental draft. He impressed in just three preseason match appearances, providing one of the highlights of L.A.'s preparations with a dynamic run to set up a Dan Keat goal in a 3-2 victory Feb. 16 against Chivas USA.

"I'm at a loss for words," Garcia said following the Galaxy's training session Tuesday afternoon at Rogers Centre, where they'll face Toronto FC in a CONCACAF Champions League quarterfinal first leg Wednesday night. "I'm really excited to be on the team, and to make it official is just a great feeling.

"I tried my hardest [during preseason]. I worked very hard. I like to think my hard work paid off. I looked at the rest of the midfielders, saw what they were doing, and I learned a lot. I think that was to my benefit, and thank God it all worked out for me."

Gaul, 22, a 6-foot-5 forward-turned-center back from Bradley University, also was selected in the supplemental draft. He made eight preseason appearances, with three full 90s, primarily partnering Andrew Boyens as a second-choice tandem in the middle.

Walker, 23, a central midfielder from the University of Louisville, was taken in the second round of the SuperDraft after an impressive performance at the combine. He played in seven preseason matches.

Supplemental draft pick Justin Davies, an outside back from San Diego State, and trialist J.T. Murray, an outside back from Louisville who was drafted last year by Sporting Kansas City but did not make the Wizards' roster, were released from camp.

Center back Tommy Meyer, the Galaxy's first-round SuperDraft selection, signed an MLS contract before the draft.


February, 29, 2012
2/29/12
2:55
PM PT
By
Scott French
| ESPNLosAngeles.com
The Galaxy made their decision on a third goalkeeper, signing veteran Bill Gaudette and waiving Nick Noble in advance of Wednesday's Desert Diamond Cup match against New York in Tucson, Ariz.
Gaudette, 30, joined L.A. on trial at the start of preseason after playing last year with the Montreal Impact in the second-tier North American Soccer League. He was with the Columbus Crew from 2005 through 2007, then starred for the Puerto Rico Islanders, helping the Caribbean power upset the Galaxy in the CONCACAF Champions League's preliminary round in 2010.
He's seen action in three preseason games, surrendering two goals in 128 minutes.
Noble, 27, a former Chicago Fire goalkeeper, signed with the Galaxy in December after two years in Sweden with second-tier Ljungskile SK. He played in four preseason games, for 187 minutes, conceding six goals.
Josh Saunders
won the starting job last season from Jamaican star
Donovan Ricketts
, who was traded last November to Montreal. It is unclear whether Gaudette or returning No. 3 keeper
Brian Perk
, a UCLA alum from Rancho Santa Margarita who has been injured throughout preseason, will be Saunders' chief backup.
February, 3, 2012
2/03/12
6:46
PM PT
By
Scott French
| ESPNLosAngeles.com


CARSON -- The Galaxy are through only two weeks of preparations, they're missing their biggest names and haven't had much chance to build chemistry among the returning players and newcomers, so whatever their preseason opener produced doesn't mean a whole lot.

But as first impressions go, their victory Friday morning over the L.A. Blues had definite wow factor.

The Galaxy sent out a virtual starting lineup for the first 45 minutes -- everyone except he four missing stars and injured Omar Gonzalez's replacement -- and dominated the Blues, scoring five goals before halftime in a 7-2 romp on the club's practice field at Home Depot Center.

Marcelo Sarvas enjoyed a wonderful debut, teaming with Michael Stephens in central midfield to orchestrate an attack that moved easily, with interchange worthy of midseason, and passed the ball almost at will in a performance that suggests far more than it should.

The Blues, preparing for their second campaign in the third-tier USL Pro, also is in preseason form and did without a good number of their top players, but they're not an MLS club and couldn't keep up until L.A. coach Bruce Arena brought on a less-experienced cast for the second half.

Adam Cristman scored twice and assisted another, Sarvas converted a penalty kick and set up two goals with defense-splitting passes, and teen phenom Jack McBean scored as nice a goal as he might ever score to highlight a far more even second half.

Sarvas, the Brazilian playmaker brought in from Costa Rican power Alajuelense to replace departed Juninho, made the biggest impression. He's got quick feet, great ideas and vision that is going provide an additional dimension to an L.A. attack that seems to gain more each day.

The Galaxy made it look easy in the first half. Sarvas provided the lead from the penalty spot after a hand ball, Todd Dunivant finished from Sarvas' service about a half-hour in, Cristman tapped home a gift from Paolo Cardozo after a penetrating ball from Stephens, Cardozo scored from Cristman's feed, and Cristman added another after Sarvas played Sean Franklin into the box.

"It was certainly a concern losing Juninho -- he was a great player, and we're going to miss him -- but I think Marcelo is stepping in the role very nicely and is almost very similar in his ball-winning and distribution and chance creation," Cristman said. "He played a great ball that led to [the last goal of the half], and he does a good job of switching the ball, and I think he combines well with the guys in the middle of the field. I think we had some good combinations in there.

"That was good to see, and good to see him in a real game situation. He's going to be a good fit for us."

Sarvas said it wasn't quite as easy as it appeared.


February, 2, 2012
2/02/12
7:25
PM PT
By
Scott French
| ESPNLosAngeles.com
CARSON --
Kyle Nakazawa
couldn't wait to get home. He was on a plane almost the minute his trade to the Galaxy was completed Wednesday and was out at practice, wearing No. 34, Thursday morning at Home Depot Center.
"Happiest couple days of my career so far," he beamed when the session was over. "You know, I couldn't be happier -- being back home, playing in front of family and friends, and, of course, playing for the defending champs, a great organization. I couldn't be happier."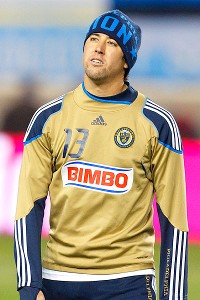 Jason O. Watson/US PresswireKyle Nakazawa, a UCLA product from Palos Verdes, is thrilled to be with the Galaxy.
The former UCLA All-American from Palos Verdes Estates arrives after two years with the Philadelphia Union, where he started 22 of his 36 Major League Soccer appearances but struggled to find a regular role in Peter Nowak's system. He had heard word of talks between the clubs before, "but nothing materialized, and then the last couple days things kind of came together."

The deal, with the Galaxy also picking up a 2013 second-round draft pick and surrendering an international slot for this season, was finalized Wednesday afternoon Philly time, "and I was on a plane back here already," Nakazawa said. "I was happy for what happened in Philadelphia. It was a good two years. But like I say, I couldn't be happier to be back home playing here."

The 23-year-old midfielder, who played for the Irvine Strikers and at Peninsula High School before joining the U.S. under-17 national team's Florida residency in advance of the 2005 FIFA U-17 World Cup, adds to L.A.'s deepening midfield. He provides head coach Bruce Arena another option -- to go with former Bruins teammate Michael Stephens and three second-year players, playmaker Paolo Cardozo, organizer Dan Keat and winger Hector Jimenez -- behind the anticipated first-choice quartet: Landon Donovan, David Beckham, Marcelo Sarvas and Mike Magee.

"I think he's a very good two-way player," Arena said. "He plays simple. He's a very good competitor. In the college level he could score goals; at the professional level we saw that he was a very good player on set pieces, serving balls, hitting free kicks. He's got some qualities that we can use on our team."

Nakazawa likely won't get the chance in too many dead-ball situations -- David Beckham is the Galaxy's primary set-piece taker, and Landon Donovan is No. 2 -- but his versatility will come in handy as Arena rotates his lineup among at least 41 competitive matches. Nakazawa is a central midfielder by trade but can play on the flanks, too, especially with the Galaxy, which doesn't use its wide midfielders as out-and-out wingers.

"I'm just looking to help this team in any form I'm asked upon," Nakazawa said. "Any position on the field that Bruce and the coaching staff wants me to step up and play, I'm willing to do, and just work as hard as I can and help the team get another championship."

He describes himself as a "linking player" who is "trying to grow myself more into a box-to-box midfielder" and realizes adding goals to his résumé is part of his evolution "to become a complete professional." He scored 20 at UCLA, but has just one (and three assists) in MLS play. He started 14 games last year as the second-year Union qualified for the postseason, but Nowak has turned over his roster during the offseason. Nakazawa was the 13th departure.

"I don't know what's going on, but I know there's a lot of changes, and, you know, I was one of those players going out," he said. "But I think the situation worked out well for me."


February, 1, 2012
2/01/12
4:13
PM PT
By
Scott French
| ESPNLosAngeles.com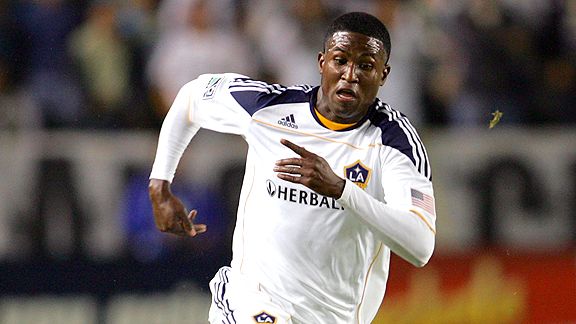 Victor Decolongon/Getty ImagesEdson Buddle scored 44 goals in 3 1/2 seasons with the Galaxy. Now he's back for more.

CARSON -- The Galaxy made a significant move in defense of its Major League Soccer titles Wednesday, bringing home striker Edson Buddle from Europe and trading for midfielder Kyle Nakazawa, a former UCLA All-American from Palos Verdes.

Buddle's acquisition is huge, giving the Galaxy the tools to present an attack unrivaled in MLS annals while probably defining, no matter what Bruce Arena is willing to acknowledge, first-choice roles in midfield and on the backline.

How big is this? The Galaxy might have just won another championship.

Buddle, who scored 44 goals in 3˝ seasons with the Galaxy before departing a year ago to play in Germany, returned to Southern California on a free transfer after second-tier FC Ingolstadt released him Tuesday from his contract. L.A. had retained his MLS rights.

"It's nice to have Edson back," Arena said following Wednesday's training session at Home Depot Center. "He's going to be a good addition to our team. ... We've been in contact with Edson's representative for a while, and we've always made him aware of the fact that if the opportunity presented itself where he could come back, we'd sure like to get him back."

Buddle, 30, scored 94 MLS goals in 10 seasons with Columbus, New York, Toronto FC and the Galaxy, and he was a league MVP finalist and Best XI selection in 2010 after scoring 17 goals as the Galaxy won the Supporters' Shield and two more in the first-round playoff series victory over Seattle. He's twice hit double-figures in goals and scored nine on two more occasions -- and netted nine in 33 appearances for Ingolstadt.

Buddle, who played in the 2010 World Cup, is fast, athletic and, at 6-foot-1, has good size. Throwing him up top with Irish star Robbie Keane (who was acquired in August to replace Juan Pablo Angel, the man who replaced Buddle), with Landon Donovan and David Beckham right behind them, gives L.A. the league's most explosive attack -- perhaps ever.

"Hopefully, it's going to be good," Arena said. "Obviously, he's not going to have much time to work with Robbie. Robbie's getting here kind of late [joining camp in early March after a loan spell at Aston Villa]. I anticipate over time, it'll be a good group.

"We're real pleased with the [forward] contingent we have here, with [Chad] Barrett and [Pat] Noonan and [Adam] Cristman and [Jack] McBean, as well, so we'll have a number of options there. And we'll need it. For the schedule we have, we'll need to be deep in that position."


February, 1, 2012
2/01/12
9:37
AM PT
By
Scott French
| ESPNLosAngeles.com
The Galaxy might be picking up former UCLA star Kyle Nakazawa today from Philadelphia. Reports in the Union's market have the midfielder from Palos Verdes Estates headed home in exchange for an international roster slot and two second-round draft choices.

The prospective trade was first reported early Wednesday morning by The Philly Soccer Page, which cited "a source."

(UPDATE, 10:36 a.m.) A Galaxy official said the team would be confirming Nakazawa's acquisition later in the afternoon.

Nakazawa, 23, has started 22 matches in 36 Major League Soccer appearances since joining the Union in 2010 following an All-America senior campaign at UCLA. He's a skilled midfielder with superb dead-ball skills who has scored once and assisted three goals in league play with Philadelphia.

Union coach Peter Nowak has massively revamped his roster after guiding the club to the MLS playoffs in its second season.

Nakazawa (Peninsula HS) played in the 2005 FIFA U-17 World Cup and with the U.S. under-20 national-team. He developed with Irvine Strikers, one of Southern California's top youth clubs.