Los Angeles Soccer:

L.A. Strikers
June, 12, 2012
6/12/12
8:48
PM PT
By
Scott French
| ESPNLosAngeles.com
IRVINE -- Daniel Steres was drafted by Chivas USA, spent a month in camp with the Seattle Sounders, and has been a force -- in the back or anchoring the midfield -- as the Ventura County Fusion have turned the Premier Development League's Southwest Division into their own playground.

Now he's back with the Sounders, taking the next step in his journey to being a full-fledged professional.

Steres (Calabasas/Calabasas HS), who starred at San Diego State, was taken by Seattle in last week's college-waiver draft and headed over the weekend to Washington.

"We're getting the contract [sorted out], and then working my way up to get a starting role, obviously," Steres told ESPN Los Angeles after the Fusion's 2-1 victory Friday evening over Orange County Blue Star. "Sounds like they're excited to have me come in. I'm excited to go in."

Steres, probably a center back or right back in MLS, lost out in numbers games during preseason at Chivas and, after his release by the Goats, in Seattle. He's been superb for the Fusion, bolstering the backline next to Mickey Daly (Cal State L.A.) or Tim Pontius (Yorba Linda/Servite HS and UC Santa Barbara) or teaming with former Chivas USA/Portland Timbers midfielder Rodrigo Lopez (Santa Barbara/Santa Barbara HS) in central midfield.

The Fusion (6-1-1) are atop the Southwest Division after rallying for a 2-1 win against Blue Star at Concordia University. Travis Bowen (Van Nuys/Chatsworth HS), the older brother of Chivas USA forward Tristan Bowen, scored both goals -- his fourth and division-best fifth of the season -- with the winner coming in the 76th minute.

Ventura is one point ahead of FC Tucson, which visits the Fusion next weekend.

Pontius, the younger brother of D.C. United midfielder Chris Pontius, also is getting some MLS attention. The big center back, a Sounders draft pick, has been in camp the past week with the Galaxy. He says playing with the Fusion has helped prepare him.

"College is one thing," he said. "College prepares you for the next step. This is kind of the in-between phase between college and pros. You've got a lot of players here who can make the next step."

He said his time with Sounders in preseason was "spectacular."

"Unfortunately, it didn't work out for me, but at the end, I gained a lot of experience out of that opportunity," Pontius said. "Spots were tight there, so there's only so much you can do. You play your game, if it doesn't work out, it doesn't work out. You try the next one."

Elsewhere in minor-league soccer:


May, 13, 2012
5/13/12
1:30
AM PT
By
Scott French
| ESPNLosAngeles.com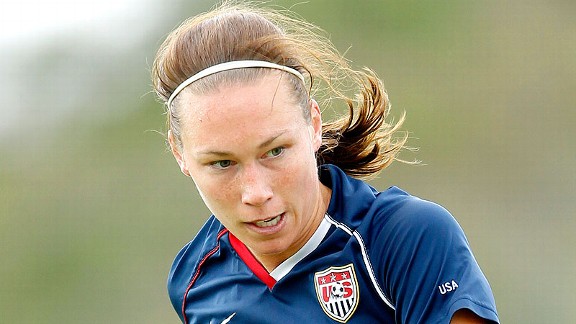 Joel Auerbach/Getty ImagesThe Pali Blues have brought in U.S. national team defender Whitney Engen to their roster this season.

A tumultuous winter has left the American women's soccer landcape in flux: The pro league is dead and gone, a lot of the players have scattered overseas, and the maneuvering for position among clubs and rival leagues for whatever's next is well under way.

The impact will surely be felt in the USL W-League's Western Conference, which has picked up its share of big names -- with more possibly to come.

The W-League season kicked off this weekend, and two Western matches are featured -- one pitting SoCal clubs Pali Blues and L.A. Strikers on Sunday evening at Occidental College. Pali, a two-time league champion, is one of the clubs benefiting from the talent dispersal and thus one of the expected contenders to win the national amateur/semipro league's title.

The Blues have brought in one national-teamer -- defender Whitney Engen, from Rolling Hills Estates -- among a handful of WPS veterans, and more could be coming, with speculation centered on local stars Abby Wambach, Shannon Boxx and Amy Rodriguez.

The Seattle Sounders made the biggest splash, luring the U.S. team's biggest name (goalkeeper Hope Solo) and hottest property (Diamond Bar's Alex Morgan, whose boyfriend, Servando Carrasco, plays for the Sounders' MLS side), the No. 1 pick in the WPS draft (UCLA's Sydney Leroux), along with two more national-teamers (midfielder Megan Rapinoe and former L.A. Sol defender Stephanie Cox), among other pros.

"It's interesting. Kind of a feeding frenzy," said L.A. Strikers head coach Demian Brown, who did not pursue WPS and U.S. national team stars. "I know a lot of W-League teams made real strong pushes for international and national team players, and almost by circumstance we didn't. I would have loved to have a Whitney Engen or a Hope Solo, but some of those women will only play in the league for a bit because of their commitment to the country."

Most WPS vets will be available all season. The national-teamers, as Brown says, not so much. The London Olympics begin in mid-July, and preparations will be the top priority for the big stars the rest of the spring and into summer.

"I'm not worried about the full national team players [Seattle] signed," said Charlie Naimo, who guided the Pali Blues to the 2008 and 2009 W-League titles, served as GM of the WPS's L.A. Sol in 2009 and returns to the women's game after taking last season off to concentrate on the L.A. Blues pro men's team, which he continues to run. "They're not going to be around for the playoffs. When I look at the league schedule versus the national team schedule, they're physically available for only a few league games. If they do play against us, we'll be excited. It's a great challenge for our team."

The Vancouver Whitecaps, who reached the W-League title game two years ago and the semifinals last year, have a handful Canadian national-teamers but lost the core of its team. The Colorado Rapids, formerly the Force and now the third team in the league with an MLS affiliation, brought in WPS standout Brittany Bock, another former Sol player.

Everybody, it appears, will be improved, at least in the eight-team West, which features three Pacific Northwest teams (the third is in Victoria), two from Colorado and three teams from So Cal (the third is Santa Clarita Blue Heat). It might be the best division in the women's game, on par with W-League rival rival Women's Premier Soccer League's Elite Division, which has three WPS survivors.

A look at the three local teams:


April, 19, 2012
4/19/12
11:05
PM PT
By
Scott French
| ESPNLosAngeles.com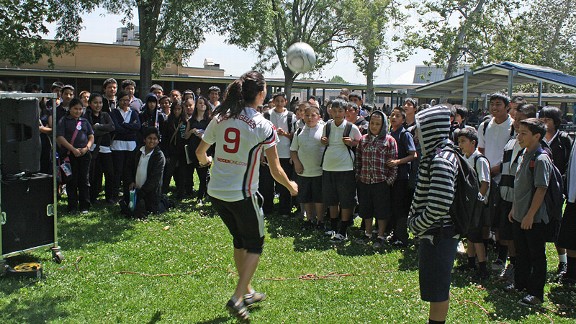 Rebecca Neuren/L.A. StrikersL.A. Strikers captain Vanessa Valentine shows off her skills at Sun Valley Middle School.

The USL W-League season is not quite a month away, and the L.A. Strikers will be looking to take a step forward after a 4-9-1 campaign in their inaugural season. There's new ownership, a new home, new players and high hopes that the team can compete with the giants of the Western Conference, a task that won't be simple.

Whatever the Strikers do, they're champions in the eyes of a lot of middle-schoolers in the San Fernando Valley. The Glendale-based club, represented by captain Vanessa Valentine, Mexican national-teamer Christina Murillo and general manager Rebecca Neuren, paid a visit Wednesday to Sun Valley Middle School's "field of dreams" to promote an after-school recreational program primarily for at-risk youth.

Neuren, Valentine, a four-time All-Big West Conference selection at Cal State Fullerton, and Murillo (Ojai/Nordhoff HS), who was a Big Ten All-Freshman pick last fall at Michigan, juggled soccer balls with the kids during a lunchtime rally, then appeared at an event after final bell to promote participation in Mark Ubben's after-school sports program, which focuses on team sports.

Attendance among girls at the after-school session was double the usual turnout, school officials told the Strikers, who worked with program coaches to run successful practices -- fun, interesting and helpful -- that will keep kids excited and involved.

The program is vital in the mostly Hispanic community, in which pressures at home -- to work, in order to help the family, or take care of younger siblings -- often force middle-school and high school students to miss class time and, ultimately, drop out of school. Ubben's program is designed to improve the kids' educational outlook -- and provide opportunites to grow through team sports.

Neuren, who played club soccer at the College of Charleston, said the Strikers wanted to demonstrate, especially to the girls, how participating in sports can lead to success in other facets of life.

"With the whole climate of women's soccer as unstable as it has been," Neuren said, "I think it's really up to us to show the next generation that girls can play and there is a lot of success in life that comes from being an athlete."


February, 1, 2012
2/01/12
10:21
AM PT
By
Scott French
| ESPNLosAngeles.com
Women's Professional Soccer this week
canceled its 2012 season
in response to some tricky financial and legal challenges, and if that's it for America's second try at a pro women's league, there's going to be some fallout locally.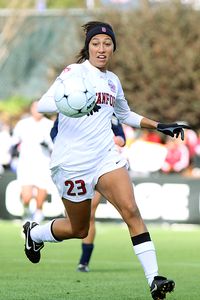 Andy Mead/YCJ/Icon SMIChristen Press would be welcomed back to Pali Blues, the club she played for while at Stanford.
Southern California is an epicenter for the women's game, prime breeding ground for top female players and home to nearly a dozen local clubs playing in one or the other of two national semipro/amateur leagues, a few of them with aspirations to join a league that suddenly might be gone.

The plan, WPS's board of directors proclaimed in its announcement Monday, is to return in 2013, and everyone in the women's game appears united in support of that. But what's best for women's pro soccer in North America isn't necessarily what appears to be best.

This could be a first real step toward unifying the women's game, which likely would require U.S. Soccer bringing into talks WPS and the two national leagues -- the W-League and Women's Premier Soccer League -- amid realization that there's not much money to be made, and there likely never will be.

WPS has lasted three seasons, just like its better-heeled, freer-spending predecessor, the Women United Soccer Association (2001-03), shedding four franchises along the way, including the L.A. Sol and 2010 champ FC Gold Pride. It was looking to play this year with only five teams, all on the East Coast.

The five clubs, as well as the terminated Boca Raton, Fla.-based franchise at the center of WPS's legal problems, are scrambling to determine their next steps. The Western New York Flash, which won last year's title after claiming the W-League title in 2010, likely will return to the United Soccer Leagues-affiliated competition. Sky Blue FC and the Boston Breakers also are considering options in other leagues.

The WPSL on Monday invited all five WPS teams to take part in an "elite division" this season.

"We want to give them a landing place for a year, but we also have [existing] teams that want to play in that elite league ...," WPSL Commissioner Jerry Zanelli, who also runs the Sacramento-based California Storm, a longtime amateur powerhouse, told ESPN Los Angeles. "We're only thinking about 2012 right now. I think they have to play somewhere, in an established league, and if they don't, it will be hard to pick things back up again.


May, 25, 2011
5/25/11
4:55
PM PT
By
Scott French
| ESPNLosAngeles.com
Englishwoman Cherelle Khassal, who last week scored goals in L.A. Strikers' first two victories, is the W-League's Player of the Week.

Khassal tallied in the Strikers' victories over Victoria and the Colorado Force. The first-year team is 2-2-0 heading into Sunday's game at Pasadena City College against archrival Santa Clarita Blue Heat, for whom Khassal played last season.

Her teammate Christina Murillo (Cal State Fullerton) joined Khassal on the W-League Team of the Week, and Pali Blues defender Sasha Andrews also was honored.

In the rival Women's Premier Soccer League, Orange County Waves forward Kristina Larsen (Mission Viejo HS/UCLA) was Player of the Week after scoring a hat trick in a romp over San Francisco Nighthawks.
May, 24, 2011
5/24/11
7:13
PM PT
By
Scott French
| ESPNLosAngeles.com
With Hollywood United departing for a rival league, the Ventura County Fusion might have figured they were in a two-team battle for the Premier Development League's Southwest Division title this year.
They would have been correct.
Only the other team isn't Orange County Blue Star.
The Fusion made that clear Friday night with a 7-2 pasting at Ventura College, running their record to 4-0-1. That's only worth second place -- Fresno Fuego, apparently their chief competition, is a point better, at 4-0-2.
The teams drew, 0-0, May 1 in Ventura and meet again June 11 in Fresno.
They're in another battle this week, for the division's berth in the U.S. Open Cup. Fresno won all four of its qualifying matches, and the Fusion is 3-0-0 heading into Saturday's PDL match against the Southern California Seahorses at La Mirada High School. Ventura County will advance if it wins by two or more goals or by one goal while scoring at least three. A 2-1 win forces a coin flip, a 1-0 win, draw or loss sends Fresno through.
Thousand Oaks'
Danny Barrerra
(Westlake HS/UC Santa Barbara) played the key role against Blue Star, setting up two goals -- his league-best fifth and sixth assists -- and scoring the finale.
May, 13, 2011
5/13/11
11:17
PM PT
By
Scott French
| ESPNLosAngeles.com
When the opportunity to own a women's soccer team presented itself last year, Joe and Debbie Caracciolo jumped at the it. It cost them a friendship but gave their club an archrival before it had a name, coach, players or a place to play.
The L.A. Strikers will make their debut Saturday in the USL W-League, taking on two-time league champion Pali Blues in the 1 p.m. opener of a tripleheader at Cal State Fullerton, but the dates to circle on the calendar are May 29 and July 13.
That's when the Pasadena-based side takes on the Santa Clarita Blue Heat, a second-year club that counted Debbie Caracciolo as operations manager last year. The parting was not sweet -- Blue Heat owner
Carlos Marroquin
felt blindsided, Caracciolo felt abandoned -- and the battle will be intense.
"I went from hero to zero [with Marroquin] the minute I chose this franchise," Caracciolo said. "In my eyes, we had this partnership of working together, and I thought we had a great relationship throughout the entire season. At the end of season, when the opportunity presented itself, you'd think he'd be happy for me, that we were able to put this together, about another game to add to the schedule. That wasn't the case. I don't understand why he's upset I'm not working there."
Marroquin says he'd have loved to have been supportive, but he felt betrayed because he said the Caracciolos didn't let him know they were considering taking their own team -- not until they had done so.
'TASTE OF IT':
Both head into the season with similar goals: to reach the playoffs, give players an opportunity to grow and showcase their talents, and to connect with their communities -- and especially the youth soccer clubs.