Los Angeles Soccer:

Luis Fernando Tena
March, 26, 2012
3/26/12
10:58
AM PT
By
Scott French
| ESPNLosAngeles.com
CARSON -- Mexico's plan to qualify for the London Olympics is simple: beat everybody. That would certainly do it, and if El Tri's path grew more strenuous with Canada's upset of the U.S., well, no problem.
That was
Luis Fernando Tena
's take after Mexico overwhelmed Honduras, 3-0, Sunday afternoon at Home Depot Center, becoming the first of the region's under-23 national teams to clinch a final-four berth in CONCACAF's Olympic qualifying tournament.
"We're well aware this will mean nothing if we don't win [in the semifinals in Kansas City, Kan.] on Saturday the 31st," said Tena, Mexico's head coach. "We haven't won anything. We have advanced, and whomever we play, we'll always try to win, of course."
El Tri, which didn't get out of the group stage in a grand failure four years ago, can't claim Group B's top spot until Tuesday's first-stage finale against Panama, but even an unexpected tumble probably wouldn't knock them out of first place.
This is where Mexico was expected to be, but Canada's 2-0 victory Friday night in Nashville, Tenn., twisted everything: The U.S., with a win Monday over El Salvador, probably would finish second in Group A. The Americans and Mexicans were both expected to make it to London; now they'll probably face off for one of CONCACAF's two berths.
"Yeah, I know -- everybody is asking the same question," said Guadalajara's
Miguel Angel Ponce
, who was born in Sacramento. "It really doesn't matter if it's USA or no. We have to keep showing what we've done, and we can beat them."
The U.S. impressively won a Feb. 29 friendly against the Mexicans in Frisco, Texas, but they followed Thursday's 6-0 rout of Cuba with a poor performance at both ends against the Canadians and have not looked nearly as sharp nor as dangerous as has Mexico. El Tri has more top-flight experience and, with New York Red Bulls star
Juan Agudelo
out -- he'll undergo surgery Monday to repair a torn meniscus -- a more dynamic attack.
Beating Canada, which will win Group A with a victory Monday over the winless, goalless, hapless Cubans, is a far simpler task, but Mexico wasn't about to maneuver for the better matchup.
March, 24, 2012
3/24/12
4:48
PM PT
By
Scott French
| ESPNLosAngeles.com
CARSON -- Luis Fernando Tena fęted Mexico's one-sided victory in its Olympic qualifying opener by surveying his squad to see who might be available for game two.

Four Mexicans limped off with injuries during a 7-1 dismantling of Trinidad & Tobago in a Group B opener Friday night, and that's not going to help in Sunday afternoon's showdown with Honduras at Home Depot Center.

The Hondurans also won their opener and have a team, Tena noted before the tournament kicked off, that's capable of winning the group and claiming one of CONCACAF's two berths in the men's soccer event at this summer's London Olympics.

"The team played well," Tena acknowledged after El Tri's under-23 national team, filled with Primera Division standouts, dominated every phase of the match with T&T, opening up huge advantages in shots (35-7), shots on goal (15-2), corner kicks (14-2) and, most important, goals, behind Guadalajara star Marco Fabian de la Mora's hat trick. "We had good possession, a good situation. A lot of times we were unable to finish, but we attacked well."

Unfortunately, Mexico also dominated in players injured. T&T goalkeeper Andre Marchan, without whom the scoreline might have been 15-1, suffered a mild concussion when Toluca's Nestor Calderon, frantically chasing a ball with a 5-0 lead, leapt high in the air and kicked him in the head.

Calderon, perhaps justly, was hurt when he landed, although Tena did not identify the injury nor its extent. Three other midfielders -- Pumas UNAM's David Cabrera and Javier Cortes and Cruz Azul's Javier Aquino -- also "suffered knocks," as Tena put it, and their statuses also are unknown.

"Unfortunately, we did have a lot of knocks," Tena said. "That's going to make us wait until the last minute to see who we can count on [Sunday]. Honduras is obviously the toughest opponent in the group. The game will be very different from today's."

Tena admitted the injuries "make us worry and leave us with a bitter taste."


March, 22, 2012
3/22/12
11:03
PM PT
By
Scott French
| ESPNLosAngeles.com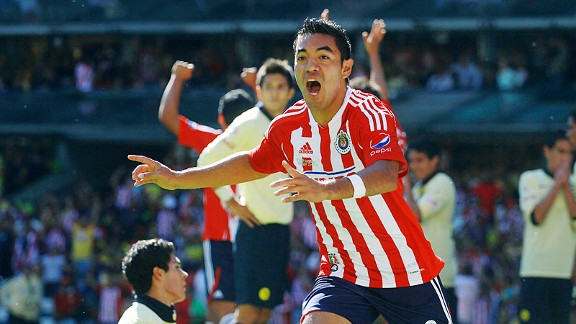 Daniel Cardenas/Getty ImagesMarco Fabiain, who plays for Chivas Guadalajara, will be key to Mexico's Olympic qualifying bid.

CARSON -- The Ghost of Olympic Qualifiers Past haunts Mexico, so to speak, only when the media is around. And so it was Thursday, when Luis Fernando Tena, head coach of El Tri's under-23 national team, was greeted by cameras and tape recorders in a room deep in the bowels of Home Depot Center.

Mexico has failed to qualify for two of the past three Olympic Games' men's soccer tournaments, shockingly so just four years ago, and so the pressure has been amped considerably for this CONCACAF qualifying tournament.

Tena, whose team opens Group B play in the nightcap of a doubleheader Friday night at HDC, tries not to take notice.

"This 'ghost' arrives only when you ask about it," Tena said in response to a question during a 15-minute news conference. "We don't pay a lot of attention to it. We're aware of history, of what happened four years ago, but a lot has changed. Four years is a long time in soccer. We want to focus on now and what this tournament is."

This tournament, which kicked off Thursday night in Nashville, will determine the region's two entrants for men's soccer at this summer's London Games. Mexico, along with the U.S., is expected to snag one of the berths, and the roster Tena and full national team coach Jose Manuel "Chepo" de la Torre has put together appears can't-miss.

All but one of 20 El Tri players is in the Mexican Primera Division -- CONCACAF's best league, hands down -- and most of them play key roles for big clubs. More than half have played for the national team. There are a few big stars (Guadalajara's Marco Fabian de la Mora is the name to remember) and major up-and-comers (Guadalajara's Erick Torres has drawn "Chicharito" comparisons).

And Mexican soccer, riding a golden generation that just might contend for a World Cup title in a couple of years -- no, really -- has unprecedented confidence.

It might not be enough. Tena, whose coaching career has included stints in charge at America, Cruz Azul, Morelia and Santos Laguna, already has tipped Honduras to win the group, a little psychology at play, perhaps, but a popular pick. The Catrachos have played in two of the last three Olympics, joining the U.S. at the 2000 Games in Sydney and four years ago in Beijing.

Panama, which faces Honduras in Friday's 6 p.m. opener, has four players from its semifinal team at last year's Gold Cup, CONCACAF's nation's championship. Trinidad & Tobago, the Caribbean's top team, faces Mexico at 8:30.


October, 11, 2011
10/11/11
5:55
PM PT
By
Scott French
| ESPNLosAngeles.com
The best team in Mexican soccer this year, even without a trophy to show for it, has been UANL Tigres, which under Brazilian coach
Ricardo "Tuca" Ferretti
has conceded just 18 goals while posting a 16-3-11 mark in regular-season action since the Primera Division's Clausura kickoff last January.
The club from suburban Monterrey is back atop the Apertura after crushing previous leader Pumas UNAM on the weekend, scoring four first-half goals en route to a 4-1 decision.
Tigres (5-1-6) is even on points with Cruz Azul (6-3-3), which was denied two should-be penalty kicks before
Javier Orozco
netted two second-half goals in a 2-0 win over Puebla.
Jaguares (5-3-4), which was ahead two weeks ago, fell from second to sixth with a 1-0 loss at Pachuca (6-4-2), which climbed to fourth, just one point off the lead, after its third win (with a tie) in four games since the 5-0 disaster Sept. 10 at Tigres.
Santos (6-3-2), still with a game in hand over everybody except Morelia, and Pumas (6-4-2) also are two points back.
The biggest surge forward this week was made by Monterrey (5-5-2), which won in league for the first time since August -- early goals from
Neri Cardozo
and
Dario Carreņo
starting the Rayados toward a 3-2 victory at Estudiantes Tecos -- to jump from 13th to eighth, into the playoff zone.
1. WHITHER JOHNNY B.?
Local hero
Jonathan Bornstein
's time in his mother's native land isn't going as planned. He's an afterthought at Tigres -- and given the club's success, who can say Ferretti is wrong -- with not one minute of league time since the Apertura began in July.
Bornstein (Los Alamitos/Los Alamitos HS and UCLA), the former Chivas USA captain, has made Tigres' 18-player game roster just once, at the end of August, and has seen action only in three games with the club's under-20 side.
"It's definitely frustrating," he told Major League Soccer's website. "I keep plugging away in training and doing the work, and, hopefully, when the times comes, I'll get the opportunity."