Los Angeles Soccer:

Luis Hernandez
April, 16, 2012
4/16/12
10:25
AM PT
By
Scott French
| ESPNLosAngeles.com
CARSON -- The scoreline in Sunday's U.S.-Mexico "legends" reunion at Home Depot Center might have been inevitable, given how everything else seemed to fall right into line.

Big crowd? Check. Rooting for El Tri? Of course. Early Mexican domination? Just like in series history. Lights-out goalkeeping? Shades of Tony Meola, Kasey Keller and Brad Friedel. An American triumph on home ground? Bingo.

"Same old same old, right?" Eric Wynalda chirped afterward. "2-0. That's the way these games finish."

This one did, lending a red, white and blueish glow to a surprisingly delightful evening at the Clasico de Leyendas match between great U.S. and Mexican players of yesteryear, primarily the 1990s and early 2000s, when the rise of American soccer created the region's greatest national teams rivalry.

These games do finish 2-0, as most everyone on the field noted.

"Reminds me of the [2002] World Cup," said Cobi Jones, who like former Westlake High School teammate Wynalda played in three World Cups for the U.S. "Same score, always fabulous."

2002 is the apex of the rivalry, the only World Cup encounter in 59 meetings, but it was 2-0 U.S. in the home qualifier for the last three World Cups, in the 1991 Gold Cup -- the first of 13 U.S. victories in the past 21 years -- and in 2000 and 2007 friendlies.

The goals came from Roy Lassiter (Major League Soccer's first scoring champion) and Brian McBride (a legend in the U.S. and parts of England), and both arrived in the second half, after Galaxy goalkeeper coach Ian Feuer (capped just once, in 1992) had made the best of eight fantastic saves -- on Francisco Palencia, Ramon Morales, Jared Borgetti twice, Alberto Garcia Aspe, Ramon Ramirez and Luis Hernandez twice -- that kept the Yanks in what had been a very one-sided game.


April, 15, 2012
4/15/12
11:04
AM PT
By
Scott French
| ESPNLosAngeles.com
CARSON -- They're friends now, in some cases connected beyond the rivalry they've seen grow from nothing into one of the world's most heated, so Sunday evening's "Clasico de Leyendas" benefit match is more reunion than anything else.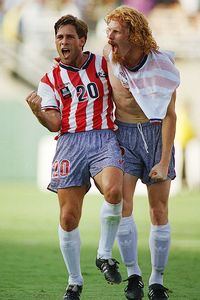 AP Photo/Michael CaulfieldPaul Caligiuri, left, and Alexi Lalas celebrate a victory over Mexico at the Rose Bowl in 1994.
But that spark of what was -- the intensity of the battles, the hatred of the foe -- figures to color what occurs on the Home Depot Center turf, even if the duels aren't so bloody nor the pace so quick.

More than a dozen legends from the U.S. and Mexican national teams, most of them veterans of the 1990s showdowns that created the rivalry between CONCACAF's twin powers, along with other pros will meet up again in a 70-minute match to benefit Hispanic college scholarships.

Some of the biggest names from the era -- Cobi Jones, Eric Wynalda, Alexi Lalas and Paul Caligiuri for the U.S.; Claudio Suarez, Ramon Ramirez, Jorge Campos and Luis Hernandez for Mexico -- are slated to play in the 6 p.m. game, which sounds as much celebration as competition.

"I remember my first game against Mexico was in Azteca Stadium [in the 1993 CONCACAF Gold Cup final], and we lost, 4-0," said Thomas Dooley, the German-born midfielder who played in the 1994 World Cup and captained the U.S. at the 1998 World Cup. "My first experience that I have was with [defender and current Guadalajara head coach Ignacio] Ambriz, and we almost had a fight on the field, kicking each other, boxing each other.

"That's what the rivalry is all about, going after each other. And after the game, we looked for each other and we traded jerseys and we actually became friends whenever we saw each other. I think that's a big part of our games against Mexico. It's a competition on the field, and after the game, it doesn't matter if Mexico wins or the U.S. wins, we'll always be friends."


April, 5, 2012
4/05/12
11:20
PM PT
By
Scott French
| ESPNLosAngeles.com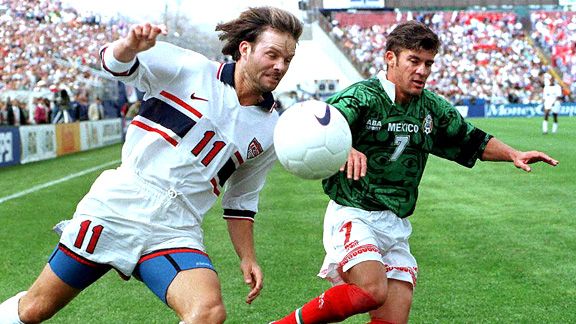 John Mottern/Getty ImagesEric Wynalda, left, shown playing Ramon Ramirez and Mexico in 1997, will be part of a Legends game at Home Depot Center.

Ever wish you could travel back in time to see some of the region's greats of yesteryear? American stars such as Cobi Jones and Eric Wynalda, Alexi Lalas and Paul Caligiuri, or Mexicans Jorge Campos, Jared Borgetti, Luis Hernandez or Alberto Garcia Aspe?

Circle a week from Sunday on the calendar. The Legends Classic, featuring some of the biggest names in the North American game, is scheduled for April 15 at Home Depot Center, with a 6 p.m. kickoff. Tickets start at $15, and the game will be officially announced any moment.

The U.S. roster, according to the PRIMETIME Sports, the event's organizer, features National Soccer Hall of Famers Jones, Wynalda, Lalas, Caligiuri and Thomas Dooley, all key figures on the U.S. World Cup sides of the 1990s (and 2002, with Jones).

Also on the list: John O'Brien, who played in two World Cups; Cle Kooiman, a defender on the 1994 World Cup team; former Galaxy stars Clint Mathis, Chris Klein and Jovan Kirovski, plus longtime pros Roy Lassiter, Ted Eck and Christopher Sullivan.

Hall of Famer-to-be Brian McBride and Galaxy goalkeeper coach Ian Feuer are on the list but unconfirmed, and Galaxy assistant coach Curt Onalfo will guide the American "legends."

The Mexican roster will feature Campos and Hernandez, both former Galaxy standouts, plus Garcia Aspe and Roberto Luis Alves, better known as Zague, the organizers confirmed. Hoy Los Angeles reports that Borgetti and former Chivas USA star Francisco Palencia also will play.

UPDATE (April 6, 5:40 p.m.): The game has been announced, and with it Mexico's roster, which includes former Chivas USA stars Claudio Suarez, Ramon Ramirez and Mariano Trujillo. Organizers report that also suiting up for El Tri, in addition to the players listed above, are Martin Zuniga, Carlos Reynoso, German Villa, Ramon Morales, David Oteo, Joel Sanchez, Missael Espinoza, Marco Antonio "Chima" Ruiz and Jesus Olalde.
November, 20, 2011
11/20/11
3:24
PM PT
By
Scott French
| ESPNLosAngeles.com
strong>D.C. United 3, Galaxy 2 (OT)
L.A. takes a 2-0 lead into the final 10 minutes, watches it disappear, then loses to an
Eddie Pope
header four minutes into sudden-death overtime. In a Nor'easter. Without captain
Dan Calichman
, suspended for playoff yellow cards.
D.C. United 2, Galaxy 0

Bad fortune all around. Top defender
Robin Fraser
goes down because of a shoulder injury in the opening minutes, and goalkeeper
Kevin Hartman
whiffs on a back pass to gift D.C. a second goal. And that was it.

San Jose Earthquakes 2, Galaxy 1 (OT)
Mexican star
Luis Hernandez
provides an early lead, but
Landon Donovan
is a 19-year-old star for San Jose, not L.A., and his first MLS Cup strike pulls the Quakes even before halftime.
Dwayne De Rosario
comes off the bench to tally the overtime winner.
Galaxy 1, New England Revolution 0 (OT)
The third trip to Foxborough brings success, finally!
Sigi Schmid
delivered the first MLS Cup crown to the Galaxy in front of an event-record 61,316, with
Carlos Ruiz
's strike 23 minutes into overtime -- just moments after
Winston Griffiths
hit the crossbar from distance for New England -- starting the celebration.
Galaxy 1, New England Revolution 0 (OT)
The Galaxy was the bottom seed for the playoffs, but they went on a run after stunning San Jose in the first round and conquered the Revs again. Guatemalan forward
Guillermo "Pando" Ramirez
-- scoring his first goal on his 62nd shot of the season, worst ratio in MLS history -- was the hero, knocking in a cleared corner kick 17 minutes into overtime.
Real Salt Lake 1, Galaxy 1 (OT)
(RSL wins on penalties, 5-4)
Injuries dogged the Galaxy, with goalkeeper
Donovan Ricketts
and defender
Omar Gonzalez
forced to the sidelines in the second half, and a first-half lead through
Mike Magee
disappeared in the 64th minute, courtesy of
Robbie Findley
.
Nick Rimando
was the difference in the shootout, making two saves to give bottom seed RSL an unexpected title.
June, 25, 2011
6/25/11
10:07
AM PT
By
Scott French
| ESPNLosAngeles.com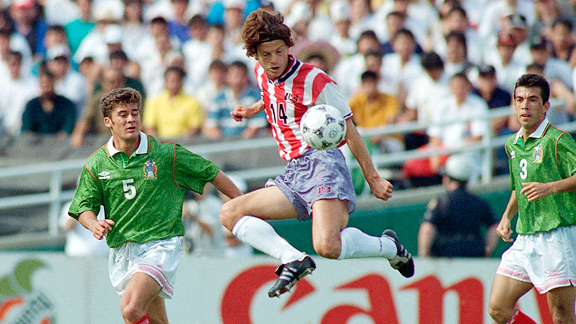 AP Photo/Mark J. TerrillFrank Klopas of the U.S. leaps in front of Mexico's Ramon Ramirez during a 1994 friendly at the Rose Bowl.

The U.S. and Mexico haven't met in the L.A. area since a 2000 friendly at the Coliseum, and if you want to lay blame for that, target CONCACAF (just one Gold Cup final in L.A., until this one, and Mexico didn't make it) and U.S. Soccer (no desire to play in front of 85,000 or so El Tri fanaticos).

So Saturday's Gold Cup final at the Rose Bowl hearkens back to a tradition that went strong for a decade -- seven meetings here from 1991 through 2000, four of them friendlies) -- and dates to 1957, when Mexico drilled the Yanks, 7-2, in a World Cup qualifier in Long Beach.

In all, they've played a dozen times in L.A., Pasadena or Long Beach. Here are five of the best showdowns:

Nov. 6, 1960
United States 3, Mexico 3
Salvador "Chava" Reyes, the great Mexican hero of the 1950s and '60s (later part of Chivas USA's academy administration), scored twice as El Tri took a 3-0 lead in the first 21 minutes of a World Cup qualifier first leg before 8,000 at old Wrigley Field. The U.S. rallied as Helmut Bicek, Carl Fister and Al Zerhusen scored goals, then fell, 3-0, a week later in the second leg in Mexico City.

July 5, 1991
United States 2, Mexico 0
The Americans' triumph in the first Gold Cup was fueled by a surprise victory in a Coliseum semifinal as John Doyle (now GM of the San Jose Earthquakes) and Peter Vermes (head coach of Sporting Kansas City) netted second-half goals in front of 41,103 fans. El Tri's lineup included Jose Manuel "Chepo" de la Torre, now its coach.