Los Angeles Soccer:

Luis Perez
September, 13, 2011
9/13/11
12:54
PM PT
By
Scott French
| ESPNLosAngeles.com
The most important moments were at the end for three Mexican Primera Division teams over the weekend. Stoppage-time strikes delivered a huge win for Morelia and gave Club Tijuana and Monterrey a share of the points in their matches.
Morelia (3-3-1), which still has a game in hand over most of the field stemming from the gunshots-halted clash last month at Santos Laguna, vaulted from 15th to 10th with a stunning 1-0 decision at Cruz Azul.
Joao Rojas
scored the 92nd-minute decider from Aldo Ramirez's penetrating feed.
Tijuana (1-4-3), which has been hamstrung by bad luck more so than bad form, was set to go down at Toluca after conceding another questionable penalty kick, but
Jose Sand
headed home
Richard Ruiz
's cross in the 92nd to provide a 1-1 draw.
Monterrey's push for a point was more dramatic. The Rayados (4-3-1), down to 10 men after
Jesus Zavala
's 21st-minute red card surrendered a two-goal advantage against Puebla as former Chivas USA forward
Isaac Romo
tallied twice in the second half. They were redeemed by a controversial penalty-kick call, and
Luis Perez
slotted home from the spot in the 94th for a 3-3 tie.
1. TALE OF TWO ROUTS
UANL Tigres was the top team in the spring Clausura, winning the regular-season title before an upset loss in the first round of the playoffs. Pumas UNAM was crowned champion. They were on different sides of blowouts that appear to confirm their destinies this fall.
May, 13, 2011
5/13/11
8:04
PM PT
By
Scott French
| ESPNLosAngeles.com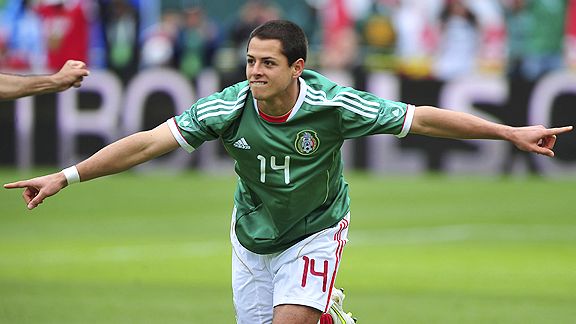 Steve Lopez/LatinContent/GettyImagesMexico Forward Javier Hernandez
Jose Manuel "Chepo" de la Torre has whittled his roster to 23 players for the CONCACAF Gold Cup, and England-based forward Carlos Vela and Pachuca defender/midfielder Paul Aguilar are not among them.
They're the biggest omissions for El Tri heading into the June 5-25 regional nations championship, which will wrap with a Rose Bowl final -- with U.S.-Mexico the anticipated matchup.
The big names are here -- from goalkeeper
Guillermo Ochoa
to backline leader
Rafa Marquez
to attacking stars
Javier "Chicharito" Hernandez
and
Giovani Dos Santos
-- as the Mexicans seek their second straight crown and sixth in 11 tournaments since the Gold Cup was established in 1991.
De la Torre had included Vela, who started two games at last year's World Cup in South Africa, and Aguilar, starter in one, on his 30-man preliminary roster. Also among the 30 but not on the final roster was Guadalajara defender
Jonny Magallon
, who was on the World Cup roster but did not play, and
Jonathan Dos Santos
, Giovani's younger brother, who famously declared he'd never play again for Mexico after he was among the last cuts from the World Cup list.
Vela, who plays for West Bromwich Albion on loan from Arsenal, has seen little playing time during the English Premier League season.
De la Torre has returned Brazilian-born playmaker
Zinha
and Monterrey midfielder
Luis Perez
, who were on the 2006 World Cup team, to the team and promoted several players, including goalkeeper
Alfredo Talavera
, defender
Edgar Dueñas
, midfielder
Jesus Zavala
, and forwards
Aldo de Nigris
,
Elias Hernandez
and
Angel Reyna
, all on whom are on the roster. Zinha, Talavera and Dueñas played for de la Torre at Toluca.
April, 22, 2011
4/22/11
3:02
PM PT
By
Scott French
| ESPNLosAngeles.com
Three of the eight playoff berths have been taken, and the fight for the final five is heating up as the Mexican Primera Division heads into its penultimate weekend of the regular season, with a dozen teams still in contention, but only eight of them really in the race.
Quickly:
In: Pumas UNAM (9-1-5), UANL Tigres (8-2-5) and Morelia (8-3-4)
On the verge: Guadalajara (6-3-6), Cruz Azul (7-5-3) and Atlante (7-6-2)
Above the wire: Monterrey (6-5-4) and America (7-7-1)
Just outside looking in: Toluca (5-5-5), Atlas (5-5-5) and Santos Laguna (6-7-2), all two points out of the final spot
Alive, but not for long: Puebla (5-8-2), Pachuca (4-7-4) and Estudiantes Tecos (4-7-4)
Out: Gallos Blancos (4-8-3), Necaxa (3-7-5) and Jaguares (3-10-2)
Pumas, Tigres and Morelia claimed their spots during last week's "doble jornada." Pumas, on top of the overall table most of the Clausura campaign, can clinch the No. 1 seed -- rarely a winner in Mexico's playoffs -- with a win Friday night at Necaxa and Tigres' failure to win Sunday at Morelia in one of the two major showdowns this weekend.
The other big matchup pits Guadalajara, looking like a real contender the past month, against Cruz Azul in Mexico City. Chivas is fourth and Cruz Azul fifth, both with 24 points, and neither is likely to miss the postseason.
But the Cementeros are skidding. They've lost three of four, with losses to Santos, Morelia and Puebla, after challenging for the top spot most of the season. The 3-0 rout of Monterrey, which is falling at a quicker pace, might prove to be Cruz Azul's savior.
Monterrey is winless in its last four league games, its focus blurred by its CONCACAF Champions League title-series run and its game slowed by injuries to key players. A longtime shoulder ailment has prevented star Chilean forward
Humberto Suazo
from contributing the way he needs to, and forward
Aldo de Nigris
and midfielder Luis Perez, both Mexican national-teamers, will be out for three to four weeks with thigh injuries.
February, 9, 2011
2/09/11
9:52
PM PT
By
Scott French
| ESPNLosAngeles.com
Jose Manuel "Chepo" de la Torre's debut Wednesday night as Mexico's national team coach -- with a 2-0 victory over Bosnia and Herzegovina in Atlanta -- offered a few clues on how El Tri will move forward under his direction and who will lead the way.
The former national team midfielder, hired in October from Mexican league power Toluca, fielded a veteran lineup, for the most part, while providing opportunities to a few more inexperienced players. Atlas'
Edgar Pacheco
took advantage, scoring from Cruz Azul goalkeeper
Jose de Jesus Corona
's punt to double Mexico's advantage in the 55th minute.
Pacheco, 21, was the lone starter without double-digit caps. De la Torre's lineup was as close to first-choice as any missing New York Red Bulls midfielder/defender
Rafa Marquez
and West Brom forward
Carlos Vela
.
De la Torre gave Monterrey midfielder
Jesus Zavala
, 23, his first cap, Toluca forward
Nestor Calderon
his second, and Santos Laguna forward
Jose Maria Cardenas
and Monterrey forward
Aldo de Nigris
their third off the bench. He also used Monterrey midfielder
Luis Perez
, who last played for Mexico nearly two years ago.
Manchester United's
Javier "Chicharito" Hernandez
also scored for Mexico, his 12th goal in 21 international appearances, knocking home the rebound after Bosnia and Herzegovina goalkeeper
Kenan Hasagic
saved his penalty kick.
De la Torre's verdict: "I think it's a good start. It's always good to start a new project. You have to keep in mind that we had little time together."
Mexico's lineup:
Jose de Jesus Corona
/Cruz Azul;
Paul Aguilar
/Pachuca,
Francisco Javier Rodriguez
/PSV Eindhoven/Netherlands,
Hector Moreno
/AZ Alkmaar/Netherlands,
Carlos Salcido
/Fulham/England;
Pablo Barrera
/West Ham United/England (
Jose Maria Cardenas
/Santos Laguna, 68),
Gerardo Torrado
/Cruz Azul;
Israel Castro
/Pumas UNAM (
Jesus Zavala
/Monterrey, 88),
Edgar Pacheco
/Atlas (
Nestor Calderon
/Toluca, 73);
Giovani Dos Santos
/Racing Santander/Spain (
Aldo de Nigris
/Monterrey, 58),
Javier Hernandez
/Manchester United/England (
Luis Perez
/Monterrey, 80).
February, 4, 2011
2/04/11
6:52
PM PT
By
Scott French
| ESPNLosAngeles.com
Jose Manuel "Chepo" de la Torre's first Mexico roster features a healthy share of the regular crew -- the Chicharitos and Giovanis and Torados -- a couple of newcomers among those looking to cement their spot in the player pool, and two old standouts returning to El Tri after absences of almost two years.
Zinha
, Toluca's Brazilian-born playmaker, and
Luis Perez
, a midfielder for Monterrey, were part of Mexico's 2006 World Cup team and contributed during the qualifying campaign for last year's World Cup in South Africa, and their presence for Wednesday's clash against Bosnia and Herzegovina in Atlanta (TeleFutura/KFTR Channel 46, 5 p.m. PT) restores international careers that elapsed when
Javier Aguirre
took charge in April 2009.
Zinha last suited up for El Tri in a 5-1 romp over Bolivia on March 11, 2009, in Commerce City, Colo. Perez made his last appearance in a World Cup qualifying loss at Honduras on April 1, 2009, two days before Aguirre replaced Swede
Sven-Goran Eriksson
.
De la Torre, a former Mexican national team midfielder, was hired Oct. 18 to succeed Aguirre, who resigned after guiding Mexico to the World Cup round of 16. Wednesday's match is his first as El Tri manager.
His roster includes 11 players from the team in South Africa -- including star forwards
Javier "Chicharito" Hernandez
and
Giovani Dos Santos
, both based in Europe, and captain
Gerardo Torrado
, the veteran (three World Cups) holding midfielder from Cruz Azul -- and a half-dozen who were on the roster four years earlier in Germany.
A half-dozen players based in Europe have been called in, but not forward
Carlos Vela
, who was just loaned from Arsenal to fellow English Premier League team West Bromwich Albion, or midfielder
Efrain Juarez
, who plays for Scottish powerhouse Celtic FC. Their six-month suspensions, for their involvement in a team party following a Sept. 7 match against Colombia in Ciudad Juarez, expire next month.
Hernandez (Manchester United), Dos Santos (Racing Santander, on loan from Tottenham), midfielder
Pablo Barrera
(West Ham United) and first-choice defenders
Carlos Salcido
(Fulham),
Francisco Javier Rodriguez
(PSV Eindhoven) and
Hector Moreno
(AZ Alkmaar) comprise the foreign legion.
Toluca goalkeeper
Alfredo Talavera
and Monterrey midfielder
Jesus Zavala
hope to make their international debuts. Talavera is expected to back up Cruz Azul's
Jose de Jesus Corona
, who was a backup at the 2006 World Cup. Five others on the roster have played just once or twice for the full national team.
November, 18, 2010
11/18/10
11:13
PM PT
By
Scott French
| ESPNLosAngeles.com
Victor Manuel Vucetich
already was without three starters, all red-carded in Monterrey's loss to Guadalajara in last weekend's regular-season finale, so his decision to leave stars
Humberto Suazo
and
Walter Ayovi
on the bench was not without risk.
No problem for the Rayados, who dictated play most of the way and claimed a 1-1 draw at Pachuca -- almost as good as a victory -- in their quarterfinal opener Thursday in Mexico's Primera Division.
Santos Laguna also came away with a 1-1 tie on the road at Chiapas-based Jaguares, which provides a significant advantage in Sunday's second legs. The higher seeds advance to the semifinals if the aggregate score is even.
Monterrey, the No. 2 seed, went ahead in the 56th minute, with
Jose Maria Basanta
finishing
Neri Cardozo
's corner kick. It settled for a draw when
Faustino Arizala
fired into the top-right corner 11 minutes later.
November, 16, 2010
11/16/10
12:24
AM PT
By
Scott French
| ESPNLosAngeles.com
Pachuca's in, Toluca and Guadalajara are out, and Pumas UNAM scored a big victory to claim the final berth in the Mexican Primera Division's playoffs.
Pachuca, with three Americans, struck early to beat Necaxa, 2-1, on Friday night, then waited 24 hours -- through five games -- to celebrate, clinching a top-eight spot when Atlas rallied to tie UANL Tigres on Saturday night.
It was a wild final regular-season weekend in the Apertura, featuring four late comebacks -- two of them playing decisive roles in the playoff race -- and Guadalajara's finest moment of the campaign, which was far too little for one of Mexico's two most popular clubs.
A quick rundown:
WHO'S IN:
Jaguares (6-4-7), Pachuca (7-6-4) and Pumas (7-6-4) won the three available berths, all finishing one point ahead of Tigres (6-5-6), which saw its playoff hopes die on two penalty kicks.
Jaguares clinched with a 1-1 draw at Gallos Blancos, with
Jorge Rodriguez
's 81st minute equalizer providing the Chiapas club the required goal. Queretaro had gone ahead just two minutes earlier on a tremendous
Sergio Oreteman
drive to the upper-left corner.