Los Angeles Soccer:

Macoumba Kandji
February, 9, 2012
2/09/12
3:24
PM PT
By
Scott French
| ESPNLosAngeles.com
Aston Villa's request to extend Robbie Keane's loan deal beyond Feb. 25 has been turned down by the Galaxy, according to reports Thursday in England.

The Birmingham-based club, which acquired Keane in mid-January on a 6 ½-week loan, asked the Galaxy to allow the Irish striker to remain in England through Villa's March 3 game at Blackburn, English wire service The Press Association and West Midlands daily Express & Star reported without sourcing.

Keane will join the Galaxy following Ireland's European Championship prep Feb. 29 in Dublin against the Czech Republic. The Galaxy plays March 7 in a CONCACAF Champions League quarterfinal first leg at Toronto FC and March 10 in their Major League Soccer opener at Home Depot Center against Real Salt Lake.

Keane has been superb for Aston Villa, anchoring the English Premier League club's attack and scoring three goals in four starts. The club is spending a reported $775,000 for the fee and Keane's salary during the loan.

His final game with Villa will be Feb. 25 at Wigan Athletic.


August, 21, 2011
8/21/11
6:06
PM PT
By
Scott French
| ESPNLosAngeles.com
Chivas USA wasn't much better than all right when it visited MLS Cup champion Colorado on Saturday night, but that was enough to share in the points -- and not so much to diminish the effort of its celebrated newcomer.
Juan Pablo Angel
, acquired from the Galaxy at week's start, added a needed dimension to the Goats' attack and scored on a superb first-half strike as Chivas twice rallied from deficits to score a 2-2 draw with the Rapids at DSG Park.

French midfielder
Laurent Courtois
, making just his third MLS appearance, also tallied for the Goats -- also a fine, fine goal -- an 86th-minute finish from
Michael Lahoud
's through ball after the right back capitalized on open space with an excellent run from deep on the flank.
For a team that was surrendering leads at nearly every opportunity earlier this season, rallying on the road felt good.
"It's the amount of points that we wanted," Lahoud told media following the game. "Considering the time of the year, it's all about results. But we'll take this draw. Coming back twice to grind out a result in a very tough place to play against a team that's been on a hot streak, you have to take what you can get here."
Caleb Folan
and
Jeff Larentowicz
scored for the Rapids, headers off crosses from the right flank (Larentowicz's from a corner kick) against poor marking, and
Macoumba Kandji
nearly gave them a victory deep into stoppage, booting the ball after a corner kick, but
Heath Pearce
knocked the ball away as it sailed toward the net.
Angel was active and involved and connected with teammates even as Chivas struggled to get its game going in the first half. The Goats were hit and miss much of the night, despite holding 56 percent possession and winning the vast majority of duels. It will take a little time for Angel and his new teammates to acclimate to each other, but this was a good start -- and the Colombian striker's goal was sensational.
"It was a great feeling, a great play from a great pass and a great moment for me," he told the league's website. "I know what I can do, and my challenge is to help this team in the last stretch of the season, and I'll try to play well for them."
Robin Fraser
certainly was happy.
"He added quite a bit to us," Chivas' coach told the MLS website. "It took us a while to get in sync, but as the team got better, we were able to find him with the ball quite a bit, and he was very instrumental in helping us build out of the back and get into a bit more of a rhythm.
"Certainly, his alertness on the goal and the quality of his finish was excellent. I thought, overall, it was a great debut for him."
A quick look at Chivas' draw:
BEST PLAYER:
We've got three.
November, 24, 2010
11/24/10
12:01
AM PT
By
Scott French
| ESPNLosAngeles.com
Turns out the winning goal in Sunday's MLS Cup final was as costly for Macoumba Kandji as it was for FC Dallas.
The Senegal-born forward, who was hurt as he created the winning goal in the 107th minute of the Colorado Rapids' 2-1 overtime victory in Toronto, received his diagnosis Tuesday: torn anterior cruciate ligament. It'll likely sideline him until next July or August.
Kandji came off the bench to lift the Rapids to their first MLS Cup title, beating FC Dallas defender
Jair Benitez
on the right byline, then outreaching
Ugo Ihemelu
to toe-poke the ball toward the goalmouth, with championship-game MVP
Conor Casey
hovering near the far post.
Ihemelu fell onto Kandji as he hit the ball, which ricocheted off Dallas defender
George John
's thigh and inside the right post. Kandji was helped off the field, and Colorado played with just 10 men for the final 13 minutes.
"He sat on me," a jouyous Kandji said as his Rapids teammates celebrated around him in their BMO Field locker room Sunday night. "He sat on my leg, so I kind of hyperextended [my left knee]. I really don't know what happened, because I was just trying to reach for the ball to toe it in. … Then I tried to get up, but I couldn't."
Asked if there was any better way to get injured, he said: "It's the best way ever!"
Kandji, acquired in September from the New York Red Bulls, was on the Rapids' protected list for Wednesday's MLS Expansion Draft.
November, 21, 2010
11/21/10
11:34
PM PT
By
Scott French
| ESPNLosAngeles.com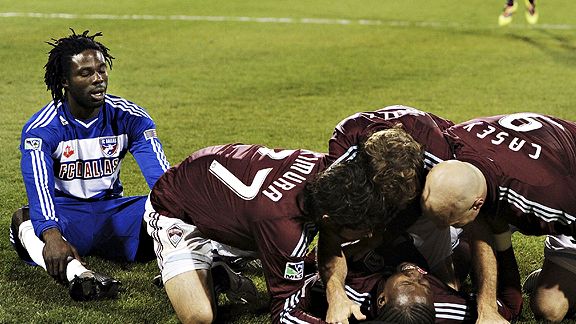 Harry How/Getty Images
Colorado's Macoumba Kandji is mobbed by teammates -- while FC Dallas' Ugo Ihemelu watches -- after having a hand in the winning goal for the Rapids.
TORONTO --
Macoumba Kandji
was hurting. He was on crutches. He'd never felt better in his life.
Ah, pleasure and pain. Not many know the balance between them better than the Senegal-born, Gambia-bred, Georgia-schooled forward, who had plenty to celebrate Sunday night -- and was due for an MRI exam Monday morning to assess damage to his left leg.
Kandji was responsible for the goal that lifted Colorado to the MLS Cup title, an overtime own goal by FC Dallas defender
George John
that completed a 2-1 turnaround that gave the Rapids their first piece of silverware.
Kandji was on a trainer's table while teammates feted their triumph with bad, smelly champagne. When he finally arose, gingerly stepping forward with a crutch under his left arm, defender
Drew Moor
wrapped him in his arms. The broad smile wasn't about to leave his face.
"It's fantastic, man," he said. "I'm just so happy."
Kandji had come on for
Omar Cummings
in the 98th minute. It was his second appearance in an MLS Cup final -- he was a late sub for the New York Red Bulls, while on loan from the Atlanta Silverbacks, then a second-tier club, in Columbus' 2008 triumph at Home Depot Center -- and this one was much more fulfilling.
His big moment arrived in the 107th, after FC Dallas failed to clear
Conor Casey
's cross from the left, and the ball squirted out to Kandji on the right side of the Hoops' box.
November, 6, 2010
11/06/10
11:18
PM PT
By
Scott French
| ESPNLosAngeles.com
A look at Saturday's postseason action:
IN BRIEF:
The reigning champs are dead, and it's an all-Western final four. … FC Dallas scored an early goal and held off 2009 MLS Cup champ Real Salt Lake's late onslaught for a 1-1 draw, enough to send the Hoops into the Western Conference final -- against the Galaxy or Seattle -- with a 3-2 aggegate triumph. … Colorado knocked off the East's No. 2 side, rallying to force overtime, then winning on penalty kicks in Columbus, and will be home against Western rival San Jose in the, yes, Eastern Conference final.
BEST PLAYER:
Before his bizarre knee injury,
Kevin Hartman
(Palos Verdes/Peninsula HS and UCLA) was getting his share of MLS MVP talk. He reminded us why with a masterful performance in the nets for FC Dallas, making two game-saving stops and parrying balls from danger throughout the second half to make Dax McCarty's 17th-minute goal (from a great
Brek Shea
chest pass) stand up for the Hoops.
BEST GOAL: Robbie Rogers
(Palos Verdes and Huntington Beach/Mater Dei HS) finished beautifully in the 70th minute to give Columbus a 2-0 lead (and 2-1 edge on aggregate), running onto
Emmanuel Ekpo
's ball into space, positioning himself between the ball and Rapids defender
Anthony Wallace
, taking it into the box and left-footing past
Matt Pickens
. Bigger, and just as good, was
Conor Casey
's emblematic one-touch finish in the box from
Omar Cummings
' cross in the 84th to even aggregate at 2-2.
BIGGEST STOP:
Take your pick from Hartman's collection. We'll go with two, both on
Fabian Espindola
, both foot saves as he dove one way and Espindola shot the other way. The second, a stoppage-time stop after Espindola redirected
Andy Williams
' blast from outside the box, ended RSL's comeback hopes.
FROM THE SPOT:
It was going to take a miss rather than a save to decide the Columbus-Colorado shootout. All five Rapids shooters were on target, four of them with hard-hit, well-placed shots --
Macoumba Kandji
's poor attempt should have been stopped by
Andy Gruenebaum
, who fumbled the ball off the post and in -- and Columbus made its first four just as impressively while Pickens looked well out of sorts.
Brian Carroll
, shooting fifth for the Crew, skied his well over the crossbar, igniting Colorado's celebration.
WORTH NOTING:
Hartman, not fully fit following six weeks' absence after
Thierry Henry
's ill-advised goal celebration left the former Galaxy keeper with a sprained right medial collaterial ligament, did not take his own goal kicks. … Previous MLS Cup appearances for the five remaining clubs: Galaxy 6 (1996, 1999, 2001, 2002, 2005 and 2009, with triumphs in 2002 and 2005), San Jose 2 (2001 and 2003, both triumphs, both with the team that moved to Houston after the 2005 season), Colorado 1 (1997, lost to D.C. United), FC Dallas and Seattle 0. ... Real Salt Lake's home MLS unbeaten streak, dating to May 2009, remains intact.
QUOTE OF THE DAY:
"We said before the game we are not so sure that many people care about us, but we care about each other. We definitely fight for each other. At this point, we have come together and there is real cohesion." -- Colorado Rapids midfielder
Jeff Larentowicz
.

THE RESULTS
at Columbus, Ohio

Columbus 2 (Gaven 22, Rogers 70), Colorado 1 (Casey 84)
(aggregate 2-2; Colorado wins on penalties, 5-4)
Penalties: Colo -- Casey G, Kandji G, Larentowicz G, Lopez G, Smith G; Clb -- Schelotto G, Garey G, Gaven G, Brunner G, Carroll H
at Sandy Utah

Real Salt Lake 1 (Findley 80), FC Dallas 1 (McCarty 17)
(FC Dallas wins on aggregate, 3-2)
SUNDAY'S SECOND LEG

L.A. Galaxy vs. Seattle at Home Depot Center, 6 p.m., ESPN and ESPN Deportes. First leg: Galaxy, 1-0
CONFERENCE FINALS
West:
Galaxy/Seattle vs. FC Dallas, date, time and site TBA, ESPN2 and ESPN Deportes
East:
San Jose at Colorado, Nov. 13, 6:30 p.m., Fox Soccer Channel and Fox Deportes