Los Angeles Soccer:

Magic Johnson
November, 18, 2011
11/18/11
11:00
PM PT
By
Scott French
| ESPNLosAngeles.com
CARSON -- The Galaxy unveiled the 10-year television deal with Time Warner Cable's new English- and Spanish-language regional sports networks, and the conversation with AEG President Tim Leiweke afterward quickly turned to David Beckham.
As in: Will he stay?
"You guys are more hung up on that than I am," Leiweke said.
That might be true, but as Leiweke readily proclaimed, this new deal -- worth $55 million, according to a
Los Angeles Times
report earlier this week -- is all about Beckham.
The basics: Time Warner is anchoring its new networks, set to launch net year, with the Lakers and the Galaxy, and they're committing to a lot of programming: games, of course, but plenty of ancillary coverage, too. The "
Bruce Arena
Show," anyone?
"We don't talk about this deal without David Beckham," Leiweke said after the announcement in a Home Depot Center news conference. "We wouldn't have gotten the Herbalife deal [in 2007, worth as much as $25 million over five year] without David Beckham. We certainly are not touring Indonesia, Asia and Australia without David Beckham, and we're not getting the kind of guarantees we're getting [for the trip] without David Beckham. I don't even think we get
Robbie Keane
without David Beckham.
"We wouldn't be sitting here with the kind of partners we have, the attention we have -- and this [MLS Cup final at HDC] on Sunday, we could be at the Rose Bowl and sell 80,000 seats. That's David Beckham."
Beckham's role in the Time Warner deal has mostly to do with influence. He has provided a spotlight on Major League Soccer, and especially on the Galaxy, that has a lot of very fine players thinking they'd like to head on over, guys who otherwise wouldn't think twice about MLS.
Whether he returns to L.A next year for a sixth season (and beyond?) or is off to London or Paris or wherever, Beckham represents a commitment, Leiweke said, to how the club will do its business.
"[This is] arguably the biggest deal we've done, period," he said. "If you look at the amount of coverage they're going to provide to the team; if you look at the fact that it's two different networks, and they're going to build these networks around us and the Lakers; and if you look at, obviously, the financial commitment they've made here, not just in rights fees, but in production and talent, this is fantastic because it treats the Galaxy like the Lakers.
November, 6, 2011
11/06/11
11:17
PM PT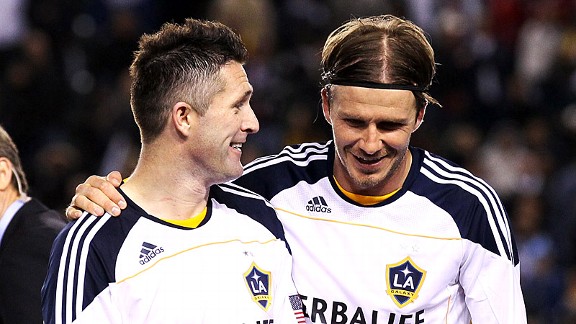 Stephen Dunn/Getty ImagesRobbie Keane, left, and David Beckham have helped take MLS to the next level in terms of recognition.

CARSON, Calif. -- This is what Philip Anschutz must have had in mind as he dipped into his deep pockets time after time over the last 15 years and continuously wrote blank check after blank check to a sport most in this country couldn't have cared less about and specifically to a team no one in Los Angeles knew much about.

On a cold November night that was far more reminiscent of London than Los Angeles, it wasn't just the scarves and chants that evoked images of our neighbors across the pond. Major League Soccer may never be confused with the top-flight leagues in Europe but when the highlights of the Los Angeles Galaxy's 3-1 win over Real Salt Lake in the Western Conference final are shown abroad, the names of the high-priced players will be just as impressive as their play Sunday night.

There was David Beckham's perfectly placed cross that was headed home by Mike Magee, who has quickly become Beckham's favorite target on set pieces. There was Robbie Keane's ankle-breaking run and shot past the outstretched arms Nick Rimando. And there was, of course, Landon Donovan's powerful penalty kick into the back of the net to start it all off in the first half.




As the trio celebrated the team's second Western Conference title in three years, AEG president and CEO Tim Leiweke put on a championship hat, looked at the 20,000 confetti-soaked fans at the Home Depot Center and said, "They thought this sport would never make it here."

Not only has the sport made it here; it is beginning to thrive here. A recent report placed the average attendance of MLS games this past season (17,872) slightly ahead of the average attendance at NBA games (17,319) and NHL games (17,126) thanks in large part to the 10 soccer-specific stadiums that have been built for MLS teams since 1999. Fans are not just coming out to games but supporters in Seattle, Portland, Toronto, Vancouver and Philadelphia would rival those in any league when it comes to sheer loyalty and fanaticism.

The play on the field and the fervor in the stands is something Beckham had hoped to see when he signed a five-year deal with the Galaxy back in 2007. When he first arrived in Los Angeles and would go back to Europe for games or other obligations, he admits he would hear the snickers when they would talk about the league. That has slowly changed as international players such as Keane, Thierry Henry, Rafael Marquez and Juan Pablo Angel have not only come signed with the league but have done so with plenty left in the tank.

"This league is being noticed now around the world," Beckham said. "That's important. That's important for the game in this country and important for the game around the world that this league gets noticed. We're starting to get that now and we're enjoying that. They're taking us seriously now."