Los Angeles Soccer:

Marcelo Balboa
June, 8, 2012
6/08/12
10:16
PM PT
By
Scott French
| ESPNLosAngeles.com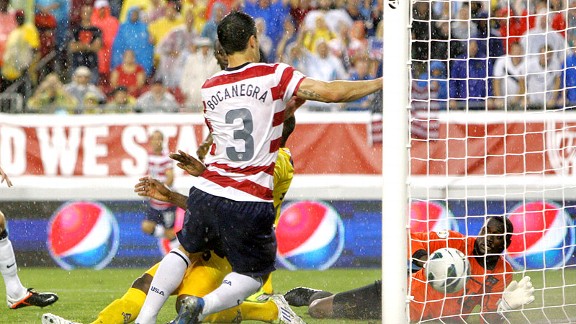 Andy Mead/Icon SMIAlta Loma's Carlos Bocanegra scored the first goal for the U.S. on Friday night.

The U.S. opened its World Cup campaign with a tighter-than-desired 3-1 victory over rising Caribbean minnow Antigua & Barbuda, and Carlos Bocanegra made one of the deepest impressions.

The American captain, 33, scored the first goal and gave a solid performance at left back, his former position -- and a problem spot for the U.S., at least on this occasion.

Bocanegra, circling to the far post, knocked home the remains of a Landon Donovan corner kick to give the U.S. and eighth-minute lead. It was the 13th international goal for the former UCLA star from Alta Loma, equaling Hall of Famer Marcelo Balboa's U.S. mark for defenders.

Balboa, from Cerritos, starred for the U.S. at the 1990 and 1994 World Cups, was part of the 1998 team and made 128 appearances in a 12-year national team career. Bocanegra, who plays for Rangers in Scotland, has played 105 internationals since debuting for the U.S. in 2001.

Bocanegra is a center back who started his career as a left back, and he moved to the flank Friday when Jose Francisco Torres -- employed on the left with Fabian Johnson and Edgar Castillo unavailable because of injury -- went down with an ankle injury in the 54th minute.

If Johnson can't return from a calf injury in the next few days, Bocanegra is likely to start on the left in Tuesday's qualifier at Guatemala.

Donovan, the Galaxy captain from Redlands, set up two goals -- he also drew the foul for Clint Dempsey's penalty just before halftime -- in an otherwise quiet performance, and former Galaxy star Herculez Gomez netted the third goal for the U.S.

U.S. grades can be found here.

2014 WORLD CUP QUALIFYING
CONCACAF
Third round
Group A
United States 3 (Bocanegra 8, Dempsey 44, Gomez 72), Antigua & Barbuda 1 (Byers 65)
Jamaica 2 (Phillips 40, Johnson 46), Guatemala 1 (Pezzarossi 92+)

Group B
Mexico 3 (Salcido 11, G. Dos Santos 15, og Rodrigues 51), Guyana 1 (og Moreno 62)
Costa Rica 2 (Saborio 10, Campbell 15), El Salvador 2 (Gutierrez 23, Romero 54)

Group C
Cuba 0, Canada 1 (Occean 54)
Honduras 0, Panama 2 (Perez 64, 80)
April, 11, 2012
4/11/12
5:53
PM PT
By
Scott French
| ESPNLosAngeles.com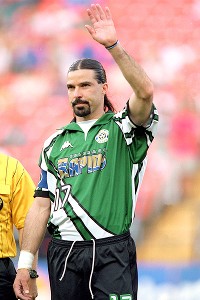 Brian Bahr/Getty ImagesMarcelo Balboa, a Cerritos native, played in three World Cups for the U.S.
Marcelo Balboa, one of the Southern California-bred legends who led the charge for American soccer in the late 1980s and early 1990s, was inducted Tuesday into the Colorado Sports Hall of Fame.

Balboa (Cerritos/Cerritos HS) played in three World Cups, anchoring the U.S. backline in 1990 and 1994, to highlight a career in which he represented the U.S. national time 128 times.

He played primarily in Colorado, where he lives, spending 1992 and 1993 with A-League powerhouse Colorado Foxes and the first six seasons of Major League Soccer with the Colorado Rapids. He's worked as a television analyst for ESPN, ABC, NBC and on Rapids telecasts and as host of a radio show in Denver while running Trebol Soccer Club in Lafayette, Colo.

"It was just exciting," Balboa told the Boulder Daily Camera. "You want to be able to leave a legacy for your kids, and that's the first thing I thought about. They can look at what their father did and tell their kids. That part of it is really cool. And this award isn't just for me. I couldn't have done this without all the teammates and fans that supported me over the years."
November, 15, 2011
11/15/11
1:42
PM PT
By
Scott French
| ESPNLosAngeles.com
The best thing about the U.S. national team's 3-2 victory Tuesday in Slovenia -- and there were a lot of good things -- might have been the opening whistle. It gave U.S. captain Carlos Bocanegra his 100th cap, a threshold only 11 American men had previously reached.

The central defender from Alta Loma (Alta Loma HS/UCLA) went the full 90 as the Yanks improved to 2-4-1 under Jurgen Klinsmann with their first victory in Europe in 3½ years.

Clint Dempsey forced a turnover that former Galaxy striker Edson Buddle finished from distance in the ninth minute, and Dempsey's header from Michael Bradley's corner kick restored the U.S. advantage in the 41st minute. Jozy Altidore converted a penalty kick two minutes later after Fabian Johnson was dragged down.

Tim Matavz's second goal of the night, in the 61st minute, pulled Slovenia closer.

Other L.A. area players seeing action were Bradley (Manhattan Beach), who started in midfield, and Maurice Edu (Fontana/Etiwanda HS) and Robbie Rogers (Palos Verdes and Huntington Beach/Mater Dei HS), who came off the bench.

Bocanegra debuted for the U.S. in December 2001 and has served as the team's captain since June 2007.

"It was a special night," Klinsmann told reporters afterward. "The team was pumped up all day, and they wanted to do well for him."

Five of the top seven on the all-time U.S. caps list are from Southern California -- Cobi Jones (Westlake Village/Westlake HS and UCLA), Landon Donovan (Redlands/Redlands East Valley HS), Marcelo Balboa (Cerritos/Cerritos HS), Paul Caligiuri (Diamond Bar/Walnut HS) and Eric Wynalda (Westlake Village/Westlake HS) -- and Bocanegra is joined at 100 caps by Joe-Max Moore (Irvine/Mission Viejo HS and UCLA).

U.S. Soccer has put together a "infographic" -- a poster, more or less -- commemorating Bocanegra's 100 maches, and a PDF is available for download.

U.S. CENTURY CLUB
(100 international appearances)
1. Cobi Jones 164
2. Landon Donovan 138
3. Jeff Agoos 134
4. Marcelo Balboa 128
5. Claudio Reyna 112
6. Paul Caligiuri 110
7. Eric Wynalda 106
8. Kasey Keller 102
9. Earnie Stewart 101
10. Carlos Bocanegra 100
Tony Meola 100
Joe-Max Moore 100


August, 18, 2011
8/18/11
9:36
PM PT
By
Scott French
| ESPNLosAngeles.com
CARSON -- "This is a funeral, of course. You guys are at the wake of my career. So I appreciate you guys coming. I hope you're enjoying the food at the back."
With that,
Jimmy Conrad
was off and roaring in the most entertaining news conference we've seen at Home Depot Center -- and we've seen plenty.
The Chivas USA defender had plenty to say during his retirement announcement Thursday:

On whether there is a sense of relief that the battle to come back is over:
"I think the biggest relief aspect to it is that I can now tell everybody what's happening, and there's been some closure, and that I can get on with my modeling career. ... Did I say that out loud? Sorry.
"There's some days I'd go in to
Robin
[
Fraser
, the Goats' head coach], I'd be like, 'I really want to play today.' And he's like, 'How's your head doing?' 'Yeah, maybe I still do have a headache, but I really want to play today.' And he's like, 'Nah, we're not going to let you play.' Without their guidance throughout this and really pulling the reins on me and making sure I'm making a good, smart decision -- day in and day out, because your emotion does take over -- I don't know if I would have been able to get through it."
On seeking advice from players who retired because of concussions, such as former New England star striker Taylor Twellman, now an analyst for ESPN's soccer coverage:
"I have a good relationship with Taylor. Sometimes, it's hard to navigate through the waters of his ADD. But I did that. I tried. I tried to get something substantial from him, some substance. ... I'm sure you're going to write that one up. It will be fun to apologize to him for that."
On the secret to his success:
"I don't know if there are any shortcuts. When I coach kids or any time I'm involved with kids, or if I'm running my own camps or whatever, I let them know that there's no magic pill you can take. Nothing I say is magically going to make you better. If you're willing to put the work in, then you're going to reap the rewards. It's that simple.
"I mean, all these parents out there want all this stuff, they want it to happen right away, and it just doesn't work that way. Sometimes it has to simmer before it gets to where you have to go.
"For me, I didn't get my first cap with the national team until I was 28. I'll state publicly: I hated [then-U.S. coach]
Bruce Arena
for a long time. Because I was just like, 'What's the deal, man? What else do I have to do?' I thought I put together a couple of good seasons, and he still just glossed me over, never really considered me. ... But now we're best friends. It's all good.
June, 25, 2011
6/25/11
10:07
AM PT
By
Scott French
| ESPNLosAngeles.com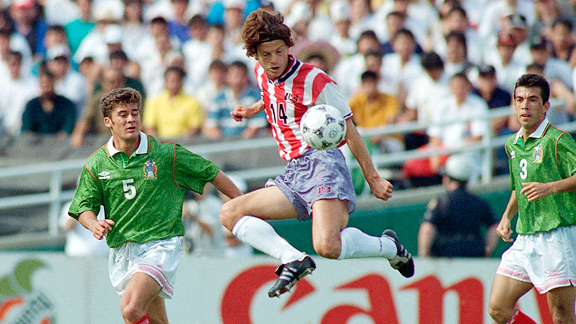 AP Photo/Mark J. TerrillFrank Klopas of the U.S. leaps in front of Mexico's Ramon Ramirez during a 1994 friendly at the Rose Bowl.

The U.S. and Mexico haven't met in the L.A. area since a 2000 friendly at the Coliseum, and if you want to lay blame for that, target CONCACAF (just one Gold Cup final in L.A., until this one, and Mexico didn't make it) and U.S. Soccer (no desire to play in front of 85,000 or so El Tri fanaticos).

So Saturday's Gold Cup final at the Rose Bowl hearkens back to a tradition that went strong for a decade -- seven meetings here from 1991 through 2000, four of them friendlies) -- and dates to 1957, when Mexico drilled the Yanks, 7-2, in a World Cup qualifier in Long Beach.

In all, they've played a dozen times in L.A., Pasadena or Long Beach. Here are five of the best showdowns:

Nov. 6, 1960
United States 3, Mexico 3
Salvador "Chava" Reyes, the great Mexican hero of the 1950s and '60s (later part of Chivas USA's academy administration), scored twice as El Tri took a 3-0 lead in the first 21 minutes of a World Cup qualifier first leg before 8,000 at old Wrigley Field. The U.S. rallied as Helmut Bicek, Carl Fister and Al Zerhusen scored goals, then fell, 3-0, a week later in the second leg in Mexico City.

July 5, 1991
United States 2, Mexico 0
The Americans' triumph in the first Gold Cup was fueled by a surprise victory in a Coliseum semifinal as John Doyle (now GM of the San Jose Earthquakes) and Peter Vermes (head coach of Sporting Kansas City) netted second-half goals in front of 41,103 fans. El Tri's lineup included Jose Manuel "Chepo" de la Torre, now its coach.


December, 26, 2010
12/26/10
7:23
PM PT
By
Scott French
| ESPNLosAngeles.com
Our countdown of 2010's top 10 soccer stories and newsmakers -- from a Southern California slant -- continues.
Newsmakers/No. 6: Kevin Hartman and Amy Rodriguez
One was a veteran goalkeeper dumped by the club he'd served admirably for three seasons. The other was a promising young striker who hadn't lived up to the acclaim and expectations.
Both delivered breakthrough campaigns in 2010.
Kevin Hartman
(Palos Verdes/Peninsula HS and UCLA) had the finest year of his career -- the finest year any Major League Soccer netminder has posted -- to lead FC Dallas to its first MLS Cup title game.
Amy Rodriguez
(Lake Forest/Santa Margarita Catholic HS and USC) asserted herself as one of the best forwards in the women's game, leading the expansion Philadelphia Independence to Women's Professional Soccer's championship game and making a real impact for the U.S. women's national team.