Los Angeles Soccer:

Marco Delgado
June, 8, 2012
6/08/12
4:52
PM PT
By
Scott French
| ESPNLosAngeles.com
CARSON -- Chivas USA's coaches issued a challenge to
Paolo Cardozo
as the team returned to full-time training this week, something along the lines of let's see something more concrete from all that skill.
The Argentine midfielder obliged them Friday morning, putting on a clinic to steer the Goats to a 3-1 MLS Reserve League victory over San Jose on one of the training fields west of Home Depot Center's stadium.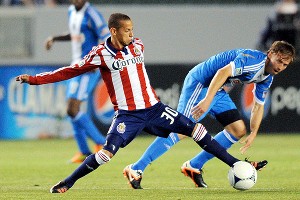 Kelvin Kuo/US PresswireAfter performing well in a reserve game, Paolo Cardozo hopes to join Chivas USA's regular lineup soon.
He scored two goals, drew the penalty kick for the third, and played with a joie de vivre that ought to have everyone in red and white stripes smiling broadly. Might Cardozo, who arrived from the Galaxy two months ago, be ready to join Chivas' attacking revolution?

"I think today he's put in his best effort since he's been here," assistant coach Greg Vanney said. "He was dangerous -- he was goal-dangerous. ... For him, it's getting him to think about the goal and think about the final product and not just about possessing around the field."

Possession-wise, few can match Cardozo, a 22-year-old Uruguayan born magician who came to the Galaxy last year on loan from Quilmes and was sent down the hall when L.A., in dire need of backline help, came calling for David Junior Lopes -- who, by the way, dropped by to watch some of Friday's action.

Cardozo had the best foot skills on the Galaxy, but a pretty good margin, and to watch him weave through foes in tight spaces is something truly to behold. If the chief aim in the game were to weave through players in limited space, he'd be Lionel Messi.

That skill has never translated into production, one reason the Galaxy found him expendable -- and why Chivas, as it has added dynamic young attacking talent (with, especially, Jose Erik Correa and Juan Agudelo), has used him in only three of 10 first-team games since his arrival.

"We challenged him over the last few days," Vanney said. "He's crafty in possession and can speed around, but at the end of the day, as an attacking midfielder you have to have final product. ... Today he definitely had some good looks."


May, 23, 2012
5/23/12
1:47
PM PT
By
Scott French
| ESPNLosAngeles.com
Juan Agudelo, after his first training session as a Chivas USA forward and again after his first game with the club, spoke of his excitement to return to Red Bull Arena and face his former club.
That game has arrived, but Agudelo is missing, off with the U.S. national team in Florida preparing for next month's World Cup qualifiers. He is, however, a big part of the conversation heading into Wednesday's Major League Soccer showdown against the New York Red Bulls.
So, too, defender
Heath Pearce
, who a week ago was on Field 6 at Home Depot Center preparing for a tough stretch of games on Chivas' schedule. Now he's anchor to the Red Bulls' backline, ready to take on his former club.
If ever a trade were win-win, Thursday's was it. Chivas (4-6-1) picked up a young, rising star that New York, for whatever reason, had no interest in. The Red Bulls' thin defense got a versatile veteran with national team experience. And then Chivas, in another trade, picked up Pearce's replacement, veteran
Danny Califf
. Everybody is happy.
Agudelo, just 19, already has impressed with the national team and is a regular on U.S. coach
Jurgen Klinsmann
's rosters. But he didn't fit in stylistically at New York and struggled for playing time last year behind
Thierry Henry
and
Luke Rodgers
and this year behind Henry and
Kenny Cooper
, although he also was dealing with a knee injury.
Henry is happy to see him at Chivas.
"[Red Bulls GM]
Erik Soler
said it at halftime [last weekend]: He wanted to go. So you've got to respect that," Henry told the
New York Post
. "He wasn't playing here, so I thought and he thought actually that it was a waste of time for him. ... I know some people were upset about it, had [something] to say about it, but at the end of the day, if you think about Agu, he had to play. It's good for him."
Klinsmann weighed in when he announced that Agudelo, who debuted for the Goats in Saturday's 1-0 SuperClasico victory over the Galaxy, was coming into camp with the U.S.
April, 2, 2012
4/02/12
11:13
PM PT
By
Scott French
| ESPNLosAngeles.com
CARSON -- Chivas USA's offensive problems, Robin Fraser believes, come down to mindset. The Goats need players willing to "go for it" if they're going to score goals and win games.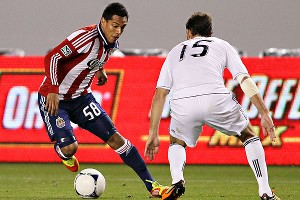 Victor Decolongon/Getty ImagesChivas USA's Cesar Romero
Cesar Romero has a message for Fraser: He can be that guy.

The first-year forward from San Diego scored a second-half hat trick Monday to lead Chivas past the Galaxy, 4-2, in an MLS Reserve League opener on L.A.'s training field at Home Depot Center, and after humbly noting that it "feels very good to win" and that he needs to "keep working hard to win my spot, try to win my time," a little of his swagger crept through.

"When I'm coming into the game, in my head I'm like, 'When I'm going to score?' " Romero said. "And if I get a chance, in my head, you know what? It's going to be in the back of the net. That's my confidence."

He sparked the Goats to a 3-0 lead, crossing for Miller Bolaņos' header in the 54th minute, finishing from Bolaņos' feed five minutes later, then volleying a Blair Gavin cross in the 64th. He scored his third in the 86th after Chad Barrett had pulled two back for L.A.

"Cesar, he's a dangerous player," Fraser said. "He makes good runs in behind, and if he continues to do that, I think he'll score goals in this league."

Chivas (1-3-0) could use goals. They've scored just one (from just eight real chances) in their first four Major League Soccer outings, wasting outstanding defensive performances in three 1-0 losses.

"Are we producing enough opportunities? Absolutely not. Absolutely not," Fraser said. "But a little bit of it, I think, is a shift in our mindset. To create goalscoring chances, you've got to just go, you've got to go for it. And I felt like today we did a decent job of that. We did a decent job of looking to play in behind, guys running in behind, and we have talented players. So we put ourselves into position where we can make plays, where we can make half-opportunities into whole opportunities.

"So I think the lesson to be learned for us is we've talked about being aggressive -- for a long time we've talked about it -- but really when you see it in practice and you just go for it, you just create more chances and you have to be willing to do it."


March, 28, 2012
3/28/12
11:22
PM PT
By
Scott French
| ESPNLosAngeles.com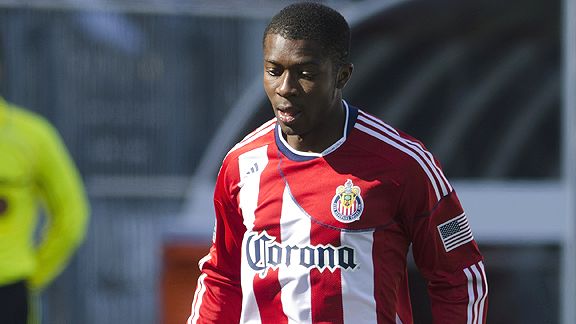 Rich Lam/Getty ImagesInjured midfielder Michael Lahoud is hoping to return to the Chivas USA lineup on April 7 or the week after.

CARSON -- Chivas USA's attacking troubles might not be so distinct had Michael Lahoud not strained his right hamstring two days before its Major League Soccer opener.

The fourth-year midfielder had a new job, on the right flank in a new 4-2-3-1 alignment that emphasized wing play in ways the Goats haven't, and was coming off an excellent preseason.

He was sprinting and working with the ball Wednesday morning for the first time since he was hurt in training three weeks ago, and he hopes to be back on the field by the April 7 game at Portland or the following week at Toronto FC.

"For sure, [I'm] close," Lahoud said after the training session at Home Depot Center. "Just to be able to come out and do a little bit of sprinting, to be involved in some of the drills, to pass the ball … to put these studs back on, it does a wonder for your mind and your sanity."

Robin Fraser was pleased to see him doing more.

"It's good to see Michael come out and do some ball work," Chivas' coach said. "He's on the mend."


March, 23, 2012
3/23/12
7:07
PM PT
By
Scott French
| ESPNLosAngeles.com
The Galaxy's and Chivas USA's academies are contributing players to Javier Perez's first camp in charge of the U.S. under-18 national team, which begins Sunday and runs for a week.

Galaxy midfielder William Raygoza and forward Jaime Villarreal -- the younger brother of L.A. Home Grown Player Jose Villarreal -- are on the 35-man roster, as are Chivas USA midfielder Marco Delgado and Ben Spencer.

Former Chivas USA midfielder Esteban "Stevie" Rodriguez, a star on the U.S. team that played at last year's FIFA U-17 World Cup, also is on the roster. Rodriguez signed in early February with Club Tijuana after spending the first week of preseason training with the Goats' first team.

Delgado and Spencer train with Chivas' first team, and the club is angling to sign Delgado as a Home Grown Player.

Here is the list of local players invited to the camp:

F Paul Arriola (Arsenal FC/Alta Loma), Chula Vista
M Marco Delgado (Chivas USA/Carson), Glendora (Glendora HS)
M William Raygoza (Galaxy/Carson), El Monte (South El Monte HS)
F Esteban Rodriguez (Club Tijuana/Mexico), Palmdale (Bell Gardens HS)
F Ben Spencer (Chivas USA/Carson), Albuquerque, N.M.
F Jaime Villarreal (Galaxy/Carson), Inglewood (Leuzinger HS)
March, 9, 2012
3/09/12
11:26
PM PT
By
Scott French
| ESPNLosAngeles.com
CARSON -- Chivas USA opens its season Sunday afternoon against the Houston Dynamo, and there will be a more intimate Home Depot Center to greet the club.
The Goats have altered the stadium configuration, dropping capacity for their games from 27,000 to 18,800 -- about what they're looking for in the new stadium the hope to build somewhere in the L.A. area in the next five years.

To do so, they will close the upper-level seats on the eastern stands and sections 116-127 on the north end, covering them with banners, according to a media advisory distributed Friday.
Chivas has been scouting locations for a new stadium for several years and would like to have one in place by 2014, according to sources within the club. They have looked at sites in Pomona and Santa Ana, and there have been talks with USC about an 18,000-seat facility on the space now occupied by the Los Angeles Sports Arena, according to multiple sources with knowledge of the discussions.
One possibility, a Chivas source said, would be to play in the Coliseum while such a stadium -- which also would be used by USC's lacrosse and women's soccer teams -- was constructed. The plans require the university to take control of the Coliseum site.
NEW TRIALIST:
Chivas is up to eight trialists in camp with the addition this week of two more, one of them quite interesting. Nigerian
John Owoeri
, a small but solidly built forward/winger who has played in Holland for Feyenoord, Belgium for Westerlo, Nigerian power Enyimba and most recently in Egypt with Ismaily.
January, 16, 2012
1/16/12
4:26
PM PT
By
Scott French
| ESPNLosAngeles.com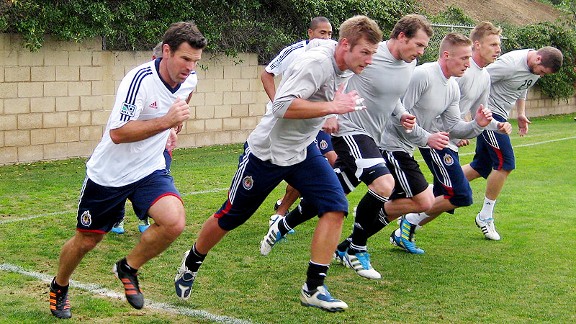 Scott French/ESPNLosAngeles.comAssistant coach Greg Vanney (left) leads Chivas USA' goalkeepers in sprints.
CARSON -- Chivas USA has been looking to tap into Southern California's rich pool of young talent, and the first real foray was on display as the club opened its preseason camp Monday morning at Home Depot Center.

Salvadoran midfielder Marvin Iraheta, who came to Chivas' academy in last year's merger with Cosmos West, was presented, sort of, as the Goats' newest signing. He was the U.S. Developmental Academy's U-17/18 Player of the Year for the 2009-10 season and played at Old Trafford last year with a Cosmos side constructed for Paul Scholes' testimonial match.

Iraheta, just 19, is looking for more.

"I'm very happy about the opportunity I'm being given," Iraheta, who moved from El Salvador to Pasadena when he was 17 and holds a green card, said through a translator. "This is something new for me, and I'm going to work as hard as I can so I can reach the top."

Fraser, who Monday also welcomed English midfielder Ryan Smith, right back James Riley, goalkeeper Tim Melia and rookie forward Casey Townsend to the club, not only likes Iraheta, but also what he represents.

"Marvin is a tremendous product of Southern California soccer," the Goats' head coach said. "He's a kid who was the Development Academy's Player of the Year a couple year back, certainly highly sought-after, well-recognized for his achievements. He's a non-nonsense, hard-working midfielder. He's a battler. He's a true competitor.

"It's great. This is what we've talked about since we got here [a year ago]: to be able to find and unearth some of the local talent that's here, and Marvin is a good example of that. he's a kid who's excelled as a youth player and is certainly moving into this next stage of his career."

Another local talent, former Chivas Academy defender Mario Ledezma, is on trial with the Goats. The El Camino Real High School grad had been in Guadalajara's system.


October, 18, 2011
10/18/11
5:02
PM PT
By
Scott French
| ESPNLosAngeles.com
CARSON -- Next season has begun for Chivas USA, which already is in assessment mode -- with Robin Fraser and his staff determining who will return in 2012, who won't, and who might be worth bringing in.

There's still one game left on the schedule, Saturday night against Seattle at Home Depot Center, but it means nothing in the grand scheme, not much more than Tuesday's MLS Reserve League clash with Vancouver, a 1-0 triumph claimed on Victor Estupiņan's goal near the end of the first half.

Most newsworthy was a second-half appearance by French midfielder Nicolas Dieuze, a 32-year-old midfielder who has played alongside assistant coach Greg Vanney and midfielder Laurent Courtois.

Dieuze, out of contract since his pact with Grenoble Foot 38 expired last spring, came on at halftime for Mariano Trujillo and fared well in his first real action for the Goats.

"Where we are, we're open to everything, and we're looking at everyone," Fraser said. "We're going to look at everything we can see, everything we think might be worthwhile. With Nicolas, the opportunity to look at him came up, and we figured we'd take it."

Dieuze played with Courtois at Toulouse from 1999 to 2001, then was Vanney's teammate at Bastia from 2001 through 2003. He then returned to Toulouse for five years, spent a season with Le Havre and two at Grenoble.

"I think he's an excellent two-way midfielder," Vanney said. "He's an interesting player. We're always looking to gain some experience and look at players who can maybe help our team in the future."


October, 10, 2011
10/10/11
5:37
PM PT
By
Scott French
| ESPNLosAngeles.com
CARSON --
Dasan Robinson
finally got some game time for the Galaxy, going the full 90 in his first appearance, a 2-1 loss Monday to Chivas USA as SuperClasico week began with an MLS Reserve League match.
Robinson, who played in central defense, was acquired from Toronto FC in mid-September, but a groin strain has limited his availability.


"I was pretty excited," he acknowledged after the game, played on the Galaxy's University Field 1 training ground at Home Depot Center. "I knew this was an opportunity to get some minutes playing for the team. ... I felt it went really well -- this game really helped me see the style the Galaxy plays and where I can fit in."
Robinson, who can play in the middle or on the flank, was brought in to add experienced depth to a backline that's been beset by injuries, which has required several players to slog through a heavy stretch of games without break.
"Hopefully," Robinson said, "I can contribute in some way the next couple of games."
Next up is the real SuperClasico, on Sunday at HDC. The game means nothing to either team -- L.A. has clinched the Supporters' Shield as league champion, Chivas USA is out of postseason contention -- but, as always, is an important clash.
"You just never want to lose to Chivas," said defender
Omar Gonzalez
, who did not play in the reserve game. "That's the main thing."
QUICK GOALS:
Chivas took charge Monday with second-half goals three minutes apart by
Marcos Mondaini
and, from
Michael Lahoud
's perfect cross,
Victor Estupiņan
. The victory sent the Goats (2-3-3) to fourth in the six-team West Division; the Galaxy (1-6-2) is last. Seattle (7-1-0) clinched the divisional title a couple of months ago.
Hector Jimenez
scored the Galaxy goal in the 25th minute, finishing a fine feed by teen forward
Jack McBean
after intercepting a
Blair Gavin
pass at midfield to start a quick sequence.