Los Angeles Soccer:

Marco Vidal
March, 28, 2011
3/28/11
5:10
PM PT
By
Scott French
| ESPNLosAngeles.com
Club Tijuana loses so rarely that every defeat is unexpected, except perhaps Saturday's at Irapuato.
The Strawberry Lashers (8-2-3), along with second-place Leon, have been the class of the second-tier Liga de Ascenso since the Clausura kicked off in January, and their 2-0 triumph over the Xolos -- on two
Cuauhtemoc Blanco
strikes -- kept them two points clear atop the standings, five ahead of third-place Atlante Neza and 10 above the playoff line.
Expect a rematch, possibly in the Clausura final and more likely in the promotion final. Tijuana, as winner of the (fall) Apertura title, is already in the final series and will play the Clausura winner for a spot in the Primera Division. Irapuato just missed out on an Apertura title-series showdown with the Xolos in December, losing to Veracruz in the semifinals after conceding twice in five minutes near the end of the second leg.
Saturday's victory was Irapuato's fourth in a row, fifth in six games and left it 6-1-1 in the last eight. Tijuana (5-2-5), which had San Diego's
Joe Corona
on one wing, had won its previous four and was unbeaten in 10, since a 1-0 surprise at Altamira in its Jan. 21 Clausura opener. The Xolos fell from third to sixth in the standings.
Tijuana's other loss since July? At Indios de Ciudad Juarez, 1-0, back on Nov. 6. The Xoloitzcuintles' overall record, playoff games included: 18-3-12.
March, 25, 2011
3/25/11
9:23
PM PT
By
Scott French
| ESPNLosAngeles.com
Mexico's Primera Division, like most leagues around the globe (but not Major League Soccer), is taking this weekend off for FIFA's international fixture dates.
El Tricolores, with 13 of 23 players from Mexico's top league and the rest from MLS (
Rafa Marquez
) and Europe (another dozen, including
Javier "Chicharito" Hernandez
and
Giovani Dos Santos
, are in California for games Saturday against Paraguay in Oakland and Tuesday night against Venezuela in San Diego.
(And Mexico has announced the fourth date on their annual U.S. tour: May 28 vs. Ecuador in Seattle.)
We're 11 weeks into the 17-game Clausura (spring) regular season, and here's some of what's transpired so far:
BEST TEAM:
Unbeaten Pumas UNAM (7-0-4) has done it with defense, naturally. The Cats have conceded just eight goals and shut out six foes, including five of the last seven, behind goalkeeper
Alejandro Palacios
, central defenders
Dario Veron
,
Efrain Velarde
and
Marco Antonio Palacios
, and central midfielder
Israel Castro
. All five have played every minute.
Others in the hunt:
Morelia (6-2-3) is a surprise at No. 2 in the overall table, outfiring foes, 22-9, since a 5-0 loss to Atlas in the opener. … UANL Tigres (5-1-5) have lost just once while surrendering five goals -- just one in the past seven games -- but attacking liabilities are a concern. … Never look past Cruz Azul (6-2-3), which has been very good; America (5-6-1), hit and miss; or Monterrey (6-4-1), inconsistent but improving. … Atlas (4-4-3) is fading after that fast start, but Atlante (5-5-1) is on the rise, with nine goals in its last two games.
BEST PLAYER:
We're tempted to go with with
Emanuel Villa
, who has been scoring important goals of great quality, but we prefer his Cruz Azul teammate
Christian Gimenez
, the most dynamic playmaker in the Primera Division. … Other candidates:
Angel Reyna
is in terrific form for America. …
Neri Cardozo
is evolving into a real star with Monterrey. …
Rafael Marquez Lugo
is eclipsing his namesake with a superb campaign at Morelia. …
Juan Carlos Cacho
was spectacular for Pumas before he was injured in a national team camp. … Nobody is better than Atlante's
Francisco "Kikin" Fonseca
at the moment.
March, 1, 2011
3/01/11
11:37
PM PT
By
Scott French
| ESPNLosAngeles.com
Look who's becoming a star. Calexico's Isaac Acuņa, who had played all of four minutes of Mexican Primera Division futbol before Feb. 12, scored for the second successive week as Gallos Blancos de Queretaro battled to hold off Necaxa in the relegation fight.
Acuņa, 21, took his time this week, not tallying until the seventh minute in a 1-1 draw Saturday with mighty Cruz Azul. He scored just three minutes into Gallos Blancos' 2-0 victory at Santos a week earlier. He debuted for the club, and made just his second top-flight appearance, the week before that.
Queretaro overcame two red cards to snare a point in a testy battle. There were four yellow cards in the first five minutes, and
Raul Ferro
was dismissed before a dozen minutes were up, which led to Acuņa's departure in the 31st minute for tactical reasons.
The relegation battle appeared done when Gallos Blancos beat Necaxa on Jan. 29, but it has reignited as the streaking Rayos have posted three successive wins -- 1-0 over Santos Laguna last week -- and gone unbeaten in four games since
Sergio Bueno
took over after the loss to Queretaro.
"We must be aware of the situation, that we are still at the bottom of the percentage table and we need points ...," Necaxa midfielder
Paulo Cesar Chavez
told reporters this week. "The reality is we're the last in the percentage table, and it is urgent. We need to get out of there."
Gallos Blancos lost twice after beating Necaxa, and Acuņa's productivity has helped keep the club from the bottom spot in the relegation table, a points-per-game standings over three full (fall/spring) seasons.
How close is it? If Necaxa wins at Cruz Azul and Gallos Blancos loses at Monterrey on Saturday, the Rayos will no longer be in the basement. The lowest team at the end of the season heads to Liga de Ascenso.
GAME OF THE WEEK:
America beat Toluca, 4-3, in a dynamite encounter that featured four goals in the first eight minutes of the second half -- two apiece, the last a gorgeous strike by America's
Daniel Montenegro
for a 3-2 advantage.
PLAYOFF REALITIES:
Pumas UNAM (5-0-3) and UANL Tigres (5-1-2) put some distance on the field with lopsided home victories, and, barring collapse, are headed to the postseason.
So is Cruz Azul (4-2-2) and, increasingly it seems, Morelia (4-1-3). Everyone else? We'll see.
February, 8, 2011
2/08/11
3:06
PM PT
By
Scott French
| ESPNLosAngeles.com
America has righted things in a hurry, reeling off two more wins in the past week to leap into the overall top five and all but push the horrid-by-club-standards 0-2-1 start out of mind.
Matias Vuoso
scored three goals as the Aguilas (3-2-1) routed San Luis, 3-0, and dominated Gallos Blancos de Queretaro, 3-1, to push Chilean coach
Carlos Reinoso
's mark to 3-0 in his third stint in charge of the Mexico City giant.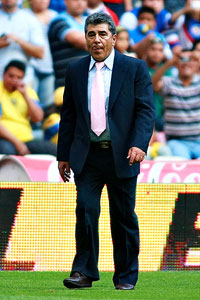 Francisco Estrada/Getty ImagesCarlos Reinoso, in his third go-around with America, has his 11 with a 3-0 record under his guidance.

"We've gotten good results, but we've been at this just 10 days," Reinoso told media as America began preparations for Friday's match at last-place Necaxa. "Suddenly, people are asking us to be more offensive ... but we're improving little by little, and what makes me happy is that the players have received [my] message."

The Aguilas dismissed Manuel Lapuente in a panic after sandwiching home losses to Pachuca and UANL Tigres around a draw with Jaguares, but the move worked as well as hoped. America responded to the firing with a 2-0 victory over previously perfect Atlas on Jan. 29, and it was more impressive in Wednesday's win over San Luis, a forward makeup -- the match was initially scheduled for April 13.

Vuoso converted two penalty kicks against San Luis and scored the second goal, just before halftime, against Gallos Blancos. Sunday's win wasn't assured until Aquivaldo Mosquera's 86th-minute goal.

"We went back to basics," Vuoso, who has five Clausura goals and 15 for the fall/spring season, explained to the Mexican media. "[Lapuente] had nothing to do with [the poor start] -- it was us, the players. We had forgotten the basics, forgotten to play as before, as we usually do. ... It was the fault of the players, not the fault of other people."

IN MONTERREY: Los Alamitos' Jonathan Bornstein, making his third start of the season for Group 1 leader UANL Tigres (3-1-1), set up Hector Mancilla's eighth-minute opener in a 2-0 victory at Santos Laguna. The home side was without top scorer Christian Benitez, who has an ankle injury.

Tigres' crosstown rival Monterrey (2-3-0) also posted a 2-0 victory, over Pachuca on Aldo de Nigris and Neri Cardozo goals, to vault to 11th in the overall standings. The Rayados have shutouts in four of their past five home games. Pachuca turned to former Galaxy forward Herculez Gomez and fellow U.S. World Cup pick Jose Francisco Torres, giving each his first Clausura start, but the Tuzos (1-2-2) fell to the bottom of Group 2 after failing to score for the third time in four games.


February, 1, 2011
2/01/11
6:43
AM PT
By
Scott French
| ESPNLosAngeles.com
America fired its coach and won. Monterrey expressed confidence in its quality and lost. Guadalajara just drifts aimlessly along.
Three Mexican Primera Division clubs dealing with crisis in different ways, and two of them, at least, are expected to contend for the Clausura title, no matter their slow starts.
America, which dumped
Manuel Lapuente
after opening the "spring" season 0-2-1, won as
Carlos Reinoso
started his third stint as head coach with a 2-0 win over previously perfect Atlas as
Matias Vuoso
and
Angel Reyna
scored second-half goals.
It might have finished differently: Atlas could have pulled even moments after Vuoso's strike, but
Hebert Alferez
tripped over the ball facing a virtually open net from close-range. And Reyna's goal was the product of the worst possible clearance attempt, by
Darvin Chavez
.
"I think we're on the right track, and we deserved the win because we never gave up on it," Reinoso told media. "I'm going to be very demanding, and America must be a team that always goes out to dictate play on any field and against any rival."
Monterrey (1-3-0) is 17th overall -- only pointless Necaxa is worse -- after falling, 3-2, at Pumas UNAM, the Rayados' sixth loss in their past eight regular-season games. And that after dropping just one of the previous 31 en route to two league titles and a best regular-season record.
"We realize that victories are always urgent, especially with a team that is normally used to winning and to playing good football," Monterrey assistant coach
Carlos Barra
told reporters. "We need to reach the level of previous tournaments."
Both clubs have the talent to turn their seasons around. Guadalajara (0-1-3), which sank to 16th overall with a 1-0 defeat to crosstown rival Estudiantes Tecos, is one of two winless clubs (Necaxa's the other) and has shown no knack for winning games. They've finished ahead just twice in their past 16 matches, dating to early September.