Los Angeles Soccer:

Mario Balotelli
July, 24, 2011
7/24/11
7:37
PM PT
By
Scott French
| ESPNLosAngeles.com
CARSON -- Mario Balotelli took a defense-splitting pass from David Silva and bore down 1-on-1 with Galaxy goalkeeper Josh Saunders. One touch and Manchester City's lead would be two goals not quite a half-hour into its friendly Sunday afternoon at Home Depot Center.
What Balotelli did next was inexplicable.
The Italian striker of Ghanaian descent, whose troubled background makes for one of soccer's most interesting personalities, decided to have a little fun. He pirouetted about 10 yards from the net, pulling the ball with his left foot, then tried to backheel it past Saunders. It went wide.
That was it for Balotelli, who was quickly hustled off the field by Man City manager
Roberto Mancini
, gave his boss an Italian salute (something akin to flipping the bird), then stormed to the end of the bench and plopped down.
Might this be the end of the Blues' experiment with the former Inter Milan star? Hardly.
"I think that we need to be always professional, always serious, and for me in that case, Mario wasn't professional," said Mancini, a former Italian national-teamer who starred at Sampdoria and Lazio. "And for this, I change. ...
"Mario is young, sometimes he make mistake, but I want to help him always. I think this could be a lesson. If Mario serious, if he play serious, he can play like the first 25 minutes -- he played well, he worked, he scored goal on penalty [to give Man City a 20th-minute lead]. But after, no. ... For me, it's finished now. I hope that for him, it's an important lesson."
It was a bizarre moment in an at-times invigorating match in the World Football Challenge series of friendlies that finished 1-1. Galaxy coach
Bruce Arena
called it "odd, to be honest with you," but didn't want to talk about whether Balotelli disrespected his team with the maneuver.
Mike Magee
, who scored the second-half equalizer, was willing to weigh in.
"It's not something I would do," Magee said. "We might be a step down from the [English Premier League] as far as leagues and stuff, but we know we're good. If that was a 6-0 game and he does that, probably someone would have had a whack on him. ...
"Me, personally, I don't care what the guy does."
July, 24, 2011
7/24/11
7:34
PM PT
By
Scott French
| ESPNLosAngeles.com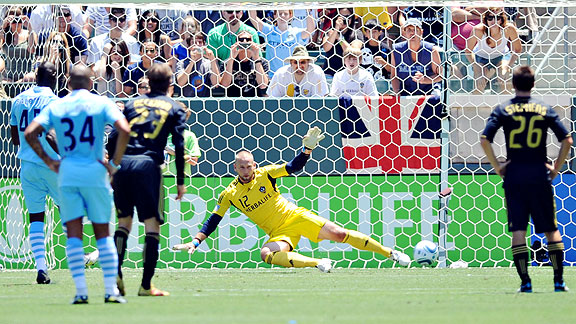 Kelvin Kuo/US PresswireManchester City forward Mario Balotelli shoots a penalty kick against Los Angeles Galaxy goalkeeper Josh Saunder.
CARSON -- Officially, Manchester City won Saturday afternoon's friendly against the Galaxy, prevailing on penalty kicks following a 1-1 draw. But it felt like a victory for L.A., who were the better side in the second half, rallied on a superb Mike Magee goal and accomplished most of what it set out to do.
"I think I saw a little bit more today than I saw in [last week's friendly against Real] Madrid," Galaxy coach
Bruce Arena
said after his team shook off a poor first half to create more than enough chances to beat the English Premier League powerhouse in the World Football Challenge clash at Home Depot Center.
"I think we're gonna have to be playing three games a week for an extended period of time" -- actually, it's twice a week, once CONCACAF Champions League play begins -- "and we need to go deep into our roster. Today were some indications that there are some players we can use, which is a positive."
The best such impression was made by rookie midfielder
Dan Keat
, from New Zealand by way of Dartmouth College, who was slowed by injury early this season but looks like he's ready to contribute now.
Keat played two superb long balls to
Chris Birchall
, the first one leading to Magee's 53rd-minute goal, the second to a
Todd Dunivant
chance two minutes later, and and tested City goalkeeper
Joe Hart
with a blast from Dunivant's rebound. He won balls in midfield and was a solid conduit as the Galaxy took charge over their tiring foe as time wore on.
"I thought Dan Keat played real well," Arena said twice during his postgame news conference. "I was impressed with his composure, his passing. He had a good look at goal. ... His distribution was good, he got around the ball pretty well, won some tackles. ... That was very encouraging."
Said Keat: "Today was all about going out there and showing that I can play at that level and giving a good showing of myself," Keat said. "I think I did that. ... A lot of players stood up and did well. It's good for Bruce to see that everyone performed at that level and showed they can contribute to the second half of the MLS season."
Winger
Hector Jimenez
and defender
Kyle Davies
made their first starts for the first team, and 16-year-old forward
Jack McBean
and midfielder
Dustin McCarty
made their initial first-team appearances.
Frankie Hejduk
returned to the field following a lengthy ankle injury, playing 30 minutes in the second half -- "Huge for us," Arena said -- and reserve forward
Adam Cristman
, midfielder
Jovan Kirovski
and goalkeeper
Brian Perk
got ample time.
Michael Stephens
went the full 90, splitting time in central defense and on the left flank.
Omar Gonzalez
, wearing a mask to protect his fractured nose, played 45 minutes after missing L.A.'s last two games.