Los Angeles Soccer:

Marvin Chavez
June, 30, 2012
6/30/12
11:56
PM PT
By
Scott French
| ESPNLosAngeles.com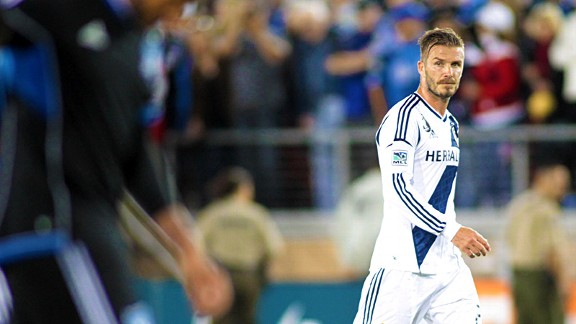 AP Photo/Mathew SumnerDavid Beckham's rough week ended with a postgame confrontation Saturday with San Jose players.

The wildest and weirdest of California Clasicos unfolded just as the Galaxy hoped, at least after an early hiccup, and exactly as the San Jose Earthquakes might have expected -- and desired.

Three goals in 11 minutes, two of them caused by Jason Hernandez errors, gave L.A. a two-goal edge just before halftime, and the way the Galaxy have been playing lately, that ought to be enough against nearly anyone in Major League Soccer.

But this Earthquakes side increasingly has the look of destiny about it, and given what's come before, its comeback for a 4-3 triumph Saturday night at sold-out Stanford Stadium was persuasive.

Victor Bernardez blasted home a feed from a corner kick near the end of the first half, Sam Cronin finished a spectacular sequence to start the second half, and MLS scoring leader Chris Wondolowski's backheel from a corner kick in the 61st minute delivered San Jose its seventh comeback victory of the year.

It spoiled the Galaxy's best 10 minutes or so of the season and restored the Quakes' spot atop MLS's Supporters' Shield standings, which had been taken by D.C. United with a victory earlier in the day.

It was an absorbing match, probably the best in the league this season, marked by end-to-end action, huge shifts in momentum, sudden chances enhanced by a tight field, goals both brilliant and unfortunate, tremendous atmosphere (some 50,391 on hand), and a end-of-game meltdown by David Beckham, whose nightmare week closed with a one-game suspension certain and additional games likely to be added.

"It was enjoyable to be part of, for the most part," Galaxy captain Landon Donovan told media afterward. "I thought the crowd was great, the energy was great, and it's just 20 some-off people in here [in L.A.'s locker room] who aren't happy. ... It's a game we should have won."

Coach Bruce Arena agreed with the last part.

"It was a sloppy game, a lot of mishaps," he said. "Kind of what we expected on a tight, short field. ... We did a poor job [defensively] today. Our defense on set pieces wasn't good, and it cost us the game.

"We have no one to blame. We should not lose that game."


December, 17, 2011
12/17/11
5:13
PM PT
By
Scott French
| ESPNLosAngeles.com
David Beckham hasn't signed with Paris Saint-Germain and, disputing French claims, isn't in the French capital, one of his spokesmen told Sky Sports on Saturday.
France Football
magazine claimed the Galaxy midfielder and his family landed at Le Bourget airport north of Paris, sparking anticipation he's about to sign with PSG, the French giant that's looking to take a huge step forward with Qatari cash.
"No deal has been done with any football club yet," a spokesman told Sky Sports' website, "and David is not in Paris."
PSG has reportedly offered Beckham an 18-month contract worth about $18.7 million, and the English superstar has hinted he'll decide between the Galaxy and PSG -- or, less likely, to head somewhere else -- after Christmas.
His contract with the Galaxy expires at the end of December. The transfer window in France opens on New Year's day.
August, 6, 2011
8/06/11
11:37
PM PT
By
Scott French
| ESPNLosAngeles.com
CARSON -- David Beckham is celebrated the world over for his ability to put a ball in specific spots, and he was at his best in doing so Saturday night at Home Depot Center.

The Galaxy's biggest name had its biggest game in the biggest showdown of the season, at least so far, delivering three beautiful balls for goals in a 3-1 triumph over FC Dallas that extended L.A.'s lead over the Hoops in the Supporters' Shield and Western Conference races to six points.

Six big points.

The victory also gave the Galaxy (13-3-9) the advantage in the tiebreaker, which means they'll get the trophy should Major League Soccer's two best sides finish on even terms when the regular-season ends in another 2½ months.

"We've got our own goals that we've set, and the first one is winning the Supporters' Shield," Galaxy captain Landon Donovan said, "and this was really a big step in the right direction."

It was a chippy, sometimes ugly game, filled with fouls and cautions, but it was beautiful for L.A., which needed to show character after a horrid performance in Wednesday's loss at Portland. It didn't start well, with Marvin Chavez providing FC Dallas (12-6-6) a ninth-minute lead, but once the Galaxy found their step -- perhaps a half-hour in -- they were the dominant side.

All three goals came from Beckham's service, with Omar Gonzalez finishing a free kick in the 32nd minute (after Dallas goalkeeper Kevin Hartman swung and missed while trying to punch away the cross), Juninho volleying home after a corner kick in the 62nd (when Gregg Berhalter inadvertently nodded the cross back to the top of the box) and Mike Magee heading home clinically from an 81st-minute free kick.

Said Galaxy coach Bruce Arena: "Obviously, he's made quite a reputation for himself over the years on set pieces, and he continues to have the abuility to serve the ball in dangerous spots. ... Teams that can score goals off set pieces often win a lot of games. Obviously, it's an important part of our attacking scheme."

A quick look at the Galaxy's victory:
August, 1, 2011
8/01/11
9:34
AM PT
By
Scott French
| ESPNLosAngeles.com
Chivas USA has been hot lately -- no more so than in last weekend's romp over Houston -- but this was something else.
The Goats wilted Sunday in the blistering heat of Frisco, Texas, and their five-game unbeaten streak came to an end with a 1-0 loss against FC Dallas.
Marvin Chavez
got the goal, in the 26th minute, his shot ricocheting in off Chivas defender
Heath Pearce
, with goalkeeper
Dan Kennedy
going the other way.
That was all the Hoops (12-5-6) needed in temperatures that hit 112 degrees -- that's heat index -- on the field, conditions that clearly bothered both sides, sapping everybody of energy.
Pearce, who played a season plus two months in Dallas, ought to know North Texas heat.
"I don't even remember this heat," he told reporters after the game. "I don't know if I ever played in this heat when I was there."
He said Chivas didn't come out "particularly strong, like we did the last couple games, but we hung in there. The turnovers are what eventually cost us the match. That many turnovers in this kind of heat is going to drain you pretty quick."
The loss dropped the Goats (6-8-8) out of playoff territory, a point behind Houston for the final spot, but there's plenty of time to sort that out. Chivas has a dozen league games remaining.
A quick look at Chivas' loss:
BEST PLAYER:
We've got two. Mexican U-20 national teamer
Ruben Lana
, positioned up top, was terrific in key moments for the Hoops and played the pivotal role in the goal. Dallas defender
George John
was solid at the back and nearly doubled the advantage in the 39th minute, heading
Ricardo Villar
's free kick off the post.
May, 1, 2011
5/01/11
11:51
PM PT
By
Scott French
| ESPNLosAngeles.com
A heavy storm that produced puddles on the field and caused an hour's delay for lightning colluded with Brek Shea's hopeful chip to deprive the Galaxy of a point on the road Sunday.
It was a stunning strike to complete a cruel 2-1 decision that ended L.A.'s five-game unbeaten streak and sends it into next week's showdown with Eastern Conference leader New York just three points ahead of Real Salt Lake in the West despite playing nearly twice as many league matches.
Landon Donovan
scored his third goal in two games, a marvelous finish of
Juninho
's cross in the 51st minute to answer
Fabian Castillo
's opener for Dallas two minutes into the second half.
"Obviously, it was a weird game …," Donovan told media after the game. "We're all disappointed and upset but not really sure what to be upset about."
The conditions, as in nearly every game the Galaxy (4-2-3) has played this season, weren't good: mid-40s, big winds and rains that grew heavier as the game progressed and intensified in the 61st minute, soaking the field and everyone on it.
There was standing water in place by the 83rd minute, when lightning forced referee
Alex Prus
to halt play. When the teams returned an hour later, most of the sellout crowd of 21,867 was gone, and so were
David Beckham
and
Juan Pablo Angel
.
L.A. couldn't hold on for the draw. Shea struck in the 88th minute, and that was that.
"Honestly, we didn't feel like we deserved to lose the match," Galaxy associate head coach
Dave Sarachan
said. "I thought the initiative to make the game and come out and play was very good. … The last [goal] was a fitting end to a weird night."
A quick look at the Galaxy's defeat:
BEST PLAYER:
Shea's goal was so marvelous, so heady ... so decisive. He was good all night, might have had the winning assist on a tremendous pass that
Marvin Chavez
rolled past the post in the 68th minute, but he made the difference with his ability to run onto
Zach Loyd
's ball up the left flank, look up as he neared the Galaxy box and see goalkeeper
Donovan Ricketts
take a step toward the near post, then bend the ball perfectly over the big Jamaican and into the far post.
May, 1, 2011
5/01/11
9:17
AM PT
By
Scott French
| ESPNLosAngeles.com
The Galaxy faces FC Dallas for the first time since their MLS Cup dream was demolished last November, and they're not talking revenge.
Last year has nothing to do with this year, Galaxy head coach
Bruce Arena
will testify, and the 3-0 defeat in the Western Conference title game will play no part in what occurs Sunday in Frisco, Texas.
Of greater import is who's missing from this rematch and the impact that will have on the game and, more so, on the path FC Dallas takes the next few months. Reigning Major League Soccer MVP
David Ferreira
, through whom the Hoops' attack flows, suffered a fractured ankle in a victory last weekend at Vancouver and could miss as much as three months.
Ferreira, a playmaker from Colombia, is architect of nearly everything Dallas does going forward -- he has three goals and an assist in five games this year, 21 and 24 in two seasons-plus -- and his absence will require the club to change things substantially.
It's doubtful they'll be better -- teams don't improve by losing their best players -- but there's mystery about how they'll approach the match that could cause the Galaxy some trouble.
"We'll see. It's hard to know" how Dallas will play without Ferreira, L.A. captain
Landon Donovan
said. "Obviously, formation-wise, we don't know what they'll do. Stylistically, who knows how they play? When you have a player that's that dynamic, that can pull off special plays, it influences the way you play, and now without him, we'll be curious to see how they'll play."
So will the Hoops. Head coach
Schellas Hyndman
said all the right things, about how this is an opportunity for players to step forward and make a real mark, about how this doesn't change the aim, which is to win soccer games.
"Athletics is always involved with some good moments and some bad moments," he told told media last week. "All players will get injured at some point in time. They can't choose the time and they can't choose the injury. For [Ferreira], it was very disappointing, but at the same time, we know he will be back."
November, 21, 2010
11/21/10
11:42
AM PT
By
Scott French
| ESPNLosAngeles.com
TORONTO -- FC Dallas and the Colorado Rapids might not be marquee franchises that command the kind of buzz Major League Soccer would like for its showcase event, but here's a tip: You don't want to miss this one.

Sunday's 15th MLS Cup, which kicks off at BMO Field a little after 5:30 p.m. (ESPN and Galavision), could be a classic. Dallas and Colorado are fast, athletic, attacking sides capable of producing scintillating stuff.

There will be abundant goal opportunities, but with Palos Verdes' Kevin Hartman (Peninsula HS/UCLA) in the FC Dallas nets, there's no certainty of scoring. At least at one end.

Both teams attack so well, especially off the counter, that defensive approaches ought to be decisive. The team that does the best job closing space and preventing its opponent's attacking speed from making a difference is likely going to prevail.

Three keys to victory:


November, 21, 2010
11/21/10
11:28
AM PT
By
Scott French
| ESPNLosAngeles.com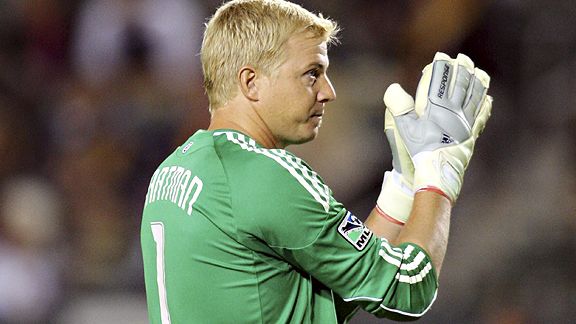 Victor Decolongon/Getty Images
Goalkeeper Kevin Hartman of FC Dallas applauds the fans after the Western Conference Finals of the MLS playoffs against the Galaxy at Home Depot Center.
TORONTO -- Kevin Hartman thought it might be time to go on to something else when the Kansas City Wizards told him as kickoff neared for the new season late last winter that his services no longer were required.
The veteran goalkeeper had few options: The other Major League Soccer clubs' goalkeeping hierarchies were in place, and most weren't looking to make a chance, no matter the former UCLA star's pedigree.
Schellas Hyndman
, who had what he believed a title contender after a 21-month rebuild of FC Dallas' roster, was intrigued. And Hartman thought he had more to give.
Theirs turned out to be the perfect partnership, and it's led to Sunday night's MLS Cup in Toronto (ESPN and Galavision, 5:30 p.m. PT), where the Hoops or Colorado Rapids will claim their first league title in what could be the most dynamic of the league's 15 championship games.
Hartman could be -- should be -- the difference.
The Palos Verdes product, who played at Palos Verdes and Peninsula high schools and started his college career at Cal State Dominguez Hills, was the final, and perhaps most important, piece of Hyndman's remake. He rewarded the coach with often spectacular play that sparked a league single-season record 19-game unbeaten streak, saw FC Dallas lose just four times -- tying an MLS mark -- and took the club into its first MLS Cup final, the last of the surviving remaining original clubs to do so.
November, 15, 2010
11/15/10
12:26
AM PT
By
Scott French
| ESPNLosAngeles.com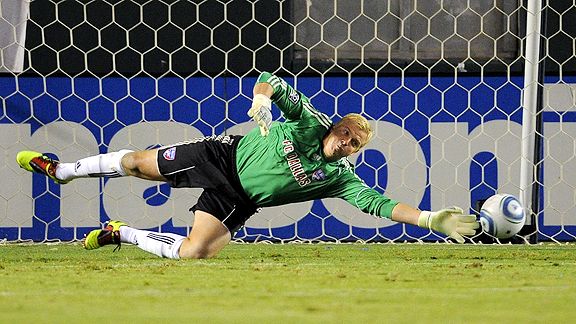 AP Photo/Mark J. Terrill
Former Galaxy goalkeeper Kevin Hartman, now the starter in Dallas, is a major reason why L.A. lost Sunday at home.
CARSON, Calif. -- It's fair to say that had
Kevin Hartman
not been so spectacular Sunday night, the Galaxy would be packing right now for an MLS Cup trek to Toronto.
The Palos Verdes product made four huge first-half saves -- on
Mike Magee
,
Juninho
,
David Beckham
and
Landon
Donovan
-- and had half of them found the net, the Western Conference final would have turned out very differently.
But Hartman is just one of several reasons FC Dallas dumped the Galaxy, 3-0, at the Home Depot Center to snare a spot in its first MLS Cup final, next Sunday against the Colorado Rapids in Toronto.
Here's what made the difference:
1. BE SHARP
The Galaxy wasn't all that bad. They limited Dallas to eight shots, just five on target, created some outstanding chances in the first half-hour or so, and battled hard from start to finish.
But they couldn't match the Hoops.
"We have no excuses ..." Galaxy coach
Bruce Arena
said to open his postgame news conference. "We were outplayed. We were beat on most matchups on the field, and we were outcoached. Dallas deserved the victory."
The Hoops utilized space better than L.A. did, using a quick transition and its speed on the flanks -- with both
Marvin Chavez
and
Brek Shea
making big imprints -- to stretch the Galaxy, especially after
David Ferreira
's 26th-minute opener against the run of play.
From that point on, it was FC Dallas' game.
November, 14, 2010
11/14/10
5:47
PM PT
By
Scott French
| ESPNLosAngeles.com
No change in the Galaxy's lineup for Sunday evening's Western Conference final at the Home Depot Center -- coach Bruce Arena trots out the same starting XI he used in both games against Seattle -- but FC Dallas has a different look.
The Hoops brought back former Chivas USA attacker
Atiba Harris
, as expected, but the surprise is he's replacing speedy forward
Jeff Cunningham
up front rather than diminutive winger
Marvin Chavez
. Harris was red-carded in the first leg of FC Dallas' first-round playoff victory over Real Salt Lake and was suspended for last week's second leg.
The lineups:
Galaxy:
G Donovan Ricketts; D Sean Franklin, Omar Gonzalez, A.J. DeLaGarza and Eddie Lewis; M David Beckham, Juninho, Dema Kovalenko and Landon Donovan; F Edson Buddle and Mike Magee.
FC Dallas:
G Kevin Hartman; D Jackson Goncalves, George John, Ugo Ihemelu and Jair Benitez; M Marvin Chavez, Dax McCarthy, Daniel Hernandez, Brek Shea and David Ferreira; and F Atiba Harris.
November, 13, 2010
11/13/10
11:24
PM PT
By
Scott French
| ESPNLosAngeles.com
The Galaxy might be the favorite heading into Sunday evening's Western Conference final at Home Depot Center (ESPN2 and ESPN Deportes, 6 p.m.), but FC Dallas, too, has the look of a champion, and neither side would be a surprise in the Nov. 21 MLS Cup final in Toronto.
This one could be decided by the slimmest of margins, no matter what the score, and the team that best couples an effective attack with firm, committed team defense is likely to head off to Canada for a showdown with the Colorado Rapids.
What does the Galaxy need to reach its seventh MLS Cup title game?
1. IT'S ALL ABOUT THE D
L.A.'s players are talking up an attack-first approach, saying they're at home and plan to apply heavy pressure on FC Dallas' defense from the opening whistle. There's something to that -- the Galaxy put Seattle on its heels early in last week's playoff victory at HDC -- but we're betting they're not being entirely truthful.
The dominance of Seattle in the first-round series was based on suffocating, full-field defending from everybody in the lineup, and that's what it's going to take to shut off the Hoops' dynamic, quick-strike attack.
The key is keeping a close eye and lots of bodies on MVP favorite
David Ferreira
, a superb playmaker whose touch and vision are special and whose tendency to drift into unexpected positions makes him particularly difficult to deal with. His ability to find runners from midfield and on the wing and connect with speedy finisher
Jeff Cunningham
up top are deadly; if he finds much success, the Galaxy are done for.
Ferreira carved up Real Salt Lake's league's-best defense in the first round, but stats don't mean a whole lot in this sport, and L.A.'s defensive play the past few weeks -- in the first truly important matches the club has played this season -- has bordered on perfect. Not always in terms of execution, mind you, but the emphasis on swallowing up space in midfield, denying access behind the backline and pressuring opposing midfielders to do something other than what they prefer made the difference certainly against the Sounders.
It's not only about the defenders and goalkeeper
Donovan Ricketts
, all of whom have been really solid, even better than that. (
Omar Gonzalez
and
A.J. DeLaGarza
look like the central partnership going forward;
Sean Franklin
has evolved into a complete right back; why, again, is
Eddie Lewis
retiring?) It's
Edson Buddle
's tireless work up front, the commitment
Landon Donovan
and
David Beckham
are making to defend from box to box; and, of course,
Dema Kovalenko
's take-no-prisoners style in the middle.
All of them will have to be sharp against FC Dallas, which is more athletic, just as dynamic, possibly faster and certainly more dangerous with Ferreira pulling the strings than the Seattle side L.A. conquered the past two weeks.
2. THE SMART GAME WINS
The Galaxy's primary advantages Sunday are home field and experience. They're a team with a lot of big-game veterans -- Beckham and Donovan most of all -- who know how to win when there's no other option.
The Galaxy, more so than any other team in the league, can gut out victories by sheer will whether or not they have more of the ball or most of the game. Nobody manages a game as does L.A. coach
Bruce Arena
, and his team will disrupt the Hoops in every way it can. Look for early, professional fouls that destroy rhythm and momentum, and for tough, physical play, some of which -- especially when Kovalenko is involved -- might "push the envelope," as associate head coach
Dave Sarachan
puts it.
L.A. needs to attack aggressively but be smart about it. FC Dallas likes to counterattack, and its speed and precision can tear up defenses when numbers are even or close to it, so the Galaxy must keep their shape no matter the occasion and make sure the Hoops can't get their transition into high gear.
If that requires an ugly game, so be it. Winning is all that matters; nobody knows this better than the Galaxy.
3. TAKE YOUR CHANCES
The Galaxy has rallied from behind to win just once all season, in its victory over Dallas in the regular-season finale three weeks ago at HDC. The Hoops have surrendered the first goal and rallied to tie or win eight times, including the first-leg triumph over RSL in the first round.
Scoring first is always vital, but the Galaxy's success early in the season was built on a knack for early goals, and they'll be in much better shape here if they can strike quickly.
They're going to have chances -- FC Dallas' defense is good, especially in midfield (with team leader
Daniel Hernandez
) and in the nets (with former Galaxy goalkeeper
Kevin Hartman
), but it's not spectacular. L.A. might not have as many weapons as the Hoops, and they certainly have nobody who can create as Ferreira does, but their 1-2-3 punch of Beckham, Donovan and Buddle is unmatched in MLS.
Donovan can create from nothing, and Beckham's service -- especially on set pieces (which will likely prod the Hoops to use for defensive purposes 6-foot-4
Brek Shea
on the left flank rather than 5-5
Marvin Chavez
) but also from the run of play -- provides danger any time he has the ball on the wing in opposing territory.
Juninho
complements them nicely, and Lewis (or
Todd Dunivant
, if he gets the call at left back) and Franklin are solid on forays forward.
Key will be Buddle, who's big, quick, skillful and has scored 19 goals this season. He's equally capable with his feet and his head and has had his share of spectacular finishes. When he gets his chances, he needs to put them away.
October, 31, 2010
10/31/10
8:32
AM PT
By
Scott French
| ESPNLosAngeles.com
A look at Saturday's MLS postseason action:
IN BRIEF:
Two harsh red cards -- one to Real Salt Lake playmaker extraordinaire
Javier Morales
-- mar FC Dallas' 2-1 comeback triumph captured on former UC Santa Barbara standout
Eric Avila
's late strike. … New York heads home with a 1-0 advantage after
Joel Lindpere
lifts the Red Bulls at San Jose.
BEST PLAYER:
Lindpere might not get the press that DPs
Thierry Henry
,
Rafa Marquez
and
Juan Pablo Angel
attract, but the Estonian midfielder clearly is the Red Bulls' MVP this year -- and he tormented the Earthquakes in New York's win. He had the lone goal, a superbly placed shot from a tight angle past a diving
Jon Busch
and inside the right post from a poorly headed clearance, and would've had another had
Jason Hernandez
not been stationed on the goal line.
BEST GOAL:
Two candidates from FC Dallas' victory. Hard to beat
Fabian Espindola
's blast, from
Andy Williams
' ball from the midfield stripe, into the upper-left corner to give RSL a fifth-minute lead. But beat it Avila's bender into the left-side netting did. The 88th-minute winner, less than a minute after he came on for
Jair Benitez
, was a splendid finish to an invigorating clash.