Los Angeles Soccer:

Maryland
January, 12, 2012
1/12/12
3:10
PM PT
By
Scott French
| ESPNLosAngeles.com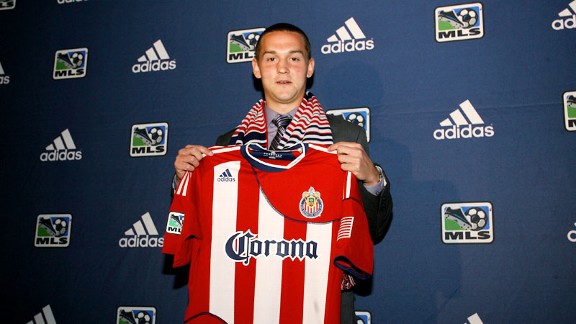 Major League SoccerChivas USA draft pick Casey Townsend is looking forward to learning under fellow forwards Juan Pablo Angel and Alejandro Moreno.

Chivas USA has some clear needs and this year's draft class has some real depth, so when the fifth pick arrived in Thursday's MLS SuperDraft, Robin Fraser and his staff had some tantalizing options to consider.

Maryland striker Casey Townsend, perhaps the best finisher on the board, proved most enticing, and the Goats exited the Kansas City Convention Center feeling like conquerors.



That's nothing compared to Townsend's emotions, nor the opportunity thrown his way -- if Juan Pablo Angel really is coming back.

Townsend, a first-team All-American who scored 17 goals as a senior and 43 goals in four seasons with the Terrapins, has big-time promise, and a season spent with the star Colombian striker's -- and working with Venezuela veteran Alejandro Moreno, too -- sounds like the best finishing school imaginable.

"Absolutely. Those two guys are very accomplished. They've proven themselves in MLS for years," Townsend, 22, told ESPN Los Angeles. "I'm very excited to learn whatever I can from them. I'll be a sponge out there and take all the advice they can give."

Townsend figures to see his share of action, too. The Goats aren't done dealing -- they've got a surplus of midfielders, at least one more offshore acquisition coming and five picks in the first two round of Tuesday's supplemental draft -- but the newcomer from Traverse City, Mich., is just the third forward on the active roster.

Uh, make that second. Angel hasn't re-signed yet, although Fraser said he's confident he will.

"This is a great place for [Townsend] to learn," Fraser said. "He has great role models around us, serious professionals who are very dedicated to their craft. It's really a dream situation for any forward to be around especially those guys."


December, 4, 2010
12/04/10
10:54
PM PT
By
Scott French
| ESPNLosAngeles.com
UCLA was on target for the NCAA Division I College Cup men's final four after twice taking two-goal leads Saturday night at top-ranked Louisville, but the Bruins' start was better than their finish in a cold, snowy quarterfinal clash.

The Cardinals (19-0-3) claimed their first final-four appearance with a wild 5-4 triumph captured on Aaron Hester's goal with just 52 seconds to play.

Louisville, which will face fourth-seeded North Carolina (16-3-2) on Friday at UC Santa Barbara's Harder Stadium, overcame 2-0 and 3-1 first-half deficits to end UCLA's run toward what it hoped would be a fifth NCAA soccer crown.

Eder Arreola (Chino Hills/Chino Hills HS) and Kellyn Rowe provided the Bruins (16-5-1) a two-goal advantage by the 18th minute, and Chandler Hoffman's breakaway in the 33rd restored the cushion after Colin Rolfe got Louisville on the board with a free kick in the 29th.

But the Cardinals surged ahead with three goals in 17 minutes: a penalty kick near the end of the first half, Rolfe's second goal -- a header from a free kick -- just three minutes into the second half, and Nick DeLeon's finish from Rolfe in the 56th.

Victor Chavez (Fontana/A.B. Miller HS) scored from a throw-in by Joe Sofia (Dove Canyon/Mission Viejo HS) to even it, 4-4, in the 81st minute, but Hester dribbled through UCLA's defense to score the winner in the 90th.

The other semifinal will pit third-seeded Akron (20-1-2) against 10th-seeded Michigan (17-4-3).

November, 14, 2010
11/14/10
6:21
PM PT
By
Scott French
| ESPNLosAngeles.com
Tanya Taylor
scored one goal and set up another as UC Irvine, in its first NCAA Division I women's soccer appearance, advanced to the Sweet 16 on Sunday with a 2-0 triumph over regional No. 4 seed Wake Forest at Anteater Stadium.
The 16th-ranked Anteaters (19-2-2) will meet Washington (12-8-2) next weekend in the third round. The Huskies stunned second-ranked Portland on penalty kicks following a 1-1 draw.

Portland was one of two national No. 1 seeds to lose Sunday. Maryland was beaten on penalties by Georgetown.
Taylor (Buena Park/Sunny Hills HS) tallied in the 12th minute, her team-best 11th goal of the season, and set up
CoCo Goodson
in the 71st, her ninth, as the UCI prevailed in a tight, defensive battle.
No. 21 Wake Forest (13-8-3) managed just five shots, and only two of them on target, against a defense led by Goodson and midfielder
Judy Christopher
(Ontario/Upland HS).
TROJANS TRUMPED: Rose Augustin
and
Lauren Fowlkes
scored in the first nine minutes, and seventh-ranked Notre Dame (17-2-2) romped to a 4-0 victory over No. 22 USC (13-6-3) in a Division I second-round game in South Bend, Ind.
Augustin scored in the eighth minute and Fowlkes in the ninth for the Irish, a No. 2 regional seed who gave what coach
Randy Waldrum
called "probably our most complete 90-minute performance of the season" to advance to a third-round game next weekend against third-ranked North Carolina (19-2-2), the defending national champion and a regional No. 1 seed.
Fowlkes also assisted goals by
Melissa Henderson
in the 58th minute and
Adriana Leon
in the 71st.
UCLA GETS NO. 1:
UCLA (13-7-2), which beat Central Florida in a second-round game Saturday, heads north to face No. 1 Stanford (20-0-2) in the third round. The Cardinal held off Santa Clara, 2-1, as
Marjani Hing-Glover
and
Alina Garciamendez
scored goals.
NO AUTOMATIC FOR LMU:
A late goal by
Bryan Burke
(Newport Beach/Corona del Mar HS) lifted San Francisco to a 1-0 victory at Loyola Marymount, costing the Lions (12-6-2) the West Coast Conference's automatic berth in the NCAA Division I men's tournament.
The Lions, who clinched a share of the WCC title with a victory Friday over St. Mary's, will await their fate when NCAA pairings are announced Monday. Santa Clara, which beat Gonzaga, 2-0, on Sunday, is the WCC's top seed because it went 1-0-1 against LMU this season.
REDLANDS ROMPS AGAIN:
Surprising Redlands stomped host Cal Lutheran in a women's Division III second-round win, its second victory in 11 days over the Regals.
Fionna Connolly
scored her third goal of the NCAA tournament and team-best 12th of the season to start the Bulldogs (12-9-0) toward a 3-0 romp over Cal Lu (18-3-1), which held a commanding 18-4 advantage in shots.
Connolly scored in the seventh minute,
Chelsea Hafley
(Redlands/Redlands HS) doubled the advantage in the 60th, and
Jaimie Morton
put the game out of reach with a strike in the 68th.
Redlands will play next weekend at second-ranked Hardin-Simmons (21-0-0) in Abilene, Texas.
NAIA BERTHS:
Golden State Athletic Conference champion Vanguard (13-7-0) opens the NAIA men's tournament with a rematch of the conference tournament final, against Azusa Pacific (16-4-1).
Vanguard, which routed the Cougars, 3-0, on Saturday, is unseeded and will play at APU, whioch is seeded 13th. Cal Baptist (15-4-0) is seeded 11th and will be home for next Saturday's opening round against Holy Names (11-5-2).
GSAC champ Azusa Pacific is seeded third, The Master's (16-2-2) sixth and Cal Baptist (13-5-2) 11th for the NAIA women's tournament, and all received home assignments for the first round.
APU will open against William Jessup (11-4-3); TMC, from Santa Clarita, will meet Maine-Fort Kent (19-2-0); and CBU, from Riverside, will take Texas' Northwood (15-3-1).
Saturday's winners will advance to the 16-team, five-game-in-six-days finals, with the men playing at Orange Beach, Ala., and the women at Decatur, Ala.
November, 8, 2010
11/08/10
5:10
PM PT
By
Scott French
| ESPNLosAngeles.com
UCLA's and UC Irvine's women's teams Monday were awarded home assignments for the first two rounds of the NCAA Division I tournament, but neither was among the 16 national seeded teams.
Economic decisions prodded the NCAA Women's Soccer Committee, with five Southern California schools in the 64-team field, to bring fourth-seeded Wake Forest and Central Florida to the Southland for quartets featuring three Western schools.
Big West Conference tournament champion Long Beach State was given a tough assignment, opening against Santa Clara in top-ranked Stanford's quartet, and USC was shipped to South Bend, Ind., where it will open against Illinois.
All first-round games are Friday and second-rounders Sunday except at UCLA, which will play on Thursday and Saturday because the quartet includes Brigham Young, which does not play on Sundays.