Los Angeles Soccer:

Matt Dallman
April, 6, 2012
4/06/12
9:23
PM PT
By
Scott French
| ESPNLosAngeles.com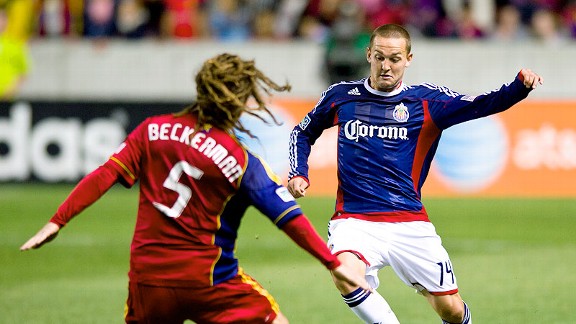 Doug Pizac/Getty ImagesSo far this season, rookie forward Casey Townsend has Chivas USA's only goal.

Chivas USA can point to a lot of good in what hasn't been a particularly sharp start to the Major League Soccer season, in terms of possession and defensive work all over the field.

It has not been nearly enough, but the Goats believe they're about to turn a corner. A couple of goals Saturday night in Portland might be enough.



Chivas (1-3-0, 3 points) is coming off a solid week of training, head coach Robin Fraser said, following an impressive offensive performance in Monday's MLS Reserve League victory over the Galaxy.

"I think we really looked at a lot of our issues and, at the end of the day, talked about being aggressive in the attacking end of the field," Fraser told ESPN Los Angeles after arriving Friday in Portland, Ore. "We had a good week of training in regard to that. Most important, I think, is the mentality of the team continues to solidify to do the things we need to do to be successful.

"I think our runs were more aggressive [Monday], our ideas were more aggressive, and certainly that needs to translate [into Saturday's game]."

Cesar Romero, who against netted his second hat trick with the reserve team, and Miller Bolaños, the Ecuadoran attacker who so ably partnered Romero, could get a look against the Timbers. They prospered in a 4-4-2 alignment, with diamond midfield -- Chivas' preferred system last year. The Goats have used a 4-2-3-1 most of this season, including all four league matches.

Rookie Casey Townsend has gotten starts the past three games in Juan Pablo Angel's absence, and he has Chivas' lone goal this season, a heads-up finish to beat Real Salt Lake two weeks ago in Sandy, Utah.

The other three matches, all at home, have been 1-0 defeats marked by superb defending, a healthy amount of possession and inadequate penetration. In four games, the Goats have created four true goal chances.


March, 20, 2012
3/20/12
4:56
PM PT
By
Scott French
| ESPNLosAngeles.com
Still no decisions on most of the trialists still in camp with Chivas USA, but Santa Ana's
Kevin Huezo
will not become a Goat.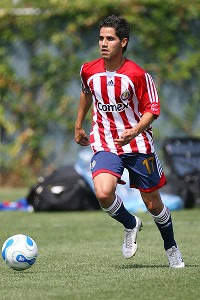 Juan Miranda/MLS/Getty ImagesRodrigo Lopez has been with Chivas USA before and is again on trial with the Goats.
Huezo (Segerstrom HS), who has played in Pachuca's system and was in camp with Colorado during preseason, has been released from Chivas' camp, head coach Robin Fraser reported, but seven players remain in the running for roster slots -- with more possibly to come.

"We're still looking, still looking at different players, different positions," Fraser told ESPN Los Angeles on Tuesday. "Still looking around the world."

Chivas has 26 players on their roster, with five more additions possible. The Major League Soccer maximum is 30, including players away on loan (such as forward Tristan Bowen, who is in Belgium), but midfielder Marvin Iraheta is on the disabled list because of a torn anterior cruciate ligament, and his spot is open.

The Goats are in pursuit of a South American player, according to a source with knowledge of the situation, and expect to sign him within the next week or so. Another source said the player was from Colombia, the top foreign provider of MLS talent, with 28 players, 14 of them newcomers this season. Chivas striker Juan Pablo Angel is Colombian.

Defenders Matt Dallman, Patrick Kanyuka and Mario Ledesma, midfielders Rodrigo Lopez, Cameron Artigliere and Ernesto Hutchinson, and forward John Owoeri remain in camp on trial. Fraser said he planned to make decisions "within a day or two" on Owoeri, a former Nigerian youth international who scored three goals in Sunday's 6-1 rout of UC Riverside, and Ledesma (Woodland Hills/El Camino Real HS), who has been in camp from the start.


March, 18, 2012
3/18/12
7:44
PM PT
By
Scott French
| ESPNLosAngeles.com
CARSON -- Chivas USA's struggles in front of the net were forgotten -- for the time being, at least -- during Sunday afternoon's reserve friendly against UC Riverside. The Goats scored three times in three minutes and four in eight to pull away in a 7-1 romp.

Cesar Romero and trialist John Owoeri scored hat tricks for the Goats, whose lack of attack has been costly in successive Major League Soccer defeats, both by 1-0 scorelines, to Houston and Vancouver.

Owoeri, a former Nigerian youth international who has demonstrated great energy but subpar finishing skills since joining camp two weeks ago, tallied in the 60th, 62nd and 67th minutes as Chivas turned a two-goal advantage into a 6-0 game. He assisted Romero's finale, in the 85th.

Romero has seven goals since joining Chivas at the end of January. He had four during preseason.

Head coach Robin Fraser used the match to give six trialists -- three of them newcomers -- a look in advance of this week's expected roster decision. Left back Kevin Huezo (Santa Ana/Segerstrom HS) and former Goats midfielder Rodrigo Lopez, who was with the Portland Timbers last year, were most impressive, until Owoeri took charge after narrowly missing three times.

Lopez, 24, who was born in Mexico but grew up in Santa Barbara, played eight games in 2005-07 with Chivas but made no league appearances last year with the Timbers. He just joined camp, along with 24-year-old Congolese defender Patrick Kanyuka and 21-year-old, San Fernando Valley-bred midfielder Cameron Artigliere (Winnetka/El Camino Real HS).

March, 12, 2012
3/12/12
8:54
PM PT
By
Scott French
| ESPNLosAngeles.com
CARSON -- Jorge Villafaña celebrated his call-up to the U.S. Olympic qualifying roster Monday with 90 solid minutes in a friendly against the L.A. Blues. The Goats' 1-0 defeat at Home Depot Center's Track and Field Stadium couldn't knock the smile from his face.
"I'm happy to be called up for the qualifiers," said Villafaña, who as
Jorge Flores
(he legally adopted his mother's name last fall) made Chivas' roster five years ago after winning a television competition for the chance. "Can't wait to be there with my teammates and the national team. It's going to be a great experience and a good opportunity for all the players who will be there."
Villafaña was among 19 players on University of Akron coach
Caleb Porter
's U.S. under-23 national team roster for the March 22-April 2 qualifying tournament, which will determine CONCACAF's two entrants for the men's soccer tournament at this summer's London Games. Home Depot Center will stage one of the first-round groups, but the U.S. will play in Nashville, Tenn., with the all-important semifinals and the title game in Kansas City, Kan.
Galaxy midfielder
Michael Stephens
, former UCLA midfielder
Amoki Okugo
(with Philadelphia), former Chivas defender
Zarek Valentin
(with Montreal) and San Diego's
Joe Corona
(with Club Tijuana) are part of the group set to convene Tuesday in Nashville. Porter has one player to add before the 20-man tournament roster must be finalized March 20.
Villafaña, who in the last year has been converted from left-sided midfielder to left back, grew immensely the past two seasons and impressed the U.S. staff during a January camp with the U.S. U-23s and last month's stint in Frisco, Texas, before a Feb. 29 victory over Mexico's U-23s. He's the first-choice backup for
Ante Jazic
with Chivas, and Goats coach
Robin Fraser
likes how he's developing.
"You get picked for a national team, you're obviously doing something right," said Fraser, who made 26 international appearances for the full U.S. national team from 1988 to 2001. "I think he's a determined player who wants to play well wherever he's put on the field. An opportunity arose for him [at left back], and he's taken in and run with it. … I just think his confidence and understanding has grown greatly."
February, 24, 2012
2/24/12
7:11
PM PT
By
Scott French
| ESPNLosAngeles.com
CARSON --
Robin Fraser
has roster decisions to make in the next week, and they're not getting easier. The performance of three trialists in Chivas USA's preseason game Friday afternoon certainly gives the Goats' coach and his staff something to think about.
Colombian attacking midfielder
Jose Manuel Najera
and Brazilian winger
Alan Souza
were as impressive as hoped for in their first game action for Chivas in a 4-0 romp over Loyola Marymount University on a training field outside Home Depot Center's main stadium.
Matt Dallman
's showing at left back was just as good -- and far more unexpected.

Dallman, who is from Portland, Ore., started training with Chivas about two weeks ago -- not on trial, just to get fit. He has spent the past 4½ years in Europe, and he came to Carson after childhood friend
Heath Pearce
vouched for him.
"He talked to the coaches, asked if I could train with them for a little bit, and they've been great," said Dallman, who played with Pearce in club ball, at the University of Portland, and in six months at Danish club Nordsjaelland before spending four years in Germany, with Arminia Bielefeld and Sportsfreunde Ziegen.
Dallman, 26, teamed with Souza on the left flank Friday to terrorize LMU's defense, setting up the second of two goals by rookie
Casey Townsend
with a fine run to the end line. He was solid defensively and looked very much at home in a 90-minute outing.
"We had the opportunity to look at him, and he's come in, and I think he did well today," Fraser said.
His chances of making this roster? No telling.
"I haven't really heard much [about prospects]," Dallman said. "It was more of they said I could come in and train. I don't think it was a very official trial. It was just me kind of getting fit again. I just moved back from Europe about a month ago, so I'm tring to find a club here between [MLS and second-division North American Soccer League], just kind of decide what I want to do.
"I didn't come in with expectations. It was just great that they let me train."