Los Angeles Soccer:

Matt Fondy
June, 15, 2012
6/15/12
11:45
PM PT
By
Scott French
| ESPNLosAngeles.com
FULLERTON -- The 10th time was the charm for the L.A. Blues, at least at Cal State Fullerton, where on Friday night they finally claimed victory on their home field.

It took 14 months and a brilliant second-half goal from Bright Dike, who put on a clinic as the Blues took down the Dayton Dutch Lions, 1-0, before a tiny crowd at Titan Stadium.

The Blues went 0-4-2 in their primary venue last season -- one of the losses was in the U.S. Open Cup, as a road team against the Galaxy -- and were 0-2-1 this season heading into the first of a two-game series with Dayton.

"The curse is dead," Blues coach Charlie Naimo exclaimed. "Now we can just play soccer. ... Now we can just get on with it, not come in here every day thinking, 'Are we cursed?' We won the game deservedly. We had all the chances in the game. ... We broke the curse, but we played a pretty good soccer game. That's what's important now."

The Blues climbed above .500, at 4-3-2, while dominating the winless Dutch Lions (0-6-5). They should have scored three or four goals, and Dike, on loan from Major League Soccer's Portland Timbers, easily could have had a hat trick.

The goal he scored, in the 56th minute, was a beaut, and he hit the crossbar with a powerful drive just two minutes earlier. He might have had another in the first half, when Dayton goalkeeper Matt Williams' clearance caromed off the athletic striker and rolled back, slowly scooting just past the right post.

"That's what I came here to work on, is get that sharpness," said Dike, who has three goals in five games since arriving in early May. "When you look at a game like that, you could have one or two, maybe even three. That's what I'm here for, and I'm in a good environment."

Dike's pace and strength caused the Lions' defenders trouble all night, and he destroyed them on the goal. He took a pass several yards inside the midfield stripe, raced alone to the box, then fired across the goalmouth and inside the right post.

Dike made it all out of nothing, more or less, and most impressive were how he dealt with Dayton's defenders on the play, holding one off as he collected the pass -- he then turned and sprinting right past-- and expertly turning his body against another in the box, protecting the ball as he shot.


May, 12, 2012
5/12/12
9:13
PM PT
By
Scott French
| ESPNLosAngeles.com
The L.A. Blues were aiming for four points from their first eastern trek of the USL Pro season. Their new addition helped ensure they'd claim a full six.

Bright Dike scored his first goal for the Blues and set up Matt Fondy's finale as L.A. (3-2-1) completed a two-day sweep of lesser sides with a 3-0 romp Saturday night at Pittsburgh (2-5-0).

All three goals came in the second half as the Blues overcame a slow start and gradually assumed command starting about halfway through the first 45 minutes.

Ricky Waddell scored a stunning goal in the first minute of the second half, running onto a bouncing ball and half-volleying it into the upper-left corner from 25 yards to send L.A. ahead.

Dike, who Tuesday joined the Blues on loan from Major League Soccer's Portland Timbers, chipped over Riverhounds goalkeeper Hunter Gilstrap six minutes later from Fondy's ball over the top. Fondy, who played last season for Pittsburgh, netted his second of the season from a Dike feed in the 69th.

The Riverhounds' best chances arrived early, with David Leon hitting the right post in the third minute and former New York Red Bulls youngster Matt Kassel firing at Blues goalkeeper Jose Miranda when 1-on-1 in the eighth minute.


May, 5, 2012
5/05/12
12:39
AM PT
By
Scott French
| ESPNLosAngeles.com
FULLERTON -- The L.A. Blues finally scored their first goal, then netted another. It added up to their first win of the season in the oddest of settings.

Matt Fondy scored four minutes into the second half and Scotsman Allan Russell converted a penalty kick eight minutes later as the Blues (1-2-0) pulled out a 2-1 triumph Friday evening over the Wilmington Hammerheads on the FieldTurf in Fullerton College's stadium.

Fondy took a feed from Russell and held off Hammerheads defender Tyler Lassiter to beat goalkeeper Alex Horwath in the 49th minute, ending a 228-minute drought to start the campaign for L.A., which was shut out twice by the Rochester Rhinos to start the season.

Russell tallied from the penalty spot after a hand-ball call.

The game was moved from Cal State Fullerton's Titan Stadium to Fullerton College's far smaller facility because of a conflict the the university's Associated Students spring concert, which was to take place Friday night in the stadium. About 200 fans, all admitted for free, sat in small metal bleachers and individual chairs stretched across the north sideline.


April, 24, 2012
4/24/12
5:20
PM PT
By
Scott French
| ESPNLosAngeles.com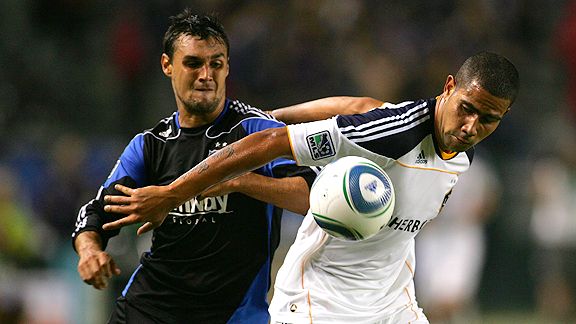 Victor Decolongon/Getty ImagesLeonardo, right, has been out of action for more than a year because of a knee injury.

CARSON -- Leonardo hadn't made a game appearance in more than a year, and if he's not quite ready to jump back into battle, he deserves some reward for the work he has put in rehabbing a nasty knee injury.

So the Galaxy's Brazilian center back was given a little more than 10 minutes in a closed-door friendly Tuesday against the L.A. Blues, his first action in an actual match since shredding all of his ligaments in his right knee -- anterior cruciate and lateral collateral ligaments, the two worst to tear, included -- a year and a week earlier.

"Psychologically, it's great for him," reserve-team coach Curt Onalfo said after his side held on for a 3-2 victory over the Blues on the Galaxy's training field at Home Depot Center. "He had trained earlier [with the first team], and we wanted to get him in just so, psychologically, [we] can help him progress. It's been a long road, and he's really made progress, so it was good to see him out there for 10 minutes."

Leonardo, who came on for Tommy Meyer in the 35th minute and played until halftime, is eligible to come off the disabled list for Saturday night's Major League Soccer match against FC Dallas at HDC, but he's still several weeks away, so the club is not ready to make that move.

"We're going to see how he progresses," Onalfo said. "He's made significant progress, and now the next step is for him to train consistently and start getting more minutes and just more 11-v-11 type stuff. He's doing a good job. ... We want to get him back as quickly as possible. So hopefully in the next month we can incorporate him more and more in the stuff we do as a reserve team so he gets himself prepared to be with the first team."

Leonardo, who was acquired on loan from Sao Paulo in 2010 and purchased outright before this season began, started the first seven games in central defense for the Galaxy last year. He tore up his knee while challenging Dominic Oduro in the closing minutes of a victory April 17 at Chicago, underwent surgery a week later and required an additional procedure last November after his rehab in Brazil hit a snag.

He returned to training with the first team last month and has several steps to take before he can begin battling A.J. DeLaGarza, David Junior Lopes, Meyer and Andrew Boyens for time in central defense. This appearance was a significant step.

"I think it was a very important 10 minutes," Leonardo, whose target to return to the first team is "maybe next month," said in Spanish through an interpreter. "I need more playing time. I need more time on the field to get back. ... It's very different when you're out there 11 on 11 on the full field as opposed to the small-sided games I've been doing."


March, 12, 2012
3/12/12
8:54
PM PT
By
Scott French
| ESPNLosAngeles.com
CARSON -- Jorge Villafaņa celebrated his call-up to the U.S. Olympic qualifying roster Monday with 90 solid minutes in a friendly against the L.A. Blues. The Goats' 1-0 defeat at Home Depot Center's Track and Field Stadium couldn't knock the smile from his face.
"I'm happy to be called up for the qualifiers," said Villafaņa, who as
Jorge Flores
(he legally adopted his mother's name last fall) made Chivas' roster five years ago after winning a television competition for the chance. "Can't wait to be there with my teammates and the national team. It's going to be a great experience and a good opportunity for all the players who will be there."
Villafaņa was among 19 players on University of Akron coach
Caleb Porter
's U.S. under-23 national team roster for the March 22-April 2 qualifying tournament, which will determine CONCACAF's two entrants for the men's soccer tournament at this summer's London Games. Home Depot Center will stage one of the first-round groups, but the U.S. will play in Nashville, Tenn., with the all-important semifinals and the title game in Kansas City, Kan.
Galaxy midfielder
Michael Stephens
, former UCLA midfielder
Amoki Okugo
(with Philadelphia), former Chivas defender
Zarek Valentin
(with Montreal) and San Diego's
Joe Corona
(with Club Tijuana) are part of the group set to convene Tuesday in Nashville. Porter has one player to add before the 20-man tournament roster must be finalized March 20.
Villafaņa, who in the last year has been converted from left-sided midfielder to left back, grew immensely the past two seasons and impressed the U.S. staff during a January camp with the U.S. U-23s and last month's stint in Frisco, Texas, before a Feb. 29 victory over Mexico's U-23s. He's the first-choice backup for
Ante Jazic
with Chivas, and Goats coach
Robin Fraser
likes how he's developing.
"You get picked for a national team, you're obviously doing something right," said Fraser, who made 26 international appearances for the full U.S. national team from 1988 to 2001. "I think he's a determined player who wants to play well wherever he's put on the field. An opportunity arose for him [at left back], and he's taken in and run with it. … I just think his confidence and understanding has grown greatly."