Los Angeles Soccer:

Maxwell Griffin
July, 11, 2012
7/11/12
3:21
PM PT
By
Scott French
| ESPNLosAngeles.com
Bright Dike has returned to Portland after energizing the L.A. Blues attack with six goals over a seven-game span, but the Fullerton-based USL Pro club picked up something good from the Timbers.

Center back Andrew Jean-Baptiste, a first-round pick in January's MLS SuperDraft, has joined the Blues on loan from Portland in advance of this week's games against last-place Antigua Barracuda in Bradenton, Fla.

Also arriving on loan is Orlando City forward Maxwell Griffin (Palmdale/Littlerock HS), a former UCLA star who scored 10 USL Pro goals last year and finished the season on loan to the San Jose Earthquakes. The Blues sent winger George Davis IV to Orlando on loan in the deal.

The moves with Portland coincide with Monday's dismissal of Timbers head coach John Spencer, with general manager Gavin Wilkinson taking charge on an interim basis for the rest of the MLS season.'

The Blues also have signed defender Josh Suggs, who played for the club last year and has been with San Jose this season, and goalkeeper Carl Woszczynski, a Chicago Fire supplemental draft pick who spent nearly a week on trial in February with Chivas USA. Head coach Charlie Naimo indicated L.A. also is talking to an MLS club about acquiring an attacking player.

Woszczynski could be replacing Amir Abedzadeh, the Blues' No. 1 goalkeeper, whose transfer to a club overseas appears imminent.

Naimo, whose team has lost five in a row, expects to release a few players this week.

"Everybody knows we're one win away from feeling good again," he said in a club release. "That said, it doesn't erase what I've seen over the past two weeks. Nothing will ever erase that -- not even two wins this week in Florida. What has happened has happened, and the mark has been left. Making changes now is nothing more than the logical conclusion from that.

"It's never personal, but we're absolutely going to release players and trade to bring on others who we think can help us. I'm exhausting every minute of my time right now to try to find a way for us to get better in our personnel."


May, 15, 2012
5/15/12
12:20
AM PT
By
Scott French
| ESPNLosAngeles.com
Fullerton Rangers coach Raul Zico Ruiz expects a classic battle of opposing styles when his club takes on the Ventura County Fusion in Tuesday's opening round of the U.S. Open Cup.

Fusion coach Ole Mikkelsen doesn't know what to expect, and really doesn't care.

"At the end of the day, in the first round, you just want to play your game and get a few fortunate bounces of the ball," he said. "I knew very little about the teams we've played in the first round the past few years, and I know very little about [Fullerton]. At the end of the day, we'll focus on the style of soccer we want play. Hopefully, it's enough to get you through.

"Last year it was. The year before it wasn't."

The Rangers probably have the advantage at Santa Ana Stadium, owing to schedule and holdovers. They made the National Premier Soccer League playoffs last year as the Santa Ana Winds, and most of the players stuck around when the team changed sponsors -- so there's some continuity at work. They were playing Open Cup qualifiers in March and opened National Premier Soccer League play on April 7.

The Fusion, with a relatively new roster, played their first Premier Development League game last week. Many of the players who were with the team during preseason -- when they took on (and beat) Major League Soccer clubs -- are with bigger teams in more advanced leagues.

"It's a huge advantage for us," said Ruiz, who scouted the Fusion's 1-0 PDL loss Sunday against L.A. Misioneros and says Ventura County's direct approach will contrast with the Rangers' possession-first game. "We had a couple of losses in league, but they brought the team together. We've been together now two years, and they know how each other plays and moves off the ball."

The winner advances to a second-round game next week against the L.A. Blues, tentatively slated for Riverside Community College's Norco campus.

The Rangers are 4-2-0 in the NPSL, but both losses came when they were without midfielder leader Andre Turoldo (Torrance/North Torrance HS and Cal State Dominguez Hills) and backline anchor Leobardo Alvarez.

The Fusion (0-1-1 in the PDL) lost to the Arizona Sahuaros on penalties in the first round of the 2010 Open Cup -- they had qualified by winning the PDL title -- and last year beat Manhattan Beach's Doxa Italia in the first round and lost to the L.A. Blues in the second round.

Two more Southern California teams, both with pro talent, also play openers Tuesday. U.S. Adult Soccer Association Region IV champion PSA Elite, from Irvine, visits 2010 PDL champ Portland Timbers U-23, and Region IV runner-up Cal FC, from Thousand Oaks, plays at reigning PDL titlist Kitsap Pumas in Bremerton, Wash.


April, 20, 2012
4/20/12
12:46
PM PT
By
Scott French
| ESPNLosAngeles.com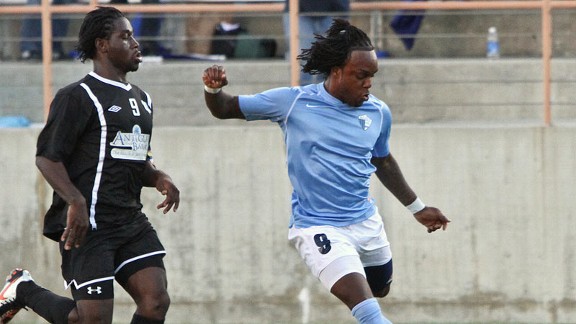 L.A. BluesFormer Chivas USA forward Chukwudi Chijindu, who played last year for the L.A. Blues, is with the Wilmington Hammerheads.

If you're looking for a local team to support in the USL Pro, the third-division league in American soccer's pyramid, the L.A. Blues aren't your only option.

There's also the Wilmington Hammerheads.

The North Carolina club, which will visit the Blues for a couple of games next month at Cal State Fullerton, have the largest collection of Southern California talent in the league: seven players from the area, another who played college ball here, and one more -- not sure he really counts -- who was with the Blues for a short spell last year.

They're among 32 players from Greater Los Angeles in USL Pro, which heads into its third weekend of games with Friday night's Blues-Rochester match at Fullerton.

The Blues, who featured a heavily local roster in their first season, have three players from the area (Anaheim's Carlos Borja, Newport Beach's Bryan Burke and Long Beach's Luis Gonzalez), four more from local colleges (UC Irvine's Irving Garcia, Cal State Fullerton's Shay Spitz and Bethesda Christian's Sun-Hyung Cho and Cheun-Yong Park), plus a former Galaxy winger who has called SoCal home since signing with MLS at 16 nearly five years ago (Israel Sesay).

The Rochester Rhinos, who won a league opener over the Blues last weekend, also have a decent contingent led by former UCLA star Mike Zaher and UC Santa Barbara products Conor Chinn and Tyler Rosenlund. All three, plus former Galaxy defenders Quavas Kirk and Troy Roberts, have MLS experience.

Orlando City has Palmdale's Maxwell Griffin, a UCLA alum whose performance for the champs last year led to a late-season loan deal to the San Jose Earthquakes. Pittsburgh has Long Beach's Tino Nuņez, from UC Santa Barbara, who spent a couple seasons with Real Salt Lake. Three goalkeepers are in the group: L.A.'s Kevin Klasila at Charlotte, Huntington Beach's Kyle Polak with Wilmington, and Laguna Hills' Eric Reed at Charlotte.

Wilmington's So Cal group includes former Chivas USA forward Chukwudi Chijindu, a Fontana product who spent last season with the Blues on loan from the Goats, plus Hollywood's Jack Avesyan and Hagop Chirishian, Laguna Hills' Trey Cole, Lakewood's Manny Guzman and Thousand Oaks' Dylan Riley.

Here's a full list of players with local ties in the USL Pro (with hometown and local high school/college in parenthesis, with local adult club following):


August, 30, 2011
8/30/11
11:55
AM PT
By
Scott French
| ESPNLosAngeles.com
Backline leader Nelson Akwari, a former Major League Soccer player who fell into the L.A. Blues' lap when he returned to Southern California to complete his degree at UCLA, is part of the USL Pro's all-league team.
So is fellow Bruins product
Maxwell Griffin
, star goalscorer for Orlando City.
That's it for locals on the third-division's list of the top 22 players, released Tuesday, four days before Orlando City meets the Harrisburg City Islanders in the title game. Both are first-team selections.
Akwari, 29, who spent five seasons with the MetroStars, Columbus Crew and Real Salt Lake before moving into the USL's minor leagues, was a calming presence in central defense for the Blues, who went 8-8-9 and reached the USL Pro quarterfinals in their first season.
Griffin (Palmdale/Littlerock HS) scored 10 goals for Orlando City (17-3-6), which won the Commissioner's Cup as regular-season champion and looks to complete the double Saturday at the Orlando Citrus Bowl (Fox Soccer Channel, 4 p.m.).
Defender
Gareth Evans
, a repeat first-teamer for the Wilmington Hammerheads, was with the Blues during preseason but was released before their first game. Former Galaxy defender
Troy Roberts
, with the Rochester Rhinos, is a second-team pick.
August, 22, 2011
8/22/11
4:15
PM PT
By
Scott French
| ESPNLosAngeles.com
The L.A. Blues' long, hard, at times debilitating first campaign fell well short of the goal, their season ending with Friday's loss at Harrisburg, Pa., in a USL Pro playoff opener.

The Blues won four of their first six matches and only four of their final 19 as a heavily back-loaded schedule, iffy team chemistry, struggles to finish chances and an abrupt alteration of style -- following Argentine playmaker Walter Gaitan's June departure -- conspired to derail a talented side.

They wrapped the season 8-8-9 for 33 points, the seventh-best total in the 12-team, third-division competition, and finished third in the National Division after having a way-outside shot to win the group heading into the final week of the regular season. Only three teams, not counting the trio of Puerto Rico-based clubs booted from the league in May for financial reasons, won fewer games than the Blues.

"Disappointing. But what can you say?" head coach Charlie Naimo said after the 3-2 defeat to the Harrisburg City Islanders, who will play Friday at Rochester in the National Division final. "Everybody enjoins to be successful, but at the end of the day, only one team can be.

"I think we could have been better, and I think we talent-wise were as good as most at times, we just couldn't make our own luck."


June, 28, 2011
6/28/11
6:50
PM PT
By
Scott French
| ESPNLosAngeles.com
Orange County Blue Star made its move in the Premier Development League's Southwest Division playoff race, and Ventura County Fusion swept its matches in Utah to surge atop the standings, but it's the Fresno Fuego who remain in control.
Two postseason berths await a quartet of contenders, and Blue Star (7-3-1) appears likeliest to challenge the Fusion (8-0-4) and Fuego (7-0-3) for after routing the Southern California Seahorses (7-3-2) for their fifth straight win.
Fernando Monge
scored twice from feeds by UCLA teammate
Chandler Hoffman
, who has 12 goals and six assists, in the 4-1 victory in La Mirada. O.C. is fourth, one point behind the Seahorses, but have a game in hand and head north this weekend for the first of two meetings with Fresno in its final five regular-season matches.
The Fusion, who won the PDL title in 2009 and the Southwest Division last year, are four points ahead of Fresno after toppling BYU and Ogden. Fresno would capture the division if it wins the rest of its games.
More on local clubs and players:
June, 14, 2011
6/14/11
2:36
PM PT
By
Scott French
| ESPNLosAngeles.com
Hollywood United's move to the National Premier Soccer League has been successful if perhaps a mite or two too easy.

The Hitmen (10-0-1), bolstered by new signing Carlos Carrillo (from Salvadoran power Isidro Metapan) and the return of Nick Blanco (from ousted USL Pro side Puerto Rico United), clinched the Northwest Division title last weekend with a 4-1 drilling of the Sonoma County Sol. Blanco scored, and Jose Miranda netted his league-best 10th goal of the campaign.

That gives HUFC a 13-point lead on reigning league champ Sacramento Gold (5-3-3) with three regular-season games to go. The competition was surely better in the USL Premier Development League; the Hitmen are averaging four goals per game in the lower-cost NPSL and have won four games by at least four goals and two more by three.

The Southwest Division race tightened with one very unexpected result: San Diego Boca 3, San Diego Flash 2.

The Flash (7-3-0) came in perfect on the field (they forfeited two victories, one over Hollywood United, for using an ineligible player), and they rallied from a two-goal deficit on Larry Emeanua's eighth and ninth goals, the equalizer on a bicycle kick three minutes into stoppage. Boca (5-5-1) prevailed on Juan Perez's strike with virtually the final touch of the game.

That leaves the Flash and the Santa Ana Winds (7-3-0) even on points with four games to play and set to meet Sunday in San Diego. The Winds were clobbered, 4-0, in the first meeting June 4, and they dropped another last weekend against Sacramento.

More on local clubs and players:

PDL: Big weeks for UCLA's Chandler Hoffman and Fernando Monge with Orange County Blue Star and La Caņada Flintridge's Ryan Shaw with Southern California Seahorses.


June, 7, 2011
6/07/11
7:51
PM PT
By
Scott French
| ESPNLosAngeles.com
There's a new boss in the W-League's Western Conference, and it's not any of the expected contenders.
Second-year Santa Clarita Blue Heat leapt atop the standings with two impressive wins last week, surging ahead with a 5-2 romp over a stacked Vancouver Whitecaps team.
Portuguese star
Edite Fernandes
' quality has helped transform Blue Heat (4-0-1), an also-ran in year one, into an attacking giant, with 15 goals in the past three games. The Whitecaps (4-1-1), who arrived for a three-game L.A. trip looking a good bet to repeat as conference champ, had conceded just three goals in their first five games.
Englishwoman
Stacey Rodwell
, who played at Cal State L.A., had three assists Sunday against Vancouver -- two on Fernandes goals -- after setting up Fernandes in a 3-0 win Friday over the Seattle Sounders.
Colorado Rush (4-1-0) is one point behind Blue Heat and Vancouver.
Two-time W-League champ Pali Blues (3-0-2), which drew with Vancouver and beat Seattle, is the only other unbeaten side in the West. They played a scoreless draw with Santa Clarita on May 26 and meet again in a regular-season finale July 17 at Canyon High School in Canyon Country.
More on local clubs and players:
April, 12, 2011
4/12/11
7:33
PM PT
By
Scott French
| ESPNLosAngeles.com
Orlando City FC claimed its first victory in the USL Pro league, thanks to two goals from
Maxwell Griffin
.
The former UCLA star, who prepped at Littlerock High School and scored in the 43rd and 7st minutes for the Floridians (1-1-0) in a 3-0 romp over visiting FC New York.
Griffin's brother,
Leonard
-- also a Littlerock and UCLA alum -- sees his first action in the new league when the L.A. Blues open their campaign Friday at Sevilla FC Puerto Rico, the first of four games in eight days in the Caribbean. Leonard Griffin likely will start at right back for the Blues.
The Griffin brothers were together last year with the Austin Axtex in the USSF D2 Pro League. Austin's owners moved the club to Orlando during the offseason.
There are a number of players with local connections in USL Pro, which is a third-division league:
Charlotte Eagles goalkeeper Eric Reed (Laguna Hills/Laguna Hills HS and UCLA), a former U.S. youth national-teamer who spent four seasons with La Mirada-based USL Premier Development League club Southern California Seahorses.
Harrisburg (Pa.) City Islanders midfielder Jeritt Thayer (Newport Beach/Corona del Mar HS), an Irvine Strikers alum.
FC New York goalkeeper Derby Carrillo (La Mirada/St. John Bosco HS and Cal State Dominguez Hills) and defender/midfielder Troy Cole (Laguna Hills/Laguna Hills HS and Irvine Valley College).
Rochester Rhinos midfielder/forward Anthony Hamilton (Colton/Colton HS and UC Irvine) and midfielder Darren Spicer (Diamond Bar/Diamond Bar HS), who played for Chivas USA, and midfielder Carlos Aguilar (Palmdale/Palmdale HS and Taft College/UC Irvine).
February, 10, 2011
2/10/11
6:11
PM PT
By
Scott French
| ESPNLosAngeles.com
Uruguayan rookie
Paolo Cardozo
continues to impress for the Galaxy. This time the babyfaced midfielder set up L.A.'s goal in a 1-1 draw Thursday afternoon against San Jose at the Home Depot Center's track and field stadium.
Cardozo, who tallied in the Galaxy's first two preseason scrimmages, perfectly delivered a free kick for
Mike Magee
to nod home in the 84th minute as L.A. (1-0-2) overcame missing cohesion up front to claim another draw against Major League Soccer opposition.
Ike Opara
scored for the Earthquakes (0-1-1), volleying in
Joey Gjertsen
's corner kick in the third minute.
Cardozo, 21, a first-round draft choice from Argentine club Quilmes, has in a week and a half on the field with L.A. demonstrated superb foot skills, attacking savvy and an ability to combine with teammates.

"I think, still, with him, it's a process where he needs to understand us a little better, and we need to understand him," said Galaxy coach
Bruce Arena
, "but I think he's had a couple of good days."
He's so slight -- just 5 feet 5, 135 pounds, and he doesn't look much older than 14 -- and the game in MLS is far more physical than in Argentina, so his ability to get on the field and contribute will depend on how quickly he acclimates.
"He's coming along, he's definitely coming along," Galaxy defender
Gregg Berhalter
said. "He's going to have to get used to the physicality of the league, but I think he'll be fine. … He's tiny, but he's shifty. He's a good player."
Cardozo drew the foul, from Quakes defender
Justin Morrow
, to set up the free kick just to the right of San Jose's box, and he nearly gave L.A. a victory five minutes later, firing just past the upper-left corner.
He gave the Galaxy more attack than they managed from both sets of forwards.
Juan Pablo Angel
and prospective partner
Chad Barrett
haven't started connecting, and Magee seems further ahead than
Adam Cristman
on the second tandem.