Los Angeles Soccer:

Megan Rapinoe
June, 26, 2012
6/26/12
2:22
PM PT
By
Scott French
| ESPNLosAngeles.com
The Fullerton Rangers took a huge stride toward the National Premier Soccer League playoffs with Sunday's victory over FC Santa Clarita, a showdown for second place in the Western Division's Southern Conference.

Former Chivas USA/New York Red Bulls forward David Arvizu (Santa Ana/Foothill HS) scored two goals as the Rangers avenged a loss two months earlier in Santa Clarita with a 3-0 triumph at Santa Ana Stadium.

The Rangers (7-3-2) have a two-point advantage over the Storm (6-3-3) with two games to play. Both have matches remaining with the San Diego Flash (9-0-2), which has clinched the Southern Conference title.

The Rangers' NPSL team finished second to the Flash and went to the playoffs last year, when they were affiliated with the Santa Ana Winds.

Arvizu scored in the 17th and 60th minutes and Cuban forward Eder Roldan tallied in the 24th for Fullerton, which has won three in a row and scored at least three times in its past four games. Santa Clarita has won just twice in its past five games, over the division's two worst clubs (Phoenix and North Coast, with a combined 2-18-1 record), and could rue a 1-1 draw at home June 9 with San Diego Boca (4-5-3).

Santa Clarita is likely to vault back to second next weekend, when it faces fading Conejo Valley side FC Hasental (3-7-2), but getting a resullt against the Flash on July 7 is critical to the Storm' playoff hopes. Fullerton plays the Flash in San Diego this weekend, then closes July 8 at home against Boca.

Elsewhere in minor-league soccer:

May, 13, 2012
5/13/12
1:30
AM PT
By
Scott French
| ESPNLosAngeles.com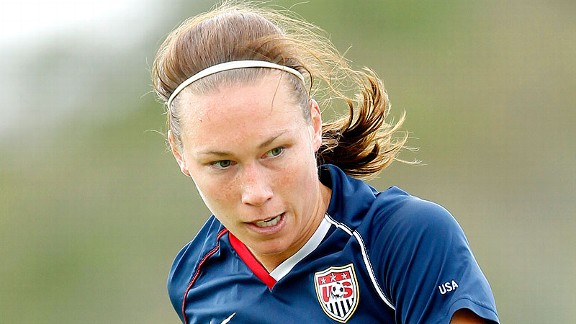 Joel Auerbach/Getty ImagesThe Pali Blues have brought in U.S. national team defender Whitney Engen to their roster this season.
A tumultuous winter has left the American women's soccer landcape in flux: The pro league is dead and gone, a lot of the players have scattered overseas, and the maneuvering for position among clubs and rival leagues for whatever's next is well under way.
The impact will surely be felt in the USL W-League's Western Conference, which has picked up its share of big names -- with more possibly to come.
The W-League season kicked off this weekend, and two Western matches are featured -- one pitting SoCal clubs Pali Blues and L.A. Strikers on Sunday evening at Occidental College. Pali, a two-time league champion, is one of the clubs benefiting from the talent dispersal and thus one of the expected contenders to win the national amateur/semipro league's title.
The Blues have brought in one national-teamer -- defender
Whitney Engen
, from Rolling Hills Estates -- among a handful of WPS veterans, and more could be coming, with speculation centered on local stars
Abby Wambach
,
Shannon Boxx
and
Amy Rodriguez
.
The Seattle Sounders made the biggest splash, luring the U.S. team's biggest name (goalkeeper
Hope Solo
) and hottest property (Diamond Bar's
Alex Morgan
, whose boyfriend,
Servando Carrasco
, plays for the Sounders' MLS side), the No. 1 pick in the WPS draft (UCLA's
Sydney Leroux
), along with two more national-teamers (midfielder
Megan Rapinoe
and former L.A. Sol defender
Stephanie Cox
), among other pros.
"It's interesting. Kind of a feeding frenzy," said L.A. Strikers head coach
Demian Brown
, who did not pursue WPS and U.S. national team stars. "I know a lot of W-League teams made real strong pushes for international and national team players, and almost by circumstance we didn't. I would have loved to have a Whitney Engen or a Hope Solo, but some of those women will only play in the league for a bit because of their commitment to the country."
Most WPS vets will be available all season. The national-teamers, as Brown says, not so much. The London Olympics begin in mid-July, and preparations will be the top priority for the big stars the rest of the spring and into summer.
"I'm not worried about the full national team players [Seattle] signed," said
Charlie Naimo
, who guided the Pali Blues to the 2008 and 2009 W-League titles, served as GM of the WPS's L.A. Sol in 2009 and returns to the women's game after taking last season off to concentrate on the L.A. Blues pro men's team, which he continues to run. "They're not going to be around for the playoffs. When I look at the league schedule versus the national team schedule, they're physically available for only a few league games. If they do play against us, we'll be excited. It's a great challenge for our team."
The Vancouver Whitecaps, who reached the W-League title game two years ago and the semifinals last year, have a handful Canadian national-teamers but lost the core of its team. The Colorado Rapids, formerly the Force and now the third team in the league with an MLS affiliation, brought in WPS standout
Brittany Bock
, another former Sol player.
Everybody, it appears, will be improved, at least in the eight-team West, which features three Pacific Northwest teams (the third is in Victoria), two from Colorado and three teams from So Cal (the third is Santa Clarita Blue Heat). It might be the best division in the women's game, on par with W-League rival rival Women's Premier Soccer League's Elite Division, which has three WPS survivors.
A look at the three local teams:
January, 22, 2012
1/22/12
8:27
PM PT
By
Scott French
| ESPNLosAngeles.com
Sydney Leroux took the spotlight as the U.S. women's national team continued its massacre of CONCACAF minnows, scoring five goals in her second international appearance, a 13-0 rout of Guatemala in Olympic qualifying in Vancouver, British Columbia.

Leroux, a three-time UCLA All-American who was born in Vancouver and lived there until moving at 15 to Phoenix for soccer considerations, came on at halftime and matched Amy Rodriguez's five-goal performance in Friday's 14-0 victory over the Dominican Republic, the Yanks' Group A opener.

Hermosa Beach's Abby Wambach tallied twice in the first 15 minutes -- her 128th and 129th international goals, one shy of Kristine Lilly's No. 2 all-time total -- and Rodriguez (Lake Forest/Santa Margarita Catholic HS and USC) added to her total as the U.S. clinched a berth in Friday's all-important semifinals.

The U.S. and Mexico, which also has won big in its matches, will meet in a group finale Tuesday. The victor will win the group -- a draw favors the U.S. -- and likely avoid Canada, a dangerous foe. Costa Rica also has qualified for the semifinals and needs a win Monday over the Canadians to win Group A.

Only the semifinal winners advance to next summer's London Games.


April, 3, 2011
4/03/11
5:25
PM PT
By
Scott French
| ESPNLosAngeles.com
UCLA freshman Kelyn Rowe scored both goals to send the U.S. into the all-important quarterfinals at CONCACAF's under-20 championship with a 2-0 victory over Panama.
Rowe scored in the 13th and 18th minutes, his second and third goals of the tournament, to give the U.S. (2-0-0) the Group B title and a final-eight matchup Wednesday with host Guatemala. The quarterfinal victors qualify for the July 29-Aug. 20 FIFA U-20 World Cup in Colombia.
UCLA junior
Eder Arreola
(Chino Hills/Chino Hills HS) played key roles in the sequences leading to both goals, but he departed in the 84th minute after injuring his right hamstring, and the U.S., which had already used all three of its substitutions, played with 10 men the rest of the way.
Irvine's
Bobby Wood
, a forward for 1860 Munich, and Chivas USA defender
Zarek Valentin
also were in the U.S. lineup, and Oxnard's
Moises Orozco
(Oxnard HS), from Mexico's UANL Tigres, was a second-half substitute.
The U.S.-Guatemala winner will face Costa Rica or Cuba in Friday's semifinals; the other quarterfinal matches pit Mexico against Canada and Honduras against Panama.
U.S. WOMEN:
The women's national team suffered a rare loss Saturday, falling, 2-1, to England in a World Cup prep at Leyton Orient's Brisbane Road stadium in London. It was the Yanks' first defeat in a friendly since 2004.
Megan Rapinoe
scored the U.S. goal, on an assist from Redondo Beach's
Shannon Boxx
.
Jess Clark
and
Rachel Yankey
sent England to a 2-0 lead by the 26th minute.
Boxx (South Torrance HS) was joined in the starting lineup by Lake Forest's
Amy Rodriguez
(Santa Margarita Catholic HS/USC) and Hermosa Beach's
Abby Wambach
, who made her first start since last year after returning from a heel injury. Diamond Bar's
Alex Morgan
(Diamond Bar HS) and former UCLA star
Lauren Cheney
, both pivotal in the Americans' second-half dominance, came off the bench.
Chino Hills'
Karen Bardsley
(Ayala HS/Cal State Fullerton) was in the nets for England.
March, 3, 2011
3/03/11
7:19
AM PT
By
Scott French
| ESPNLosAngeles.com
Amy Rodriguez scored a quick goal and Abby Wambach returned from injury to see her first action of the year in the U.S. women's national team's 2-1 victory over Japan in their opener at the annual Algarve Cup in Portugal.
Rodriguez (Lake Forest/Santa Margarita Catholic HS and USC) scored in the seventh minute from a feed by
Lauren Cheney
(UCLA), and
Megan Rapinoe
doubled the advantage 11 minutes later. Former L.A. Sol midfielder
Aya Miyama
scored Japan's goal in the 29th.
Wambach (Hermosa Beach), who missed the Americans' start-of-the-year camp at Home Depot Center and the Four Nations event in China with a heel injury, came on at halftime for the U.S.
Shannon Boxx
(Redondo Beach/South Torrance HS) started in midfield, and
Alex Morgan
(Diamond Bar/Diamond Bar HS) came off the bench in the second half.
Lindsay Tarpley
(Hermosa Beach), wife of UCLA women's coach
B.J. Snow
, watched from the bench.
The U.S., which is seeking its fourth Algarve title in five years and eighth since first winning it in 2000, meets Norway on Friday and Finland on Monday, with a placement match set for Wednesday.
November, 27, 2010
11/27/10
2:25
PM PT
By
Scott French
| ESPNLosAngeles.com
It would have been disastrous had the U.S. missed next year's Women's World Cup. Careers ruined, heads rolled, a dark cloud hanging over the globe's most successful women's soccer-playing country for at least a generation.
At least, we figure, no suicides -- we're not the rest of the world. Yet.
Thanks to
Amy Rodriguez
, we don't have to worry about it.
The former USC All-American from Lake Forest (Santa Margarita Catholic HS) scored in the 40th minute Saturday afternoon to give the Americans a 1-0 triumph over Italy in Bridgeview, Ill., a 2-0 aggregate victory in the home-and-home CONCACAF/UEFA playoff series, and the last of 16 berths for next summer's championship in Germany.
Rodriguez knocked home a rebound after
Megan Rapinoe
's hard shot was spilled by Italy goalkeeper
Anna Picarelli
, a former Pepperdine standout from Long Beach who played at St. Joseph High School in Lakewood.
The U.S. has failed to qualify just once for a FIFA women's or girls tournament -- a penalty-kicks loss to Canada kept us from this year's U-17 to-do in Trinidad & Tobago -- and that was met with much hand-wringing in U.S. Soccer's Chicago headquarters and throughout the American women's soccer community.
The Americans' failure to reach the final four at this year's U-20 tournament in Germany was seen as a mighty catastrophe.
Not reaching the WWC, the biggest event in the sport … that would have been unimaginable. But Mexico's stunning upset in the CONCACAF qualifying semifinals earlier this year put the Yanks on the brink of missing out. Well, sort of.
The U.S. women had never lost a qualifier before, and the odds of it happening twice weren't very good. They conquered Costa Rica in the CONCACAF third-place game to advance to the home-and-home with Italy, which has greatly improved the past five or six years but still can't match the Americans.
Two 1-0 scorelines -- Diamond Bar's
Alex Morgan
(Diamond Bar HS) scored the lone goal, deep into stoppage, in last week's first leg in Padua, Italy -- attest to how tight things have gotten in the international women's game. Assumptions are becoming useless, as China's failure to qualify and Equatorial Guinea's success in Africa's eliminations demonstrate, but we'll nonetheless assume the U.S. will contend for the title next year and that Germany, likely, will win a third straight WWC crown.
The U.S. has never finished worse that third. Titles in 1991 and 1999, third-place finishes in 1995, 2003 and 2007. Fourth or below next year will be failure.
The WWC will be played June 26-July 17. The draw is Monday in Frankfurt.
Here are the qualifiers (in order of finish within their confederatons):
CONCACAF (North and Central America and the Caribbean):
Canada, Mexico, United States
CAF (Africa):
Nigeria, Equatorial Guinea
AFC (Asia):
Australia, North Korea, Japan
UEFA (Europe):
Germany (host), Sweden, France, Norway, Italy
OFC (Oceania):
New Zealand
CONMEBOL (South America):
Brazil, Colombia
November, 20, 2010
11/20/10
3:27
PM PT
By
Scott French
| ESPNLosAngeles.com
The best young women's player in America? Clearly, it's Diamond Bar's Alex Morgan, who came up huge in stoppage Saturday to give the U.S. an advantage in its Women's World Cup qualifying series against Italy.
Morgan (Diamond Bar HS), a 21-year-old senior at the University of California who had come off the bench in the 86th minute, raced into the Italian box in the 94th minute to finish a
Carli Lloyd
long ball flicked on by Hermosa Beach's
Abby Wambach
to send the Americans home with a 1-0 lead midway through the home-and-home series.
The second leg is next Saturday in Bridgeview, Ill. The victor joins the 16-nation field in Germany next summer.
The goal was Morgan's fourth in eight international matches. Her college career closed last week with Cal's first-round loss to Duke in the NCAA Division I women's tournament, and she'll be one of three players -- along with Stanford
Christen Press
(Palos Verdes Estates/Chadwick School) and Portland's
Sophie Schmidt
-- vying to be the top pick in Women's Professional Soccer's draft.