Los Angeles Soccer:

Micah Richards
August, 2, 2012
8/02/12
11:44
PM PT

CARSON, Calif. -- David Beckham says he's happy to be back in Los Angeles.

He's happy to be back home with his wife and kids. He's happy to be back with his Los Angeles Galaxy teammates. He's happy to be enjoying the Olympics in London, like the rest of America, on tape delay from the comfort of his living room.

But you can tell he's not really happy, and he has every right to feel that way.

On Thursday night, Beckham was on the field at the Home Depot Center to take on his former team, Real Madrid, in front of 30,317, the largest soccer crowd ever at the stadium. It was, as expected, a lopsided affair that Madrid won 5-1. Beckham set up the Galaxy's only goal with a picture-perfect serve off a free kick that went off the head of David Junior Lopes and past Real Madrid goalkeeper Iker Casillas.

Beckham, however, should be in England, preparing for Great Britain's quarterfinal match against South Korea on Saturday.

After all, Beckham was instrumental in bringing the Olympics to London, calling it "one of the proudest moments I've been involved with." Giving one of the most famous and influential figures in English sports history a spot on the 18-man roster seemed like the right thing to do. Given the way Beckham, 37, has been playing of late, few would have seen it as a courtesy gesture. Beckham had every right to be on the team for on- and off-the-field reasons.

That is, of course, not how Great Britain manager Stuart Pearce felt in June when he opted to fill the three over-23 slots on his team with Liverpool's Craig Bellamy, Manchester City's Micah Richards and Manchester United's Ryan Giggs, who will turn 39 in November.

"Of course, I'm disappointed, but life goes on," Beckham said. "My family is healthy, I'm pretty healthy, so at the end of the day, I'll be there to support the Great Britain team."

Instead of being an Olympian at the Summer Games he helped attract to his country, Beckham played a central figure in last week's opening ceremonies and will again play a part in the closing ceremonies. He helped bring the torch to the Olympic Stadium while wearing one of his custom suits and driving a speed boat, in a scene that looked straight out of a James Bond film.

"I was out on the boat for a few hours, so it was good," Beckham said. "I had a few days during the week so I was prepared. It was good times. … Obviously being an East End boy and growing up there, having the Olympics in that part of London is a very proud moment for us all. But it was a great experience being part of it, being part of such a historic moment for England. It was special."


June, 28, 2012
6/28/12
11:32
AM PT
By
Scott French
| ESPNLosAngeles.com
David Beckham will not be playing for the unified Great Britain team at the London Olympics.
Manager
Stuart Pearce
, who was at Home Depot Center to watch Beckham in L.A.'s 1-0 victory 11 days ago, had been expected to select the 37-year-old legend along with Liverpool's
Craig Bellamy
and Beckham's old Manchester United teammate
Ryan Giggs
as the three over-23 players for the "Team GB" men's soccer roster. Manchester City's
Micah Richards
is expected to get the nod instead of Beckham.
"Everyone knows how much playing for my country has always meant to me," Beckham said in a statement. "So I would have been honored to have been part of this unique Team GB squad. Naturally, I am very disappointed, but there will be no bigger supporter of the team than me. And like everyone, I will be hoping they can win the gold."
Beckham, who played 115 times and in three World Cups for England, had hoped to cap his career at his hometown Olympics. He played a vital role in the London organizers' bid to win the games and has served as an ambassador since. A role on Pearce's 18-man roster was expected to be his reward.
"He's been a great ambassador, but that's no guarantee he'll get in the squad. I'm picking on form and merit alone," Pearce, who made two trips to the U.S. to scout Beckham, said in April. "David Beckham will be treated exactly the same as any other individual, whether it is young or overage. I have a duty of care to the Great Britain squad to try to win a gold medal. I will pick the strongest squad I can."
The Olympic men's soccer tournament is for under-23 teams, but each nation may include three overage players.
Beckham is expected to have a role at the July 27 opening ceremonies.
July, 24, 2011
7/24/11
7:34
PM PT
By
Scott French
| ESPNLosAngeles.com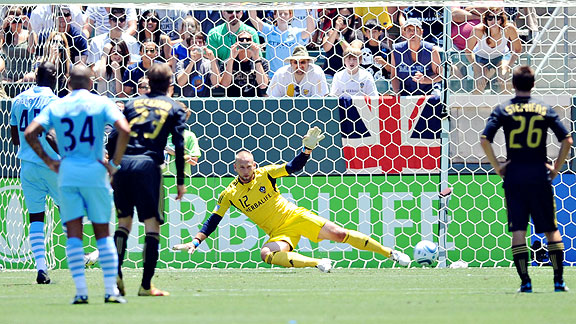 Kelvin Kuo/US PresswireManchester City forward Mario Balotelli shoots a penalty kick against Los Angeles Galaxy goalkeeper Josh Saunder.
CARSON -- Officially, Manchester City won Saturday afternoon's friendly against the Galaxy, prevailing on penalty kicks following a 1-1 draw. But it felt like a victory for L.A., who were the better side in the second half, rallied on a superb Mike Magee goal and accomplished most of what it set out to do.
"I think I saw a little bit more today than I saw in [last week's friendly against Real] Madrid," Galaxy coach
Bruce Arena
said after his team shook off a poor first half to create more than enough chances to beat the English Premier League powerhouse in the World Football Challenge clash at Home Depot Center.
"I think we're gonna have to be playing three games a week for an extended period of time" -- actually, it's twice a week, once CONCACAF Champions League play begins -- "and we need to go deep into our roster. Today were some indications that there are some players we can use, which is a positive."
The best such impression was made by rookie midfielder
Dan Keat
, from New Zealand by way of Dartmouth College, who was slowed by injury early this season but looks like he's ready to contribute now.
Keat played two superb long balls to
Chris Birchall
, the first one leading to Magee's 53rd-minute goal, the second to a
Todd Dunivant
chance two minutes later, and and tested City goalkeeper
Joe Hart
with a blast from Dunivant's rebound. He won balls in midfield and was a solid conduit as the Galaxy took charge over their tiring foe as time wore on.
"I thought Dan Keat played real well," Arena said twice during his postgame news conference. "I was impressed with his composure, his passing. He had a good look at goal. ... His distribution was good, he got around the ball pretty well, won some tackles. ... That was very encouraging."
Said Keat: "Today was all about going out there and showing that I can play at that level and giving a good showing of myself," Keat said. "I think I did that. ... A lot of players stood up and did well. It's good for Bruce to see that everyone performed at that level and showed they can contribute to the second half of the MLS season."
Winger
Hector Jimenez
and defender
Kyle Davies
made their first starts for the first team, and 16-year-old forward
Jack McBean
and midfielder
Dustin McCarty
made their initial first-team appearances.
Frankie Hejduk
returned to the field following a lengthy ankle injury, playing 30 minutes in the second half -- "Huge for us," Arena said -- and reserve forward
Adam Cristman
, midfielder
Jovan Kirovski
and goalkeeper
Brian Perk
got ample time.
Michael Stephens
went the full 90, splitting time in central defense and on the left flank.
Omar Gonzalez
, wearing a mask to protect his fractured nose, played 45 minutes after missing L.A.'s last two games.