Los Angeles Soccer:

Michelle Pao
June, 26, 2012
6/26/12
2:22
PM PT
By
Scott French
| ESPNLosAngeles.com
The Fullerton Rangers took a huge stride toward the National Premier Soccer League playoffs with Sunday's victory over FC Santa Clarita, a showdown for second place in the Western Division's Southern Conference.

Former Chivas USA/New York Red Bulls forward David Arvizu (Santa Ana/Foothill HS) scored two goals as the Rangers avenged a loss two months earlier in Santa Clarita with a 3-0 triumph at Santa Ana Stadium.

The Rangers (7-3-2) have a two-point advantage over the Storm (6-3-3) with two games to play. Both have matches remaining with the San Diego Flash (9-0-2), which has clinched the Southern Conference title.

The Rangers' NPSL team finished second to the Flash and went to the playoffs last year, when they were affiliated with the Santa Ana Winds.

Arvizu scored in the 17th and 60th minutes and Cuban forward Eder Roldan tallied in the 24th for Fullerton, which has won three in a row and scored at least three times in its past four games. Santa Clarita has won just twice in its past five games, over the division's two worst clubs (Phoenix and North Coast, with a combined 2-18-1 record), and could rue a 1-1 draw at home June 9 with San Diego Boca (4-5-3).

Santa Clarita is likely to vault back to second next weekend, when it faces fading Conejo Valley side FC Hasental (3-7-2), but getting a resullt against the Flash on July 7 is critical to the Storm' playoff hopes. Fullerton plays the Flash in San Diego this weekend, then closes July 8 at home against Boca.

Elsewhere in minor-league soccer:

June, 12, 2012
6/12/12
8:48
PM PT
By
Scott French
| ESPNLosAngeles.com
IRVINE -- Daniel Steres was drafted by Chivas USA, spent a month in camp with the Seattle Sounders, and has been a force -- in the back or anchoring the midfield -- as the Ventura County Fusion have turned the Premier Development League's Southwest Division into their own playground.

Now he's back with the Sounders, taking the next step in his journey to being a full-fledged professional.

Steres (Calabasas/Calabasas HS), who starred at San Diego State, was taken by Seattle in last week's college-waiver draft and headed over the weekend to Washington.

"We're getting the contract [sorted out], and then working my way up to get a starting role, obviously," Steres told ESPN Los Angeles after the Fusion's 2-1 victory Friday evening over Orange County Blue Star. "Sounds like they're excited to have me come in. I'm excited to go in."

Steres, probably a center back or right back in MLS, lost out in numbers games during preseason at Chivas and, after his release by the Goats, in Seattle. He's been superb for the Fusion, bolstering the backline next to Mickey Daly (Cal State L.A.) or Tim Pontius (Yorba Linda/Servite HS and UC Santa Barbara) or teaming with former Chivas USA/Portland Timbers midfielder Rodrigo Lopez (Santa Barbara/Santa Barbara HS) in central midfield.

The Fusion (6-1-1) are atop the Southwest Division after rallying for a 2-1 win against Blue Star at Concordia University. Travis Bowen (Van Nuys/Chatsworth HS), the older brother of Chivas USA forward Tristan Bowen, scored both goals -- his fourth and division-best fifth of the season -- with the winner coming in the 76th minute.

Ventura is one point ahead of FC Tucson, which visits the Fusion next weekend.

Pontius, the younger brother of D.C. United midfielder Chris Pontius, also is getting some MLS attention. The big center back, a Sounders draft pick, has been in camp the past week with the Galaxy. He says playing with the Fusion has helped prepare him.

"College is one thing," he said. "College prepares you for the next step. This is kind of the in-between phase between college and pros. You've got a lot of players here who can make the next step."

He said his time with Sounders in preseason was "spectacular."

"Unfortunately, it didn't work out for me, but at the end, I gained a lot of experience out of that opportunity," Pontius said. "Spots were tight there, so there's only so much you can do. You play your game, if it doesn't work out, it doesn't work out. You try the next one."

Elsewhere in minor-league soccer:


December, 25, 2011
12/25/11
7:56
AM PT
By
Scott French
| ESPNLosAngeles.com
UCLA's Chandler Hoffman scored goals by the bunches on a quest to go home. Nadia Link netted nearly as many to take Long Beach State to unprecedented heights. Christian Ramirez dazzled for Concordia. And Fabiola da Silva prodded Cal Baptist to a national championship.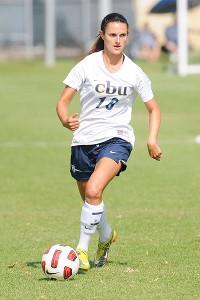 Rachel McDaniel/CBU SportsBrazilian midfielder Fabiola da Silva led Cal Baptist to the NCCAA national title.
They're ESPN Los Angeles College Players of the Year after superb fall campaigns on local fields.

We selected men's and women's teams, one for players from 10 local NCAA Division I institutions and another for players from 24 NCAA Divisions II and III, NAIA and unaffiliated schools.

Our coaches of the year in Division I are Junior Gonzalez, who led the remarkable turnaround by UC Riverside's men, and Tim Ward, whose Pepperdine women were a top-five team during the regular season. In the lower divisions, it's Ralph Perez, who took Redlands' men to 20 wins and NCAA Division III third-round berth, and Kristen St. Clair, who presided over a superb transition from NAIA to NCAA Division II, with the Pacific West Conference title and National Christian Collegiate Athletic Association Division I national crown.

The freshmen of the year: Cal State Northridge's Edwin Rivas and UCLA's Abby Dahlkemper in D1, Cal Baptist's Michael Salazar and Cal Lutheran's Taylor Will in D2/D3/NAIA.

Here are our inaugural postseason all-star teams:


December, 9, 2011
12/09/11
5:57
PM PT
By
Scott French
| ESPNLosAngeles.com
UC Irvine's Miguel Ibarra and UC Santa Barbara's Luis Silva, two of the nation's finest collegiate midfielders, were honored Friday as first-team Division I All-Americans by the National Soccer Coaches Association of America.
UCLA's
Sydney Leroux
was a
first-team women's selection
as 11 local players received All-America acclaim and 39 collected all-region honors.
Stanford's
Camille Levin
, from Newport Coast (Tarbut V'Torah Community Day School), also was a first-team women's choice
Ibarra (Lancaster/Lancaster HS), a junior, led Big West champion UCI with nine goals along with eight assists. Silva (Los Angeles/Salesian HS) scored 17 goals with 10 assists for the Gauchos.
UCLA goalkeeper
Brian Rowe
and Connecticut midfielder
Carlos Alvarez
(Los Angeles/Salsian HS) were second-team selections, and UCLA forward
Chandler Hoffman
and Cal State Bakersfield forward
Gyasi Zardes
(Hawthorne/Leuzinger HS) were chosen for the third-team.
Ibarra, Silva and Rowe have been invited to Major League Soccer's predraft combine next month in Florida.
UC Irvine defender
CoCo Goodson
and Pepperdine defender
Michelle Pao
are second-team women's selections, and UCLA freshman defender
Abby Dahlkemper
is a third-teamer.
Below are lists of local players selected to All-America and all-region teams:
November, 13, 2011
11/13/11
12:27
AM PT
By
Scott French
| ESPNLosAngeles.com
MALIBU -- Nadia Link has netted some wonderful goals this season, but few as sweet -- and none as important -- as her bending blast Saturday afternoon at Pepperdine.
Link fired into the far corner of the net with 13 seconds to go in the first overtime period to lift Long Beach State to a 1-0 triumph over the seventh-ranked Waves in an NCAA Division I tournament opener.
It was the first NCAA victory in 49ers history, and the first over a top-10 opponent, and it was product on Link's twisting shot and five big saves by goalkeeper
Kaitlyn Gustaves
.
"That's seven years of work -- seven and a half years ...," said Long Beach State coach
Mauricio Ingrassia
, who has the 49ers in the NCAA tournament for the third time in four years. "We had a couple of injuries [when we lost in the first round to San Diego] in '08. And last year we played our best game of the year against Santa Clara, but [their goalkeeper] had the game of her life. This year we felt we had the experience. It would have been very painful to be 0-3 in the tournament without scoring a goal."
The goal was a beauty. Link (Rowland Heights/Walnut HS) received a pass from midfielder
Sidney Garza
(Ventura /Buena HS), took the ball up the left flank, then cut inside along the top of the Waves box, where she found uncommon space.
She's a left-footer, but the shot was on her right, and it twisted away -- "corkscrewed," is how Pepperdine coach
Tim Ward
put it -- toward the upper-right. Waves goalkeeper
Roxanne Barker
(Irvine/Woodbridge HS) never had a chance.
"The team was asking why did I wait so long," said Link, who tied the school record with her 16th goal of the season. "I saw the pass coming from Sidney Garza, and all I heard was Mauricio saying, 'Take it down the line!' And I remember thinking, 'That's a long way.' ... It went in, and I don't even remember celebrating. I was too busy crying."
Said Ward: "A moment was going to decide the game, and that moment [belonged to] Nadia Link. ... A great player scored a great goal to beat us."
Link described the odd path of her shot as "the unpredictability of my right foot."
The strike brought a dramatic end to a tight, thrilling clash marked by superb defense in the boxes, with Long Beach State's backline -- especially center back
Jordan Nelson
(Garden Grove/Pacifica HS and Loyola Marymount) -- doing well to get in the way of shots by
Lynn Williams
and
Laura Cole
(Whittier/La Habra HS).
Gustaves (Long Beach/Wilson HS) came up big five times, including a double-save, the second with her foot, on
Amanda LeCave
after an uncharacteristic giveaway by defender
Alex Balcer
. The goalkeeper followed up by snagging a long shot by right back
Michelle Pao
, Pepperdine's most dangerous attacker, then made two diving saves on Williams in the second half.
Long Beach advances to a second-round clash Friday against Miami (10-7-1), a 3-2 winner over Alabama, at UCLA's Drake Stadium.
In other women's action:
Freshman Kylie McCarthy knocked home a 65th-minute rebound as No. 2 UCLA (16-1-3) scored a 1-0 victory over visiting New Mexico (12-5-4) in an NCAA Division I first-round game. The Bruins limited the Mountain West Conference champion to three shots, just two on target, in a dominant performance en route to a second-round clash Friday in Westwood against San Diego.
November, 5, 2011
11/05/11
1:50
AM PT
By
Scott French
| ESPNLosAngeles.com
Pepperdine romped past San Francisco in its West Coast Conference women's soccer finale, a not-unexpected outcome, but the more meaningful action was taking place about 125 miles to the south.
The eighth-ranked Waves (15-1-4) claimed their first conference title since 2002 when San Diego routed Santa Clara, 3-0, knocking the seventh-ranked Broncos from the top spot they wrested last weekend from Pepperdine.
San Diego (12-7-0), which was led by three
Stephanie Ochs
assists, also claimed a share of the crown, but Pepperdine wins the automatic berth to the NCAA tournament after beating the Toreros last month.
Santa Clara (13-2-5) fell to 6-1-1 in WCC play; USD and Pepperdine finished 7-1.
The Waves scored a 4-0 victory over San Francisco in Malibu, with
Laura Cole
(Whittier/La Habra HS) and
Amanda LeCave
scoring first-half goals and
Karissa Garcia
and
Michelle Pao
tallying after halftime.
In other women's action:
Sydney Leroux scored her 15th and 16th goals and assisted two by freshman Sam Mewis as fourth-ranked UCLA (15-1-3) romped to a 5-2 win over USC (7-13-0) in front of 3,826 at Drake Stadium. Zakiya Bywaters had three assists for the Bruins, who finished second to Stanford in the Pacific 12 Conference.
October, 28, 2011
10/28/11
5:42
PM PT
By
Scott French
| ESPNLosAngeles.com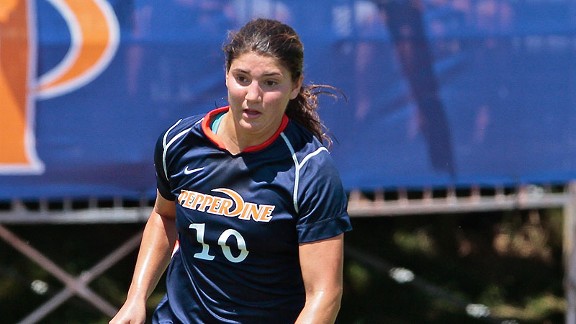 Scott French/ESPNLosAngeles.comAnisa Guajardo leads the Waves with nine goals.
Pepperdine heads into Friday night's showdown at Santa Clara likely for the West Coast Conference women's soccer championship with a 13-0-4 record, a school-record 18-game unbeaten streak and a No. 3 spot in the national rankings.
Head coach
Tim Ward
thinks it's the just the beginning.
Pepperdine has had some outstanding teams but never been considered a national power, but in a landscape that is embracing more and more contenders every year -- it's not just North Carolina, Notre Dame and Santa Clara anymore -- "I feel we're a team of destiny a little bit," Ward says.
"I feel a change in the air ...," he says. "I think it's our time. I think it's our time to rise up and become a power in women's soccer."
They've made their first move with a young but veteran side that has locked things down in the back, conceding just nine goals in 17 games, while feasting on a varied attack led by a local hero and two major signings from Fresno.
The three forwards -- cerebral
Laura Cole
(Whittier/La Habra HS), finisher
Anisa Guajardo
and freshman phenom
Lynn Williams
, the latter two from the Central Valley -- have gotten most of the attention, combining for 19 goals and 13 assists, but Ward is fond of the assessment a friend, a top high school coach, offered after watching the Waves: "Twenty-six women with one heart."
"I don't know if this is the most talented team we've ever had," he says. "It certainly rivals the 2002 team [that went 18-2-2, won the WCC and reached the NCAA Sweet 16], but it is a great team. The environment, the camaraderie and team spirit definitely is what gets us through the tight [moments].
"We still have a long way to go to get better. Here we are undefeated, but we can get so much better. ... We have no illusion we're all that or we're there yet. That's another nice thing about the team. There's a lot of humility. We're sticking together like good teams should, sacrificing for each other, and we're staying humble."
Credit goes to the senior leadership -- Cole, defensive midfielder
Karissa Garcia
and left back
Myriah Stockman
-- and the knowledge that with 10th-ranked Santa Clara and fellow national power Portland still on the schedule, the team hasn't won anything yet.
September, 19, 2011
9/19/11
12:11
AM PT
By
Scott French
| ESPNLosAngeles.com
UC Irvine and its Orange County rival Cal State Fullerton are off to their best starts in men's soccer in years, but any hopes for unbeaten campaigns -- realistic or not -- are now dead.
The fifth-ranked Anteaters and the Titans suffered their first defeats Sunday, dropping tight encounters on the East Coast.
Irvine (7-1-0) fell, 2-0, in a showdown with 12th-ranked South Florida, which got goals from
Wesley Charpie
in the 13th minute and
Dom Dwyer
in the 82nd.
Fullerton (5-1-1), which is ranked 24th by
Soccer America
, was beaten, 2-1, at George Mason on
Taylor Morgan
's penalty kick with about 20 minutes to go.
Nick Posthuma
(Pasadena/St. Francis HS) scored for the Fullerton in the 52nd minute, answering
Julio Aronja
's strike in the final minute of the second half.
In other men's action:
Kelyn Rowe's spectacular shot from 30 yards -- off the left post, off the right post and in -- 88 seconds into overtime lifted UCLA (4-2-1) to a 1-0 victory at San Diego.
Ben Sperber (Palm Desert/Desert Christian HS) provided an early lead, but UC Riverside (3-2-1) settled for a 1-1 draw with visiting San Jose State when Nick Cashmere tallied with 92 seconds left in regulation.
Jason Swope scored twice in the final 10 minutes of regulation as Cal State L.A. (4-0-2), ranked 10th in NCAA Division II, rallied for a 2-2 California Collegiate Athletic Association draw with visiting Chico State.
Cal State Dominguez Hills (3-2-1) closed a tough CCAA weekend as Cal State Stanislaus used a physical game plan -- committing 25 fouls to 11 for the Toros -- en route to a 1-0 victory. CSUDH was ranked 23rd in the NCAA Division II poll but lost, 5-0, Friday to Chico State.
Cal Poly Pomona (4-2-0) topped visiting UC San Diego, 3-0, in a CCAA clash on goals by Boris Beta, Ian Trantow (Riverside/Arlington HS) and Jonathan Enns.
WOMEN: Hubbard's hat trick lifts Long Beach
Nicole Hubbard
scored a hat trick as Long Beach State broke out a deadly attack Sunday afternoon, routing St. Mary's, 6-0, at George Allen Field.
Hubbard (Lakewood/Mayfair HS) tallied in the 17th, 29th and 64th minutes for the 49ers (6-3-0), who also received big games from
Shawna Gordon
and
Nadia Link
.