Los Angeles Soccer:

Miguel Sabah
September, 27, 2011
9/27/11
10:23
PM PT
By
Scott French
| ESPNLosAngeles.com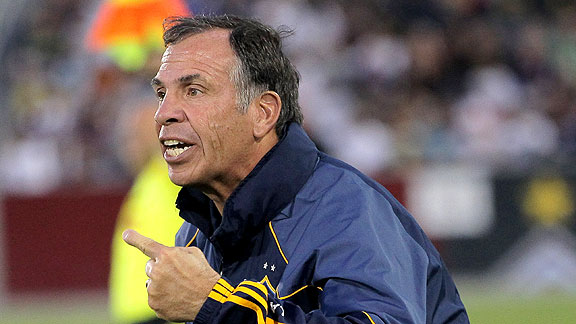 Doug Pensinger/Getty ImagesGalaxy coach Bruce Arena has not been a fan of the referees in the CONCACAF Champions League games.

CARSON -- The Galaxy's failure to reach the knockout stage of the CONCACAF Champions League would be remembered primarily for the phantom offside call that cost them a would-be winning goal two weeks ago at Morelia.

If they do move on, it will be Wednesday's rematch with the Mexicans at Home Depot Center that will play largest in the tale -- it's the first truly must-win game L.A. has played this year, and they know what's waiting if victory escapes them.

"This is an elimination game," captain Landon Donovan noted as the Galaxy (2-2-0) wrapped up preparations for their fifth Group A clash in the region's club championship. "If we lose the game, we're done."

Well, nearly so, but if they win, they're probably through to next year's quarterfinals, one of the club's primary goals this season. That would require one more victory -- Oct. 20 against winless Motagua in Tegucigalpa, Honduras -- but any tiebreakers are going to favor L.A.

Morelia (3-1-0) will clinch a final-eight berth with a victory, and Costa Rican champion Alajuelense (3-1-0) could then grab the group's other spot with a win or draw Thursday against Motagua (0-4-0).

A draw would keep the Galaxy alive if Alajuela loses or ties Thursday, but they'd need help in the group finales from Morelia, which is home Oct. 18 against Costa Ricans.

"You don't want to deal with that," Donovan said. "And it's unfortunate [we're where we are], because after two games we were in the power position. The third game [at Morelia] really hurt. The missed call really hurt us. And then playing a poor game [in last week's loss at Alajuelense] in the fourth game hurt us. So this becomes essential."

The Galaxy will be without David Beckham, who is suspended after receiving his second yellow card of the tournament last week, and might be missing Robbie Keane, who is recovering from a gluteal injury and will be a game-time decision.

'ROBBED OF POINTS': Keane played a huge role in the first meeting with the Mexican club, scoring L.A.'s first goal and netting another in the 90th minute that should have provided a 2-1 lead. An errant offside call -- Keane was at least three yards onside -- erased the goal, and Miguel Sabah's finish two minutes later gave Morelia the victory.

"I think using the word 'we were cheated' is too strong a word, it's not fair," Galaxy coach Bruce Arena said. "But we were robbed of points there. By anybody's imagination. That was very strange. It's been a strange tournament in terms of officiating for us."


September, 14, 2011
9/14/11
6:32
AM PT
By
Scott French
| ESPNLosAngeles.com
MORELIA, Mexico -- As one press-box wit noted following L.A.'s loss to Morelia in a CONCACAF Champions League clash, there is a substantial crime rate in Michoacan.

The Galaxy learned this the hard way Tuesday night, when it was robbed of one goal -- and Morelia was possibly given another -- in a 2-1 decision that raised some extraordinary questions about CONCACAF's policy for assigning officials for its most important matches.

Robbie Keane's would-be winner in the 90th minute was waved off by a phantom offside call, flagged by Honduran linesman Oscar Velasquez, as a flurry of late decisions went against L.A.

It was, frankly, criminal.

"I really don't know what to say," Galaxy coach Bruce Arena said to begin the postgame news conference. "I thought some difficult decisions went against us to decide the game. ... I thought we were on the end of some bad decisions at the end of the game."

It snowballed over the final 10 minutes, when the Galaxy -- holding onto an edge supplied through Robbie Keane in the 52nd minute -- conceded an 83rd-minute equalizer to Adrian Aldrete, saw Keane's second goal wiped away, then absorbed another phantom call, a foul against Frankie Hejduk, that started the sequence leading to Miguel Sabah's stoppage-time winner.

The offside call on Keane was the most egregious of several questionable decisions, all favoring Morelia.

Omar Gonzalez, about 8 yards out, sharply headed Landon Donovan's corner kick. Monarcas goalkeeper Federico Villar made the save, and Keane deposited the rebound. Who knows what Velasquez saw -- or thought he saw.

When Gonzalez made contact with the ball, the critical moment in the offside ruling, Keane was at the top of the 6-yard box and was stepping toward the net. Gerardo Lugo was in the 6, about 3 yards off the goal line -- meaning Keane was about 3 yards onside.

"It didn't look offside," Keane said. "I didn't think I was offside, but I have to look back [at the tape] to see that."


September, 13, 2011
9/13/11
8:48
PM PT
By
Scott French
| ESPNLosAngeles.com
MORELIA, Mexico -- Morelia had its foot on the gas from the start of Tuesday night's CONCACAF Champions League clash with the Galaxy, using its advantages -- primarily related to touch, positioning and comfort in tight spaces -- to exert pressure on the Galaxy's defense.
That left space to exploit, and when the Galaxy finally took advantage, early in the second half,
Robbie Keane
demonstrated why he could be so valuable an addition.

Keane scored in the 52nd minute, and it would have been enough to send L.A. to a Group A upset at Estadio Morelos if not for a pair of uncharacteristic errors near the finish by goalkeeper
Josh Saunders
.
Instead, Morelia rallied for a 2-1 Group A victory, pulling out three points on
Miguel Sabah
's header two minutes into stoppage. Saunders had the shot covered, but it ricocheted off him and rolled into the net.
The Monarcas tied the score nine minutes earlier when Saunders fumbled
Adrian Aldrete
's 83rd-minute blast across the goal line.
It was a tough ending for Saunders, who was certainly L.A.'s -- and perhaps the game's -- man of the match, making seven superb saves, including at least three of real brilliance in the second half -- two on
Rafael Marquez Lugo
and another, even better, on
Jorge Gastelum
.
He had Aldrete's sharp shot covered, too, but it slipped through his legs, and although he leapt on the ball while it was still on the goal line, he pushed it into the goal while wrapping his body around it.
"I don't really know what to say," Galaxy coach
Bruce Arena
said. "I thought some difficult decisions went against us to decide the game. ... I thought Josh played well. We don't even know if the first [Morelia] goal was a goal."
Arena also was troubled by linesman
Oscar Velasquez
's decision to flag Keane offside in the 90th, after he knocked in a rebound -- for a would-be 2-1 lead -- after Morelia goalkeeper
Federico Villar
made a diving save on
Omar Gonzalez
.
The result dropped L.A. to 2-1-0 in the regional club championship and vaulted Morelia (2-1-0) atop the group. The teams meet again Sept. 28 at Home Depot Center.
September, 13, 2011
9/13/11
12:42
AM PT
By
Scott French
| ESPNLosAngeles.com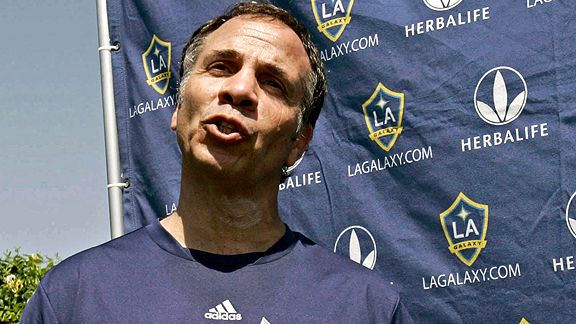 AP Photo/Nick UtGalaxy coach Bruce Arena says his team will be in for a much tougher battle in Mexico than two recent MLS teams that won games south of the border.

MORELIA, Mexico -- FC Dallas and the Seattle Sounders made history, and if that was good for Major League Soccer, it wasn't so grand for the Galaxy.

MLS is 2 for 2 in CONCACAF Champions League clashes in Mexico this summer, quite an achievement -- at least at the surface -- after the league's teams failed to win south of the border in its first 21 tries.

The Galaxy tries to make it three in a row Tuesday night, when it takes on Morelia in a Group A showdown at Estadio Morelos that figures to be much tougher than what Dallas or Seattle had to overcome.



"I think that the results that Seattle and Dallas got don't help us, because I think Morelia will come close to playing a full [first-choice] team," said Galaxy head coach
Bruce Arena
, whose team won its first two CCL games, over Honduran champion Motagua and Costa Rican titlist Alajuelense, at Home Depot Center. "Dallas played against reserves and youth players [in a victory last month at Pumas UNAM], Seattle didn't play against [defending champion Monterrey's] first team either.
"We're going to play against the first team. In my mind. ... I would think they're going to play their best team."
It's a fine team, too, featuring Mexican national team forwards
Rafael Marquez Lugo
and
Miguel Sabah
, former national-teamer
Jaime Lozano
, Ecuadoran star
Joao Rojas
and center back
Joel Huiqui
, among others. The Monarcas, 1-1-0 in Group A, are rounding into top form and coming off a 1-0 triumph Saturday over mighty Cruz Azul in Mexico City.
"Having gotten a result this weekend makes it a little easier [for Morelia]," Arena said. "They're under a little pressure [at 3-3-1] in their league, and I think they would have been thrilled to come home with a point, and they got three. So that takes a little pressure off them. They can say this week this game is a little more important than [Friday's Primera Division encounter against Gallos Blancos de Queretaro]."
FC Dallas opened its CCL campaign Aug. 17 with a 1-0 win, on
Marvin Chavez
's goal, in Mexico City over Pumas. The reigning Primera champs left out most of their first-teamers. Seattle stepped up six days later for a 1-0 win, on a superb
Alvaro Fernandez
finish, at Monterrey.
"We don't talk about any of that stuff," Arena said. "I think the players are aware of it. I think they go into these games believing they can get a result. I mean, that's half the battle. I would think for a number of years that teams in this league didn't even think they could get a result."
There was good reason for that. From 1997, the first year MLS clubs were eligible for CONCACAF's club tournament, until 2008, Mexican foes won all nine meetings played on Mexican soil. They outscored the MLS teams, 29-3, and scorelines included 6-1, 6-0 and 5-0.
May, 15, 2011
5/15/11
9:36
PM PT
Pumas UNAM and Morelia took care of business at home Sunday, posting emphatic victories to advance to the Primera Division's Clausura final.
Pumas overcame a slow start, with goalkeeper
Alejandro Palacios
making three huge saves in the first 23 minutes, to topple Guadalajara, 2-0, making for a 3-1 aggregate triumph in the two-games, total-goals semifinal series.
Morelia stunned Cruz Azul, 3-0, rallying from a two-goal disadvantage after the first leg to advance on 3-2 aggregate.
The final is tentatively slated for Thursday in Morelia and next Sunday in Mexico City, but Mexico's soccer federation will finalize plans Monday.
Rafael Marquez Lugo
erased Morelia's deficit with goals in the ninth and 12th minutes, then set up
Jaime Lozano
for a late strike moments after
Joel Huiqui
made a series-saving stop on the goal line. Had the game ended 2-0 (and the series at 2-2), Morelia would have advanced as the higher seed.
Javier Cortes
curled a free kick inside the right post just before halftime to give Pumas command, and
Dante Lopez
tallied in the 76th minute following a superb
Dario Veron
run.
Pumas, which was atop the regular-season standings through most of the winter/spring Clausura, was expected to push through after a 1-1 draw in the first leg Thursday in Zapopan, Jalisco. Morelia's triumph was not anticipated, not after Cruz Azul scored twice in the first half in a 2-0 first-leg win.
Sunday's game in Morelia turned ugly at the end, after a fan ran onto the field and tried to shake Cruz Azul captain
Gerardo Torrado
's hand. The Mexican national team veteran refused the request, and his teammates attacked the fan. That prompted some Morelia players to intervene, and a brawl quickly broke out, with Cruz Azul's
Christian Gimenez
trading punches with the fans and two Cruz Azul goalkeepers, backup
Yosgart Gutierrez
and starter
Jose de Jesus Corona
, attacking a member of Morelia's technical staff.
Referee
Francisco Chacon
red-carded Gimenez, his Cruz Azul teammates
Julio Cesar Dominguez
and
Isaac Romo
, and Morelia's
Miguel Sabah
. Corona, who escaped punishment, faces a lengthy ban for head-butting the Morelia staffer.
November, 16, 2010
11/16/10
12:24
AM PT
By
Scott French
| ESPNLosAngeles.com
Pachuca's in, Toluca and Guadalajara are out, and Pumas UNAM scored a big victory to claim the final berth in the Mexican Primera Division's playoffs.
Pachuca, with three Americans, struck early to beat Necaxa, 2-1, on Friday night, then waited 24 hours -- through five games -- to celebrate, clinching a top-eight spot when Atlas rallied to tie UANL Tigres on Saturday night.
It was a wild final regular-season weekend in the Apertura, featuring four late comebacks -- two of them playing decisive roles in the playoff race -- and Guadalajara's finest moment of the campaign, which was far too little for one of Mexico's two most popular clubs.
A quick rundown:
WHO'S IN:
Jaguares (6-4-7), Pachuca (7-6-4) and Pumas (7-6-4) won the three available berths, all finishing one point ahead of Tigres (6-5-6), which saw its playoff hopes die on two penalty kicks.
Jaguares clinched with a 1-1 draw at Gallos Blancos, with
Jorge Rodriguez
's 81st minute equalizer providing the Chiapas club the required goal. Queretaro had gone ahead just two minutes earlier on a tremendous
Sergio Oreteman
drive to the upper-left corner.
October, 26, 2010
10/26/10
5:03
PM PT
By
Scott French
| ESPNLosAngeles.com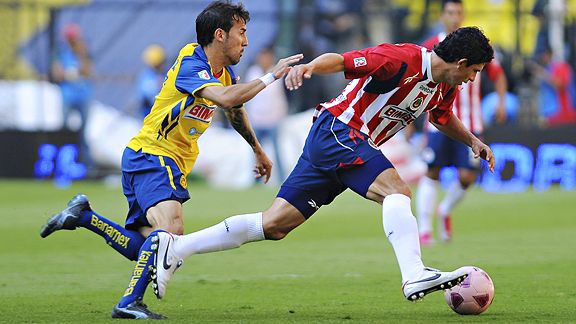 Jaime Lopez/Getty Images
Vicente Sanchez, left, of America vies for the ball with Jonny Magallon of Chivas during Sunday's game.
The rule of thumb is you play to win at home and to tie on the road, but Sunday's 0-0 draw at America in the 206th edition of Mexico's "Super Clasico" wasn't enough for Guadalajara, which faces a difficult path to get into the Primera Division's Apertura playoffs.
Chivas (3-3-7) are fourth in Group 1 and 11th overall, and they're only two points behind eighth-place America (4-3-6), which held onto its spot in the playoff zone despite its third successive draw. But the Goats finish with a brutal schedule, with games in this week's "doble jornada" against fifth-place (and reigning champion) Toluca and at third-place Santos Laguna, followed by showdowns with No. 1 Cruz Azul on Nov. 6 and at No. 2 Monterrey on Nov. 13.
Six clubs -- Pumas UNAM, Morelia, Pachuca, Puebla, Gallos Blancos in addition to Guadalajara -- are within three points of a top-eight slot, and only Cruz Azul and Monterrey are assured of playoff berths, realistically if not mathematically.
"Now we depend on what other teams do, and that is a very complicated position,"
Jose Luis Real
, Guadalajara's head coach, told the media following Sunday's draw. "But we can't surrender -- we are going to try to qualify. As long as we are alive, we will fight for the postseason."
Chivas have won just once in its last eight games and have picked up only seven of 12 points against the division's three worst clubs: They lost at Atlante in August, beat crosstown rival Estudiantes Tecos in early September, managed only a 2-2 draw with Atlas, their other Guadalajara rival, the first weekend in October, and beat Necaxa last week.
In games against eight of the nine clubs battling for the final four postseason berths -- Toluca is the ninth -- the Goats are 0-2-6, 0-2-2 at home.