Los Angeles Soccer:

Mike Randolph
July, 10, 2012
7/10/12
4:59
PM PT
By
Scott French
| ESPNLosAngeles.com
The game of the year for minor league soccer around these parts produced an unexpected result amid huge momentum swings and left one Southern California club joyous and another heartbroken.
Tyler Coombes
' 14th goal of the season lifted FC Santa Clarita, a first-year club born from the ruins of the Lancaster-based Rattlers, past the previously unbeaten San Diego Flash to claim the second Southern Conference berth for the National Premier Soccer League's Western Division playoffs.
Coombes (Palmdale/Palmdale HS and Cal State L.A.) scored twice as the Storm (8-3-3) posted a 4-3 victory Sunday at Canyon High School in Canyon Country, rallying for the winning goal in the 89th minute after the Flash (11-1-2) overcame a three-goal deficit.
Sergio Valle Ortiz
's second goal of the evening pulled San Diego just a minute before Coombes provided the victory.
The goal was a must -- a draw would have given the No. 2 spot to the Fullerton Rangers (8-4-2), whose 4-0 rout of San Diego Boca in Santa Ana, fueled on goals by brothers
Andre
and
Diego Turoldo
(both Torrance/North Torrance HS and Cal State Dominguez Hills), wrapped up about an hour before Coombes struck.
Martin Galvan
scored the first goal and assisted two more for the Storm, who were up, 3-0, when
Alex Harlley
(Rosamond/Rosamond HS) tallied three minutes into the second half.
Santa Clarita will visit Hayward-based Bay Area Ambassadors (9-4-1), the Northern Conference champion for Saturday's Western semifinals. The Flash are home against Sonoma County Sol (7-3-4) in the other semi, and the winners will meet next week for a spot in the NPSL final four.
Fullerton looked likeliest to finish second after beating Santa Clarita, 3-0, on June 24, but it fell to third after a 5-1 loss to the Flash a week later.
It also was a big week for another So Cal side: Pali Blues claimed the W-League's Western Conference title. Another, Beach FC, failed in its bid for the Pacific-South crown in the Women's Premier Soccer League.
The Ventura County Fusion, who are headed to the Premier Development League playoffs for the fourth straight year, can claim the Southwest Division championship Wednesday.
Elsewhere in minor-league soccer:
May, 29, 2012
5/29/12
2:43
PM PT
By
Scott French
| ESPNLosAngeles.com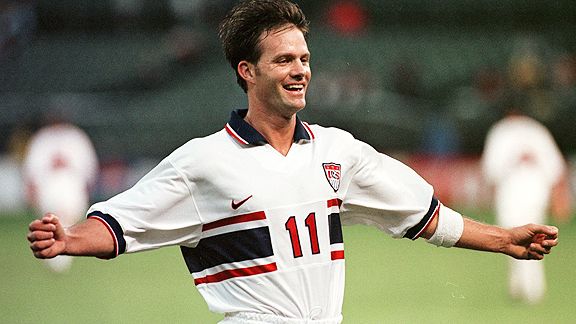 Monica M. Davey/AFP/Getty ImagesEric Wynalda back when he was scoring goals for the U.S. National Team.
Eric Wynalda, one of the finest strikers America ever produced, has built a team somewhat in his own image, and it's taking on America's soccer establishment with impressive results.

Thousand Oaks' Cal FC, a collection of misfit players with undeniable talent, have already conquered two better-fancied clubs in the 99th edition of the U.S. Open Cup, and Major League Soccer's Portland Timbers, on Wednesday night, could be next.

Wynalda, a first-ballot National Soccer Hall of Fame inductee who played in three World Cups, starred in Germany and scored the first goal in MLS history, knows that it's possible.

"We didn't enter this competition because we thought this would be fun," the former goal-getter from Westlake Village, known to a new generation of fans as an at-times acerbic commentator on Fox's soccer coverage, told ESPN Los Angeles. "We really have high hopes. We set goals, we achieve them and we re-set."

Wynalda's got, as he puts it, "a bunch of guys that everybody knows who they are." There's former UC Santa Barbara star Danny Barrera (Thousand Oaks/Westlake HS), who trialed with the Chicago Fire during MLS's preseason after a stint in Serbia. And there's Artur Aghasyan, who has played with Real Salt Lake and been on trial a couple of times with Chivas USA. And Richard Menjivar (Panorama City/Monroe HS), a Cal State Bakersfield standout who impressed with El Salvador's U-23s during CONCACAF's Olympic qualifiers.

UCLA alum Eder Arreola (Chino Hills/Chino Hills HS), who was drafted in January by the Houston Dynamo and trained with Chivas USA, is with the club. So is former Galaxy/L.A. Blues defender Mike Randolph (Chino Hills/Ayala HS) and Cesar Rivera (Pomona/Garey HS and Mt. San Antonio College), who led the Blues in scoring last year. And goalkeeper Derby Carrillo (La Mirada/St. John Bosco HS and Cal State Dominguez Hills), whom El Salvador's national team has targeted.

And hopefuls such as Danny's brother, Diego (Thousand Oaks HS/Loyola Marymount), former U.S. youth national-teamer Pablo Cruz (Azusa), defenders Hector Espinoza (Garden Grove/Santiago HS and Santa Ana College) and Beto Navarro, and others.

They're all good players who have been overlooked or dismissed or something, and Wynalda's goal is to showcase their talents and help them find paths to the professional careers he thinks they deserve.

That's the whole point of Cal FC, which grew out of Wynalda's experiences the past couple of years working with Mexican third-tier club Murcielagos, which employed for a time current Chivas USA forward Cesar Romero.

"I think the one thing I could say," Wynalda said, "is I have a very high opinion of some of these guys, but I'm the minority when it comes to that. People just aren't seeing what I see."


May, 15, 2012
5/15/12
12:20
AM PT
By
Scott French
| ESPNLosAngeles.com
Fullerton Rangers coach Raul Zico Ruiz expects a classic battle of opposing styles when his club takes on the Ventura County Fusion in Tuesday's opening round of the U.S. Open Cup.

Fusion coach Ole Mikkelsen doesn't know what to expect, and really doesn't care.

"At the end of the day, in the first round, you just want to play your game and get a few fortunate bounces of the ball," he said. "I knew very little about the teams we've played in the first round the past few years, and I know very little about [Fullerton]. At the end of the day, we'll focus on the style of soccer we want play. Hopefully, it's enough to get you through.

"Last year it was. The year before it wasn't."

The Rangers probably have the advantage at Santa Ana Stadium, owing to schedule and holdovers. They made the National Premier Soccer League playoffs last year as the Santa Ana Winds, and most of the players stuck around when the team changed sponsors -- so there's some continuity at work. They were playing Open Cup qualifiers in March and opened National Premier Soccer League play on April 7.

The Fusion, with a relatively new roster, played their first Premier Development League game last week. Many of the players who were with the team during preseason -- when they took on (and beat) Major League Soccer clubs -- are with bigger teams in more advanced leagues.

"It's a huge advantage for us," said Ruiz, who scouted the Fusion's 1-0 PDL loss Sunday against L.A. Misioneros and says Ventura County's direct approach will contrast with the Rangers' possession-first game. "We had a couple of losses in league, but they brought the team together. We've been together now two years, and they know how each other plays and moves off the ball."

The winner advances to a second-round game next week against the L.A. Blues, tentatively slated for Riverside Community College's Norco campus.

The Rangers are 4-2-0 in the NPSL, but both losses came when they were without midfielder leader Andre Turoldo (Torrance/North Torrance HS and Cal State Dominguez Hills) and backline anchor Leobardo Alvarez.

The Fusion (0-1-1 in the PDL) lost to the Arizona Sahuaros on penalties in the first round of the 2010 Open Cup -- they had qualified by winning the PDL title -- and last year beat Manhattan Beach's Doxa Italia in the first round and lost to the L.A. Blues in the second round.

Two more Southern California teams, both with pro talent, also play openers Tuesday. U.S. Adult Soccer Association Region IV champion PSA Elite, from Irvine, visits 2010 PDL champ Portland Timbers U-23, and Region IV runner-up Cal FC, from Thousand Oaks, plays at reigning PDL titlist Kitsap Pumas in Bremerton, Wash.


May, 6, 2012
5/06/12
5:01
PM PT
By
Scott French
| ESPNLosAngeles.com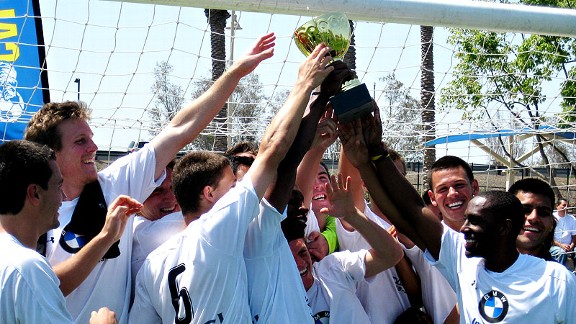 Scott French/ESPNLosAngeles.com PSA Elite celebrates with the cup.
ONTARIO -- There were lot of familiar names on the turf at Ontario Soccer Park for Sunday morning's USASA regional title game, but the biggest name of all actually wasn't anywhere nearby.

Eric Wynalda, the former U.S. national team star and a first-ballot National Soccer Hall of Fame inductee, had to follow his Cal FC team's clash with PSA Elite via constant text messaging while on the air in his main gig in West L.A., as studio analyst at Fox Soccer Channel.

The news he received wasn't good.

A missed penalty kick and a red card proved costly for Thousand Oaks-based Cal FC, which dropped a 2-0 decision to their Orange County-based foe in the U.S. Adult Soccer Association's Region IV championship.

PSA Elite, bolstered by players from Premier Development League power Orange County Blue Star, scored twice in the second half to qualify for the USASA National Cup final four July 20-22 at the Chicago Fire's Toyota Park.

The club from Irvine also got to choose its first-round opponent in the U.S. Open Cup -- well, perhaps -- and decided to play against PDL power Portland Timbers U-23 at Jeld-Wen Stadium, the Timbers' Major League Soccer team's home, in the May 15 opener. That sends Cal FC, which also qualified for the Open Cup, to play reigning PDL champion Kitsap Pumas in Bremerton, Wash.

U.S. Soccer, which runs the nearly 99-year-old tournament, has in the meantime scheduled a coin flip Monday to determine which team plays where.

Andrew Riemer scored in the 63rd minute and set up an 83rd-minute rocket by fellow Blue Star forward Christian Ramirez (Garden Grove/La Quinta HS and UC Santa Barbara/Concordia University).

"Oh, well," Wynalda, Cal FC's head coach, messaged after he was informed of Ramirez's goal. "I have qualified [for the Open Cup]. Time to strengthen the squad."

Both sides came in plenty capable.


May, 6, 2012
5/06/12
12:16
AM PT
By
Scott French
| ESPNLosAngeles.com
Thousand Oaks' Cal FC and Irvine's PSA Elite on Saturday claimed the final two berths in this year's U.S. Open Cup. Now they'll face off for a spot in the U.S. Adult Soccer Association national final four in Chicago this summer.

Cal FC, managed by Eric Wynalda and featuring former Galaxy defender Mike Randolph and UC Santa Barbara alum Danny Barrera, pulled out a 4-3 victory Friday over Manhattan Beach's Doxa Italia in the key Group A match at the seven-team USASA Region IV tournament at Ontario Soccer Park. They won the group Saturday with a 7-0 rout over The Internationalist, from Los Angeles.

The fourth team in the group, EP Elite, an El Paso, Texas, club representing New Mexico, was a no-show for the event and forfeited its three matches.

PSA Elite toppled Northern California's DV8 Defenders, its prime competition, in a Group B opener Friday, then crushed Pittsburg Galaxy, also from the Bay Area, and played fellow Irvine side OC Crew to a scoreless draw Saturday.

Defending Region IV champ Doxa Italia and DV8 Defenders were the region's Open Cup qualifiers last year. Both lost in the first round.

Cal FC and PSA Elite face first-round Open Cup trips to the Pacific Northwest. One will meet defending USL Premier Development League champion Kitsap Pumas in Bremerton, Wash., and the other will play at 2010 PDL titlist Portland Timbers U-23. U.S. Soccer will determine the matchups. The opening round in May 15.

Five other Southern California clubs are in the U.S. Open Cup field. Fullerton Rangers and Ventura County Fusion face off in a May 15 opener, with the winner taking on the L.A. Blues a week late in the second round. The Galaxy and Chivas USA enter the competition in the third round, on May 29.

Sunday morning's game at Ontario begins at 9 a.m.
May, 4, 2012
5/04/12
2:06
PM PT
By
Scott French
| ESPNLosAngeles.com
The local clubs in the USL's Premier Development League take the league's name to heart. The objective is developing talent, far more so than winning trophies, although those are nice, too.

There are five L.A.-area teams in the PDL's Southwest Division, including 2009 national champion Ventura County Fusion, which figures to battle defending division titlist Fresno Fuego for the top spot this season, which kicks off in earnest this weekend after Fresno-L.A. Misioneros games the past two weekends.

Most of the clubs are loaded with college players, a few amateurs looking to showcase their talents for the next level and, in some circumstances, pros hoping to step up into one of the country's three fully professional leagues or to a club to the south or overseas. The Southwest Division, along with its conference partner in the Northwest, is a standard-bearer for the PDL, in terms of competition and development.

"First and foremost, [the priority] is to prepare players for the next level," said Fusion coach Ole Mikkelsen, a 1978 UCLA All-American who played in the old North American Soccer League. "We select players primarily on whether or not we think they have the tools to play at the MLS level. We prepare the players first, and win second. It's hard to disconnect the two -- winning gives visibility to get you exposed."

The Fusion and fellow PDL power Orange County Blue Star have sent scores of players on to Major League Soccer and other pro leagues. So has the La Mirada-based Southern California Seahorses, a Christian club that expects to battle the Fusion, Blue Star and Fuego for the division title and two postseason berths.

"All the guys who come to our team are interested in that development part of the league and the team," Seahorses coach Todd Elkins said. "They know they get better. The level is consistently good. Just making the team -- making a team in our region -- you're going to be challenged. We take that very seriously. We want to maximize their time during the summer, making sure [a player] gets everything he can from us.

"We look at it as being a bit of a testing ground. If progressing the ranks is a goal for you, this is a good test to see if that's realistic or not."


April, 24, 2012
4/24/12
9:40
PM PT
By
Scott French
| ESPNLosAngeles.com
The Fullerton Rangers slapped around FC Santa Clarita en route to a U.S. Open Cup berth, debuting with a 5-0 romp a month ago. They discovered a very different foe in the rematch.

Tyler Coombes (Palmdale/Palmdale HS and Cal State L.A.) and Alex Harlley (Rosamond/Rosamond HS) scored early goals, and the Storm (2-0-1) -- revitalized by a new coach (Jose Meza) and lots of new talent -- pulled out a 2-0 victory over the weekend to vault over the Rangers (2-1-0) and to the top the Southern Conference standings in the National Premier Soccer League's Western Division.

Coombes, coming off a five-goal, NPSL player-of-the-week performance in a 9-1 rout of Phoenix a week earlier, tallied in the third minute, heading home Stephen Martines' corner kick. Harlley, a Togo-born forward who scored 45 goals as a senior this season at Rosamond High School, first-timed from 22 yards a Matt Shaxton cross in the 27th.

Santa Clarita leads the San Diego Flash (2-0-1) on goal difference.

Thousand Oaks' FC Hasental claimed its first victory, winning, 2-1, at San Diego Boca on goals by Robert Pate (Chatsworth/Chatsworth HS and Cal State Northridge) and Omar de la Piedra (L.A. Mission College). The Conejos' home opener, at Cal Lutheran's Rolland Stadium, is Saturday night against Santa Clarita.

The Bay Area Ambassadors play Sunday for a U.S. Open Cup berth against Stanislaus United Turlock Express, which beat Paso Robles' Naples FC, 5-2, in the U.S. Club Soccer qualifying final.

Elsewhere in minor-league soccer:

PREMIER DEVELOPMENT LEAGUE: Paul Islas scored twice late in the first half as defending Southwest Division champ Fresno Fuego opened the PDL season with a 4-1 win over L.A. Misioneros.

Cesar Rivera, the L.A. Blues' top scorer last year, netted the lone goal for the L.A. side, which, a club official said, includes former Chivas USA midfielder Gerson Mayen and former Galaxy defender Mike Randolph, although neither featured in the Central Valley. The return game is Sunday at Carver Middle School in Los Angeles.


December, 4, 2011
12/04/11
8:56
AM PT
By
Scott French
| ESPNLosAngeles.com
Hugo Casillas and Tomislav Colic combined for seven goals and Adriano de Lima contributed seven assists as the Anaheim Bolts won their opener Saturday night in the U.S. Open Arena Cup, a competition for indoor soccer clubs.
The Bolts turned a tight game with Docemas, an amateur side (featuring a few pros) from Chino Hills, into a 15-7 romp by scoring the final six goals at the Anaheim Convention Center's arena.
Casillas scored four goals and Colic added three for Anaheim, which sprinted to a 5-0 lead, then, as has been its custom in three PASL Pro league games, let Docemas back in the game.
Tyler Reinhart
, who played at Cal Poly Pomona, scored four for the amateurs, who were missing former Galaxy defender
Mike Randolph
(hamstring injury), a teammate of Colic's and Bolts defender
Carlos Borja
's with the L.A. Blues last summer.
April, 24, 2011
4/24/11
12:23
PM PT
By
Scott French
| ESPNLosAngeles.com
Cesar Rivera's early goal was enough for the L.A. Blues to escape the Caribbean with a draw Saturday night, a 1-1 decision against River Plate Puerto Rico giving them a 3-0-1 mark -- and a substantial lead in the third-tier USL Pro's International Division -- following their first week of action.
Rivera scored in the 12th minute from a long pass by former Galaxy defender
Mike Randolph
, but
Eloy Matos
pulled River Plate, which has a minor link to the Buenos Aires club, even in the 58th.
Both teams finished with less than 10 men. Rivera was sent off in the second half for the Blues, and River Plate (0-0-2) lost
Martin Morello
and
Yaniel Bermudez
.
The Blues play their home opener next Sunday against division rival Antigua Barracuda -- one of the clubs they beat on their Caribbean trek -- at Cal State Fullerton's Titan Stadium. Kickoff is 5 p.m.
April, 21, 2011
4/21/11
2:34
PM PT
By
Scott French
| ESPNLosAngeles.com
Tomislav Colic scored twice as the L.A. Blues remained perfect on their season-opening Caribbean trek, topping Puerto Rico United, 4-2, on Wednesday night in a USL Pro clash in Carolina, Puerto Rico.
Mike Randolph
and
Akeem Priestley
also tallied for the Blues (3-0-0), who finish the trip Saturday against River Plate Puerto Rico in Carolina.
Colic, a Serbian forward who starred at Costa Mesa's Vanguard University, scored in the 29th and 59th minutes. Former Galaxy back Randolph tallied from USL Pro player of the week
Walter Gaitan
's feed in the 33rd, and Priestley cemented the victory in the 83rd.
Hector Ramos
scored for PRU (0-1-1) in the 66th and 78th minutes.
April, 15, 2011
4/15/11
4:44
PM PT
By
Scott French
| ESPNLosAngeles.com
It's a new team in a new league, stuck by its lonesome out here, thousands of miles from its rivals, and guided by a coach who has worked exclusively with women the past dozen years.
The makings of a success story? The L.A. Blues hope so, and as they embark on their inaugural season in USL Pro -- American pro soccer's third tier -- they've got greater designs than putting out an affordable and entertaining alternative to the Galaxy and Chivas USA.
"We want to make the playoffs and get in the championship," says midfielder
Josh Tudela
, one of eight Blues with Major League Soccer experience. "We're not going to settle for anything less than that."
[+] Enlarge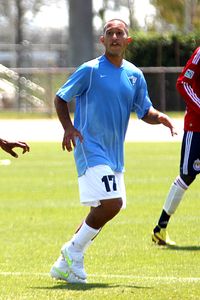 Chivas USAGerardo Bravo will be one of the key players for the L.A. Blues this season.
It's big talk, but the Blues, on paper, at least, have the makings of a contender. They've got Argentine midfielder
Walter Gaitan
, a superstar of mammoth proportion at this level of the game, veterans such as Tudela and defender
Nelson Akwari
, rising players like Chivas USA loaner
Chukwudi Chijindu
and some local-league stars head coach
Charlie Naimo
says he
believes will make their names with the club.
"I feel we've done a pretty good job of putting together a very good roster for this level," said Naimo, who has won three titles in United Soccer Leagues' women's league and was general manager of the L.A. Sol, the short-lived Women's Professional Soccer club partially owned by the Blues organization. "So they need to find some strength in that, then say, 'Hey, we've got the group, now we have to win.' "
If they're not as good as the Galaxy, they might be more fun to watch. The plan is to play a pretty possession game, weaving passing patterns past foes to create chances for Chijindu and the other forwards.
"Everybody wants to play that way," Naimo said, "so time to put up or shut up. Do what is required, and a lot of what I see is when it doesn't work, it's the guys off the ball who aren't working hard enough to get into good spots. You've got to make the game easy for your teammates.
"We're certainly not afraid to pass the ball to guys that are contested. We're certainly not afraid to ask for the ball when guys are on us. It's just a matter of getting those people in a little bit spot, a matter of of making that pass a little bit better so they can escape. And then you discourage that high pressure. That's the only way to slow a game down. Otherwise, what stops the other team from chasing you, from running you over for 90 minutes? You've got to be able to step on the ball. … It's obviously attractive if it comes off."
The Blues open their season Friday night in Juncos, Puerto Rico, where the begin a four-games-in-nine-days sweep of the Caribbean, facing their four International Division rivals. First up: Sevilla FC Puerto Rico, which has weak ties to its Spanish namesake, followed by matches Sunday at Antigua Barracuda, Wednesday at Puerto Rico United and next Saturday against River Plate Puerto Rico.
The home opener is May 1 against Barracuda at Cal State Fullerton's Titan Stadium, and home games also will be played at Centennial High School in Corona and College of the Canyons in Santa Clarita.
March, 17, 2011
3/17/11
9:33
PM PT
By
Scott French
| ESPNLosAngeles.com
The L.A. Blues, preparing for their debut season in the new third-tier USL Pro league, on Thursday signed midfielder/defender Mike Randolph, the third former Galaxy player on their roster.
Randolph (Chino Hills/Ayala HS) spent three seasons with the Galaxy, making 15 starts in both 2007 and 2008. He started 16 MLS Reserve League games in 2006-08 and has played with L.A. Legends of the USL Premier Development League and second-tier Miami FC since leaving the club.
Former Galaxy midfielder
Josh Tudela
and forward
Israel Sesay
also will play for the Blues, who opened their preseason camp Tuesday.