Los Angeles Soccer:

MLS Re-Entry Draft
December, 12, 2011
12/12/11
4:58
PM PT
By
Scott French
| ESPNLosAngeles.com
The Galaxy made the deepest plunge in Major League Soccer's second-stage re-entry draft, grabbing the rights to four veterans in positions Bruce Arena said the club needed depth and keeping the rights to two defenders whose options had been declined.
But the biggest acquisition the Galaxy coach/general manager mentioned in Monday's post-draft teleconference isn't official. Yet.
Arena said L.A., indeed, has signed Brazilian midfielder
Marcelo Sarvas
from Costa Rican power Alajuelense. Sarvas, 30, last week told Costa Rican website Al Pie del Deporte that he had agreed to a two-year deal with the Galaxy.
Asked about Sarvas, Arena first hesitated and asked the Galaxy's media director where the club stood on an announcement. Then he said: "We've signed that player, and we will in the next day or two get out a release on him. He's a good, experienced, two-way midfielder I think is going to help our team."
So, in theory, will goalkeeper
Jon Conway
, defenders
Andrew Boyens
and
Chris Leitch
, and forward
Pat Noonan
, whose rights were acquired during Monday's draft. The Galaxy also reacquired the rights to defenders
Frankie Hejduk
and
Dasan Robinson
.
"Our selections were based simply on covering some positions, and as you know the rules, we have seven days to reach agreement with the players," Arena said. "Whether we do or not remains to be seen. What we were able to do is select players in some positions we believe we need cover for. They're all veteran players, they have experience, and they're good players for the locker room. At the end of the day, if we get some of them or all of them, they'll all be a positive asset for our team."
The Galaxy took Boyens, 28, a tall central defender from New Zealand who played in a dozen league games last season for Chivas USA, with the fifth selection of the first round. Leitch, 32, an outside back who has spent the past three seasons in San Jose, was taken at the end of the second round.
By then everybody else was done, and Arena added Noonan, 31, from Seattle and Conway, 34, from Chicago, then grabbed the rights to Hejduk, a reserve outside back for L.A. last season, and Robinson, a center back whom L.A. acquired in a trade from Toronto FC in September.
December, 9, 2011
12/09/11
3:19
PM PT
By
Scott French
| ESPNLosAngeles.com
No changes in the list of Galaxy and Chivas USA players available for Monday's second-stage draft in Major League Soccer's re-entry process.

Galaxy defenders Frankie Hejduk and Dasan Robinson are up for grabs, and so is the Chivas USA quintet of goalkeeper Zach Thornton, defender Andrew Boyens, midfielders Simon Elliott and Mariano Trujillo, and forward Chukwudi Chijindu.

Vancouver midfielder Peter Vagenas, the former Galaxy captain from Pasadena and UCLA, and Portland midfielder Rodrigo Lopez, from Wilmington, also are on the list.

Chivas has the No. 4 selection in the draft, and the Galaxy pick 18th.

Clubs must make contract offers within seven days to players selected in the second stage of the draft and retain the rights of those taken if an agreement can't be reached. They may select their own players in the draft only after every other club has passed on them.

Those not selected become free agents.

Among the more interesting players on the list are midfielders Baggio Husidic (from Chicago) and Clyde Simms (D.C. United), and defenders Marc Burch (D.C.), Ryan Cochrane (New England), Jonathan Leathers (Vancouver), Chris Leitch (San Jose) and Shavar Thomas (Sporting Kansas City).


December, 15, 2010
12/15/10
3:38
PM PT
By
Scott French
| ESPNLosAngeles.com
Acquiring the rights to superstar striker Juan Pablo Angel was just the start for the Galaxy on Wednesday.
L.A., which traded a draft pick to move into position to take the Colombian forward in the second phase of Major League Soccer's re-entry draft, made two more trades, sending 19-year-old forward
Tristan Bowen
to Chivas USA and swapping the rights to midfielder
Luke Sassano
, acquired in the re-entry draft, to Kansas City for the rights to former UCLA star
Frankie Hejduk
.
The Galaxy must negotiate new contracts with Angel, who scored 61 MLS goals in four seasons with the New York Red Bulls, and Hejduk, an inelegant if massively energetic right back whom K.C. took from Columbus in the re-entry draft.
Bowen (Van Nuys), who made 17 apprearances (with 10 starts) and scored two goals last season for the Galaxy, was swapped for allocation money that can be used to reduce a player's salary-cap figure. It could be used to make Angel more affordable or to bring him in as something other than a Designated Player, keeping a DP spot open for the potential arrival of Brazilian star
Ronaldinho
.
Angel's contract with the Red Bulls was worth $1.62 million annually (with $1.918 million guaranteed compensation).
Hejduk, 36, played the last eight seasons with Columbus after stints in Germany (with Bayer Leverkusen) and Switzerland (with St. Gallen) following three seasons with the defunct Tampa Bay Mutiny. He played in the 1998 and 2002 World Cups.
December, 15, 2010
12/15/10
1:43
PM PT
By
Scott French
| ESPNLosAngeles.com
The Galaxy made a big splash in the second phase of Major League Soccer's re-entry draft Wednesday, taking New York Red Bulls striker Juan Pablo Angel -- arguably the finest target forward ever to play in the league -- after making a trade with Houston to move up to fourth in the draft.
The 35-year-old Colombian, who joined the Red Bulls when Galaxy coach
Bruce Arena
was in charge in New York, has scored 61 goals in four seasons for New York.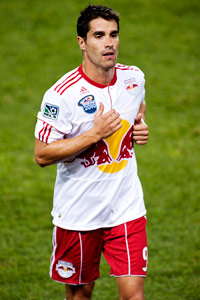 Icon SMIThe 35-year-old Colombian striker Juan Pablo Angel played the past four seasons with the New York Red Bulls.
His contract, for $1.62 million (with $1.918 million guaranteed compensation), was not renewed, and the Galaxy will be able to negotiate a new pact with the tall striker.

"In the re-entry draft, all teams are doing is acquiring rights to players," Arena said on a teleconference Wednesday afternoon. "There's still a negotiating period to see if we can reach an agreement. … We think he's a very fine forward, and we're hopeful we can reach an agreement. …

"The reason we took him in the re-entry draft is we think we can make it work. I think Juan wants to make it work, but we have to get in some discussions this week and see if we can reach an agreement."

The Galaxy also selected Red Bulls midfielder Luke Sassano, and Chivas USA took Kansas City central defender Jimmy Conrad (Temple City/Temple City HS and UCLA).

Galaxy midfielder Dema Kovalenko and Chivas USA midfielder Marcelo Saragosa and defender Alex Zotinca weren't drafted and become free agents. So do Colorado midfielder Peter Vagenas (Pasadena/St. Francis HS and UCLA) and Columbus midfielder Duncan Oughton (Cal State Fullerton).

Arena said he has spoken twice with Angel in recent weeks and believes a deal can be made despite the forward's stated desire to remain on the East Coast. If signed, Angel likely would be a Designated Player, which would all but end any chance of L.A. acquiring Brazilian forward Ronaldinho.


December, 8, 2010
12/08/10
11:54
AM PT
By
Scott French
| ESPNLosAngeles.com
The first stage of Major League Soccer's re-entry draft took all of four minutes, and only two players were selected. Neither of them have local ties, not really.
D.C. United took former Galaxy forward
Joseph Ngwenya --
who has made six moves since leaving L.A. in 2006, from Houston with the top pick Wednesday -- and Columbus grabbed Sporting Kansas City defender
Aaron Hohlbein
after the eight teams following D.C. passed.
Everybody else passed, D.C. and Columbus made no second-round selections, and the draft, of veteran players either out of contract or with options that had been declined, was over.
What happens now?
The Galaxy are free to negotiate through Monday morning with defensive midfielder
Dema Kovalenko
and forward/midfielder
Jovan Kirovski
and Chivas USA with midfielder
Marcelo Saragosa
and defender
Alex Zotinca
. If no deal is made, they'll be available in next Wednesday's second stage of the draft. After that, unselected players become free agents.
Five players either from SoCal or who played college soccer here -- Kansas City defender
Jimmy Conrad
(Temple City/Temple City HS and UCLA), Colorado midfielder
Peter Vagenas
(Pasadena/St. Francis HS and UCLA), Columbus defender
Frankie Hejduk
(UCLA) and midfielder
Duncan Oughton
(Cal State Fullerton) and Philadelphia goalkeeper
Chris Seitz
(San Luis Obipso/Thousand Oaks HS) -- were among 35 players on the list for Wednesday's draft. Only Conrad is out of contract.