Los Angeles Soccer:

Molly Lavin
December, 25, 2011
12/25/11
7:56
AM PT
By
Scott French
| ESPNLosAngeles.com
UCLA's Chandler Hoffman scored goals by the bunches on a quest to go home. Nadia Link netted nearly as many to take Long Beach State to unprecedented heights. Christian Ramirez dazzled for Concordia. And Fabiola da Silva prodded Cal Baptist to a national championship.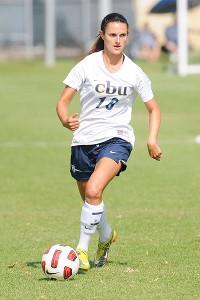 Rachel McDaniel/CBU SportsBrazilian midfielder Fabiola da Silva led Cal Baptist to the NCCAA national title.
They're ESPN Los Angeles College Players of the Year after superb fall campaigns on local fields.

We selected men's and women's teams, one for players from 10 local NCAA Division I institutions and another for players from 24 NCAA Divisions II and III, NAIA and unaffiliated schools.

Our coaches of the year in Division I are Junior Gonzalez, who led the remarkable turnaround by UC Riverside's men, and Tim Ward, whose Pepperdine women were a top-five team during the regular season. In the lower divisions, it's Ralph Perez, who took Redlands' men to 20 wins and NCAA Division III third-round berth, and Kristen St. Clair, who presided over a superb transition from NAIA to NCAA Division II, with the Pacific West Conference title and National Christian Collegiate Athletic Association Division I national crown.

The freshmen of the year: Cal State Northridge's Edwin Rivas and UCLA's Abby Dahlkemper in D1, Cal Baptist's Michael Salazar and Cal Lutheran's Taylor Will in D2/D3/NAIA.

Here are our inaugural postseason all-star teams:


November, 30, 2011
11/30/11
9:49
PM PT
By
Scott French
| ESPNLosAngeles.com
Natalie Sun scored two early goals Wednesday and Azusa Pacific didn't allow a shot while tying a program record with its 15th shutout of the season to move into an NAIA women's soccer tournament semifinal.

Sun scored twice in the first 20 minutes as the second-seeded Cougars (15-2-2) romped to a 4-0 quarterfinal victory over Mobile, Ala. (19-4-1) in Decatur, Ala., to set up a rematch with three-time defending champion Lee (21-2-0).

"We looked strong from start to finish," APU coach Jason Surrell told his school's athletics website. "Conditions were better today and had good team defending again. We were solid and helped when we needed to."

Sun also assisted a Heidi Witschi goal, and Molly Lavin also tallied for APU, which held a 13-0 shot advantage over Mobile's high-powered attack, which came in averaging 2.91 goals per game.

"We had a game plan going in. We knew their forwards were really good in the air, so we just kept that in mind and worked together as a team," sophomore defender Danielle Ross said. "Our goal every game is to get a shutout and give up as few shots on goal as possible."

Third-seeded Lee, from Cleveland, Tenn., advanced to the final four with a 2-0 win over Embry-Riddle, Fla. The Flames beat Azusa Pacific, 1-0, in last year's semifinals, but the Cougars won a rematch, 2-1, in Portland, Ore., in late August.


October, 13, 2011
10/13/11
6:23
AM PT
By
Scott French
| ESPNLosAngeles.com
Christian Hernandez and Christian Santana each contributed a goal and an assist as No. 7 UC Irvine pulled three points ahead in the Big West Conference men's soccer race with a 5-1 romp Wednesday night at UC Riverside.

Miguel Ibarra (Lancaster/Lancaster HS), Hernandez (Palmdale/Palmdale HS) and Norby Rodriguez (Thousand Oaks/Thousand Oaks HS) scored first-half goals for the Anteaters (12-2-0), and an own goal 2½ minutes into the second half made it 4-0. Santana netted Irvine's finale 10 minutes later.

The Anteaters have won four in a row since opening Big West play with a 1-0 loss to Cal Poly and lead Cal State Northridge, which is 3-1-0, by three points. UC Santa Barbara, Cal Poly and UC Davis have six points from four games.

UC Riverside (6-5-1) has stumbled badly since its Big West opener, an upset of UC Santa Barbara, losing three in a row -- including a 5-0 decision against Cal Poly in its previous match.

In other men's action:


No. 13 UC Santa Barbara (9-3-1) throttled visiting Cal State Fullerton (6-4-2), romping to a 6-0 Big West triumph Tuesday as Luis Silva (Los Angeles/Salesian HS) and David Opoku each scored twice. The shot total was close: 16-13 for the Gauchos. Fullerton lost its third in a row.
Cal State Northridge (6-5-1) is 3-1 in the Big West after a 2-0 victory Tuesday at Cal Poly. Thomas Ramos and Brian Behrad (Woodland Hills/Taft HS) netted the goals.
October, 9, 2011
10/09/11
1:21
AM PT
By
Scott French
| ESPNLosAngeles.com
UC Irvine took command of the Big West Conference race Saturday night, using two second-half goals by
Miguel Ibarra
to beat visiting Cal State Northridge, 2-0.
The match was a showdown between two of the Big West's three two-win teams and sent the seventh-ranked Anteaters (11-2-0) to 3-1, ahead of Northridge (5-5-1) at 2-1 and UC Davis at 2-2.
Ibarra (Lancaster/Lancaster HS) gave Irvine a 58th-minute lead through a give-and-go with
Jimmy Turner
(Mission Viejo/Misson Viejo HS) and a deflection off a Matadors defender.
Memo Licona
(Lake Forest/Laguna Hills HS) set up the second goal in the 89th minute.
In other men's action:
Sam Garza scored in the seventh minute of overtime, and No. 19 UC Santa Barbara (8-3-1) toppled UC Davis, 2-1, for its first Big West victory. The Gauchos lost their first two conference games, to UC Riverside and UC Irvine, but bounced back Wednesday with a 3-2 overtime victory over third-ranked Akron.
Osvaldo Bastida (Anaheim/Katella HS) scored in the first half for Cal Baptist (7-4-0) in a 1-0 win over Western Washington at the Grand Canyon Tournament in Phoenix.
Redlands (11-3-0) is closing in on the Southern California Intercollegiate Athletic Conference title following a 2-0 victory at second-place Pomona-Pitzer (6-5-0) on goals by Alex Laughton and Will Walker. The Bulldogs are 8-0-0 in SCIAC play; the Sagehens fell to 5-2-0.
September, 4, 2011
9/04/11
7:45
AM PT
By
Scott French
| ESPNLosAngeles.com
NORTHRIDGE -- Cal State Northridge, like Cal State Fullerton before it, took a physical approach against defending NCAA champion Akron on Saturday night. For the first 18 minutes, at least.

By then, the Matadors had racked up four yellow cards, with one defender sent off with two of them. Their showdown with the second-ranked Zips should have been over.

Instead, CSUN combined a dangerous counterattack with a superb backline performance led by Joe Franco (Monrovia/St. Francis HS) and several outstanding saves by goalkeeper Michael Abalos (San Juan Capistrano/Santa Margarita Catholic HS), taking Akron deep into overtime before finally succumbing, 2-1, in a thrilling, at times frantic finale of its Labor Day Classic.

There was a little star power in the crowd. Galaxy defender Sean Franklin (Palmdale/Highland HS), a Northridge alum, was honored before the game, and Chivas USA teammates (and Akron products) Zarek Valentin and Ben Zemanski sat a few rows below former U.S. national-teamer Brian Quinn, whose son Aodhan plays for the Zips.

Akron (2-0-1), in a little bit of rebuild mode after sending seven players to Major League Soccer this year, prevailed on Scott Caldwell's 106th-minute goal after Israeli freshman Yarden Azulay pulled the Matadors (1-2-0) even to force overtime, turning a midfield steal in the 82nd minute into a quick 1-on-1 opportunity, then chipping brilliantly into the upper-left corner.

"It's hard enough to play with 11 players against Akron, let alone 10," Northridge coach Terry Davila said. "[Akron isn't] as mature as they were last year. We do that to them last year, you know, it would be a different story. ... We felt like we could play with them. Its just the attitude with our team. Good things are about to come for this team. Hopefully, this can be a turning point in our season."

Northridge, which dropped their tournament opener in overtime to UNLV, went behind seven minutes after Nicholas Hamilton picked up his second yellow card, with star forward Darren Mattocks finishing from midfield leader Caldwell's feed.

The Zips rolled up huge advantages in shots (24-8) and shots on goal (14-1) and held a good deal of possession, but they couldn't put Northridge away -- and by the end, they were down to 10 men, too, with freshman defender Bryan Gallego dismissed with his second yellow card in the 83rd.

"Credit to Northridge," said Akron coach Caleb Porter, whose team struggled against tournament winner Fullerton's physical approach in a scoreless draw in Thursday's classic opener. "They came and they fought hard and they didn't die. I think that says a lot about their group. ... I think our guys dug deep as well.