October, 21, 2011
10/21/11
10:47
PM PT
By
Scott French
| ESPNLosAngeles.com
TEGUCIGALPA, Honduras -- The gathering that greeted the Galaxy upon its return Thursday night to the Marriott Tegucigalpa, following their stirring CONCACAF Champions League triumph over Motagua, couldn't have been warmer -- or more spirited -- had the clash taken place in Carson.
Hundreds of fans crowded into the hotel lobby and onto the staircase leading to the second floor, where the team would dine, to greet the players, shrieking when they came into view as if it were 1964 and John, Paul, George and Ringo were on hand.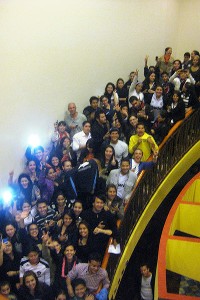 Scott FrenchThink the Hondurans liked David Beckham?
Heavy police security, complete with ubiquitous machine guns, held the crowd at bay. Most wanted a picture with David Beckham or perhaps his autograph, if that were possible, and it wasn't -- so they chanted his name, and when he stopped by to give them a wave after finishing his meal, the screams carried deep into the hotel's corridors and out the door, onto the street and into the rather upscale neighborhood.

It was the wildest response Honduras' capital had for its visitors, and it might have stunned the Galaxy's more experienced travelers, who know that any trek to Central America isn't complete without jeers, whistles, chants that can't be printed here and thrown objects, some of them nastier than you might imagine.

A month earlier in Costa Rica, Beckham and Co. were greeted warmly at the hotel, applauded when they took the field for warmups before their game against Alajuelense, then lambasted by a crowd of about 16,000 that sounded and felt far, far bigger.

On the eve of this trip, captain Landon Donovan noted that "we're going in with the expectation that it's going to be full, it's going to be loud, it's going to be relatively hostile."

Not even close.

The Galaxy was treated like the home team from arrival until departure, saluted by dignitaries -- many of them lined up, with their children, outside L.A.'s locker room following the 1-0 victory that clinched the Group A title in the regional club championship and secured a berth in next year's quarterfinals.

"I've always been a big fan of the Honduran people. I think they've always been respectful," Donovan said as his teammates dined, amid screams a few yards away. "[The reception here] shows you, one, how famous David is, again. And it's been nice.

"I think we expected the worst, and we kind of got the best."