Los Angeles Soccer:

NCAA College Cup
December, 11, 2011
12/11/11
6:00
PM PT
By
Scott French
| ESPNLosAngeles.com
No. 3 North Carolina followed its semifinal victory Friday night over UCLA with a dramatic triumph in the NCAA men's soccer final Sunday against No. 14 Charlotte.

Ben Speas, who transferred to UNC after winning an NCAA crown last year with Akron, scored on a stunning, looping 25-yard shot midway through the second half, and the top-seeded Tar Heels (21-2-3) held off a late onslaught for a 1-0 victory over the 49ers (16-5-4).

It's Carolina's second men's soccer title, to go with one won 10 years ago, and came in the program's fourth straight College Cup final-four appearance.


December, 10, 2011
12/10/11
12:28
AM PT
By
Scott French
| ESPNLosAngeles.com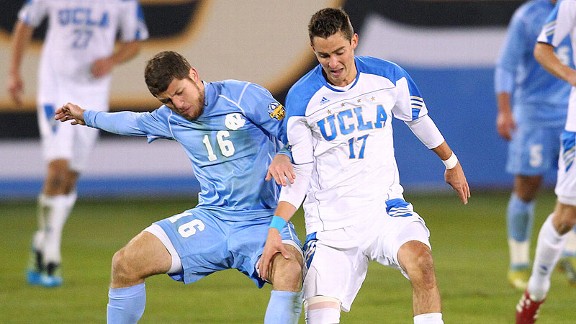 Marvin Gentry/US PresswireUCLA forward Chandler Hoffman and North Carolina midfielder Enzo Martinez battle for the ball during Friday's game.

UCLA stood five minutes from a chance to play for another NCAA soccer championship. Turns out their destiny led somewhere else.

The Bruins on Friday night twice watched leads slip away in the second half, lost their homecoming hero to heavy cramps, then came up wanting at the finish, falling to top-seeded North Carolina on penalties following a 2-2 draw in a Division I men's semifinal in Hoover, Ala., outside Birmingham.

The third-ranked Tar Heels (20-2-3), making their fourth successive College Cup final-four appearance, advance to Sunday's title game against Charlotte (16-4-4), which beat No. 2 Creighton on penalties in the first semifinal.

It was a devastating end for fourth-ranked (but 13th-seeded) UCLA (18-4-2), which dominated stretches of the match with a possession game that wearied North Carolina, went ahead on superb goals by Ryan Hollingshead in the 17th minute and Kelyn Rowe in the 74th, then conceded a late equalizer to All-American Billy Schuler.

"It was so close tonight, it could have gone either way," UCLA head coach Jorge Salcedo told ESPN Los Angeles after the game. "To win win a game, you need to have a little bit luck, a little bit skill. We had skill but no luck tonight."

It was a marvelous encounter, full of incident, featuring great drama, massive momentum swings, great individual performances on both sides, some beautiful soccer -- especially by UCLA the latter part of the first half -- and four stunning goals.

All-American striker Chandler Hoffman, a Birmingham boy playing before family and friends, assisted both UCLA strikes but wasn't in position to score himself, thanks to expert work by North Carolina All-American Matt Hedges.

His departure with a hamstring injury in overtime -- "I was cramping like I've never cramped before," he reported -- deprived the Bruins of their best finisher in the closing minutes and in the penalty-kick shootout, when they really missed him.

North Carolina won the tiebreaker, 3-1, with three of the Bruins' four shots taken poorly. Andy Rose and Rowe didn't get the ball close enough to the posts on the first two rounds, leaving simple stops for goalkeeper Scott Goodwin. Victor Munoz went up the middle to score on the third round, but Fernando Monge fired well wide left with the fourth shot, and Ben Speas -- an NCAA champion last year at Akron -- followed with the decisive kick.

"Unfortunately, when you miss the first one, it doesn't set a good tone," Salcedo said. "But we didn't lose because we took poor penalty kicks. It's not one player, not one call, not one penalty kick in soccer that decides whether you win or lose. It's just the overall game."


December, 9, 2011
12/09/11
10:40
AM PT
By
Scott French
| ESPNLosAngeles.com
There are 16 players from L.A., Orange, Riverside, San Bernardino, Ventura and Santa Barbara counties playing in the NCAA College Cup this weekend in Hoover, Ala.
Almost all of them, no surprise, play for UCLA. (And not all of them, to be fair, actually play.)
The number is impressive, given that the Bruins recruit nationally, with their biggest names coming from Alabama (
Chandler Hoffman
), Washington (
Kelyn Rowe
), Oregon (
Brian Rowe
) and England (
Andy Rose
).
UCLA's starting lineup includes a winger from Chino Hills (
Eder Arreola
), and two defenders and a forward from Orange County (
Patrick Matchett
,
Joe Sofia
and
Reed Williams
). Another starting back from Bakersfield, in Kern County, and the first forwards off the bench are from Fontana (
Victor Chavez
) and Calabasas (
Evan Raynr
).
Second-ranked Creighton has two local products, both starting midfielders, both juniors, both All-Missouri Valley Conference second-team selections:
Dion Acoff
(Upland/Damien HS) and
Jose Gomez
(Santa Ana/Century HS and Cal State Fullerton).
December, 9, 2011
12/09/11
10:26
AM PT
By
Scott French
| ESPNLosAngeles.com
UCLA has been to a dozen NCAA men's soccer final fours, played in eight finals and won four championships.

A look back at the titles:


UCLA 1, American 0 (8 OT)
UCLA had lost in three finals, all to St. Louis, back in the early 1970s -- the last two during coach Sigi Schmid's playing days. When the Bruins finally prevailed, they had to wait for it. Little-used defender Andy Burke was the hero, scoring in the 167th minute -- his first collegiate goal -- to overcome American at the Kingdome in Seattle. UCLA went 20-1-4, winning its final dozen games behind forward Dale Ervine (15 goals), defenders Paul Caligiuri and Paul Krumpe, and goalkeeper David Vanole.


UCLA 0, Rutgers 0 (4 OT)
(UCLA wins on penalties, 4-3)
What a team the Bruins put together in 1990: future World Cup picks Brad Friedel, Joe-Max Moore and Mike Lapper, plus 1990 World Cup reserve Chris Henderson. The hero, it turned out, was current Bruins coach Jorge Salcedo, a freshman who had missed three times in penalty-kick shootouts at Cerritos High School but came through when it mattered, converting the decisive shot to topple Alexi Lalas and Rutgers in Tampa, Fla. UCLA (17-1-6) also needed spot kicks to get past North Carolina State in the semifinals.


UCLA 2, Virginia 0
Matt Reis gave one of the most phenomenal performances in NCAA history, making 20 mostly spectacular saves to beat No. 1 Indiana in the semifinals and Virginia in the title game and lead the Bruins to their third title. UCLA (22-2-0) needed Reis' heroics after injuries took away team MVP Peter Vagenas, star midfielder Sasha Victorine and All-Mountain Pacific Sports Federation defender Kevin Coye during the postseason, but McKinley Tennyson Jr.'s rebound in the 132nd minute toppled the Hoosiers and Seth George scored twice in the final 10 minutes to beat Virginia in Richmond, Va.


UCLA 1, Stanford 0
The late Tom Fitzgerald was in charge of UCLA for only two seasons, and the first one was spectacular. He guided the Bruins to an 18-3-3 mark, with playoff victories over two of the teams that beat them during the regular season (Loyola Marymount and Cal), a tight triumph in the semifinals over No. 1 Maryland and the title-game victory over Pac-10 rival Stanford, their third 1-0 win over the Cardinal of the season. The championship, captured in Dallas, arrived in most dramatic fashion: Aaron Lopez first-timed Ryan Futagaki's free kick into the net with 62 seconds to go until overtime.


December, 9, 2011
12/09/11
10:10
AM PT
By
Scott French
| ESPNLosAngeles.com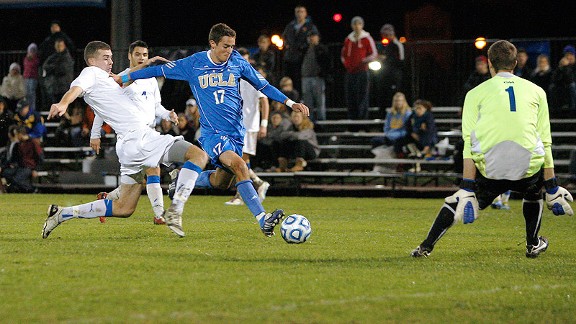 Courtesy of Jeff SipseyChandler Hoffman of UCLA is returning home to Alabama to help lead the Bruins in the College Cup.

LOS ANGELES -- Chandler Hoffman was heading home to Birmingham, and he was bringing a couple dozen of his best college buddies with him.

They hope to return to L.A. with an NCAA trophy.

Hoffman, a sure-to-be All-American striker, leads UCLA into this weekend's College Cup men's soccer final four in Hoover, Ala., where the Bruins figure to be a fan favorite, with all of his family and friends filling seats.

"Man, my phone has been blowing up. Facebook has been blowing up," Hoffman said as the Bruins prepared for Friday night's semifinal showdown with top-seeded North Carolina. "Everyone's excited to come out. It should be like a home game for UCLA."

This is what Hoffman has envisioned since word arrived earlier this year that the College Cup would be played in Birmingham's suburbs. Now that it's here -- and the Bruins are there -- he can barely contain his excitement.

"I'm so waiting for someone to pinch me and wake up," he said. "It just feels like a dream."

That dream comes true if UCLA (18-4-1) overcomes the Tar Heels (20-2-2), then knocks off second-seeded Creighton (21-2-0) or Charlotte (16-4-3) in Sunday's final. It would be the fifth NCAA men's soccer title in school history, and it would fulfill Jorge Salcedo's dream, too.

The Bruins' head coach has been part of three UCLA titles -- as a ballboy in 1985, a freshman midfielder in 1990 and an assistant coach in 2002 -- and came close to winning another in his third season in charge of the program.

"It would mean so much," said Salcedo, who played for four Major League Soccer clubs, including the Galaxy, and Morelia in Mexico. "I quietly always hope that it's going to happen, and now, once again, we have another chance. The loss [to UC Santa Barbara in the final] in 2006 left a bitter taste in my mouth, because we were a good team back then, I think ready to win a championship. But I think we're even more ready now as a program to win one."

The Bruins have ample talent, extraordinary depth -- especially in attack -- and solid upperclass leadership, and there's that destiny thing at work, too. At least Hoffman believes so.


December, 12, 2010
12/12/10
7:06
PM PT
By
Scott French
| ESPNLosAngeles.com
GOLETA -- Akron should have won the NCAA men's soccer title a year ago. The Zips made amends Sunday, dominating top-ranked Louisville in the College Cup final at UC Santa Barbara and holding on for a 1-0 triumph.

Louisville (20-1-3), massively outplayed, especially in the second half, was unfortunate not to win. The Cardinals were denied a clear penalty kick midway through the first half and nearly netted a late winner, halted only by two desperation saves.

Akron (22-1-2), which fell on penalties to Virginia in last year's final, dictated nearly every phase of play in the second half, using a weaving passing game to trigger waves of attacks and spend most of half in or in front of Louisville's box.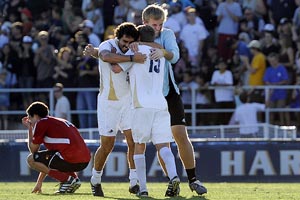 AP Photo/Mark J. TerrillScott Caldwell, second from left, found the net in the 78th minute Sunday to help Akron win its first national title in any sport.


It led to eight corner kicks in the half, and Scott Caldwell finished off one of them in the 79th minute.

Bests, worsts and so forth:

BEST PLAYER: Darlington Nagbe's finishing touch was off, but he was at the heart of Akron's attack all day, opening space for teammates and teaming with playmaker Anthony Ampaipitakwong to connect the dots through Louisville's defense. He set up chances by Michael Nanchoff and Darren Mattocks and fired just wide of the post, but our favorite moment: Nagbe, surrounded at midfield, twirls out of trouble and streaks forward, feeding Kofi Sarkodie on the right flank. The sequence ended with a foul, and the Zips did nothing with the free kick.

Three more we liked: Austin Berry, the backbone of Louisville's backline; Ampaipitakwong, the faux-hawked maestro who makes the Zips zip; and Nanchoff, the left-footer next to "Ampai" whose crosses cause havoc.


December, 12, 2010
12/12/10
12:18
AM PT
By
Scott French
| ESPNLosAngeles.com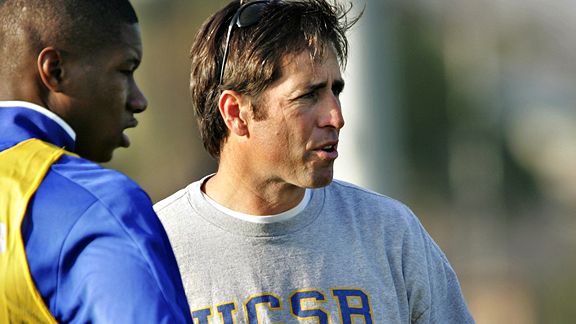 AP Photo/Reed Saxon
The UC Santa Barbara community has rallied around the efforts of soccer coach Tim Vom Steeg.
GOLETA -- They call it "Soccer Heaven," and the name fits.
UC Santa Barbara's
Tim Vom Steeg
has built in the last dozen years one of the nation's most prominent college men's soccer programs -- with nine successive NCAA tournament appearances, two College Cup title-game appearances and the 2006 national championship -- and the students and community have responded with unprecedented support.
It's evolved into what Vom Steeg calls "the perfect storm," and the reward is this weekend's NCAA College Cup final four, the biggest event on the college soccer calendar.
The Gauchos didn't make it to the party -- they were controversially eliminated by Cal in the second round -- but they've been committed to making it a most memorable event anyway.
"Our fans know soccer. They're soccer-savvy," UC Santa Barbara athletic director
Mark Massari
said before Friday's semifinals whittled the competition to No. 1 Louisville (20-0-3) and No. 2 Akron (21-1-2) in Sunday's 1 p.m. title game (ESPN2). "So we told the NCAA in the pitch two years ago [to bring the College Cup to Santa Barbara]: 'It's about soccer. Our people will come. Cross our fingers we're in it -- we'll play our butt [off] to get there -- but if we're not, you'll have four teams and a community that supports the soccer. This is "Soccer Heaven."'
"[The pitch] was all about Santa Barbara and the weather and the landscape and the stadium -- and our fans will come out."
UCSB fans have been coming out to 17,000-seat Harder Stadium in droves since 2004, when the Gauchos became a national power with a run to the College Cup final at Home Depot Center, where they succumbed to Indiana on penalties. They've draw four 10,000-plus crowds -- 15,896 for a showdown with UCLA in September -- and annually leads the nation in attendance.
December, 11, 2010
12/11/10
1:51
AM PT
By
Scott French
| ESPNLosAngeles.com
GOLETA -- It's No. 1 against No. 2.
Top-ranked Louisville and second-ranked Akron offered scintillating displays in Friday's NCAA College Cup semifinals at UC Santa Barbara's Holder Stadium, but both needed a bit of fortune -- and a late goal -- to claim berths in Sunday afternoon's final.
Louisville (20-0-3) was most impressive against North Carolina, creating far more opportunities but waiting until the end to pull out a 2-1 decision. Akron (21-1-2) was far more dominant against upstart Michigan, spending huge swaths of time in and in front of the Wolverines' box, but it took a defensive miscue to pull out a 2-1 victory and gain a repeat trip to the title game.
Bests, worsts and so forth:
BEST PLAYER:
Lot of candidates -- Louisville's
Chris Rolfe
and
Ryan Smith
, Michigan's
Justin Meram
, a whole host of guys from Akron: midfielders
Michael Nanchoff
,
Anthony Ampaipitakwong
and
Perry Kitchen,
forward
Darlington Nagbe
and defender
Zarek Valentin
, etc. -- but
Kofi Sarkodie
was sensational from start to finish.
He set the tone for nearly everything Akron did: His forays up the right flank and into Michigan's box (he spent more time there than anyone, perhaps, aside from Wolverines goalkeeper
Chris Blais
) drove the attack; his physical play -- not always clean, to be sure -- kept Michigan honest; and he capped the performance with the winning goal, a fine header from Nanchoff's cross in the 74th minute.
BEST GOAL:
After scoring with 52 seconds to play to beat UCLA in the quarterfinals, could it get any better for
Aaron Horton
? Oh, yeah. Three minutes after coming on for All-American Rolfe, the Louisville freshman took a defense-splitting pass from Smith and chipped
Scott Goodwin
-- lifting the top-ranked Cardinals into the final … with just 51 seconds to go.
December, 10, 2010
12/10/10
10:51
AM PT
By
Scott French
| ESPNLosAngeles.com
SANTA BARBARA -- This wasn't quite the senior season Jeff Quijano envisioned, but he was going to deal with the circumstances the best way he could: by being a leader.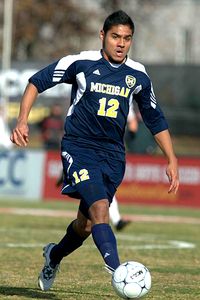 University of Michigan athleticsJeff Quijano, who plays right back for Michigan, was a standout for Canoga Park High School in the San Fernando Valley.
Quijano's response to losing his starting job turned out to be one of critical elements that prodded the University of Michigan to its first NCAA College Cup, but the Wolverines' path to this weekend's men's soccer final four at UC Santa Barbara would require greater contributions from the former Canoga Park High School standout -- when it mattered most.

Michigan (17-4-3), the No. 10 seed, takes on second-ranked Akron (20-1-2) in Friday night's second semifinal at UCSB's Harder Stadium (ESPN2/ESPNU, 8 p.m. PT) and Quijano figures to make an impact. Just like last week.

The veteran right back, at his best when attacking up the flank, gave perhaps his finest collegiate performance in the Wolverines' quarterfinal shocker over second-seeded Maryland, surging forward to score the first goal and sending in the cross for the second in a 3-2 overtime triumph.

"The performances of Jeff Quijano are one of the main reasons we are in the College Cup," said Michigan coach Steve Burns, who started the program 11 seasons ago. "That's a huge statement, but he deserves that kind of praise for how well he's played. … [Against Maryland] there were times when he just took over the game and was clearly our Man of the Match. Now he gets to lead us once more, and it's fantastic for Jeff that he's back home in California for his final games as a Wolverine."


December, 10, 2010
12/10/10
8:49
AM PT
By
Scott French
| ESPNLosAngeles.com
College soccer's final four comes to UC Santa Barbara this weekend (semifinals Friday, final Sunday), and it's a potent quartet: Two legitimate powers (Akron and North Carolina), the lone unbeaten Division I side in the country (Louisville) and one big suprise (No. 10 Michigan, coming off an overtime upset of mighty Maryland).
A quick look at the four teams:

LOUISVILLE (19-0-3)
Coach:
Ken Lolla (fifth year at Louisville, 59-28-16; 16th year overall, 268-112-44)
Top players:
D Austin Berry (Cincinnati), M Nick DeLeon (Phoenix), F Colin Rolfe (Canton, Mich.)
Local angle:
Assistant coach Mario Sanchez played for the Orange County Zodiac in 1999
Conference:
Big East (won the Red Division with a 9-0-0 record, captured tournament title on PKs following 1-1 draw with Providence)
NCAA Tournament:
Beat College of Charleston (3-1), Ohio State (2-1) and UCLA (5-4)
History:
In the NCAA Tournament for the fourth successive season, had one NCAA win before this year
Notable alum:
Toronto FC defender Adrian Cann
Outlook:
Louisville is No. 1 in most of the polls, in the RPI and among the NCAA's seeds, but that has more to do with being unbeaten (and Akron's surprise loss Oct. 30 at Cleveland State) than anything else. Lolla left Akron for the Cardinals in 2006, and he's steadily built them into a contender, and the comeback victory over UCLA shows signals they can't be counted out.

NORTH CAROLINA (16-3-4)
Coach:
Elmar Bolowich (22nd year, 280-143-40)
Top players:
D Jalil Anibaba (Davis, Calif.), F Enzo Martinez (Rock Hill, S.C.), M Stephen McCarthy (Colleyville, Texas), M Kirk Urso (Lombard, Ill.)
Local angle:
Midfielder Michael Farfan (Wildomar) is a Cal State Fullerton transfer; Galaxy defender Gregg Berhalter played for the Tar Heels
Conference: Atlantic Coast (won regular-season title with 7-0-1 record; lost in tournament final to Maryland, 1-0)
NCAA Tournament:
Won on penalties following draws with Georgetown (0-0), Michigan State (1-1) and SMU (1-1)
History:
18th NCAA appearance, with one championship (2001) and one title-game loss (in 2008 to Maryland); lost to Akron in semifinals last year
Notable alums:
Dozens of pro players, including soon-to-be Hall of Famer Eddie Pope, Aston Villa's Eric Lichaj and recent D.C. United pick-up Dax McCarty
Outlook:
The Tar Heels might have a richer history in women's soccer (21 national titles), but there's a considerable legacy in the men's game, too. This is their third successive College Cup appearance, they won the ACC -- college soccer's toughest conference, by far, with four of the last five championships -- and they're deeper and arguably more talented than everyone here except Akron.

AKRON (20-1-2)
Coach:
Caleb Porter (fifth year, 88-12-11)
Top players:
M Anthony Ampaipitakwong (Carrollton, Texas), F Darren Mattocks (Kingston, Jamaica), F/M Darlington Nagbe (Lakewood, Ohio), D Kofi Sarkodie (Huber Heights, Ohio), D Zarek Valentin (Lancaster, Pa.)
Local angle:
Chivas USA midfielders Blair Gavin and Ben Zemanski played for the Zips last season; Zarek Valentin is the brother of former Galaxy defender Julian Valentin
Conference:
Mid-American (won regular-season title with 6-0-0 record; beat Western Michigan, 4-0, in tournament final)
NCAA Tournament:
Beat West Virginia (3-2), Indiana (2-1) and Cal (on penalties after a 3-3 draw)
History:
25th NCAA appearances, with two title-game losses, in 1986 to Duke and last year to Maryland on penalties
Notable alum:
Seattle Sounders winger Steve Zakuani
Outlook:
The most complete, most talented team in the field -- playing the most attractive soccer in the country -- ought to be going for its second straight title. It likely will take a perfect game plan from their foes to deny them their first championship

MICHIGAN (17-4-3)
Coach:
Steve Burns (11th year, 117-83-21)
Top players:
F Justin Meram (Shelby Township, Mich.), M Hamoody Saad (Dearborn, Mich.), F Soony Saad (Dearborn, Mich.)
Local angle:
Right back Jeff Quijano (Canoga Park) played at Canoga Park HS and for West Valley Samba
Conference:
Big Ten (tied for second with a 4-2-0 record, one point behind Indiana; beat Penn State, 4-1, to win tournament)
NCAA Tournament:
Beat Central Florida (2-1 in OT), South Carolina (3-1) and second-seeded Maryland (3-2 in OT)
History:
Fourth NCAA appearance, with Elite Eight (2003) and Sweet 16 (2008) appearances
Notable alum:
FC Dallas forward Peri Marosevic
Outlook:
The Wolverines have won nine in a row since Akron slapped them down, 7-1, on Oct. 19, and victories over tournament longtime powers South Carolina and Maryland speak to their grit. They'll play the Zips closer this time, but the reward is getting here.
SCHEDULE
at Harder Stadium, UC Santa Barbara (Goleta)
Friday's semifinals

Louisville vs. North Carolina, 5:30 p.m.
TV:
ESPNU.
Prediction:
North Carolina, 1-1, advance on penalties
Akron vs. Michigan, 8 p.m.
TV:
ESPN2 and ESPNU.
Prediction:
Akron 3, Michigan 0
Sunday's final

Championship, 1 p.m.
TV:
ESPN2.
Prediction:
Akron 1, North Carolina 0
December, 5, 2010
12/05/10
1:00
PM PT
By
Scott French
| ESPNLosAngeles.com
Christen Press will close her college career with every conceivable award -- except the one she wanted.
The Stanford senior from Palos Verdes Estates, who led the nation with 26 goals, was shut out in both games of the NCAA Division I women's College Cup -- Notre Dame did the trick in Sunday's final and pulled out a 1-0 upset over the top-ranked Cardinal.
Freshman
Adriana Leon
, a Canadian U-20 national-teamer, scored in the 62nd minute for the Fighting Irish (21-2-2), who beat the last three champions (USC, 2007; North Carolina, 2008 and 2009) en route to the final four. It was the first time Stanford (23-1-2) had trailed since Sept. 10, a span of 20 matches.
Notre Dame, which also won titles in 1995 and 2004, becomes the second team to win at least three national titles in women's soccer. North Carolina has 21 championships -- 20 NCAA, one AIAW -- and Portland has captured two. Five schools have won once.
December, 4, 2010
12/04/10
10:54
PM PT
By
Scott French
| ESPNLosAngeles.com
UCLA was on target for the NCAA Division I College Cup men's final four after twice taking two-goal leads Saturday night at top-ranked Louisville, but the Bruins' start was better than their finish in a cold, snowy quarterfinal clash.

The Cardinals (19-0-3) claimed their first final-four appearance with a wild 5-4 triumph captured on Aaron Hester's goal with just 52 seconds to play.

Louisville, which will face fourth-seeded North Carolina (16-3-2) on Friday at UC Santa Barbara's Harder Stadium, overcame 2-0 and 3-1 first-half deficits to end UCLA's run toward what it hoped would be a fifth NCAA soccer crown.

Eder Arreola (Chino Hills/Chino Hills HS) and Kellyn Rowe provided the Bruins (16-5-1) a two-goal advantage by the 18th minute, and Chandler Hoffman's breakaway in the 33rd restored the cushion after Colin Rolfe got Louisville on the board with a free kick in the 29th.

But the Cardinals surged ahead with three goals in 17 minutes: a penalty kick near the end of the first half, Rolfe's second goal -- a header from a free kick -- just three minutes into the second half, and Nick DeLeon's finish from Rolfe in the 56th.

Victor Chavez (Fontana/A.B. Miller HS) scored from a throw-in by Joe Sofia (Dove Canyon/Mission Viejo HS) to even it, 4-4, in the 81st minute, but Hester dribbled through UCLA's defense to score the winner in the 90th.

The other semifinal will pit third-seeded Akron (20-1-2) against 10th-seeded Michigan (17-4-3).

November, 28, 2010
11/28/10
10:43
PM PT
By
Scott French
| ESPNLosAngeles.com
Eder Arreola
's second goal Sunday night couldn't have come at a better time.
The junior midfielder with extensive U.S. youth national team experience, tapped home from close range after a long throw-in just eight seconds before the end of overtime to lift UCLA past visiting Dartmouth, 2-1, and into the NCAA Division I men's quarterfinals.

The Bruins (15-4-1) will play Saturday at top-ranked Louisville (18-0-3), with the winner advancing to the College Cup final four Dec. 10 and 12 at UC Santa Barbara.
Arreola (Chino Hills/Chino Hills HS), whose blast to the upper-right corner gave the Bruins (16-4-1) a 26th-minute lead, had scored only once in the first 19 games of the season.
"It's unreal," Arreola told UCLA's athletics website after a throw-in into the Dartmouth box by freshman
Joe Sofia
(Dove Canyon/Mission Viejo HS) was headed onto his path by a Big Green defender. "Words cannot describe this feeling right now. It's a dream come true. I've been waiting for this day when I could score at Drake Stadium, and today I was able to score for the team and help us get to the next round."
Eight more seconds, and the game would have been decided on penalty kicks.